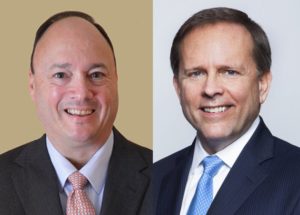 The collision repair industry should have a good year, at least in some regions, leaders of LKQ and Axalta suggested last week while discussing their own companies' fortunes with Wall Street.
LKQ CEO Dominick Zarcone said on an April 26 earnings call that his company's global organic revenue rose 3.7 percent in the first quarter of 2018, with "North American operations leading the charge" at a 6.5 percent organic growth rate. (Special thanks to Seeking Alpha, whose transcript of the call helped us quickly confirm what was said and check quotes.)
"Very few companies in our sector are generating organic growth at this level," Zarcone said.
National collision and liability claims only rose 0.8 percent in the first quarter based on CCC data, according to Zarcone, although "significant regional differences" existed.
Some parts of the country had "material growth" in claims, with repairable claims growth as high as 5-6 percent, while most states in the West, Southwest and Southeast were "actually negative," Zarcone said. Body shops in some areas were "full up" and "incredibly focused on cycle time" as a result, he said.
"We're comfortable that North America will continue to grow nicely for the rest of the year," Zarcone said of LKQ. Even if LKQ's growth continues to outpace the collision claims volume as a whole, this prediction would seem to bode well for auto body shops.
A similar optimism came a day prior from Axalta, whose financial fortunes provide a valuable barometer on the auto body painting industry. Automotive refinishing is Axalta's most important business unit, and North America is its most important market, meaning that it might more frequently than competitors report on and discuss with analysts topics relevant to collision repair.
"Axalta's refinish markets remain healthy," CEO Charles Shaver told analysts, and he said the company on the whole had "stable end-market demand conditions." (Again, special thanks to Seeking Alpha for its transcript.)
He said the company is targeting mid-single-digit growth for the year in its refinishing sector
"We are gaining market share," he said.
Axalta Chief Financial Officer Robert Bryant said recent body shop, distributor and insurer-level feedback indicates "a favorable market trajectory for the year" for the company's refinish business.
He said "we continue to have very good progress" with the Top 4-10 multi-store operator collision repair operations but also the "next level down" of MSOs.
"We continue to gain there," Bryant said.
As for independent collision repairers, "we are gaining share in that market as well," he said.
Shaver said "I'm very happy with Q1" in terms of North America refinishing. He said "shops are full," and a "couple of our MSOs are really growing."
He said that late winter weather in the first quarter of 2018 left some shops "pretty loaded up" with work for the second quarter.
From what Axalta sees from its shops, it's "setting up to be a really nice year," he said.
More information:
LKQ first-quarter 2018 earnings call
LKQ, April 26, 2018
LKQ first-quarter 2018 earnings call slides
LKQ, April 26, 2018
Seeking Alpha transcript of April 26 LKQ earnings call
Seeking Alpha, April 26, 2018
Axalta first-quarter 2018 earnings call
Axalta, April 25, 2018
Axalta first-quarter 2018 earnings call slides
Axalta, April 25, 2018
Seeking Alpha transcript of April 25 Axalta earnings call
Seeking Alpha, April 25, 2018
Featured image: LKQ CEO Dominick Zarcone, left, and Axalta CEO Charles Shaver. (Provided by LKQ; Provided by Axalta via Business Wire)
Share This: