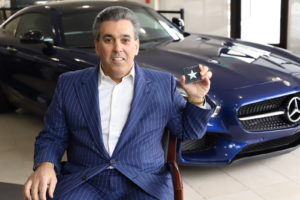 A New York body shop and Mercedes dealership have agreed to settle a second pair of dueling lawsuits tied to 2017 allegations the dealership demanded additional payments in exchange for the shop keeping its OEM certification sponsorship.
The new litigation by North State Custom and Celebrity Auto of Westchester (which does business as Mercedes-Benz of Goldens Bridge) arose in April, following the March settlement of the initial 2017 complaint and counterclaim over the sponsorship allegations. North State Customer had alleged Celebrity Auto demanded a 25 percent payment on labor and to make 100 percent on parts sold to the New York body shop as a condition of sponsorship; Celebrity Auto had countersued for defamation.
The original case and an April news release by Celebrity Auto portraying the concept of additional dealership payments as common and legal raised questions about the luxury OEM practice of requiring dealership sponsorship as a condition of independent collision repairer certification.
The new case simply surrounds comments made after the April settlement, which directed both parties to say nothing except "the Parties have resolved their differences without the exchange of money and are satisfied with the resolution," according to a redacted copy filed as an exhibit with the Westchester County, N.Y., Supreme Court.
Both made public comments. North State Custom owner Greg Coccaro Jr. confirmed to Repairer Driven News the restoration of his certification, while Celebrity Auto issued a press release calling itself "Vindicated" by the settlement and characterizing Coccaro as having made "egregious allegations" in 2017 and having "retracted" his lawsuit.
North State Custom sued seeking at least $15 million on eight causes of action, including breach of settlement and tortious interference. It observed that the dealership issued the press release to its "Valued Customers" as well as on PR Newswire, and "many of the people who were sent and received the Press Release Email are customers of North State Custom."
"Celebrity and Tom Maoli had no basis to: (i) mischaracterize North State Custom's allegations in the underlying lawsuit as 'egregious'; (ii) claim that Celebrity was 'vindicated' by the settlement and discontinuance of the Underlying Litigation; or (iii) claim that North State Custom's owner, Mr. Coccaro 'retracted' the Underlying Litigation."
Celebrity Auto countersued for breach of contract, declaring Coccaro's recertification comments disclosed a material part of the settlement and meant "Celebrity and (owner Tom Maoli) have suffered and continue to suffer irreparable harm and damages of a sum believed to be not less than $5 million." It sought unspecified amounts of damages on five other causes of action.
On Tuesday, the two parties stipulated they would settle "without costs to either party as against the other" and dismiss both actions with prejudice.
Celebrity Auto issued a news release May 14 on PR Newswire declaring the lawsuit settled, the text of which was also shared Tuesday by North State Custom attorney Anthony Mamo Jr.:
"In what might be the last chapter in the parties' continuing saga, CELEBRITY AUTO OF WESTCHESTER, LLC d/b/a Mercedes-Benz of Goldens Bridge and NORTH STATE AUTOBAHN INC. d/b/a North State Custom have announced that they have settled their second lawsuit against each other," the release states.
"It all started in 2017, when North State Custom initiated a lawsuit against Mercedes-Benz of Goldens Bridge, claiming that Mercedes-Benz of Goldens Bridge was engaged in certain unlawful business activities. Mercedes-Benz of Goldens Bridge filed a counterclaim, contending that the allegations were false.
"Although the parties settled that suit, they were soon back in court when Mercedes-Benz of Goldens Bridge issued a press release that North State Custom's claims were 'retracted' and that Mercedes-Benz of Goldens Bridge was 'vindicated.'
"The parties have agreed that those claims, in the recent press release, were overstated, and that North State Custom never retracted its claims. Instead, the parties agreed to mutually dismiss their claims and resolve their differences without the exchange of any money, and North State Custom has retained the right to obtain re-certification as an authorized Mercedes-Benz collision repair facility.  The parties have agreed that they are both satisfied with the resolution."
More information:
"Mercedes-Benz of Goldens Bridge and North State Custom settle second suit."
Mercedes of Goldens Bridge via PR Newswire, May 18, 2018
"Mercedes-Benz Of Goldens Bridge NY is Vindicated as North State Drops its Claims"
Mercedes of Goldens Bridge via PR Newswire, April 2, 2018
Featured image: Owner Tom Maoli sits in his Mercedes-Benz of Goldens Bridge dealership. (Provided by Tom Maoli via PRNewsfoto)
Share This: