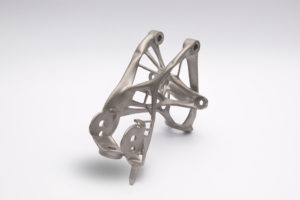 General Motors announced earlier this month it was the "first automaker in North America" to use Autodesk's "generative design" technology. According to GM, an OEM can simply give an artificial intelligence some broad instructions and turn it loose.
"It uses cloud computing and AI-based algorithms to rapidly explore multiple permutations of a part design, generating hundreds of high-performance, often organic-looking geometric design options based on goals and parameters set by the user, such as weight, strength, material choice, fabrication method, and more," GM wrote in a news release.
The result might be shapes that no human could have conceived, or at least developed quickly — and which wouldn't have been possible to manufacture without the limitless geometries 3-D printing allows. The resulting designs are submitted to a human, who decides which one would work best for the OEM.
"This disruptive technology provides tremendous advancements in how we can design and develop components for our future vehicles to make them lighter and more efficient, GM global vehicle components and subsystems Vice President Ken Kelzer wrote in a news release. "When we pair the design technology with manufacturing advancements such as 3D printing, our approach to vehicle development is completely transformed and is fundamentally different to co-create with the computer in ways we simply couldn't have imagined before."
The OEM has produced a "proof-of-concept" seat bracket 40 percent lighter and 20 percent stronger than the component it replaced — and created it as a single part instead of one assembled from eight individual components.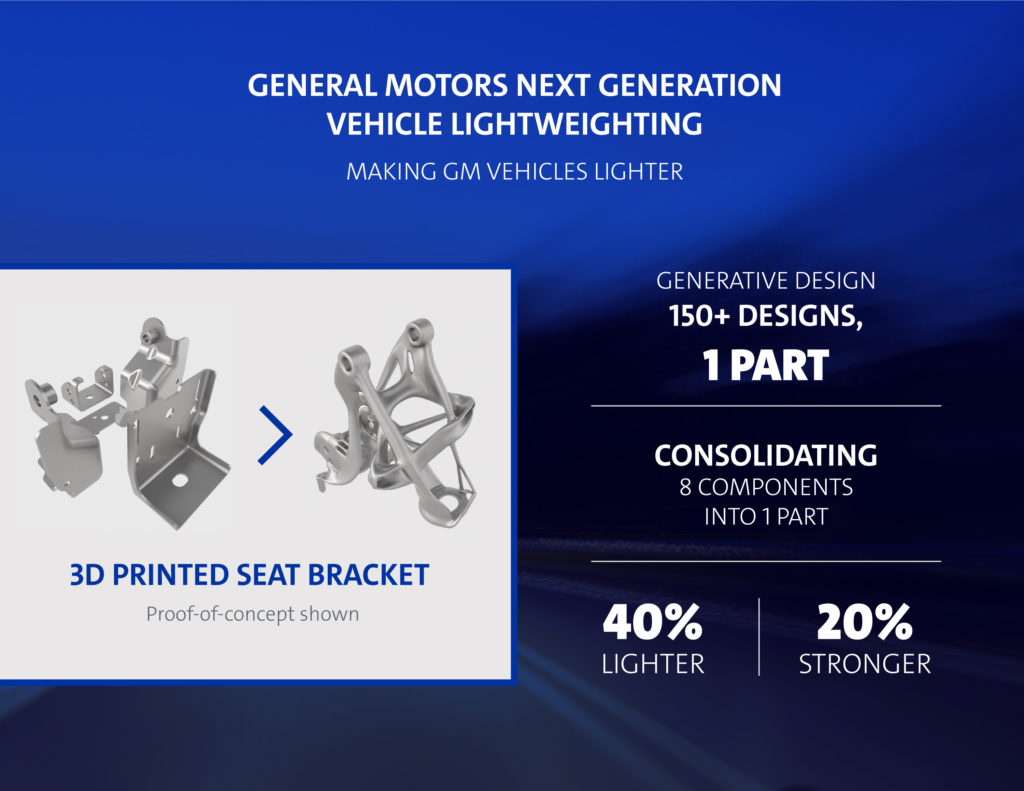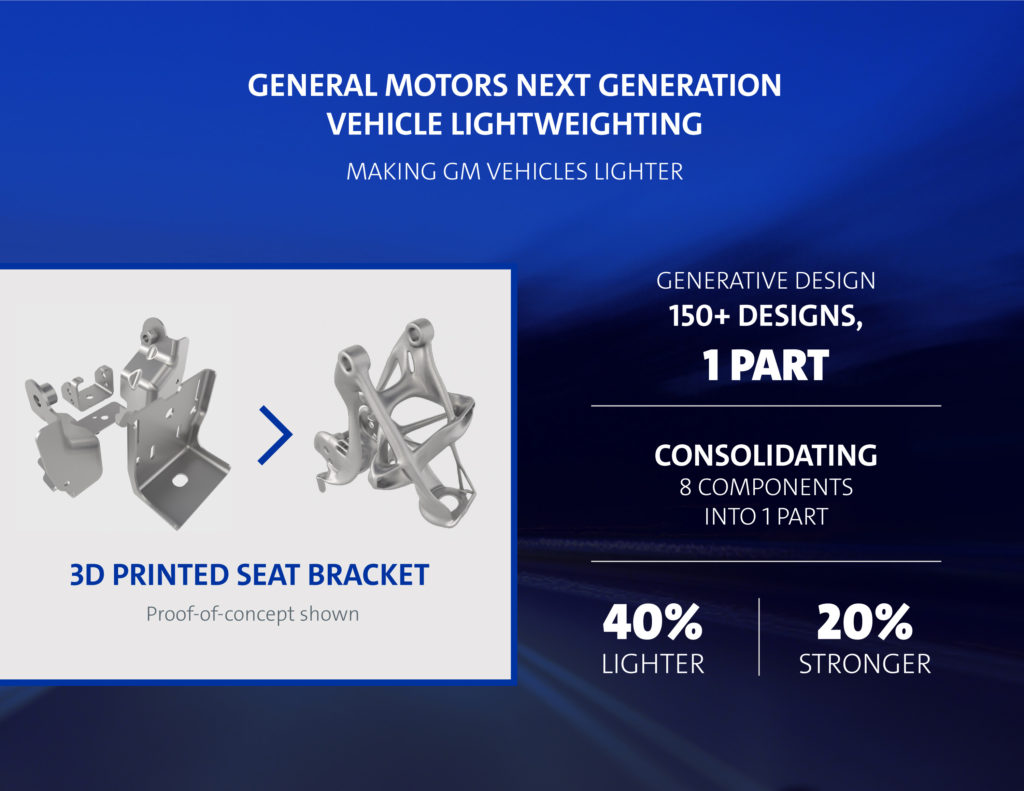 "The new design technology provides significantly more vehicle mass reduction and parts consolidation  opportunities that cannot be achieved through traditional design optimization methods," GM wrote in a news release. "… Eliminating mass in parts where material is not required for performance combined with parts consolidation yields benefits for vehicle owners including the potential for more interior space and vehicle content, increased range, and enhanced vehicle performance. It also paves the way for new features for customers and provides vehicle designers a canvas on which to explore designs and shapes not seen today."
The technology might be useful for developing shapes which could work with existing manufacturing but nobody had thought of before. For example, OEMs will determine where they can cut notches into body-in-white parts to shave mass while preserving strength, and NanoSteel has discussed how changes of geometry can produce a lightweighted bumper beam.
It seems like you could turn software like Autodesk's loose on this topic if you added in parameters related to traditional part stamping, extruding, etc., and the company's website seems to suggest AI-designed parts produced using both conventional manufacturing and 3-D printing.
Asked about using this or similar technology to generate GM parts through traditional manufacturing, GM global product development spokesman Dave Darovitz wrote, "We are actively working on several other part design projects using this technology that we expect to go into production on low-volume vehicle applications soon."
It was unclear if his comment about the other projects referred to traditional or additive manufacturing. Asked to clarify which use cases existed at GM, he replied, ""The parts derived from using the software are ones that would replace traditionally stamped components like the seat bracket example mention in the press release. No human could design as many parts and part options in ways the software can within minutes. We are talking hundreds of part design options based on criteria the user inputs."
Under a different set of rules and AI thought process, it seems like such a piece of software could someday be a cool way for an OEM to someday rapidly develop repair procedures — for example, all the places a part might safely be sectioned. (As with the manufactured parts, you'd have to validate these through physical testing, of course.) But for now, "The technology is in its infancy stage and we have not used it to explore repair procedures," Darovitz wrote.
"Generative design is the future of manufacturing, and GM is a pioneer in using it to lightweight their future vehicles," Autodesk manufacturing and construction products Senior Vice President Scott Reese said in a statement. "Generative technologies fundamentally change how engineering work is done because the manufacturing process is built into design options from the start. GM engineers will be able to explore hundreds of ready-to-be-manufactured, high-performance design options faster than they were able to validate a single design the old way."
GM said it was the first automaker with 3-D printing capabilities, and today it has 50 prototype machines which have produced more than 250,000 trial parts over the past 10 years. According to the OEM, the company now "has on-demand access to Autodesk's full portfolio of software and technical specialists" as part of a multi-year deal to collaborate on materials science, 3-D printing and generative design.
Though GM wrote of cutting "mass in parts where material is not required for performance," any parts created by such an artificial intelligence still might not be repairable without instructions from the automaker. (After all, just because a part isn't structural doesn't mean the OEM or owner is cool with it being flimsy.) For example, could one of these "threads" on the proof-of-concept bracket be sectioned or repaired without having the porous structure fail prematurely when stressed? Without something like Autodesk, it seems like a repairer would have no idea whether a modified version of such an alien geometry would still "work" within OEM tolerances.
More information:
"Advanced Software Design Technology Leads GM into Next Generation of Vehicle Lightweighting"
General Motors, May 3, 2018
Featured images: General Motors announced earlier this month it was the "first automaker in North America" to use Autodesk's "generative design" technology. According to GM, an OEM can simply give an artificial intelligence some broad instructions and turn it loose. The OEM has produced a "proof-of-concept" seat bracket 40 percent lighter and 20 percent stronger than the component it replaced — and produced it as a single part instead of being built from eight individual components. (Copyright General Motors)
Share This: