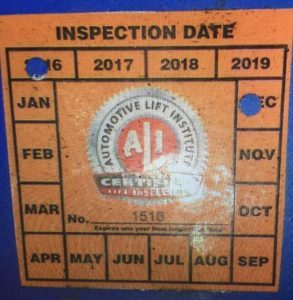 The Automotive Lift Institute on Tuesday warned that counterfeit lift inspection labels dating back to 2016 had been discovered in New York City and Long Island.
The ALI accused Jamaica, N.Y.-based Gemco Garage Equipment Corporation of using the stickers despite not being affiliated with the the organization or being authorized to dispense such labels.
"ALI intends to prosecute this unethical approach that undermines public trust and lift safety," the ALI wrote in a news release. ALI spokeswoman Kristen Simpson said ALI would determine the nature of the prosecution (civil or criminal) in consultation with its legal counsel.
A Gemco foreman said Friday no one would be available for comment until Monday; continue to check Repairer Driven News for a response.
No injuries or damage have been reported related to the alleged Gemco-inspected lifts, according to the ALI. It said the labels had been found in "multiple automotive shop facilities throughout Brooklyn, the Bronx, and Long Island."
Simpson said the labels were the first time ALI had seen counterfeits nationwide.
ALI-certified companies with at least one certified inspectors can be researched here. The closed approved facility to Gemco's Jamaica 11434 ZIP Code appears to be Bellmore, N.Y.-based Karl's Equipment & Supply.
ALI President R.W. O'Gorman told FenderBender on Thursday any shops with suspicions can just call ALI for confirmation the inspector or label is legitimate.
"Representation of ALI's registered mark on labels such as the one in the image presented above is not authorized," the ALI wrote in a news release. (Emphasis ALI's.) "Automotive lifts bearing the label depicted should have this label removed immediately, and the lift should be re-inspected by a qualified lift inspector."
A sample 2016 ALI inspection label does look different than the 2016 version ALI alleged was counterfeit and applied by Gemco. Here's what legitimate stickers will look like, according to the trade group: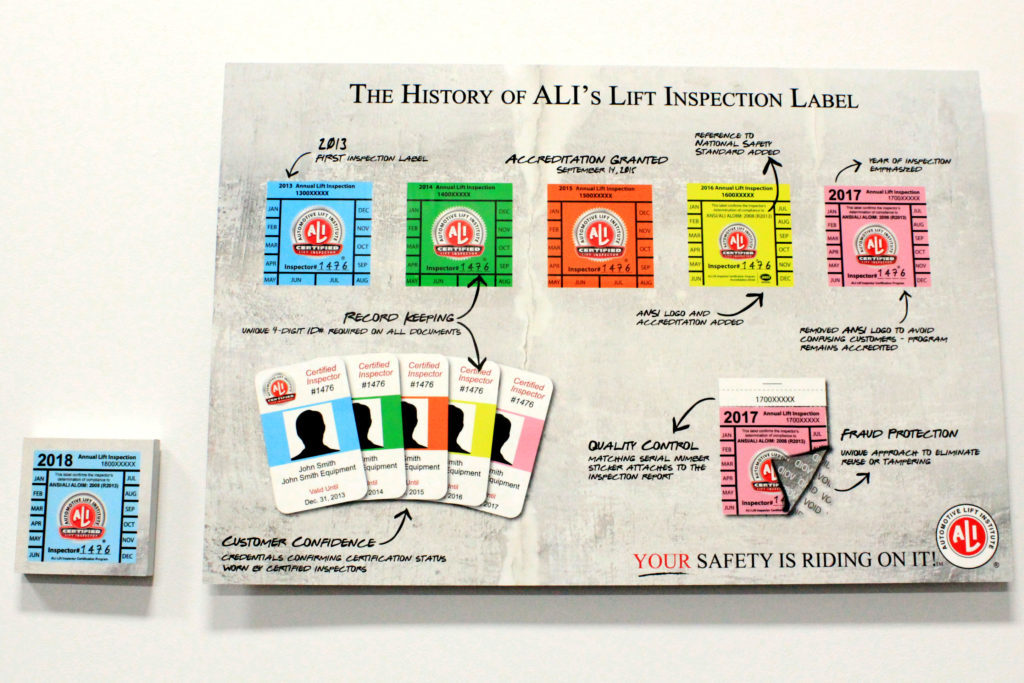 Three years ago, the ATI warned repairers that 200 of its labels had been stolen from the vehicle of a certified inspector near Buffalo, N.Y., on April 20, 2015. It provided a list of serial numbers in case an inspection had been performed with one of those labels. (If your lift is sporting one of them, contact ALI. Also, get a lift inspection — it's apparently been three years since you did!)
Duty to employees, building code
"Proper vehicle lift certification, installation, and inspection have come under increased scrutiny in recent years by OSHA and other local, state, provincial and federal health and safety officers," O'Gorman said in a statement on ALI's website. "This has resulted in an increase in shops looking for qualified lift inspectors. Without a national certification program in place, vehicle lift inspection companies haven't been able to offer independent validation that their inspectors are qualified. The ALI Lift Inspector Certification Program provides third-party assurance that an ALI Certified Lift Inspector has been tested and proven competent to thoroughly inspect an installed vehicle lift and report on its suitability for continued use and/or the need for maintenance or repair. We encourage all vehicle lift inspectors to demonstrate their professionalism and differentiate themselves from their competitors by getting certified."
Having functional, properly installed lifts and ensuring they are inspected and maintained falls under the OSHA General Duty Clause, according to Simpson. She said shops would also have to properly train employees in lift operation to keep OSHA happy.
"A lift inspection conducted by an ALI Certified Lift Inspector includes a review of operator training and lift maintenance logs in addition to the electrical and mechanical evaluation of the lift itself," the ALI has written. "This ensures that nothing contained in the ANSI/ALI ALOIM standard will go unnoticed. This is important, because health and safety officials rely on guidance from ANSI/ALI ALOIM when making determinations about the safety of a service bay. Since Lift Inspector Certification Program materials were developed to cover all of the requirements found in the standard, lift owners can be assured that no safety issues that officials check for will be overlooked."
However, while OSHA treats lifts as one of the miscellaneous items covered by the General Duty Clause, the International Building Code in use across America specifically calls for lifts meeting the ANSI/ALI's standard, Simpson said.
More information:
"Counterfeit Lift Inspection Labels Found in New York City and Long Island"
Automotive Lift Institute, May 29, 2018
Find an ALI-certified lift inspector
Images:
The Automotive Lift Institute accused Jamaica, N.Y.-based Gemco Garage Equipment Corporation of using this and other counterfeit inspection stickers despite not being affiliated with the the organization or being authorized to dispense such labels. (Provided by the ALI)
Examples of legitimate Automotive Lift Institute inspection stickers, according to the ALI. (Provided by the ALI)
Share This: