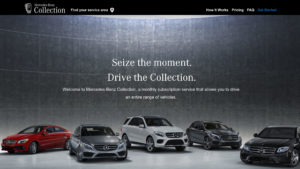 Volvo earlier this month predicted its Care by Volvo subscription service would account for "half of all cars it offers to customers" globally by the "middle of the next decade."
Volvo's bold view of the new business model moving through the auto industry — a flat fee monthly fee includes the car, insurance, and maintenance, and often vehicles can be exchanged for others from the OEM — was bookended by announcements of similar vehicle subscription options for the U.S. and United Kingdom.
Mercedes on June 5 announced it would launch the monthly "Mercedes-Benz Collection" subscription service with pilot programs in Philadelphia, Pa., and Nashville, Tenn. Jaguar Land Rover's InMotion arm on Wednesday said it would offer the year-long "Carpe" program for U.K. drivers effective immediately.
"We're always looking to stay ahead of our customers' needs and wants, as well as to bring new people to the brand," Mercedes USA CEO Dietmar Exler said in a statement. "We know there is a market opportunity for people who would like the ability to move in and out of vehicles, depending on what they need or want at a particular point in time, or who don't want to own a vehicle right now. That's why we are excited to test the waters with Mercedes-Benz Collection." (Emphasis Mercedes'.)
"We know there is appetite for unlimited motoring packages and demand is growing rapidly for subscription services that better meet individual needs," InMotion managing director Sebastian Peck said in a statement. "For people who love driving premium vehicles but are tired of inflexible contracts, a subscription to Carpe is the solution. We aim to give our customers as much flexibility, freedom and choice as we can. We are excited to see Carpe come to market."
Volvo also said June 7 a third of its cars would be autonomous and half of its sales would be from fully electric cars by mid-next-decade.
"Our customers' expectations are changing rapidly," CEO Hakan Samuelsson said in a statement June 7. "This means that Volvo Cars is also changing rapidly. These initiatives will help transform Volvo from being purely a car company to being a direct consumer services provider."
Growth in subscription services to the degree Volvo predicts could shake things up for consumers, dealerships and the aftermarket. Unlike a lease, it appears the OEM picks the insurance and owns the car under subscription models. That means it, not the subscriber, would call the shots on the repair as well.
For example, asked if only Mercedes-certified body shops and OEMs would be used to repair Mercedes-Benz Collection vehicles, corporate communications manager Donna Boland wrote, "If an MB Collection subscriber is in a collision, s/he calls the concierge (all subscribers are assigned a concierge) and the concierge brings another vehicle to the subscriber.  The concierge then takes the damaged vehicle to the local dealer and the repair is handled as the dealer would handle any other vehicle."
Care by Volvo requires a $500 deposit which will be put towards the first monthly payment. Subscriptions are either $600 or $700 a month, include maintenance, roadside assistance and Liberty Mutual insurance, and let you drive 15,000 miles annually.
Volvo requires a two-year contract, but you can have a new car at the end of Year One. Customers also can temporarily switch Volvos during the subscription. (Volvo didn't elaborate, but presumably this means swapping between SUVs and sedans. Right now, only XC40s are available.)
"With Care by Volvo, we introduce a new car access for the modern age. In a time where consumers are used to transparent flat-fees for all sort of services, the traditional process of buying and owning a car can be perceived rather complicated," Volvo CEO Håkan Samuelsson said in a statement last year. "Care by Volvo changes all of that."
Mercedes' system is even more flexible. Subscriptions are month-to-month and include the ability to swap between whatever vehicles you want, including AMGs, within one of three tiers between $1,095-$2,995/month. (Mercedes also charges a "one-time activation fee of $495.") There are no mileage restrictions, and insurance, maintenance and roadside assistance are included. For a $200 fee, Mercedes will halt your subscription and stop charging you the monthly rate during whatever time you don't need a car, restarting it when you do.
"Customer's appetites are changing when it comes to how they access products and services, and our financial and mobility services are evolving to fit those demands. Adding Mercedes-Benz Collection's subscription services to our product portfolio is a natural fit," Mercedes Financial Services USA Vice President Geoff Robinson said in a statement. "We are working to provide one of the most diverse offerings in the market today and expect to learn a lot from this pilot." (Emphasis Mercedes'.)
Carpe's charges start at £910 plus VAT for the E-PACE, which works out to $1,208 plus VAT in U.S. dollars, and include insurance, maintenance and roadside assistance. There's also a £250 ($332) "placement fee" You can't swap out cars during your 12-month subscriptions, though you can get a new car at the end of the year.
More information:
"Volvo Cars announces new business ambitions"
Volvo, June 7, 2018
"Mercedes-Benz launches broadest luxury vehicle subscription plan in the U.S. with 'Mercedes-Benz Collection'"
Mercedes, June 5, 2018
"INMOTION LAUNCHES UNLIMITED MOTORING SUBSCRIPTION CAR SERVICE FOR HIGH MILEAGE DRIVERS"
Jaguar Land Rover, June 13, 2018
Mercedes-Benz Collection webpage
Jaguar Land Rover Carpe webpage
Featured image: Mercedes provided this screenshot for Mercedes-Benz Collection. (Provided by Mercedes)
Share This: