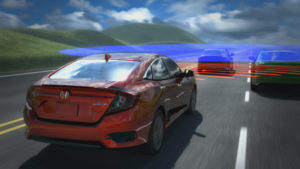 Honda in a new position statement has warned collision repairers that aftermarket windshields and incorrect grilles might affect advanced driver assistance systems in models dating as far back as 2013.
The new statement, which replaces one published in November 2014 about 2013-15 models, reflects the growing use of ADAS since then.
Honda in April said it had reached 1 million vehicles on U.S. roads equipped with the Honda Sensing suite of ADAS technology — a package that includes autobraking, lane keeping and adaptive cruise control.
"The Honda Sensing application rate has more than doubled from 2016 to 2017 to more than 50,000 vehicles per month in the past year, and now is applied on 69 percent of 2018 model-year vehicles," Honda wrote in April.
"… Honda Sensing is standard equipment today on the 2018 Clarity Plug-in Hybrid, 2018 Clarity Fuel Cell, 2017 Clarity Electric, 2018 Accord, just-launched 2018 Accord Hybrid, and will be standard on the 2019 Insight hybrid sedan, slated for introduction later this year. The technology is available today on the 2018 Honda Fit, Civic Sedan, Coupe and Hatchback, CR-V and Pilot sport-utility vehicles, Odyssey minivan and Ridgeline pickup."
Acura in June 2017 reported that 70 percent of all new Acuras sold had the more advanced AcuraWatch suite.
"Driver assist systems and safety systems on many late model Honda and Acura vehicles offer heightened safety performance and convenience for the driver and passengers," Honda wrote in the new position statement. "However, collision repair technicians must be aware of issues that may be created if other than original equipment parts are used to repair vehicles with these systems. While aftermarket parts may look the same and fit in the same physical space on the vehicle, their use may present unforeseen circumstances causing the driver assist or other safety systems to operate abnormally, or not at all."
Insurers have no cause to oppose or quibble with the statement or the potential for higher repair costs related to the OEM parts. Overall, they seem to come out far ahead on the deal if the OEM part ensures the ADAS system continues to work for the entire life of the vehicle.
The Insurance Institute for Highway Safety Highway Loss Data Institute studied more than 327,000 2016 Accords, Civics and Pilots with and without Honda Sensing, according to Honda in April. The insurer-backed research center found collision claim severity fell $379, the Hondas saw nearly 11 percent fewer third-party claims to other cars or property, and injuries to other people fell 28 percent.
"Honda dreams of a collision-free mobile society and the Honda Sensing technology has a crucial role to play in advancing us toward that goal," Honda automobile Senior Vice President Henio Arcangeli Jr. said in a statement then. "With the rapidly growing population of Honda vehicles applying these technologies, we hope to significantly reduce collisions involving Honda vehicles within the next three to four years."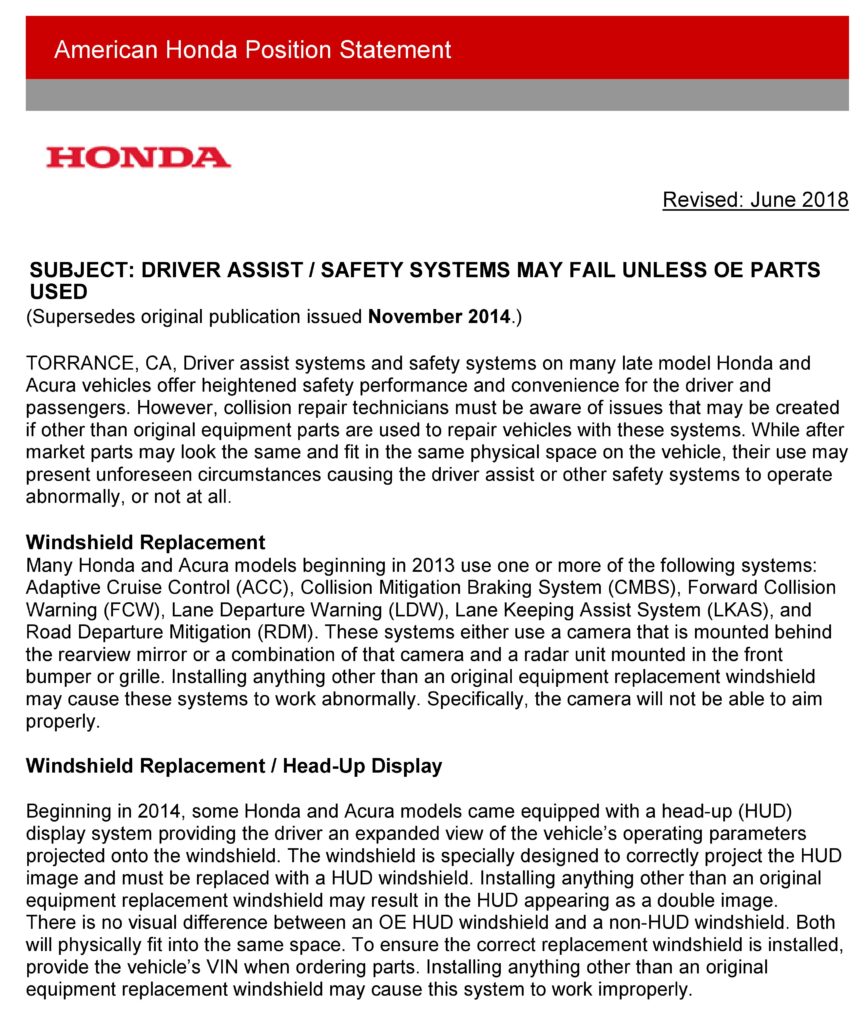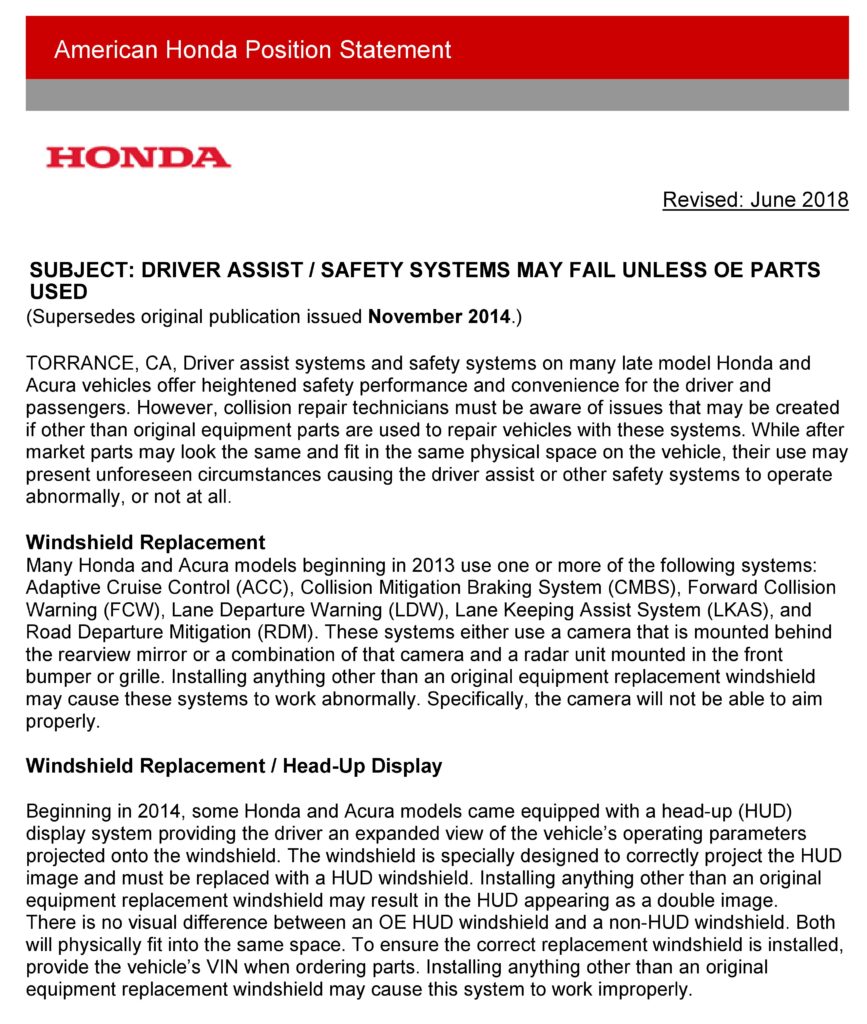 The wrong windshield
Honda writes in the new position statement that anything other than an OEM windshield might affect ADAS technology found in the Honda Sensing suite.
"Many Honda and Acura models beginning in 2013 use one or more of the following systems: Adaptive Cruise Control (ACC), Collision Mitigation Braking System (CMBS), Forward Collision Warning (FCW), Lane Departure Warning (LDW), Lane Keeping Assist System (LKAS), and Road Departure Mitigation (RDM)," Honda wrote. "These systems either use a camera that is mounted behind the rearview mirror or a combination of that camera and a radar unit mounted in the front bumper or grille. Installing anything other than an original equipment replacement windshield may cause these systems to work abnormally. Specifically, the camera will not be able to aim properly."
The wrong grille
According to Honda, grille radar systems referenced above also might be affected by an aftermarket grille — or, it seems, even an OEM one taken off of an ADAS-less version of the car.
"Beginning in the 2014 model year for Acura and in the 2015 model year for Honda, certain models began coming equipped with a Collision Mitigating Brake System™ (CMBS™) that uses a millimeter wave radar unit mounted in the front grille area," Honda wrote. "This unit senses through the front grille upper molding (Acura), or grille emblem (Honda CR-V). These parts are specially designed to prevent radar interference, which significantly increases their cost. Installation of the wrong grille parts will cause the CMBS indicator to come on and DTC P2583-97 (dust or dirt on the millimeter wave radar) to set."
A similar consideration appears to exist for certain Toyotas. In 2016, we covered how a special Toyota grille emblem was required in some cases; applying the regular Toyota emblem on those models would blind the radar used by autobraking and adaptive cruise control.
Keeping the driver happy
Other warnings relate to the quality of the driving experience. Disregarding Honda's instructions might not kill anybody, but they can lead to an upset customer and a comeback.
According to Honda, a heads-up display-equipped Honda or Acura could get double vision if an aftermarket or OEM non-HUD windshield is used.
"Beginning in 2014, some Honda and Acura models came equipped with a head-up (HUD) display system providing the driver an expanded view of the vehicle's operating parameters projected onto the windshield," Honda wrote. "The windshield is specially designed to correctly project the HUD image and must be replaced with a HUD windshield. Installing anything other than an original equipment replacement windshield may result in the HUD appearing as a double image."
Honda advises shops to providethe VIN when ordering parts to ensure the right windshield is matched to the right vehicle build.
"There is no visual difference between an OE HUD windshield and a non-HUD windshield," Honda wrote. "Both will physically fit into the same space."
Honda also encouraged shops to provide a VIN when ordering the acoustic front side door glass available on some Acura and Honda trims since 2014. Installing the wrong glass could leave the customer noticing the ride is noisier or that the window broke when it shouldn't have.
"The glass has a sound insulation layer of polyvinyl butyral (PVB) sandwiched between two layers of semi-tempered glass," Honda wrote. "Acoustic side glass is thinner than conventional side glass. It is similar to laminated windshield glass in that it does not shatter like conventional side window glass. .. Installing anything other than the original equipment replacement side glass may result in a diminution of the vehicle's cabin-noise reduction qualities."
More information:
Honda position statement: "DRIVER ASSIST / SAFETY SYSTEMS MAY FAIL UNLESS OE PARTS USED"
Honda, June 2018
"Honda Reaches One Million Vehicles with Honda Sensing® on U.S. Roads"
Honda, April 10, 2018
Images:
A camera and radar are part of the Honda adaptive cruise control system. (Provided by Honda)
Honda in a new position statement has warned collision repairers that aftermarket windshields and incorrect grilles might affect advanced driver assistance systems in models dating as far back as 2013. (Provided by Honda)
A feature of the Honda autobraking system is shown. (Provided by Honda)
Share This: