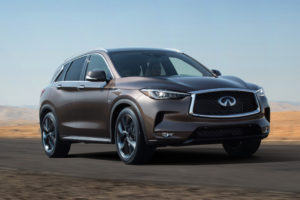 Nissan on Monday announced it would seek to have 25 percent of its vehicle parts weight derived from ultra-high-strength steel components of at least 980 megapascals.
The decision is part of a June sustainability plan seeking to cut Nissan vehicle's carbon emissions (i.e. gas guzzling) by 40 percent by the 2022 fiscal year compared to FY 2000. (Using a baseline from 18 years ago lowers the bar a bit, but the effort is still laudable.)
The emissions target will likely result in increased use of high-strength steels below 980 MPa as well to shave more weight out of the company's vehicles.
Designs using more new and existing ultra-high-strength steel and/or high-strength steel means auto body shops and insurers need to be prepared for Nissans and Infinitis carrying new or revised repair restrictions and considerations. Variations on these rules likely already exist for Nissan and Infiniti's existing steel and vehicle portfolios — and if you're not familiar with such instructions, you'd better catch up immediately.
Nissan's announcement noted it debuted a new 980 MPa high formability steel on the 2019 Infiniti QX50 and ultimately built 27 percent of the SUV out of ultra-high-strength steel.
Such parts are replace-only. As Infiniti writes in the 2019 QX50's OEM repair procedures (which work best in Internet Explorer):
Ultra high strength steel (UHSS) means the steel from 980 MPa or higher.
Never cut and joint the panel, plate and reinforcement made of ultra high strength steel (UHSS).
If such part is damaged, replace the part.
The QX50 also contains many 440-979 MPa body parts classified as high-strength steel. That metal also carries restrictions.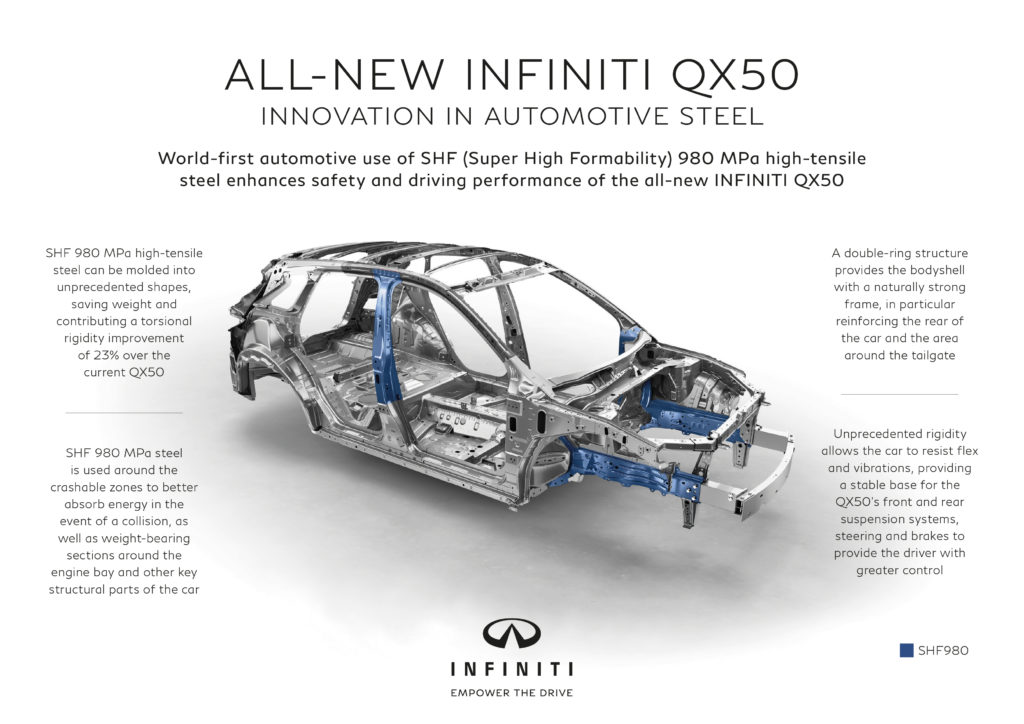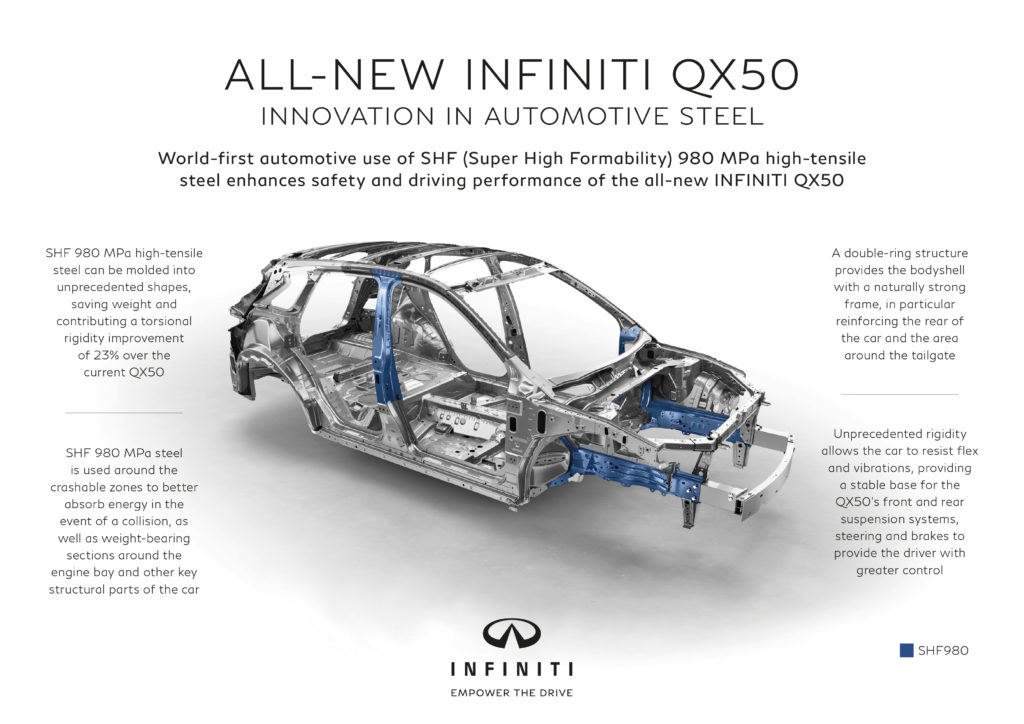 Infiniti in its 2019 QX50 instructions doesn't recommend you heat 440-979 MPa reinforcements at all "since it may weaken the component." However, if heating is unavoidable, the temperature can't exceed 550 Celsius/1,022 Fahrenheit, according the OEM.
"When you heat the HSS or UHSS parts above 550°C (1,022°F), it must be replaced with new parts," Infiniti wrote.
Infiniti also said to use a saw instead of a torch to cut those steels "to avoid weakening surrounding areas due to heat." Any torch cutting must have a margin of 50 mm at least.
It also warned that pulling high-strength steel parts can cause unexpected deformation because of the metal's strength. "
"In this case, increase the number of measuring points, and carefully pull the HSS panel," the OEM wrote for the QX50.
As noted above, such considerations aren't limited to the new higher-formability steels Nissan touted. For example, Nissan offers similar restrictions for the more traditional high- and ultra-high-strength steels used a few years ago to build the next-generation 2015 Murano and 2016 Maxima.
However, significant differences also exist between those vehicles' (and their successors') steel repair/replace procedures and those for the 2019 QX50. This demonstrates once again why repairers must look up repair procedures every time, for every individual vehicle.
Nissan's new steel
Nissan wrote that it worked on the new "high-formability" 980 MPa steel in the QX50 with Nippon Steel & Sumitomo Metal and described itself as the first OEM to use the metal.
Nissan described the formability as "previously unachievable" in steel with that tensile strength.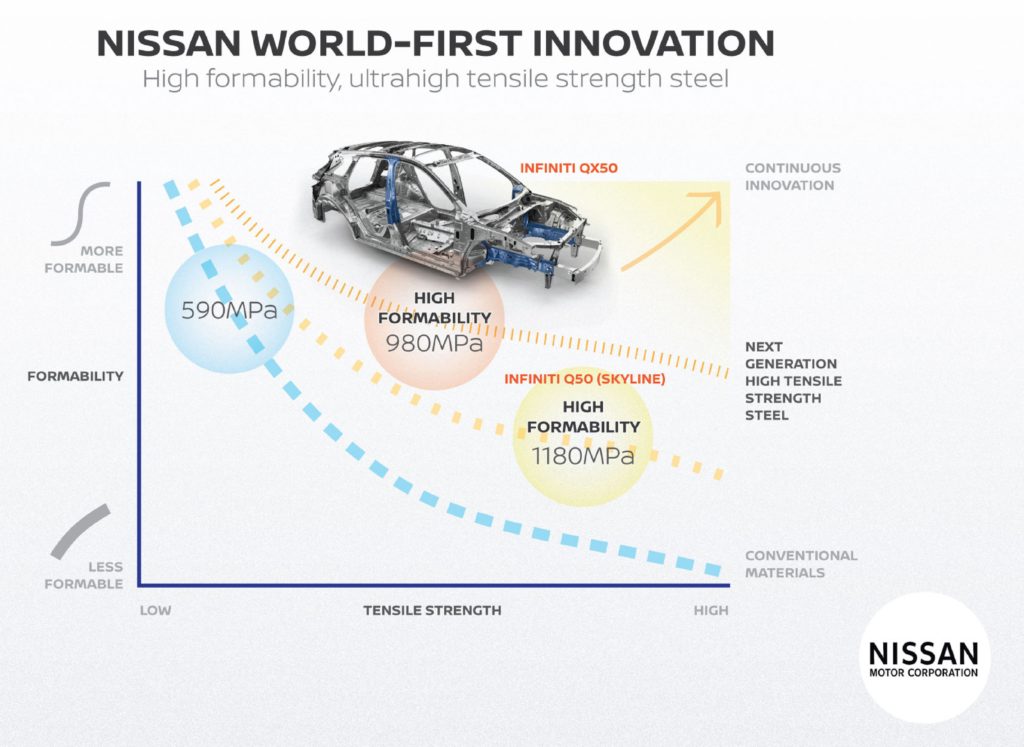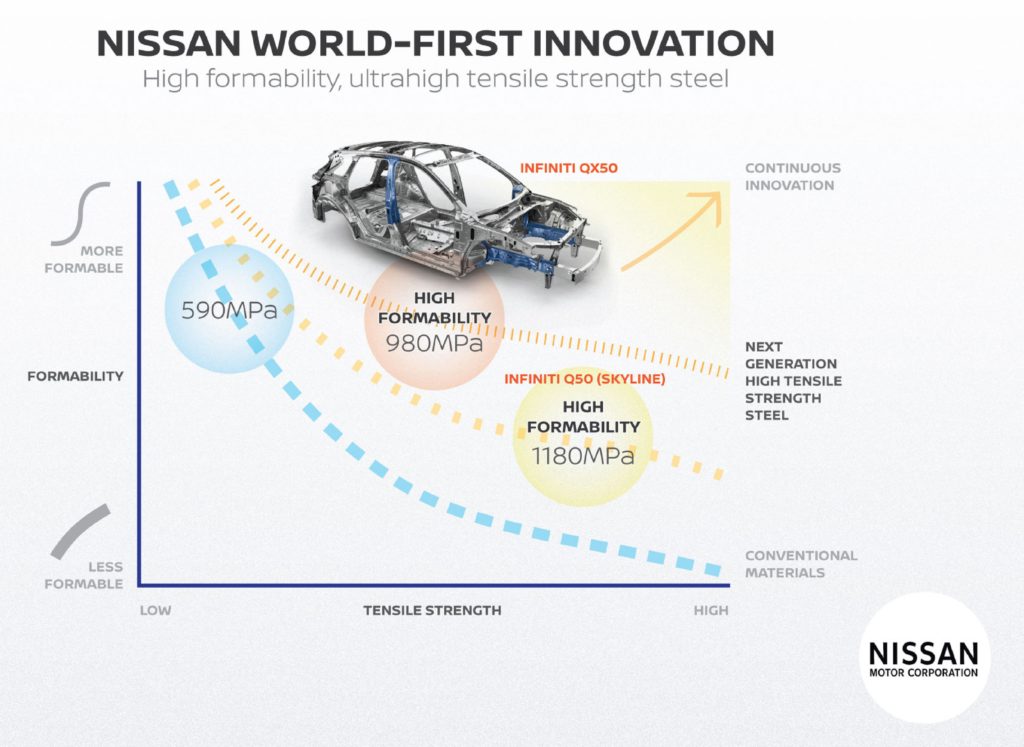 "The steel's combination of stamping formability and strength makes it possible to form parts with complex shapes that are thinner and lighter than those made of conventional high tensile strength steel, while maintaining the ability to absorb energy in a collision," the OEM wrote.
So-called third-generation steels with high formability and high strength have begun to reach the market, a steel expert told the Center for Automotive Research's Management Briefing Seminars last year. 
OEMs  able to shape steel into more complicated structures potentially opens up new areas of the body-in-white which could go higher-strength and further affect structural collision repair. Auto/Steel Partnership Executive Director John Catterall told the CAR MBS audience that the third-generation multiphase steels would be "ideal for crash-dominated load paths," such as the side structure and front and rear rails.
Nissan called the 2019 QX50 the "world's first vehicle with front and rear side members made from 980-megapascal ultrahigh tensile strength steel, along with other body frame parts."
The SUV won't be alone for long. Nissan wrote Monday it planned to bring the steel to other vehicles, noting that the metal can be cold-pressed, "making it suitable for mass production" and helping to keep costs down.
"The company is aggressively developing technologies to expand the use of ultrahigh tensile strength steel, aiming for it to make up 25% of the company's vehicle parts by weight," Nissan wrote.
More information:
"Nissan to use ultrastrong, high-formability steel in more new vehicles"
Nissan, June 18, 2018
Nissan collision repair procedures website (use Internet Explorer)
Infiniti collision repair procedures website (use Internet Explorer)
Images:
Nissan debuted a new 980 MPa "Super High Formability" steel on the 2019 Infiniti QX50 and ultimately built 27 percent of the SUV out of ultra-high-strength steel. (Provided by Infiniti)
Nissan on Monday announced it would seek to have 25 percent of its vehicle parts weight derived from ultra-high-strength steel components of at least 980 megapascals. The OEM noted it debuted a new 980 MPa high formability steel on the 2019 Infiniti QX50. (Provided by Nissan)
Share This: