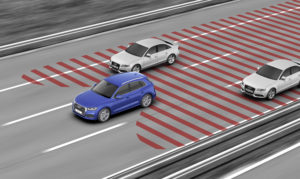 An item in Audi's 2018 Paint User's Guide warns painters to watch their coating thickness and keep plastic repairs and body filler away from the blind spot monitors behind the rear bumper fascia.
Though the guide itself is published abroad with information not intended for the U.S. market, the guidance on lane change assist is applicable to American collision repairers, Audi collision and equipment manager Mark Allen confirmed Wednesday. (Obviously, you'll still need to refer to the specific OEM repair procedures for the particular Audi year and model in front of you.)
The instructions direct repairers to run an Audi VIN request to see if the build data includes a radar system, noting that a tip-off might be warning lights in the side-view mirrors. While typically housed in the bumper cover, their exact location on the vehicle can be located by checking Audi's repair manuals, according to the OEM.
As is the case with other OEMs' advanced driver assistance systems, painters and body technicians will need to be careful what they do on the substrates in front of the radar, according to Audi.
The OEM states that "A repair of the plastic must not be carried out within 25 cm of this area," and "Filler must not be applied within 25 cm of this area."
Neither a spot repair "before the area of the sensors" nor "Three-coat painting of the bumper cover" are allowed, according to Audi.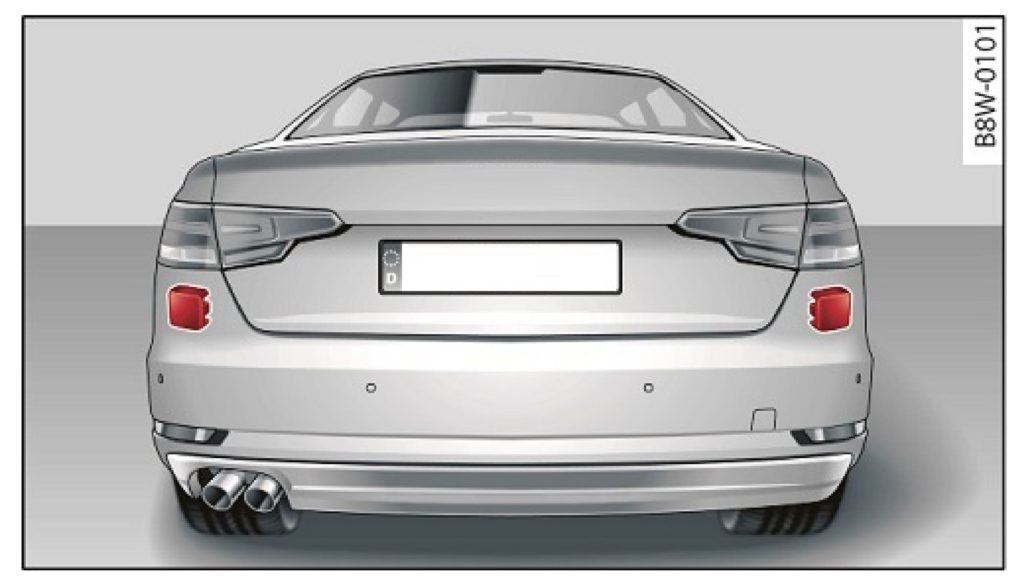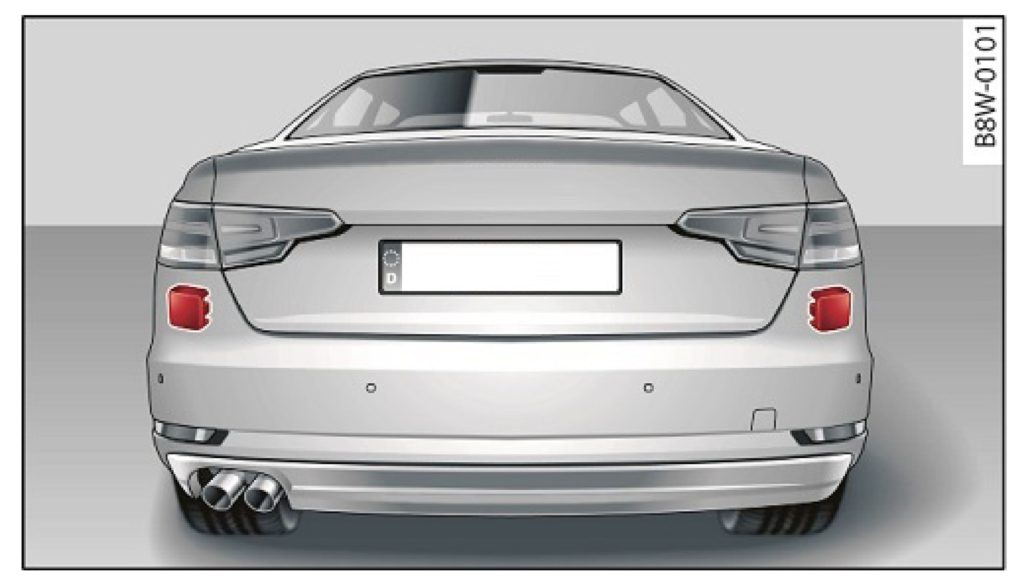 In an interesting wrinkle, Audi also wants you to check for another body shop's work on the bumper cover as well.
"Before starting to paint, check if the bumper has already been subsequently painted by producing a sanding pattern in the surrounding area," Audi stated. ("Subsequently" here seems to be a typo; the OEM likely means "previously," but check your OEM repair procedures.)
The OEM wants no more than 150 microns of paint thickness "before the sensors," which works out to about 5.90551 mils.
Audi notes that the radar sensor position typically changes during the removal and installation of the radar sensor, and it states that shops must calibrate the devices "using a diagnostic tester."
Audi's instructions are yet another example of why body technicians, preppers and painters can't just grab a fascia (or any other part in front of a sensor) on a modern vehicle and expect to handle it the way they've been doing on previous models.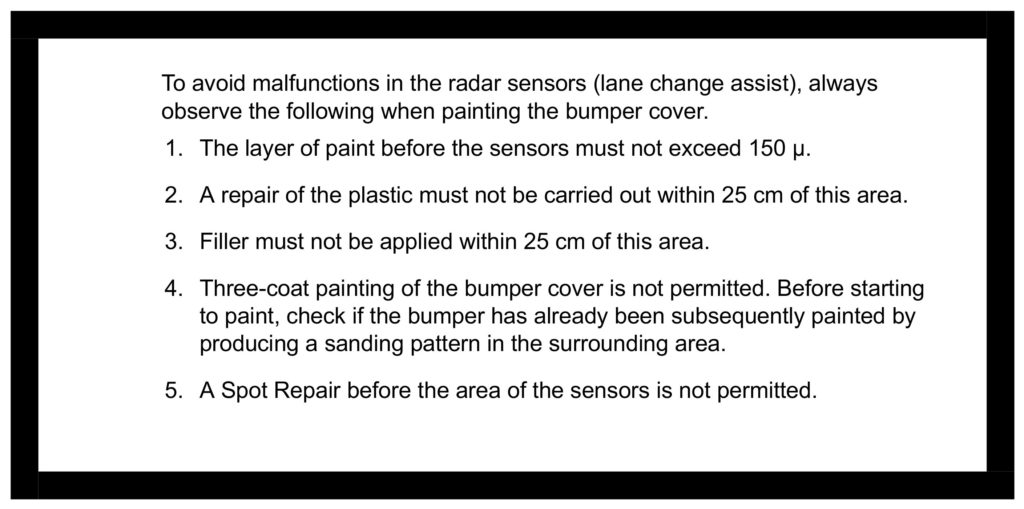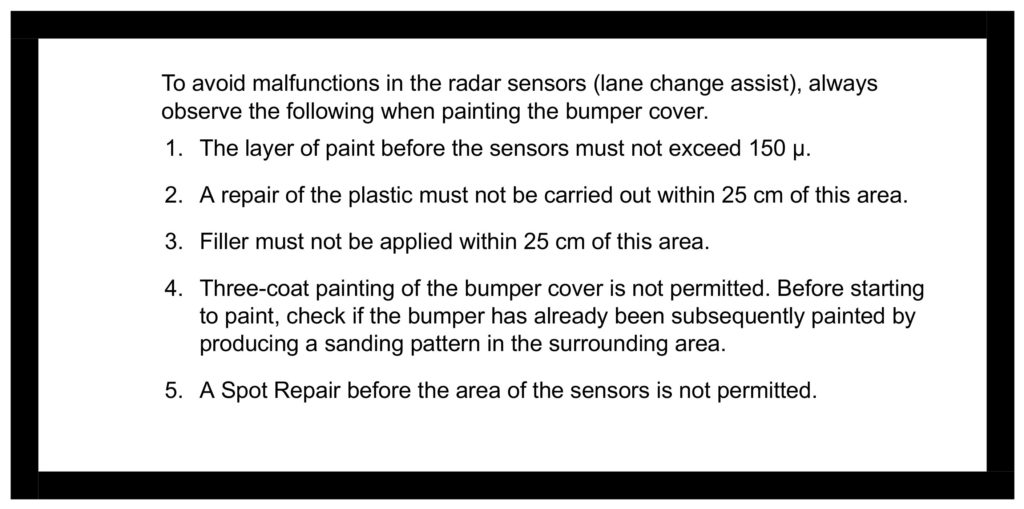 For example, Toyota has warned of the risk of plastic filler, blending, repairs and excessive paint thickness in its blind spot sensor area. Nissan and General Motors issued position statements in 2017 and 2018 with similar cautions.
"BSW was introduced to some Nissan vehicles as early as 2011," Nissan wrote in 2017. "On vehicles equipped with this technology, the side radars, which are responsible for triggering the BSW, sit behind the rear bumper cover at both corners. For this reason, in a rear end collision scenario, Nissan DOES NOT support any repair, body filler application, or paint work on the rear bumper cover in the general area of the side radars. Nissan's service manuals clearly state: 'Do not attach a sticker (including transparent material), install an accessory or paint work near the side radar'.
"The damaged bumper cover should be instead replaced with a new bumper cover. In addition, since non-OEM bumper covers may vary in materials, build specifications, and fitment, and have not been tested by Nissan as far as compatibility with the BSW system, Nissan recommends replacing the bumper cover with a new Genuine Nissan bumper cover." (Emphasis Nissan's.)
GM in June banned the use of all "aftermarket, reconditioned, or salvage" bumper fascias on vehicles with advanced driver assistance systems and restricted repairs to "topcoat refinish only."
More information:
Excerpt from Audi 2018 Paint User's Guide
Audi, 2018
Audi OEM repair procedure OEM1Stop portal
Images:
Audi side assist on the Q5 is shown in this graphic from the OEM's global media site. (Provided by Audi)
An item in Audi's 2018 Paint User's Guide warns painters to watch their coating thickness and keep plastic repairs and body filler away from the blind spot monitors (red) behind the rear bumper fascia. (Provided by Audi)
An item in Audi's 2018 Paint User's Guide warns painters to watch their coating thickness and keep plastic repairs and body filler away from the blind spot monitors behind the rear bumper fascia. (Provided by Audi)
Share This: