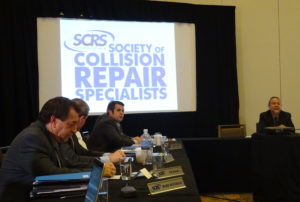 The Society of Collision Repair Specialists has invited the public to its open board meeting Tuesday, Aug. 7, in Atlanta during CIC and NACE Week.
Anyone is welcome to the free event, scheduled for 8:30-10 a.m. in Room B403 of the Georgia World Congress Center. The event will wrap up with plenty of time before the Collision Industry Conference, which runs 1-5 p.m. Aug. 7 and 8 a.m.-noon Wednesday, Aug. 8. NACE starts at 10 a.m. Aug. 8.
"The hour and a half meeting will include updates from SCRS staff and various committees' chairs highlighting current industry events of importance and work that the association has undertaken on behalf of the membership," SCRS wrote in a news release.
The last open board meeting saw presentations on personal protective equipment; feather, prime and block; and the Collision Advice-CRASH Network "Who Pays for What?" surveys.
The August meeting will include an SCRS Education Committee presentation on repair facility maintenance and safety, and should be a nice sequel to both the PPE presentation and an April CIC OSHA presentation on common shop violations.
Speaking of SCRS events, don't miss the chance to take advantage of early registration pricing for the SEMA Week Repairer Driven Education series, including the OEM Collision Repair Technology Summit and Sky Villa afterparty. The trade group also will this year add a new "IDEAS Collide Showcase (IDEAS Collide), Visionary Disruption and Solution in the Collision Repair Industry." The "TED Talks"-esque forum will run 10 a.m.-noon Friday, Nov. 2, and SCRS is seeking video pitches for speakers and "brash, outspoken and thought-provoking concepts" through July 31.


And speaking of events in general, why not try out Repairer Driven News' new and vastly improved "Events" section? (Apologies to all of you for its predecessor.) Use our interactive calendar to upload your collision industry events, be they fundraisers, educational sessions, trade shows or association meetings. Submissions are reviewed for relevance and appropriateness and should post within a business day or two.
More information:
"SCRS Open Board Meeting on Tuesday, August 7th in Atlanta"
Society of Collision Repair Specialists, July 12, 2018
SCRS Repairer Driven Education registration
Repairer Driven News events calendar 2.0
Featured image: The Society of Collision Repair Specialists April 2018 open board meeting is shown. (John Huetter/Repairer Driven News)
Share This: