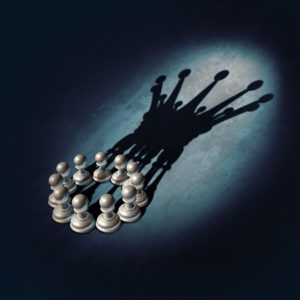 As CARSTAR celebrates its milestone of 600 shops across both the U.S. and Canada, let's take a look back to see how it and the nation's other large multi-shop conglomerates grew their U.S. footprints in 2017.
ABRA
A Jan. 13, 2017, news release states the company had 335 locations, and a Jan. 22 news release said the acquisition of LC Auto Body brought the company up to 338 shops in 26 states, which would put ABRA at about 337 locations at the end of the year. However, an early July news release states the company added 16 locations in 2018 to reach 354, which would mean it had 338 after all Dec. 31, 2017. About +2 or +3 net growth.
But as indicated above, ABRA's slow growth in 2016 and 2017 has given way to an expansion boom in 2018. It'll be interesting to see how big the company is by the end of the year.
Caliber
Caliber reached the 500-shop mark in mid-2017 but blew past that number by the end of the year.
An Oct. 19, 2016, news release lists the MSO as reaching 448 locations in 17 states. A Jan. 30, 2017, news release puts the tally at 474 locations in 17 states. A Nov. 2, 2017, news release states the MSO had 527 locations, and a June 13 IBIS/bodyshop magazine article reported a Caliber presentation describing 546 shops by the end of 2017. +72 to +98 net growth.
As IBIS wrote:
(Chief Operating Officer Mark Sanders) showed a graph charting Caliber's historic growth from 2010 when it had 79 shops with a revenue of $316m to 2017 during which it was operating 546 sites with annual revenues of over $1.9bn. …
Mark highlighted how 2016-2017 alone saw the business grow by more than 1,200 teammates, some 800 sites and nearly 140,000 repairs. 'It looks very attractive and is a lot of fun to be in a high growth company but the measure of our success is in our key performance indicators,' said Mark. 'We have made a commitment that Caliber will never outgrow its ability to provide our high levels of service.
CARSTAR
CARSTAR President Michael Macaluso estimated Thursday its 600 franchisee collision repairers were evenly split between the U.S. and Canada, and he estimated CARSTAR had approximately 565 shops divided between the two countries at the end of 2017. The company had 499 shops in both countries at the end of 2016, so figure something like 249 or 250 in the U.S. then and around 282 or 283 U.S. locations as of Jan. 1 of this year.
A CARSTAR representative was looking into providing the specific totals. But figure about +31 to +34 net U.S. growth.
Macaluso on a Thursday media call estimated CARSTAR would reach 660 shops in North America by the end of the year, with the "bulk" of the growth coming from the United States. The company seeks to reach 1,000 shops across the two countries in three years, he said.
Certified Collision Group
CCG, a buyer's group and support organization which offers independent collision repairers a way to enjoy the bargaining clout of an MSO without taking a cut of revenue, is worth noting here as well. The company exploded in 2016, with CEO Bruce Bares declaring Jan. 9, 2017, "We are very proud of a team that significantly grew our Affiliate base in 2016 from an initial offering of 27 repair centers to now approaching 110."
A year and a half later, it's reaching the point where it could be breathing down CARSTAR's neck soon in the U.S. CCG  declined to reveal its shop count for an October 2017 article, citing competitive reasons, but our rough estimate put the collective at around 190 locations. In May, CCG said it added 57 shops in 2018 for a total of "200-plus locations." Around +80 to +90 net growth, at least.
Gerber
Gerber's 2017 annual report states the company had 389 locations within the U.S, up from 362 at the end of 2016. The MSO also increased its presence in its native Canada to 45 Boyd sites and 75 Assured Automotive locations, up from 42 Boyds at the end of 2016. +27 net growth U.S.
"During 2017, the Fund added a record 105 locations, representing a 26% increase in location count," Allan Davis, chairman of parent company Boyd Group, wrote to investors. "Additionally, despite some headwinds, the Fund achieved sales growth of 13.1%, Adjusted EBITDA growth of 17.2%, Adjusted EBITDA margin expansion of 30 basis points and a unit price increase 17.9%. Perhaps the most significant single event of 2017 was the acquisition of Assured Automotive, Canada's largest non-franchise collision repair company. This strengthened the Fund's leadership position in Canada and provided a new platform in Ontario from which to grow."
Service King
Service King on Jan. 22 announced it had acquired Airport Auto Body in Colorado, bringing the chain up to 336 auto body shops. A Dec. 18, 2017, news release also references having 335 locations.
A Jan. 6, 2017, Service King news release states the company had 306 locations. +29 net growth.
Images:
The collision repair industry continues to see shops sell to or franchise with one of the major national MSOs. (wildpixel/iStock)
Share This: