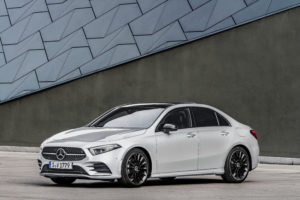 Mercedes on Thursday announced its next-generation 2019 A-Class Sedan incorporates more high- and ultra-high-strength steel within a design developed with help from its relatively new crash-test facility.
"Every single body shell component was developed according to loads and stresses encountered, with respect to geometry, material thickness, joining technology and material quality (increased proportion of high-strength and ultra-high-strength sheet steel)," Mercedes wrote in a news release.
The car will release later this year in the U.S., so repairers will need to be ready to deliver the same level of safety back to customers when working with or around such metals. Higher-strength steels typically become more heat-sensitive — which can matter for cosmetic repairers as well as structural ones. The crash energy management and occupant protection functions of certain grades — something alluded to by Mercedes Friday — can also restrict sectioning and part repair."
"The centerpiece of the body's safety concept is the highly rigid passenger compartment," Mercedes wrote. "A greater use of high-strength, ultra-high-strength and press-hardened sheet steel results in an impressive rigidity when subjected to accident-induced stress – for example, in frontal, lateral or rear-end collisions and roll-overs." (So basically every type of crash.)
Mercedes ought to understand collisions. The OEM said the A-Class was its first vehicle designed within the OEM's Technology Centre for Vehicle Safety, which opened and performed its first "productive" crash test in 2016.
The facility cost "a three-digit million euro sum," Mercedes said in November 2016. That'd be about the same in dollars based on the exchange rate back then. According to Mercedes, it can perform 900 crash tests a year and another 1,700 sled tests — and it might be a tougher judge than external parties.
"Mercedes-Benz has always conducted more and much more demanding crash tests than prescribed by legislation or required for ratings," the OEM wrote in 2016.
The facility helps Mercedes test its advanced driver assistance systems and its "PRE-SAFE" systems, which deduce that a crash is likely and take steps like adjusting a headrest and seat, closing the moonroof and tightening seatbelts to minimize the severity. (PRE-SAFE PLUS also can deduce when a stopped vehicle will be hit in the rear and hit the brakes.)
The driver and front passenger seats each have a three-point seat belt with a belt force limiter and belt tensioner. As standard, the new A-Class is equipped with driver and front passenger airbags, a driver's knee airbag and window airbags. Unlike in many competing models, the window airbags cover the A-pillar for more complete passenger protection. Thorax-pelvis side airbags are also standard in the front and available as an optional addition for the rear.
"Mercedes-Benz continues to work to replicate the way accidents actually happen even more realistically in its crash tests," the OEM wrote.
The largest pillar-free area of the "crash hall" is more than 295 feet by 295 feet, and the longest crash run is more more than 656 feet, according to Mercedes.
This facility just reinforces why adjusters and repairers must adhere to OEM procedures on the A-Class sedan and other Mercedes vehicles:
"I want to do it my own way." "Oh, did you design the car using a nine-figure crash test facility?" "No." "OK, so we'll stick with what Mercedes says to do."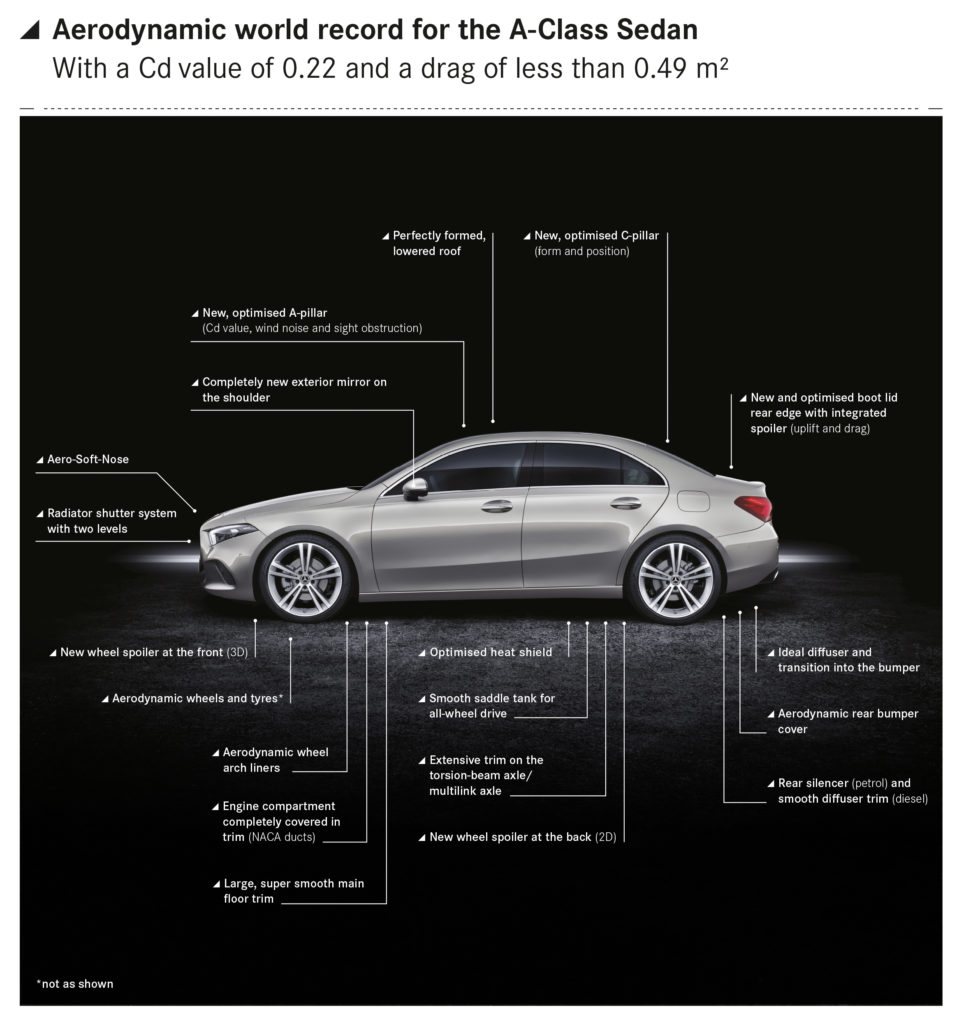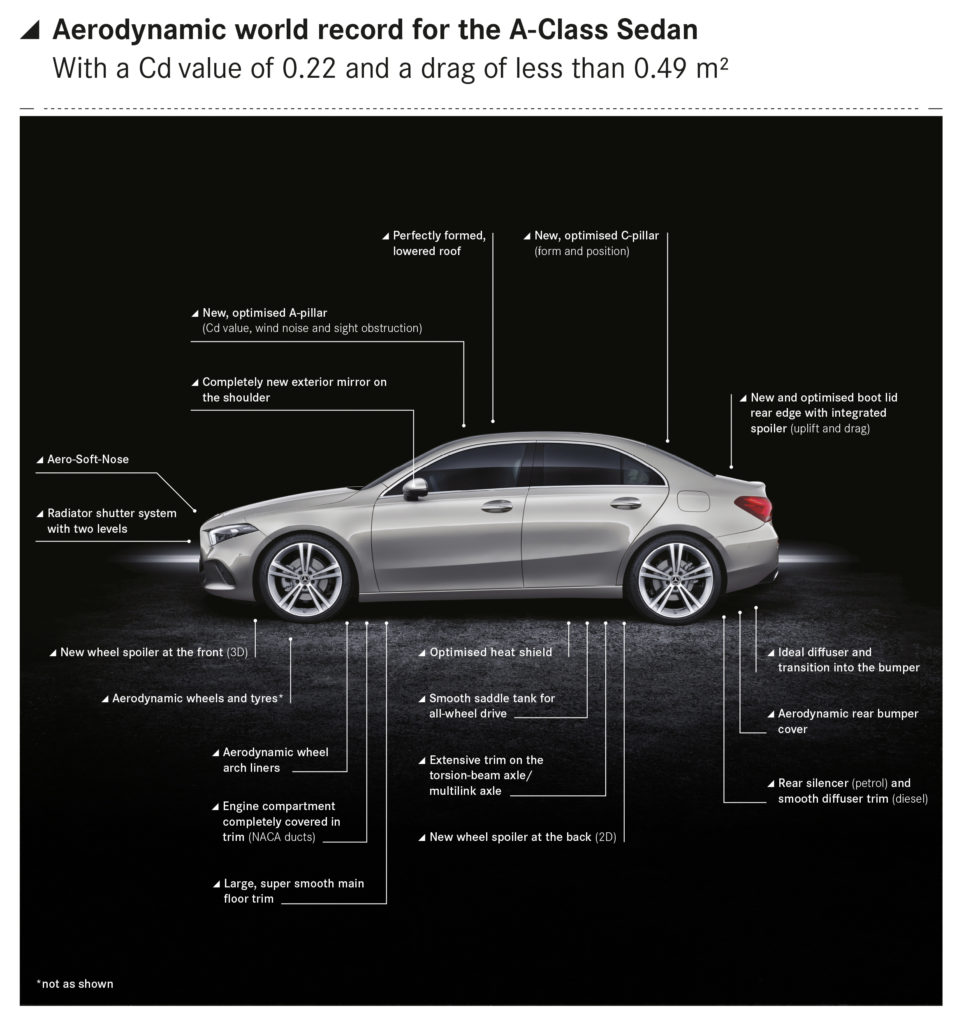 Other A-Class elements possibly of note to collision repairers:
The front seatbelts have force limiters and tensioners.
A driver's knee airbag is standard, the standard "window" airbags cover the A-pillars, and torso-pelvis side airbags come standard in the front and as a rear seat option.
LED headlights are standard, and customers can purchase an optional LED Intelligent Light System that Mercedes said can automatically adjust itself and the individual LEDs for the traffic situation. "The daylight-color of the LEDs is easy on the eyes and positively effects concentration," Mercedes also wrote.
ADAS tech including standard autobraking. An option allows the A-Class "to drive semi-autonomously in certain conditions" and "see more than 1,500 feet ahead," while Active Distance Assist DISTRONIC (it's unclear if this is an option or standard) can predictively adjust the car's speed when a turn is near.
Opening the trunk by kicking your foot is an option.
Check your exterior tolerances: "Clear, formal shapes emphasize surface areas with reduced lines and precise gaps," Mercedes wrote.
"The front axle of the new A‑Class features a McPherson design," Mercedes wrote. "For models with 4MATIC, adaptive damping or larger wheels are fitted with a complex four-link rear axle. All other models have a weight-optimized torsion-beam rear axle."
The radiator has shutters, the engine compartment is covered in trim from below, the bumper cover and tailgate are designed for aerodynamics as well.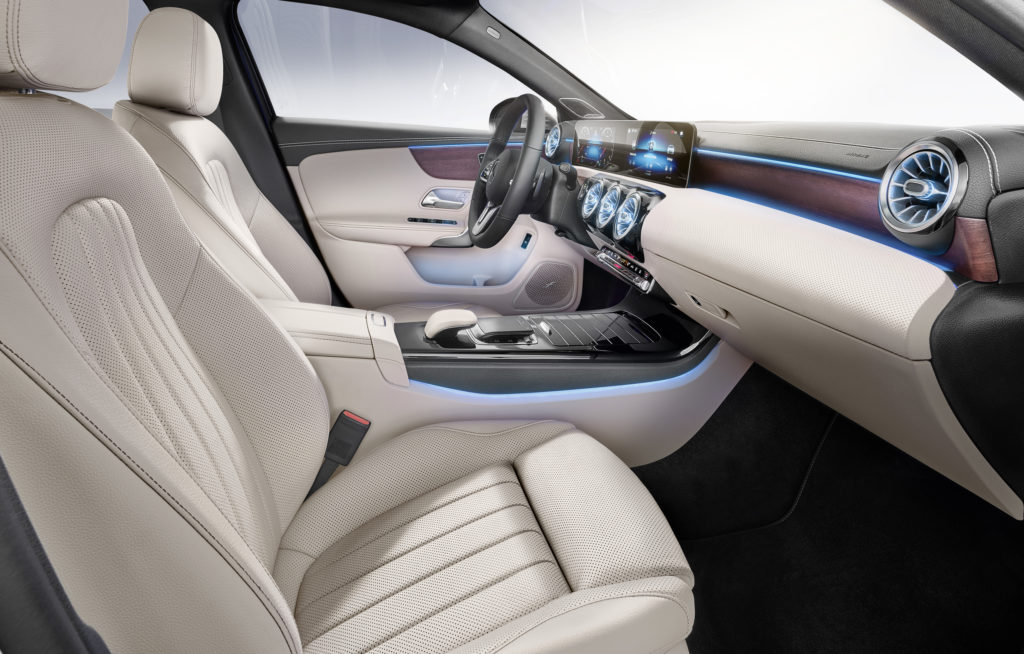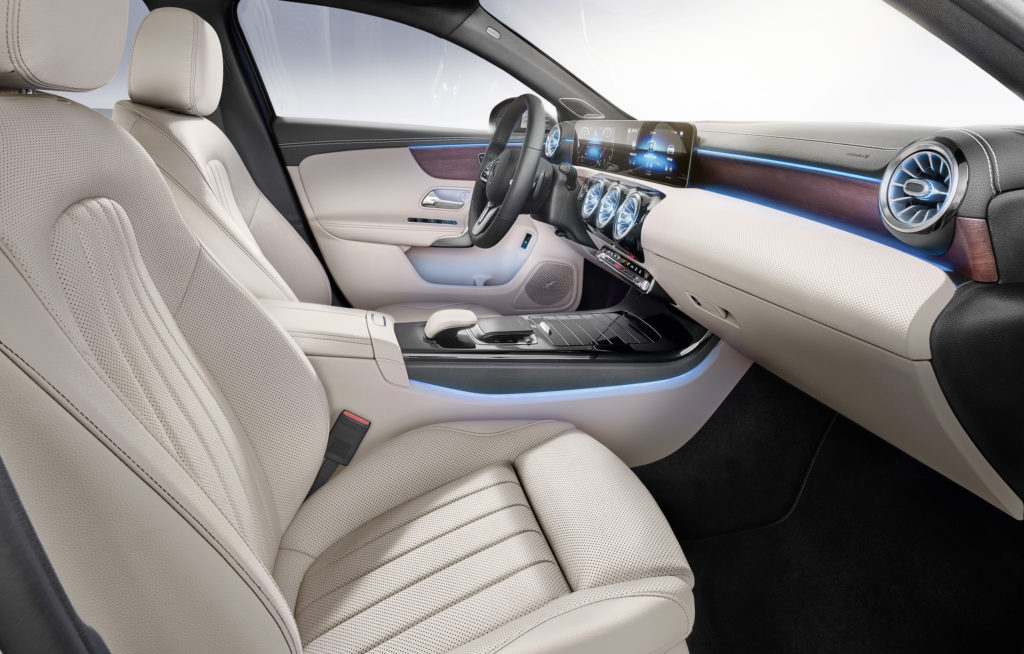 More information:
Mercedes, July 26, 2018
"Three-year construction period, triple-digit million euro investment: Mercedes-Benz opens new crash test centre"
Mercedes, Nov. 30, 2016
Images:
The next-generation 2019 Mercedes A-Class is shown. (Provided by Mercedes)
Mercedes says the A-Class has set an aerodynamic "world record" with a coefficient of drag of 0.22 and a 0.49 square-meter drag. (Provided by Mercedes)
The interior of a 2019 Mercedes A-Class is shown. The car also has standard knee and thorax/pelvis airbags to protect the front occupants. Mercedes said the standard window airbags also cover the A-pillars. (Provided by Mercedes)
Share This: