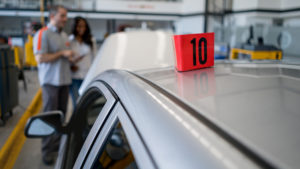 The quarterly "Who Pays for What?" surveys also ask hundreds of auto body shops about issues unrelated to whether an insurer will reimburse them for various not-included operations.
The answers provide insight into other elements of running or working in a collision repair business, and we thought we'd round up a couple here from the April survey released earlier this month.
Help the industry by taking the current "Who Pays for What?" survey on frame and mechanical operations here through July 31. All answers are kept confidential — data is published only in the aggregate — and participants receive a copy of the report. Collision Advance and CRASH Network encourage a shop to designate the person "most familiar with the shop's billing practices and the payment practices of the largest national insurers" to complete the poll, which they say takes about 15-30 minutes.
Storage
Storage rates don't get as much attention as labor rates, but the charges are important considerations for repairers, insurers and customers.
For insurers and customers unfamiliar with the concept, the idea is that a car sitting inert awaiting a decision by customer or insurer ties up space that the shop could be using to make money fixing someone else's car. The same goes for the space wasted while awaiting a tow of a total to an auto auction or salvage yard. The shop also might incur expenses related to having that space in the first place, such as the cost of buying, leasing, heating or insuring the square footage.
The April "Who Pays for What?" survey found the median storage rate indoors was $50, while storing a vehicle outside cost $40. That means half of all repairers charge more than those amounts, while the other half charge less. Two years ago, shops charged $45 inside, $35 outside, though it's unclear if this higher-than-inflation difference is statistically significant.
The 75th percentile repairer — who's still charging less than a quarter of the shops in the industry — assesses customers $55 for exterior storage and $75 for vehicles inside their shop. In 2016, the 75th percentile repairer charged $50 outside, $65 inside. (Again, statistical significance is unclear.)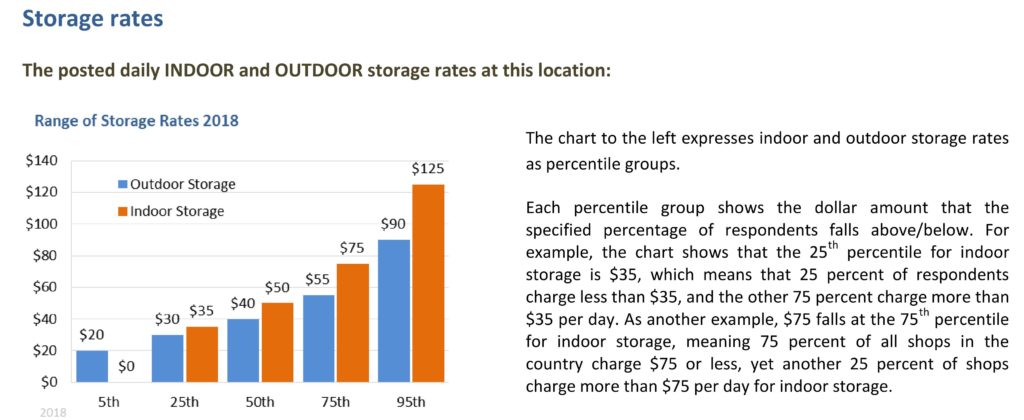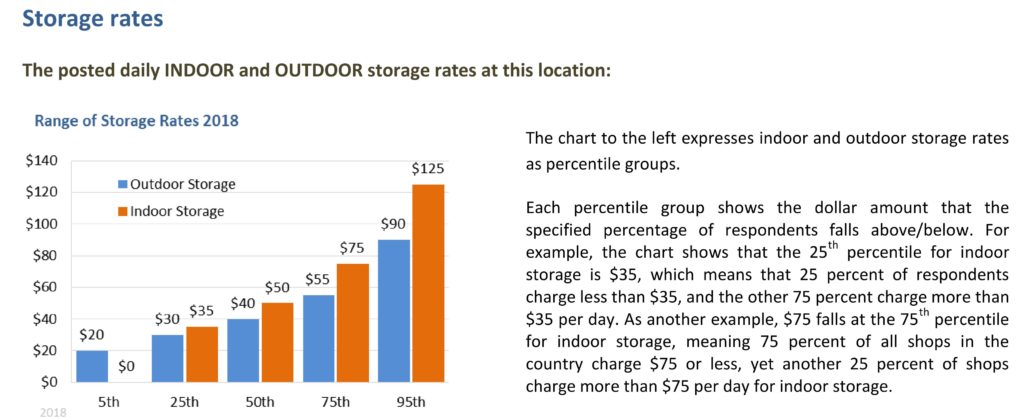 Estimating systems
A 5.4 percentage point reduction in shops having multiple estimating systems between the 2016 and 2018 surveys was significant, even if the decrease between 2017 and 2018 fell within the margin of error, according to the study. (The 2018 and 2017 studies had a margin of error of 3.5 percentage points; this amount was 3.2 percentage points in 2016.)
"In 2018, 28.7 percent of shops reported having two or more estimating systems installed. This is up slightly from the 26.5 percent recorded last year, but within the survey margin of error and not significant," the study by Collision Advice and CRASH Network states. "Both 2017 and 2018 were both significantly below the 34.1 percent in 2016."


"Over the past few years, there has been a not-insignificant drop in the percentage of shops having multiple estimating systems," Collision Advice CEO Mike Anderson agreed. He attributed this and a reported increase in CCC users (which wasn't significant between 2017-18 but appears to be between 2016-17 and 2016-18), to "more insurance companies switching to CCC, with shops following and having less of a need to have multiple estimating systems for the different insurers."
The study found that when compared to other estimating service providers, more shops seemed to choose CCC because of its quality instead of as a reaction to insurer behavior.


Training
Collision Industry Conference survey data from 2017 showed that more than 50 percent of non-management received less than 10 hours of training, though more than 40 percent received more than 10 hours. Another study found between 7.4-12.6 hours of training per employee, depending on his or her role.
The "Who Pays?" survey seemed to bear out the CIC results. The median estimator, tech and administrator received 10 hours of training a year, while the 50th-percentile manager received 12 hours.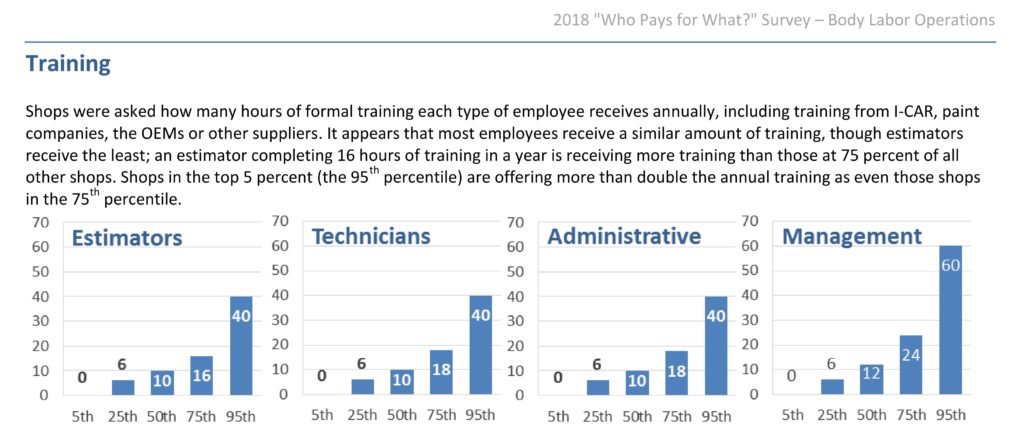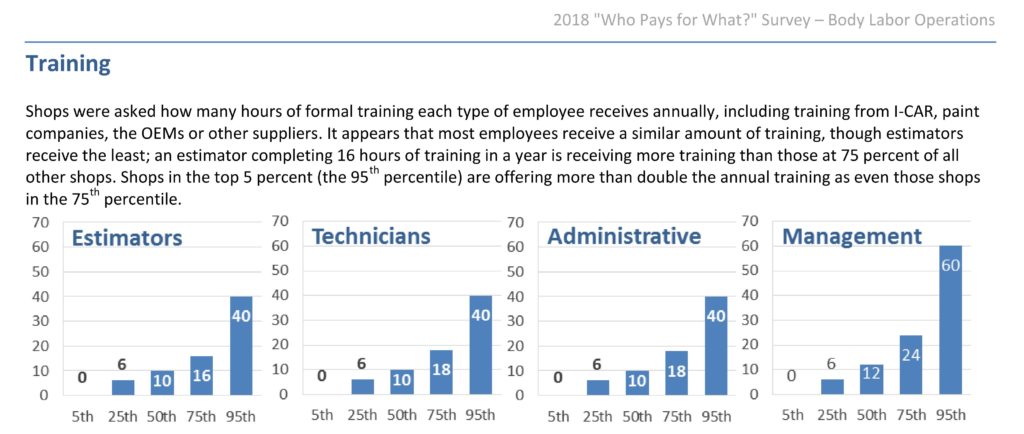 A remarkable increase in training appears between the 75th and 95th percentile, based on the survey data.
"Shops in the top 5 percent (the 95th percentile) are offering more than double the annual training as even those shops in the 75th percentile," Collision Advice and CRASH Network wrote.
According to a CIC OEM survey, Asian manufacturers felt technicians needed 20 hours of training annually to perform steel structural work on their respective brands, while domestic OEMs felt 27.5 hours would be necessary. European automakers, however, wanted technicians to have 76 hours of structural steel training.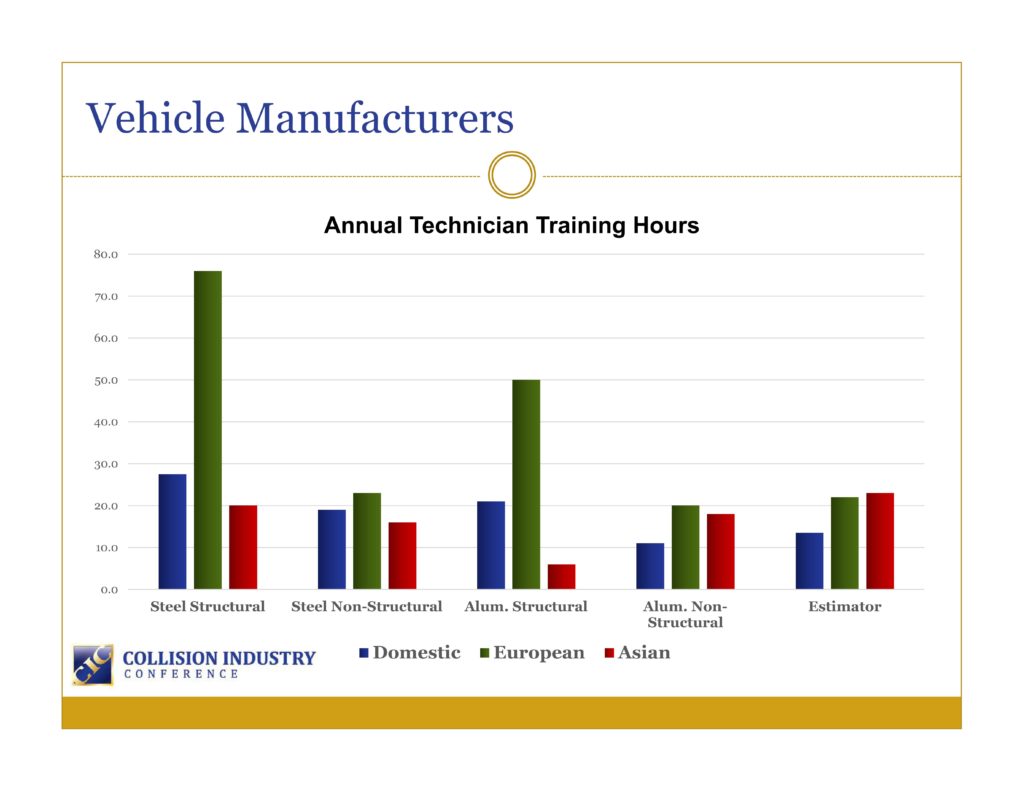 "Shops need to take the cost of training into account when establishing their labor rates as I believe the investment in training will increase in the years to come because of the rapid changes and complexity in vehicle design and technology," Anderson wrote.
More information:
Take the 2018 frame and mechanical operations "Who Pays for What?" survey
"Who Pays for What?" body repair operations results
CIC Education and Training Committee April 2017 OEM survey presentation
CIC, April 19, 2017
Images:
A car left sitting at a body shop can incur storage costs for tying up space. (andresr/iStock)
The April "Who Pays for What?" survey found the median storage rate indoors was $50, which storing a vehicle outside cost $40. That means half of all repairers charge more than those amounts, while the other half charge less. (Provided by Collision Advice and CRASH Network)
A 5.4 percentage point reduction in shops having multiple estimating systems between the 2016 and 2018 surveys was significant, even if the decrease between 2017 and 2018 fell within the margin of error, according to the July 2018 "Who Pays for What?" report. (The 2018 and 2017 studies had a margin of error of 3.5 percentage points; this amount was 3.2 percentage points in 2016.) (Provided by Collision Advice and CRASH Network)
The April 2018 "Who Pays for What?" study found that when compared to other estimating service providers, more shops seemed to choose CCC because of its quality instead of as a reaction to insurer behavior. (Provided by Collision Advice and CRASH Network)
The April "Who Pays for What?" survey found the median estimator, tech and administrator received 10 hours of training a year, while the 50th-percentile manager received 12 hours. (Provided by Collision Advice and CRASH Network)
According to Collision Industry Conference OEM survey results reported in 2017, Asian manufacturers felt technicians needed 20 hours of training annually to perform steel structural work on their respective brands, while domestic OEMs felt 27.5 hours would be necessary. European automakers, however, wanted technicians to have a whopping 76 hours of structural steel training. (Provided by Collision Industry Conference)
Share This: