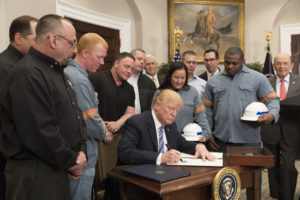 LKQ CEO Nick Zarcone told investor analysts last week that assessing the Trump administration's proposed tariffs on the auto parts importer and distributor was "trying to hit a moving target."
Five different programs under two different decades-old trade statutes apply, Zarcone said.
According to Zarcone, the entire North American recycled parts supply chain is sourced from U.S. salvage vehicles, so "there's no impact." However, the "vast majority" of LKQ's aftermarket products are from Taiwan, he said.  (Special thanks to Seeking Alpha, whose transcript of the July 26 earnings call helped us research and confirm quotes.)
"Taiwan is not deemed to be China," so LKQ wouldn't be affected by the China-specific tariffs, Zarcone said. But "very little detail" exists on the Section 232 proposal by Republican President Donald Trump to slap country-by-country tariffs of up to 20-25 percent on automobiles and auto parts, Zarcone said.
A tariff on Taiwan here would be LKQ's "biggest exposure," he said.
"A unique feature to the aftermarket body parts industry versus the entire aftermarket parts industry is that 90% of the aftermarket body parts are produced in Taiwan," the Automotive Body Parts Association wrote in a June position statement opposing Taiwanese tariffs.
A tariff on auto parts would affect some OEM parts as well. Nearly all the major OEMs build cars abroad and import them to the U.S. — including domestic producers FCA, General Motors and Ford, Bloomberg reported May 31 citing LMC Automotive Data.
This somewhat muddies the waters regarding tariffs. The ABPA made a similar point, writing:
One of the biggest confusions in the automotive industry is that the components for the OEM service parts being supplied to the US car companies (i.e. the "Big Three") are locally produced when they are in fact sourced from all over the world. They then combine them with other components claiming they are "US produced" but actually they are just "US assembled". The proposed tariffs will result in higher prices for the OEM service parts – not just their aftermarket equivalents. (Emphasis ABPA's.)
As for other tariffs, Trump administration's steel and aluminum action has "really no impact," as it relates to raw material, according to Zarcone.
The first round of the administration's  Section 301 tariffs affected a few dozen LKQ products, for less than $5 million in impact, he said. The proposed Round 2 would have minimal impact, but Round 3 has the "possibility" to affect LKQ, as it would impose a 10 percent surcharge on more than 6,000 items, he said.
The Round 3 tariffs would probably be felt the most by the LKQ subsidiary PGW, since many of its aftermarket windshields come from China, according to Zarcone.
Earlier in the call, after mentioning the three tariff statutes cited by the Trump administration and discussing the minimal impact of a Section 301 U.S.-Canada trade spat, Zarcone discussed pricing.
If prices were to inflate because of tariffs, "we, like many other domestic distributors exposed to tariffs, expect to pass along these increases to our customers," Zarcone said.
He noted that "we will not be able to earn a profit" on the tariff-related price increases, and so tariffs would mean that gross profit and earnings before interest, taxes, depreciation and amortization as a percent of revenue would be a "bit lower."
It was unclear if his comments were related to solely the Canadian situation or tariffs in general.
During the same call, Zarcone described an effort to keep North American parts and services margins healthy not by raising prices but by ensuring LKQ's sales team wasn't granting too large of a discount to repairers who didn't merit it.
In other sourcing news, Zarcone said that "importantly," the company's aftermarket SKUs grew 5.7 percent in the second quarter, while its number of certified parts grew 12.6 percent.
More information:
LKQ second-quarter 2018 investor call
LKQ, July 26, 2018
LKQ second-quarter 2018 investor slides
LKQ, July 26, 2018
Seeking Alpha transcript of July 26, 2018, LKQ quarterly earnings call
LKQ, July 26, 2018
Featured image: Republican President Donald Trump signs Section 232 steel and aluminum proclamations on March 8, 2018. (Joyce N. Boghosian/White House)
Share This: