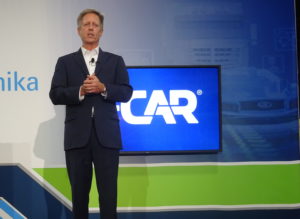 I-CAR on Wednesday announced a sweeping change to its curriculum next year that will include more frequent welding recertification and tougher Platinum and Gold Class requirements.
The initiative years in the making was meant to "advance I-CAR's vision that every person in the collision repair industry has the information, knowledge and skills required to perform complete, safe and quality repairs for the ultimate benefit of the consumer," the educational organization wrote in a news release.
"For nearly 40 years, I-CAR has served as the industry's trusted partner for knowledge building," I-CAR CEO John Van Alstyne said in a statement. "As the automotive industry is now moving faster than ever before, and with support of our industry stakeholders, we made a conscious decision that it is time for the knowledge and skills bar to rise. At the same time, it is time for I-CAR's programming to also make a bold step forward. Vehicle repairs today are more challenging than ever and will become increasingly complicated as we move toward the future. I-CAR's new programs, services and technology have been designed to keep pace with the rate of innovation our industry is seeing."
Welders certified through the I-CAR program will have to reverify their skills every three years instead of every five years, but the training organization is "no longer requiring course repeat when skills are reverified," according to I-CAR.
These welding skill checks will be performed during what will be annual I-CAR assessments of Gold Class shops. Besides checking the welders at the three-year mark, the organization will see what knowledge is lacking among a shop's technicians and prescribe a course of training, sales and marketing Senior Vice President Nick Notte said Wednesday.
I-CAR also said it would introduce "Heightened Platinum and Gold Class requirements aligned with industry benchmarks and repair requirements." It also plans to create a new optional Aluminum Structural Gold Class recognition.
Van Alstyne said that going forward, all Gold Class shops must have at least 100 percent of structural technicians reaching ProLevel 2. Half of the employees within each of the three other role categories (estimator, painter and nonstructural technician) at the shop must also reach ProLevel 2.
Van Alstyne said the reason for the change — previously, a shop could make Gold Class with a staff at ProLevel 1 — involved the fact that the "minimally required skills courses" were housed in ProLevel 2. It was important for a technician to have the "fundamental knowledge" of ProLevel 1 and the "foundational skills" of ProLevel 2.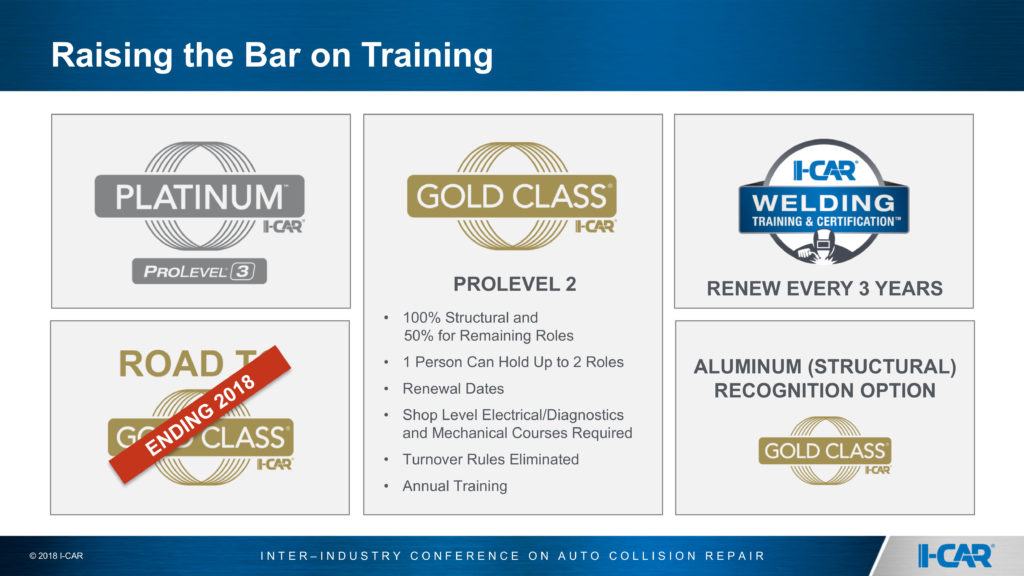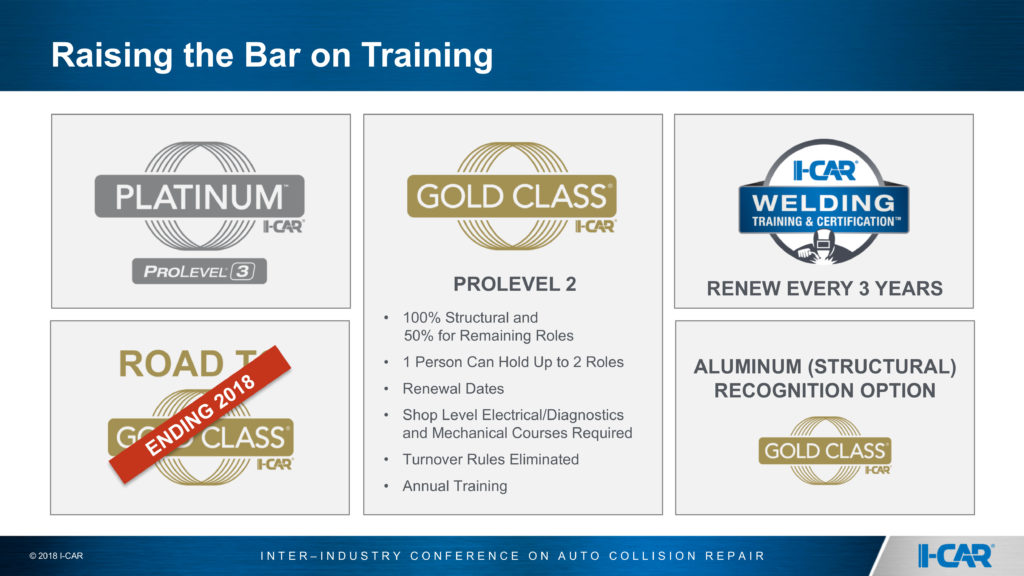 No longer can a single person represent all four roles necessary for Gold Class (Estimator, Non-Structural Technician, Steel Structural Technician, Refinish Technician), either. I-CAR will only allow a maximum of two categories per person to count.
Allowing a single person to still put two technical roles towards the Gold Class Checklist was done for the benefit of smaller shops, which might have a single person functioning as a structural and non-structural tech, Van Alystne said.
Gold Class shops that train every one of the necessary technicians to ProLevel 3 "will be recognized at a higher level of Gold Class recognition beginning in 2020," I-CAR wrote.
"These shops demonstrate that they lead the pack, further differentiating their commitment to excellence among their Gold-Class counterparts, and will receive special recognition for this level of training investment and achievement."
Technicians since 2010 have been designated Platinum at ProLevel 1. But under the overhaul announced Wednesday, an employee couldn't call themselves Platinum unless they'd reached ProLevel 3. It made no sense to bestow I-CAR's "highest credentialing" without requiring the technician to reach the highest level of training, Van Alstyne explained Wednesday.
I-CAR noted that all of the changes had "been coordinated, reviewed and embraced by industry subject matter experts, including Repairers, OEMs and Insurers."
Finally, I-CAR will throw out the "arbitrary 'X number of hours'" requirement of six hours a year and demand specific vehicle-specific training relevant to a specific role, as well as any new courses required for the role, Van Alstyne said.
Van Alstyne on Wednesday presented a slide of "Strong Industry Support" from all three sectors carrying logos of all Big 4 consolidators and CARSTAR, leading U.S. automakers, and all Top 5 insurers except Progressive. He said he had discussed the changes with the brands featured on the slide, many of which had Gold Class built into their network programs.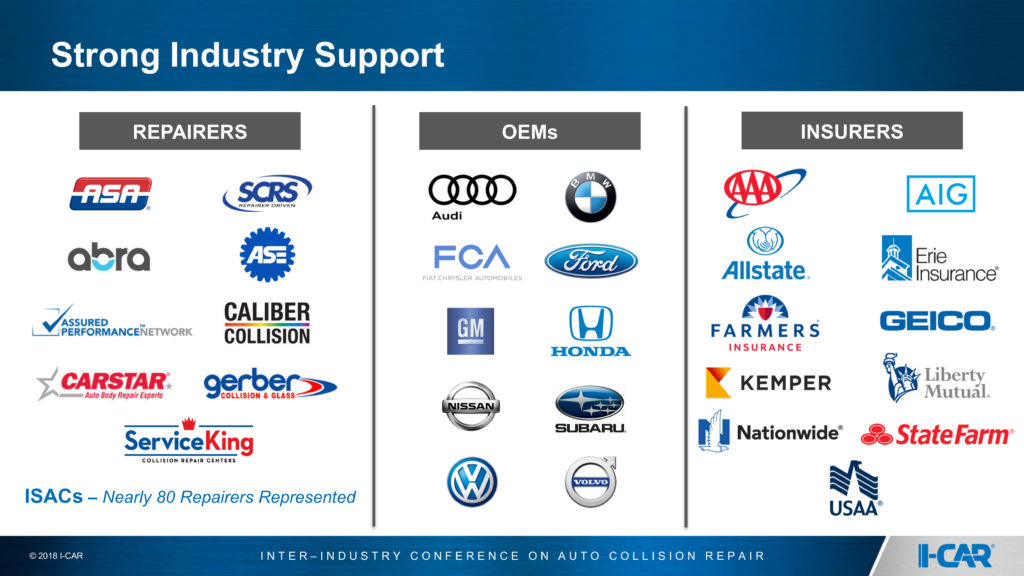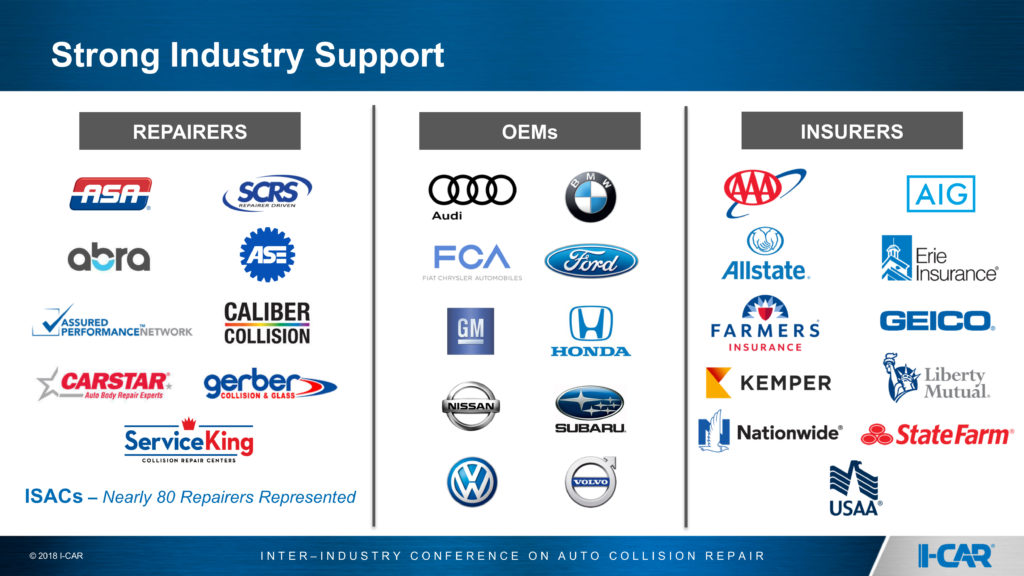 Shop-, tech-friendly changes
I-CAR will offset these additional demands upon Gold Class shops with changes meant to make classes more affordable and accessible for the industry.
A new "unlimited training subscription" option for Gold Class shops will offer shops budgeting predictability and end the concern that money spent training a technician will have been wasted if the tech leaves.
This also allows "building bench strength by better training for all technicians," I-CAR noted. (Does your estimator want to take structural repair classes? Do you think your detailer could be developed into a C tech? Sign 'em up for some I-CAR; you're paying the same flat monthly training rate either way.)
Notte said repairers can continue to pay for training a la carte as well should they wish.
I-CAR strategic development Vice President Ann Gonzalez said the average shop today had about nine technicians. I-CAR would charge $230 a month for the shop itself and $35 monthly per each tech, "a very affordable solution," she said. That means the average shop would pay $6,540 annually for all-you-can-eat training — which includes welding assessments.
Shops which haven't achieved Gold Class can't do subscription pricing. Gonzalez said the rationale was that the non-Gold shops each had a different amount of training to do.
She said I-CAR encouraged Gold Class shops to subscribe because it allowed the training organization to build in efficiencies in scheduling and traveling to the shop.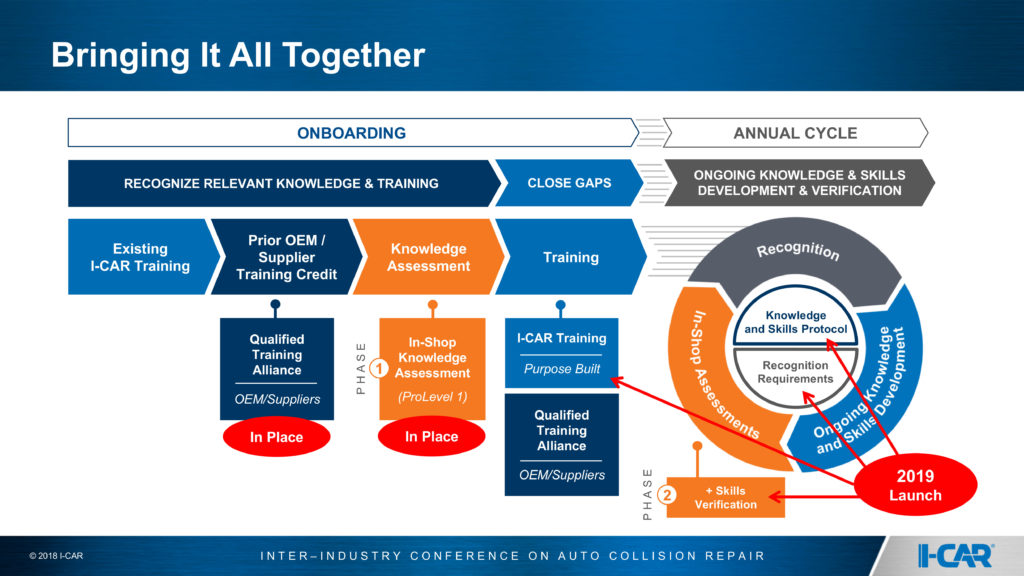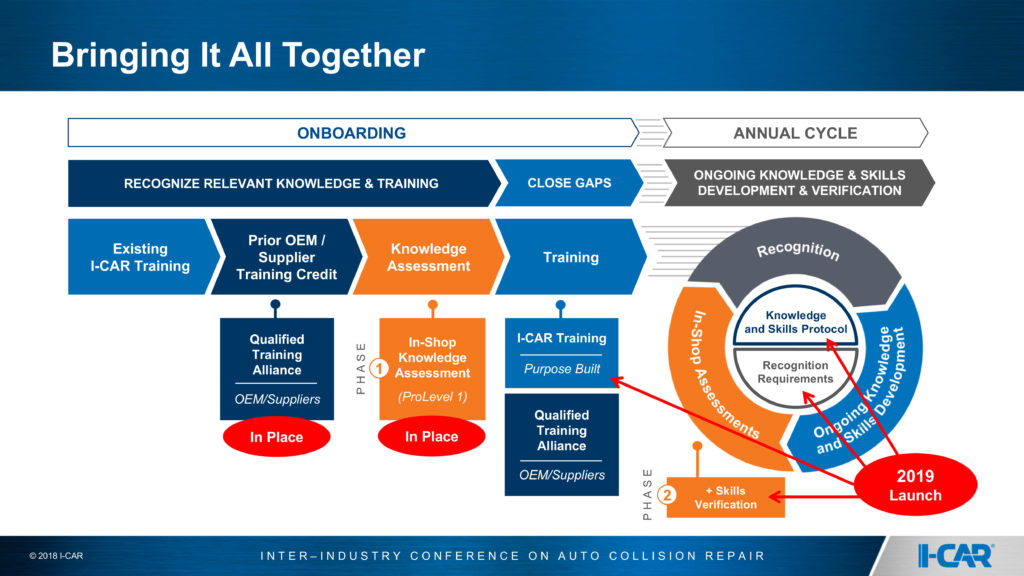 I-CAR also plans to revamp all 263 core curriculum courses aligned to a new protocol tied to the "knowledge required to repair cars of today and tomorrow, plus it puts an expanded emphasis on requisite skills"
It's courses will typically be shorter and less redundant, and the overall curriculum will offer both "more hands-on live training" and "more online courses with increased interactivity, all leading to less time out of the shop and off the floor for technicians," according to I-CAR.
Asked about pricing for a la carte classes, Gonzalez said the shorter courses mean "pricing's gonna change significantly." Online courses were much cheaper than live demonstrations, she said. However, I-CAR curriculum and product development director Josh McFarlin noted that I-CAR's plan to offer more hands-on skills development and interactivity meant some classes would be more complex to deliver and carry a higher cost.
Other I-CAR initiatives will provide some savings for a non-Gold shop striving for Gold Class. The organization plans to improve its process of allowing Alliance training (such as a paint manufacturer's class) to count for I-CAR credit.
"We don't care (who teaches)," Van Alstyne said. "Just take training."
I-CAR will also continue to grant waivers for ProLevel 1 training to technicians who demonstrate suitable knowledge in interviews.
Finally, the educational organization also plans to offer all core classes necessary for Gold Class status and all vehicle-specific technology courses in Spanish in 2019, a move demanded by repairers and, realistically, by changing demographics in the U.S.
I-CAR will also offer the welding certification in Spanish as well, using either a bilingual teacher or by allowing the welder to bring a translator, according to McFarlin.
Correction: An earlier version of this story mischaracterized the Top 5 automakers in the U.S. The article has since been updated.
More information:
"I-CAR® ANNOUNCES KEY ENHANCEMENTS TO ITS CORE EDUCATION & RECOGNITION PROGRAMMING FOR 2019 LAUNCH; ALL DESIGNED TO BETTER SERVE THE INTER-INDUSTRY'S NEEDS"
I-CAR, Aug. 8, 2018
I-CAR "Train to Gain" training overhaul website
More information:
I-CAR CEO John Van Alstyne on Wednesday announced a sweeping change to I-CAR's credentials next year that will include more frequent welding recertification and tougher Platinum and Gold Class requirements. (John Huetter/Repairer Driven News)
I-CAR CEO John Van Alstyne on Wednesday announced a sweeping change to I-CAR's credentials next year that will include more frequent welding recertification and tougher Platinum and Gold Class requirements. (Provided by I-CAR)
I-CAR CEO John Van Alstyne on Wednesday presented a slide of "Strong Industry Support" from all three sectors carrying logos of all Big 4 consolidators and CARSTAR, all Top 5 U.S. automakers, and all Top 5 insurers except Progressive. He said he had discussed the changes with the brands featured on the slide. (Provided by I-CAR)
I-CAR on Wednesday announced a sweeping change to its curriculum next year that will include more frequent welding recertification and tougher Platinum and Gold Class requirements. (Provided by I-CAR)
Share This: