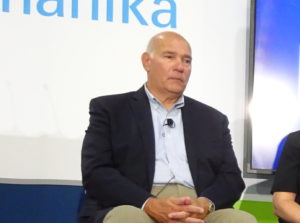 I-CAR has developed a subscription pricing option for Gold Class shops which treats the largest MSO and tiniest single-shop location equally, sales and marketing Senior Vice President Nick Notte said Wednesday.
Notte told a Society of Collision Repair Specialists webinar (see replay) that Gold Class shops can pay a monthly charge of $229 per location (a five-shop MSO would owe $1,145, for example) and $35 per relevant staffer (estimators, structural, nonstructural techs and painters) for unlimited training.
He said this addressed feedback that shops had difficulty budgeting under the old per-class system, as they didn't know what they'd be spending.
Notte said "we're shooting for January 1st" on the subscription program, and it would be kicked off by calls by I-CAR's customer care group to Gold Class shops.
I-CAR strategic development Vice President Ann Gonzalez said Aug. 8 the rationale for excluding non-Gold shops from the subscription option was that they each had a different amount of training to do.
Preppers working in the paint department would count as technicians to calculate the number of paint department staff needing ProLevel 2 training for Gold Class under the new system, Notte indicated. Presumably, this means they'd be among the staffers for which I-CAR assessed $35 a month.
However, customer service representatives, office managers and porters could all train for free and wouldn't be counted in the tally of staff rating a $35 a month bill, according to Notte.
Notte recommended taking advantage of the subscription's all-you-can-eat nature and training everyone in the shop. "I would make your bench so deep," he said. He also suggested using shop downtime as a chance for employees to get some more classes in since courses were now free.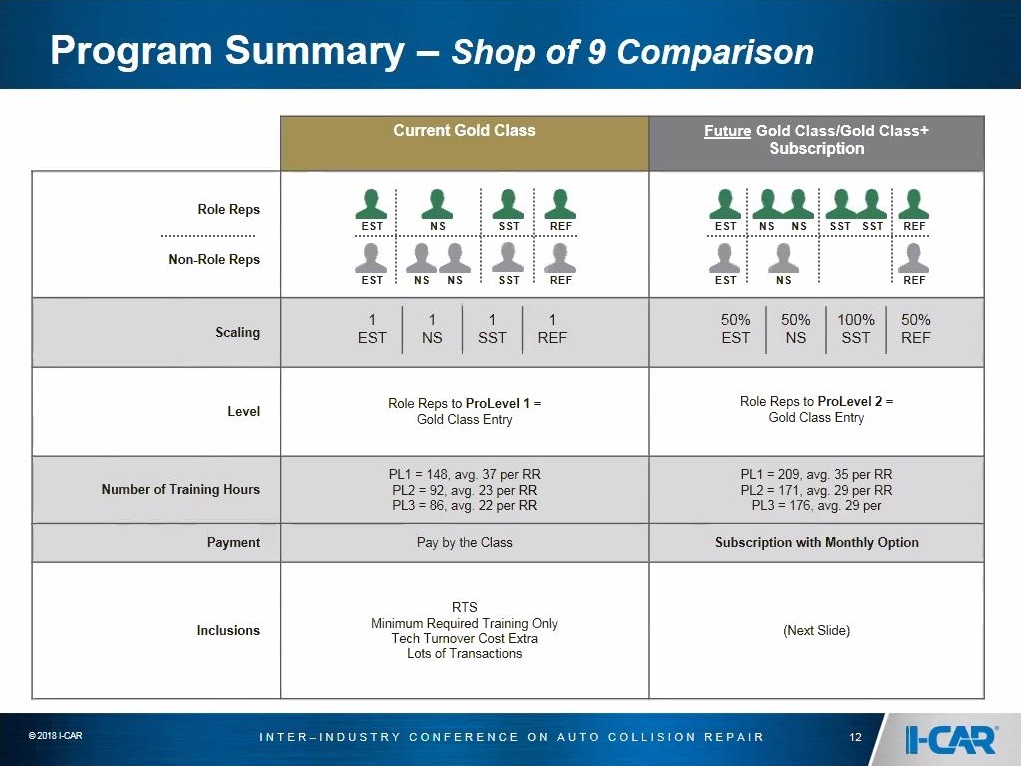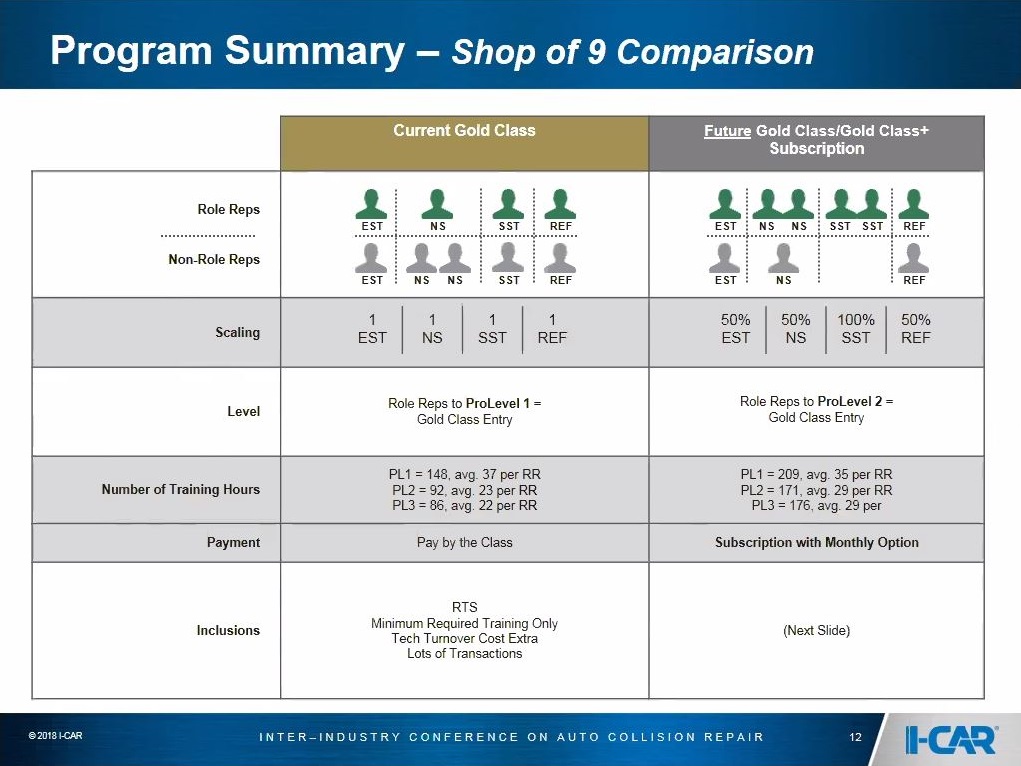 I-CAR was overhauling its shop-facing interface to alleviate "the grind that is registering" staff  for classes had been, according to Notte.
Discounts?
Subscriptions can be paid annually in a lump sum or monthly, Notte said. Asked about the possibility of a discount for paying up front, Notte said, "We have not gotten there yet."
Notte said I-CAR was examining this topic now, but it wasn't sure if it would opt to grant discounts. The organization tried to make training cheap enough that it'd be affordable to all shops, according to Notte. If it gave a discount to some shops, ultimately, that amount would get passed on to the shops who didn't receive it, he said.
I-CAR has a complicated pricing model and had calculated different scenarios, none of which involved a discount, according to Notte. In one scenario, I-CAR even lost money the first couple of years, he said — "and that's OK" as long as the industry was achieving I-CAR's vision of training more.
All welding training and recertification is free, and I-CAR will no longer suspend the Gold Class of a shop who lose a role rep to turnover until as long as a year later, according to Notte. He said that the latter meant that the loss of a structural technician meant that the shop didn't have to immediately spend another $875 to bring someone up to fill that role rep position.
"We see that happening today a lot," he said.
Unlimited training for a fixed price also removes the concern that an owner will have sunk hundreds or even thousands into a technician only to see them leave for a competitor. Now, there's no financial insult on top of the productivity injury when they do.
Cost to shops
Notte said the training cost would be "a little bit more" than now, but it appeared to work out to a little less than 0.5 percent of a shop's revenue.
I-CAR said the average shop has nine technicians, and a slide in the webinar described a hypothetical shop with two estimators, three nonstructural technicians, two structural technicians and two refinishing technicians. A six-technician shop would incur a monthly charge of $439 under the subscription model. (I-CAR says the average shop has nine technicians, which would work out to $544.)
Asked how he would respond to the notion that $439 sounded like a lot of money, Notte said he didn't want to minimize the concern, but in his pre-I-CAR career (which included running the Sterling MSO), "I could not wait to get trained" and budgeted a great deal for it.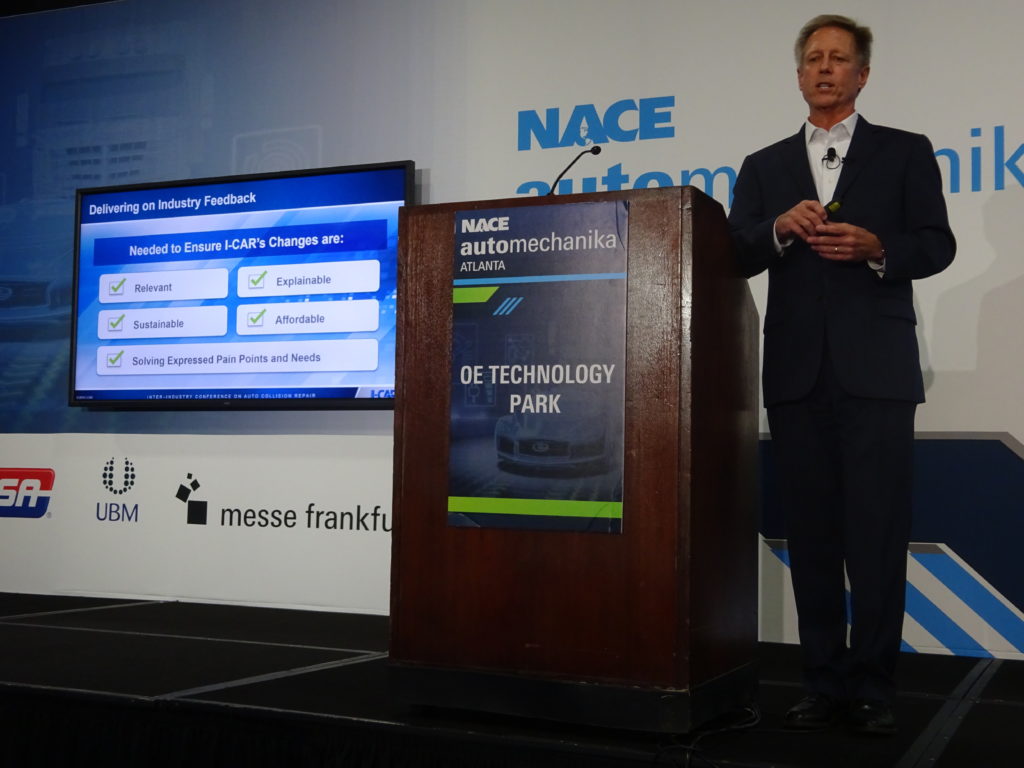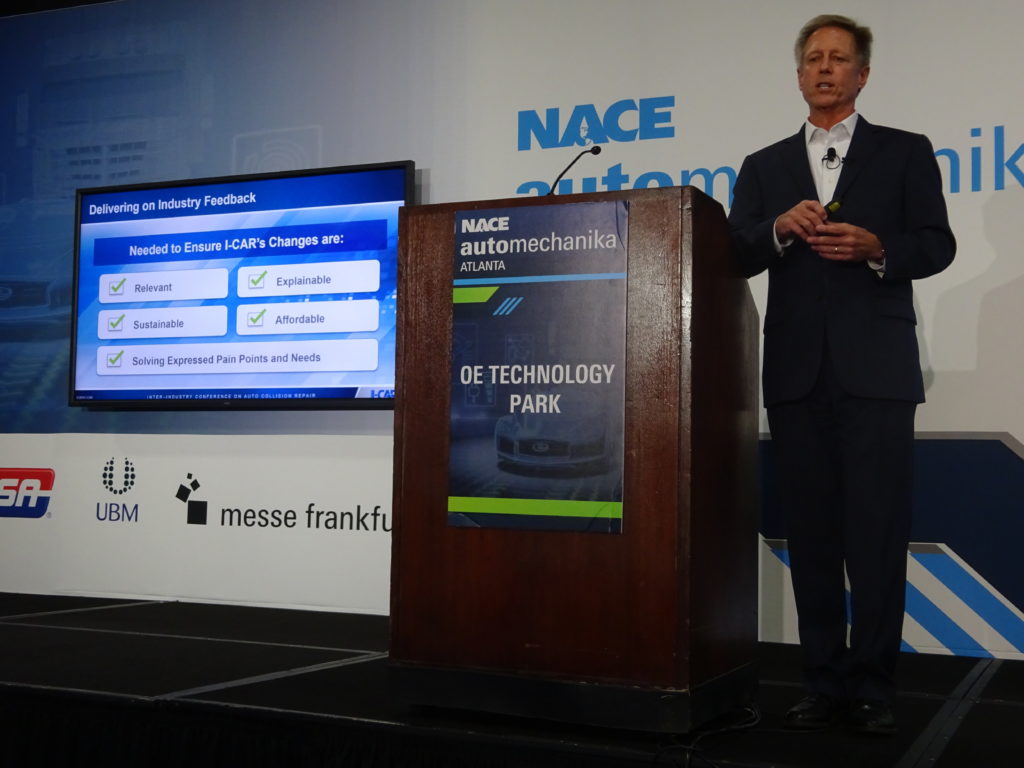 Notte cited the complexity of the U.S. fleet and said it was "minimal" compared to what OEMs have told I-CAR is coming. Technicians were going to receive one of these advanced vehicles (the average repairable vehicle is only around 6 years old), and training would protect them from being injured or the shop from the liability of an incorrect repair.
"I don't think shops today can afford not to train," he said.
Notte said the subscription model allows owners to train staff without fear the money will have been wasted when a employee leaves. He said some shops he knew had turned over three advanced staffer in the past year, which means the employer could be paying $875 a pop to requalify the three replacements.
Some shops are ultimately going to reach the highest level of Gold Class, one in which all role representatives are ProLevel 3 (the minimum for each of them to be considered Platinum under the 2019 overhaul) and which I-CAR plans to recognize under a special designation starting in 2020.
While Notte encouraged shops to develop their bench for free under the subscription model, I-CAR only will require ProLevel 3 Gold Class shops to take vehicle- and technology-specific courses and receive the annual assessment.
Notte said there'd be no discount for a shop reaching that elite level and suggested that the repairer might in that case want to consider a la carte, pay-by-the-course training instead. (For shops without a subscription, the assessments are charged like a course would be.)
Other points
I-CAR will also add an optional structural aluminum designation that Notte said he thought would cost a "few hundred" a year on top of the subscription. However all I-CAR welding courses and recertifications are included in the subscription, he said.
He said a shop could still pay for a technician's aluminum training and testing even if the shop wasn't pursuing the structural aluminum designation.
Asked about an individual training subscription a technician could buy, Notte called it "interesting" and said he'd "never thought about that."
Notte said he appreciated that the audience member wanted to pay for training themselves. He observed that auto body repair is anomalous among industries in that the employer pays for all the training, which leads to little stake in the issue for technicians. Nevertheless, no subscription pricing exists for Platinum technicians.
Shops without an interest in becoming Gold Class at all are still welcome to take training following the switch, and I-CAR hopes they do, Notte said. Nine percent of the industry is training with I-CAR today despite being neither Road to Gold nor Gold Class, according to I-CAR data. An additional percentage of the industry has a continuing education requirement and is apparently pursuing that training outside of I-CAR, based on its data.
More information:
Society of Collision Repair Specialists-I-CAR webinar on I-CAR Gold Class changes
SCRS-I-CAR, Aug. 23, 2018
I-CAR "Train to Gain" training overhaul website
I-CAR "Industry Training Relative to I-CAR Knowledge and Skill Areas" guide
I-CAR, Aug. 6, 2018
I-CAR "Automotive Collision Repair Industry Knowledge and Skills Protocol" guide
I-CAR, July 10, 2018
Images:
Nick Notte, I-CAR's senior vice president of sales and marketing, left, participates in the Aug. 8, 2018, announcement the organization would change its curriculum and Gold Class requirements. (John Huetter/Repairer Driven News)
After Dec. 31, 2018, a non-Gold Class shop seeking that credential must have at least 100 percent of structural technicians reaching ProLevel 2, instead of the ProLevel 1 permitted under the old criteria. Half of the employees within each of the three other key role categories (Estimator, Non-Structural Technician, Steel Structural Technician, Refinish Technician) at the shop must also reach ProLevel 2. (Provided by I-CAR)
I-CAR CEO John Van Alstyne on Aug. 8, 2018, discusses considerations for I-CAR as it developed its 2019 Gold Class and curriculum overhaul. I-CAR has developed a subscription pricing option for Gold Class shops which treats the largest MSO and tiniest single-shop location equally, (John Huetter/Repairer Driven News)
Share This: