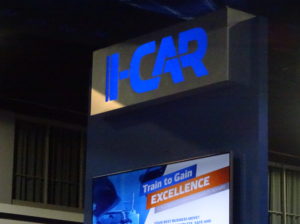 Any shop not Gold Class by Jan. 1, 2019, will now have to qualify as Gold Class under I-CAR's new, stricter requirements, but the organization is willing to grant extensions if the holdup is on I-CAR's end, an executive said Wednesday.
I-CAR sales and marketing Senior Vice President Nick Notte said it would be "a lot easier" for a shop if they were Gold Class before the deadline and said he couldn't stress enough that a shop should do so. Existing Gold Class shops will be grandfathered in and have a year after their first annual assessment by I-CAR (another new initiative) to achieve the new requirements.
Notte acknowledged that accomplishing I-CAR's benchmarks had been a challenge given the "huge demand" for training. If a shop had done everything it could but couldn't complete the required training because of I-CAR's backlog, "we may make an exception," he told a Society of Collision Repair Specialists webinar Wednesday. (See replay.)
New requirements
After Dec. 31, 2018, a non-Gold Class shop seeking that credential must have at least 100 percent of structural technicians reaching ProLevel 2, instead of the ProLevel 1 permitted under the old criteria.
Half of the employees within each of the three other key role categories (Estimator, Non-Structural Technician, Steel Structural Technician, Refinish Technician) at the shop must also reach ProLevel 2. Notte said I-CAR will round its employee counts so that a shop with, say, three nonstructural technicians would need to get two of them to ProLevel 2 for Gold Class.
No longer can a single person represent all four roles necessary for Gold Class. I-CAR will only allow a maximum of two categories per person to count. (This was a concession to smaller shops, which might have a single person performing all structural and non-structural work.)
Notte said the owner of a shop could certainly be one of the role reps. However, he warned that an owner who didn't know much about cars and just became a role rep to "check a box" could backfire once vehicles started coming into the shop needing repair.
I-CAR has also ended its turnover rules, according to Notte. Losing a role representative won't lead to I-CAR suspending Gold Class until a new one is rehired, unless either all four role reps disappear or the shop hasn't refilled the role by the next annual assessment.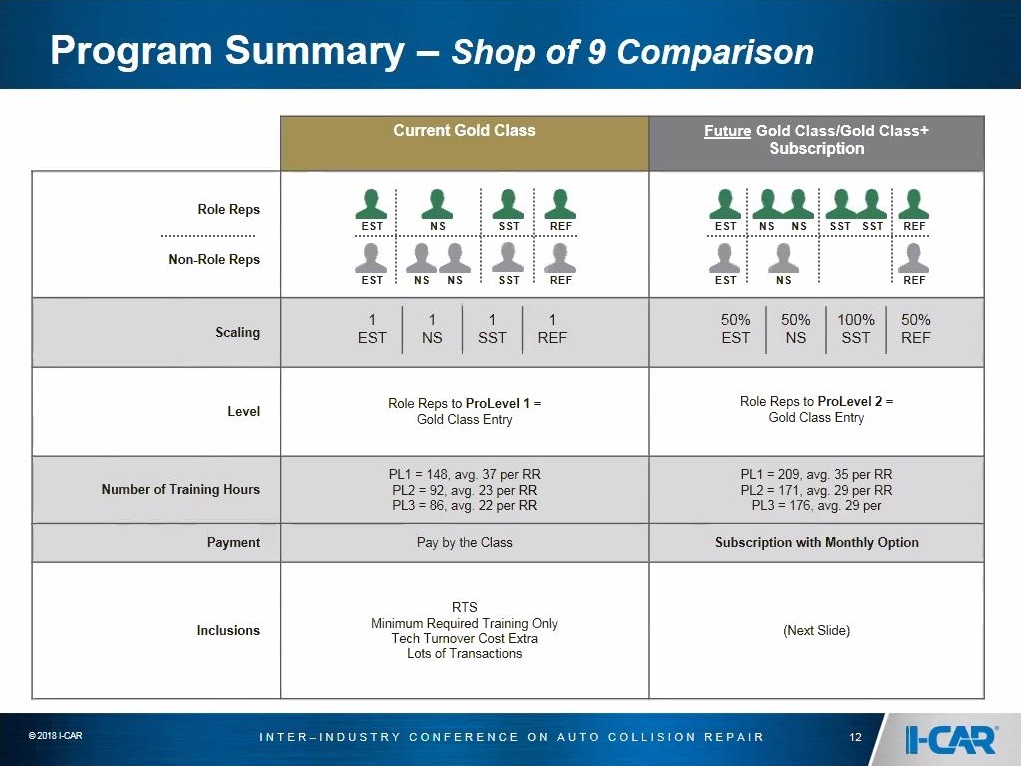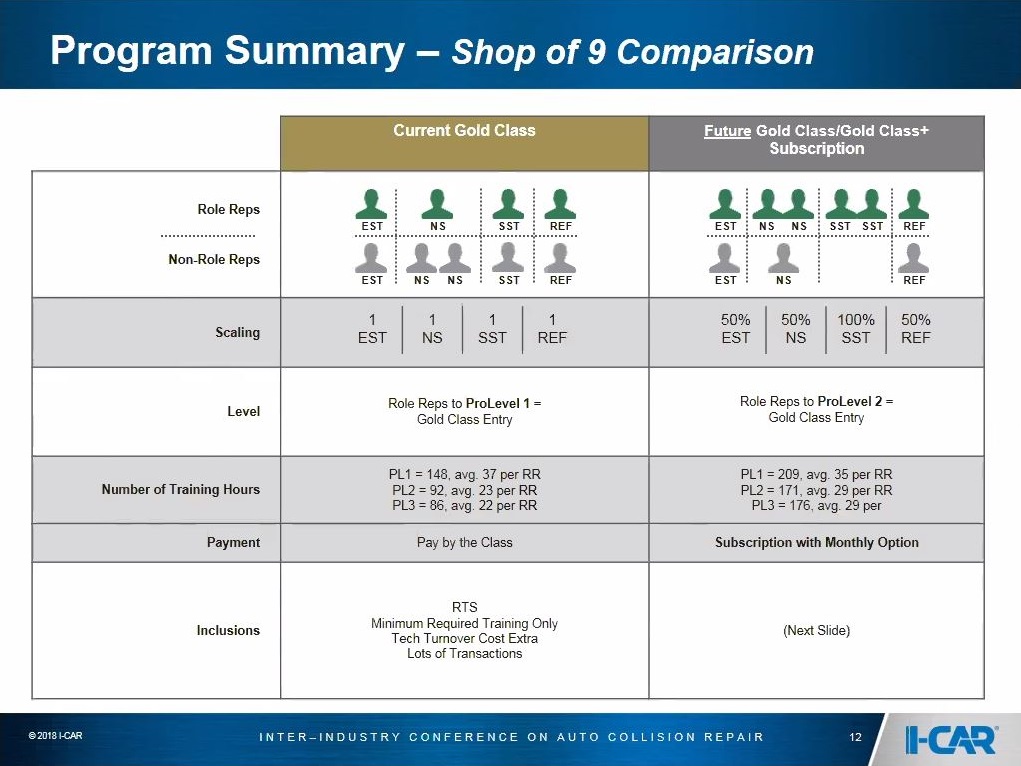 That means a shop which lost its only qualified structural technician a day after an I-CAR assessment could theoretically stay Gold Class for a year without getting another structural technician to ProLevel 2, Notte confirmed Wednesday.
I-CAR is also planning checks of shop equipment besides welding infrastructure part of the annual assessments, Notte said Wednesday, though he gave few details as to what this would entail. A Gold Class shop must also have a degree of electrical/diagnostic and mechanical aptitude, even if they were outsourcing that work, Notte said.
It was OK if a shop didn't "know how" to do such electrical or mechanical work in-house, but they must know "why" it must be done by someone, he said.
He gave the example of a shop receiving a new car struck from behind. The shop needs to understand that it might not be as simple as a bumper repair, refinish and reassembly — the existence of sensors might introduce new repair considerations.
The Road to Gold designation will end entirely after Dec. 31, 2018, for I-CAR found shops had "really abused" that concept and stayed at that level for years rather than the 12 months I-CAR had intended, according to Notte. I-CAR had received the complaint that a Road to Gold shop could qualify for referrals from certain networks and potentially take that work away from an actual Gold Class shop.
Going forward, a shop will either be "Gold Class, or not Gold Class," Notte said.
Shops without an interest in becoming Gold Class at all are still welcome to take training following the switch, and I-CAR hopes they do, Notte said. Nine percent of the industry is training with I-CAR today despite being neither Road to Gold nor Gold Class, according to I-CAR data.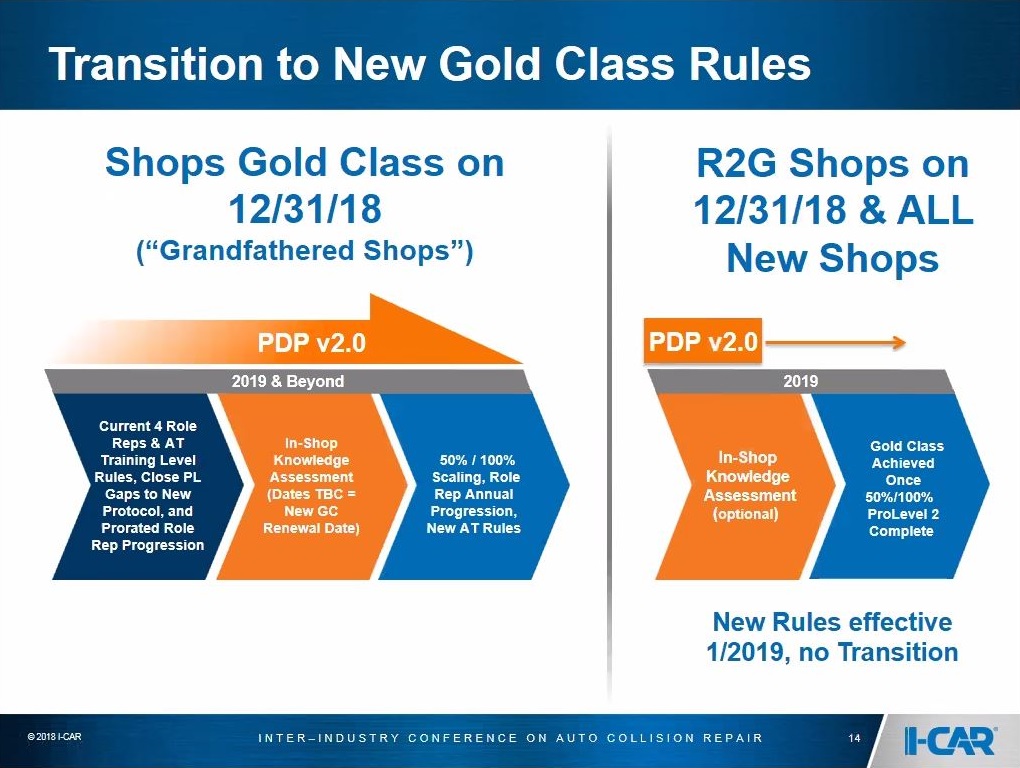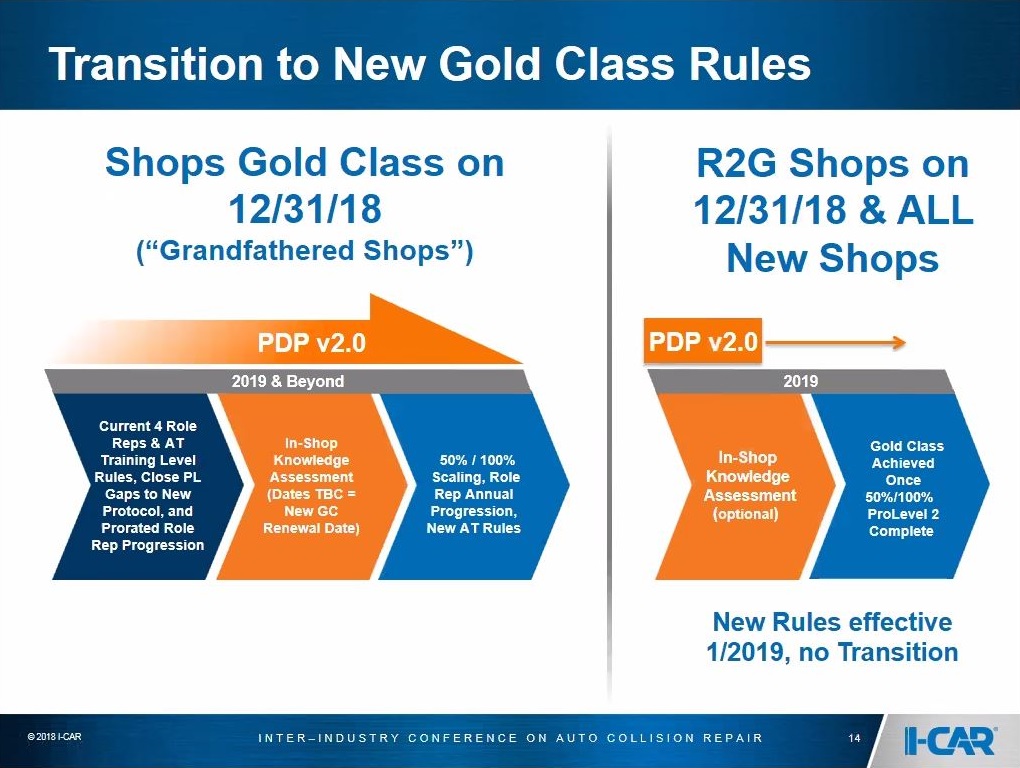 Getting to Gold Class in time
I-CAR's desire is to get everyone who wants to be Gold Class to that level by the end of the year, Notte said.
MSOs aren't treated differently on scheduling or Gold Class requirements than single-shop independents, Notte said. "It's an even keel," he said.
Notte said I-CAR has made some exceptions in the past 12 months given national scheduling and fixed training sites. He described exceptions granted shops near a renewal date who had kept up with classes but didn't have a necessary I-CAR session scheduled near them before the deadline.
However, some shops will miss 10-14 classes and call I-CAR right before the deadline, Notte said. "That's not part of the program," he said.
A webinar audience member asked about their company having requested two classes in May with a Gold Class status set to expire in October. I-CAR hadn't scheduled those classes in their area at all, they said.
Notte said that if it was "our fault" and the shop hadn't been missing training, "we'll give you an extension on that." He advised a shop in such a situation to contact their I-CAR regional manager.
I-CAR would investigate and accommodate a shop if it had been "accommodating back to us" — not, he joked, if a needed class was skipped because the technician went bowling.
Notte acknowledged shops in rural markets might have difficulty getting I-CAR classes to come to their areas. He explained that I-CAR currently requires three registered students to offer a class but recognized that rural areas wouldn't have that kind of demand.
In this vein, asked about obtaining training in West Virginia, Notte encouraged the audience member to send him an email and he'd take care of setting it up. He said West Virginia had been an issue for I-CAR.
"We'll get you taken care of," Notte said.
Another audience member said they'd signed up for a welding course and paid, but I-CAR had yet to deliver the class. Would that be refunded and credited to the shop's subscription bill for training next year?
Notte said he thought I-CAR could deliver the welding course by the end of the year, and "we need to make that happen" if the shop wouldn't be Gold Class by the end of the year.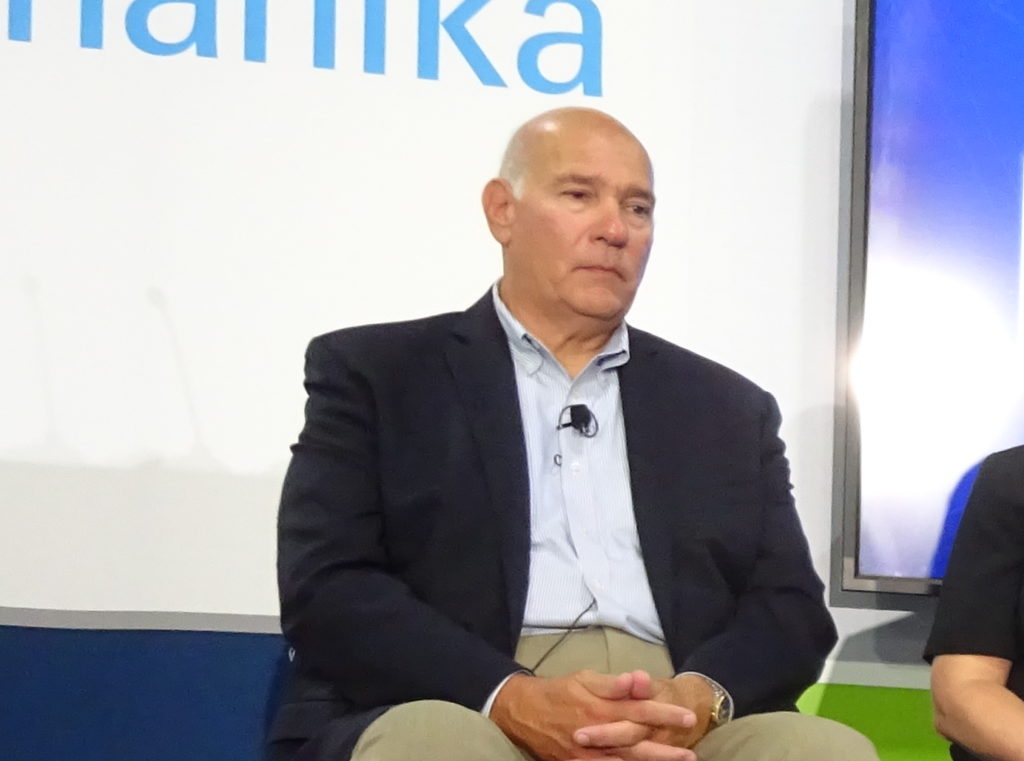 Welding and assessor backlog
I-CAR welding certification achieved after Jan. 1, 2019, will need to be renewed every three years. Asked how I-CAR would manage that when it can take months for a shop to get an appointment for a welding class, Notte said an existing certification will still last five years before the tech will be placed on the new three-year schedule.
He also said I-CAR had hired a "significant number" of welding and hands-on technicians as full-time employees. The company had 22 assessors in for training recently, and would have at least two dozen in for another class soon, according to Notte.
Notte said the "welding backlog" should end in about six weeks. "I hear some horror stories out there," he acknowledged. I-CAR hired "many welding technicians" to address the need, which he said came suddenly all at once and was based on shops waiting until the last minute to seek the certification.
Shops have the opportunity to quickly get technicians up to ProLevel 1 and clinch Gold Class before the deadline via in-person assessments in which I-CAR interviews techs to see if their knowledge of a subject is enough to qualify for course credit. (ProLevel 2 and 3 courses can't be waived in this fashion, however.)
The assessments are intensive, and take an average of two days, maybe 2.5 days to get through a particular shop, Notte said.
"It's not something we rush through," he said. Some shops need to be assessed on 25-30 knowledge areas, while others need more like 500, he said.
Notte said "technicians have felt really good" about having the face-to-face assessments instead of written tests, and he said the interviews have worked well for staff for whom English isn't a first language, who can demonstrate through actions what they mean.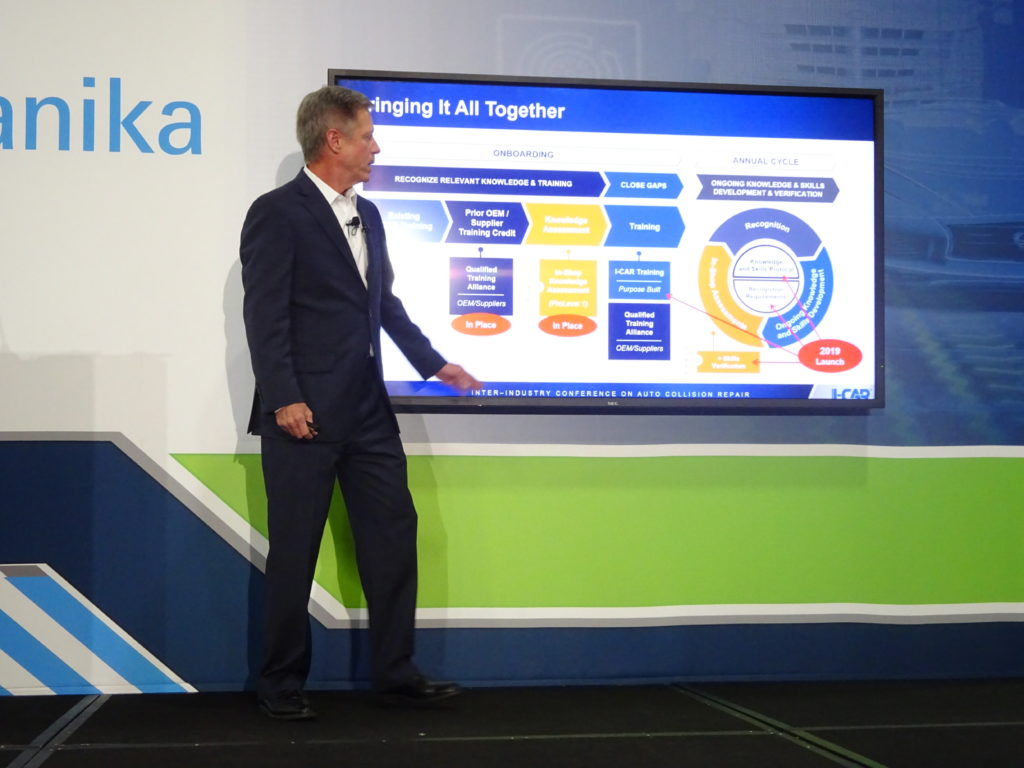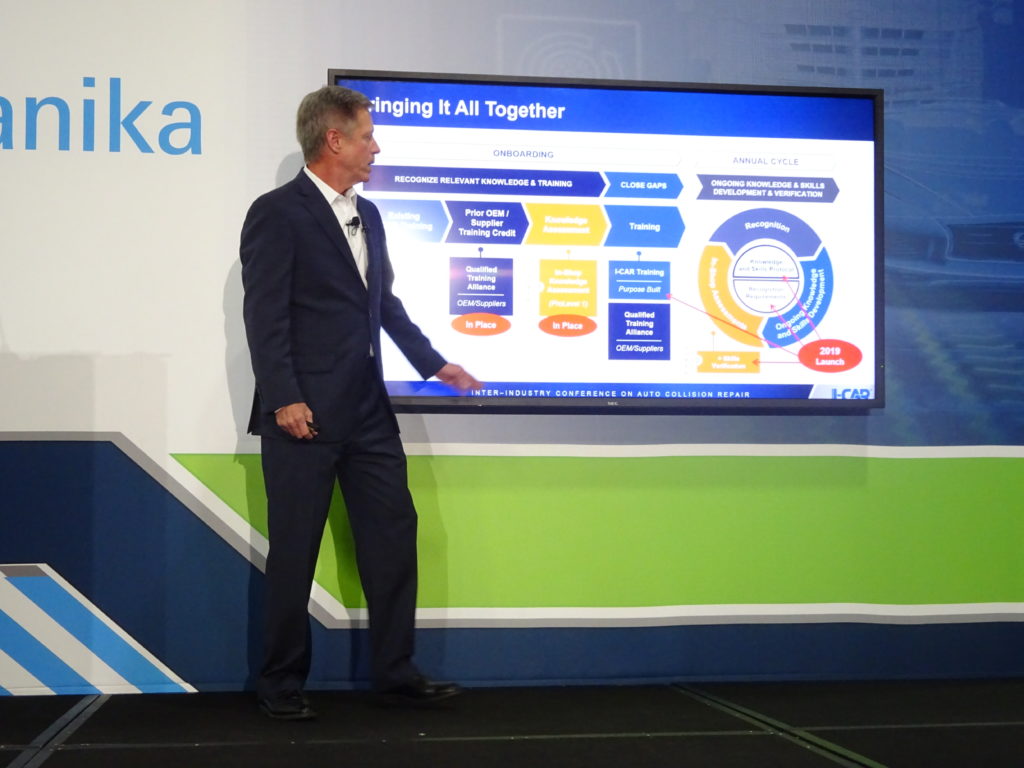 The latter feel extremely good about passing and become "extremely confident" in their work, and some shops have reported those ESL technicians are more productive since they know they're doing the job right, according to Notte.
I-CAR had shifted assessors with welding training skills to handle that certification demand and throttled down their other assessments, Notte said. However, I-CAR "dialed that up" in the past three months.
It needs about 100 assessors to get through the 7,000 or 7,100 Gold or Road to Gold shops by Jan. 1, Notte said.
At first, I-CAR had problem attracting candidates because no one knew what an assessor was, he said. Once it began calling them auditors, the organization experienced a boom of job applicants, he said.
Notte said I-CAR predicted it would be in good shape to meet demand probably by the end of October.
More information:
Society of Collision Repair Specialists-I-CAR webinar on I-CAR Gold Class changes
SCRS-I-CAR, Aug. 23, 2018
I-CAR "Train to Gain" training overhaul website
I-CAR "Industry Training Relative to I-CAR Knowledge and Skill Areas" guide
I-CAR, Aug. 6, 2018
I-CAR "Automotive Collision Repair Industry Knowledge and Skills Protocol" guide
I-CAR, July 10, 2018
Images:
I-CAR's booth at NACE 2018 promotes its 2019 "Train to Gain" initiative containing major changes to I-CAR elements like pricing and its Gold Class program. (John Huetter/Repairer Driven News)
After Dec. 31, 2018, a non-Gold Class shop seeking that credential must have at least 100 percent of structural technicians reaching ProLevel 2, instead of the ProLevel 1 permitted under the old criteria. Half of the employees within each of the three other key role categories (Estimator, Non-Structural Technician, Steel Structural Technician, Refinish Technician) at the shop must also reach ProLevel 2. (Provided by I-CAR)
Nick Notte, I-CAR's senior vice president of sales and marketing, left, participates in the Aug. 8, 2018, announcement the organization would change its curriculum and Gold Class requirements. (John Huetter/Repairer Driven News)
I-CAR CEO John Van Alstyne on Aug. 8, 2018, announced a sweeping change to I-CAR's credentials next year that will include more frequent welding recertification and tougher Platinum and Gold Class requirements. Ongoing requirements after 2019 are shown at the right of the chart. (John Huetter/Repairer Driven News)
Share This: