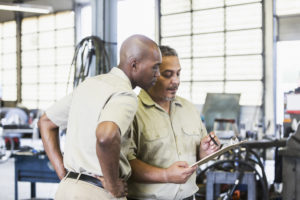 Developing employees with an interest in a particular collision repair role might be an easier solution than attempting to fill that position externally, a recruiting consultant said earlier this month.
Otherwise, that staffer will pursue that job anyway — at someone else's shop, Pro Collision Training President Paul Gage told a NACE educational session Aug. 10.
Gage gave the example of a CEO seeking estimators. The CEO already has numerous people in the company who want to become estimators, Gage said. What the company really needed are customer service representatives and parts staff, he said.
Why? Because a customer service representative who wants to be an estimator can be developed into that job, Gage said. And it's much easier to fill a CSR vacancy than an estimator, he said.
Gage said "we have this immediate reactive need" to find the "warmest body" rather than evaluate who could be developed from within. An internal staffer already understands the shop's expectations, culture and standard operating procedures, he noted.
He recalled a technician at one of his clients who wondered, "'If I leave and come back, will they give me a signing bonus?'" It seemed to the technician that they worked hard but were an afterthought to the company. It's a "really valid point," Gage said.
Gage gave the example of a company that hires externally for a role a hypothetical "Joey" wanted. Joey wonders why he's killing himself for this employer and starts looking elsewhere. The boss doesn't know it, but they're soon going to have to fill a vacancy at Joey's spot as well.
If an employee makes the decision to advance, they will do so, Gage said. "Are they going to do it with you, or with someone else?" he said.
The employee leaving for that someone else might be a hit to your balance sheet, according to Gage.
He said bringing in a new front-end employee making $50,000 will cost $25,000 to $40,000 in training, Gage said.
The Center for American Progress in 2012 analyzed 30 case studies in 11 research papers and concluded the median cost of turnover was 21 percent of an annual salary. That amount encompasses productivity lost while the job is vacant, the cost to train the new hire, and the productivity lost while the new hire gets up to speed.
Workers making less than $50,000 who leave cost a company an additional 20 percent of salary, as did positions making $75,000 or less, according to CAP.
"Jobs that are very complex and that require higher levels of education and specialized training tend to have even higher turnover costs," CAP wrote. "… Very highly paid jobs and those at the senior or executive levels tend to have disproportionately high turnover costs as a percentage of salary (up to 213 percent), which skews the data upwards."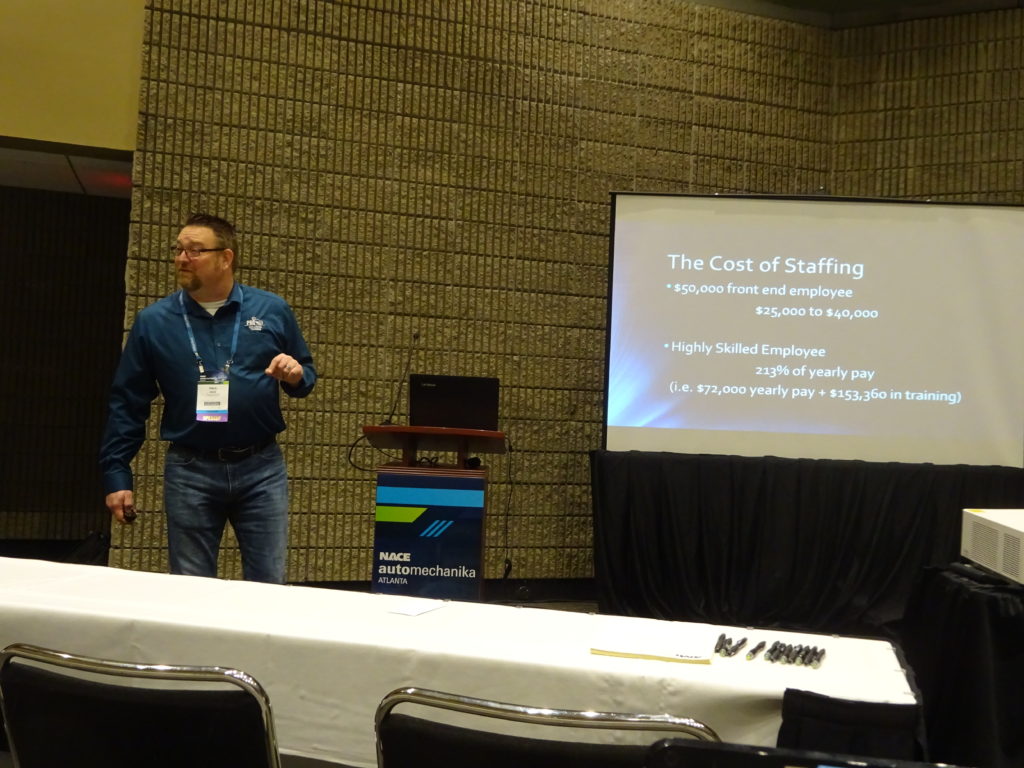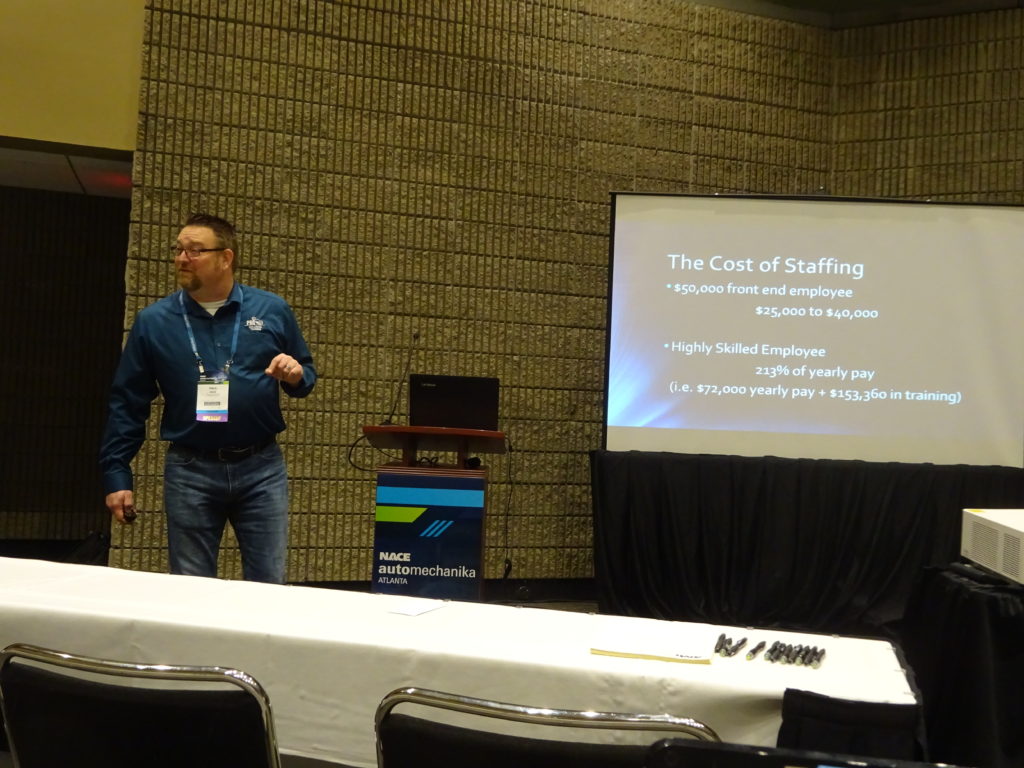 This "specialized training" notion could be argued to be the case for some of the technical roles within an automotive employer, and Gage cited a similar 213 percent statistic in his NACE course as pertinent to structural or transmission technicians. A $72,000 employee would cost $153,360 in training, he said. (That expense tapers off in about 12-18 months and isn't annual, but the employee might not be profitable for a while, according to Gage.)
"My current staff is way more cost-effective," Gage said.
Companies can overlook current staff under false conclusions such as, "'They'd never go anywhere.'"
He gave an example of another corporate fallacy. A technician who wanted to move to the front office — and "more importantly," his wife wanted this as well, Gage said. Gage's firm and the employer began working on a development plan, but the chief operating officer heard about it and said he couldn't afford to lose the man as a body tech.
"Now we've got an issue," Gage said. One of his presentation slides called it the "'TOO GOOD' Conundrum.'"
Gage said he told the COO that the man would become an estimator. "'His wife made that decision,'" Gage said.
From the employee's perspective, the issue is: "'Are you going to make me go someplace else?'"
"I hear that all the time," Gage said.
---
Learn more about filling, handling workforce during Repairer Driven Education
Seeking more insight on personnel issues? Learn more during the SEMA Show in Las Vegas at "2025 The Millennial Takeover – How to find, train & pay qualified people"with Mike Lanza of Sherwin-Williams. The session is part of the Society of Collision Repair Specialists Repairer Driven Education Series Oct. 29-Nov. 2. Register here for individual RDE classes or the series pass package deal.


---
However, you don't want to just automatically switch a staffer to their desired role, according to Gage. He said in his experience, "95 percent" of the time, the person pursuing that role will realize, "'This job isn't what I thought it was'" or decide the money's not good enough.
An employer would want to figure that out during the development stage, rather than after pulling the trigger on the switch. Thus, a development plan would involve something like classes or job shadowing to make sure the employee understands and accepts the realities of the position, rather than their vision of it.
This development time is an expense and needs to be built into the first year of salary, Gage said.
Gage said it was "unbelievably cheaper" to go this route and train from within rather than eat the cost of filling an empty slot externally. He also noted that it could make an employee more motivated and less likely to jump to a competitor for $1 or $2 more, for they now have a "career path" with their current repair company.
Along with scoring the importance of various positions within your company, Gage suggested employers examine the stability of each actual employee in their shop. If the porter tells their boss they want to become an estimator, the portership is not a stable role.
He described a shop that's cruising along well — and out of the blue, an employee gives notice they're leaving. The boss becomes "reacting" and starts throwing everything possible at the staffer to get them to stay. It's a surprise because the manager never examined the risk of that person to leave.
"Why were they looking in the first place?" Gage said.
If "Steve," who holds the "mission critical" role of manager, says he wants to advance within your organization to be a regional manager, he is stable for your company — but not within that position, according to Gage. Developing Steve also means developing someone else within the company to be the new manager.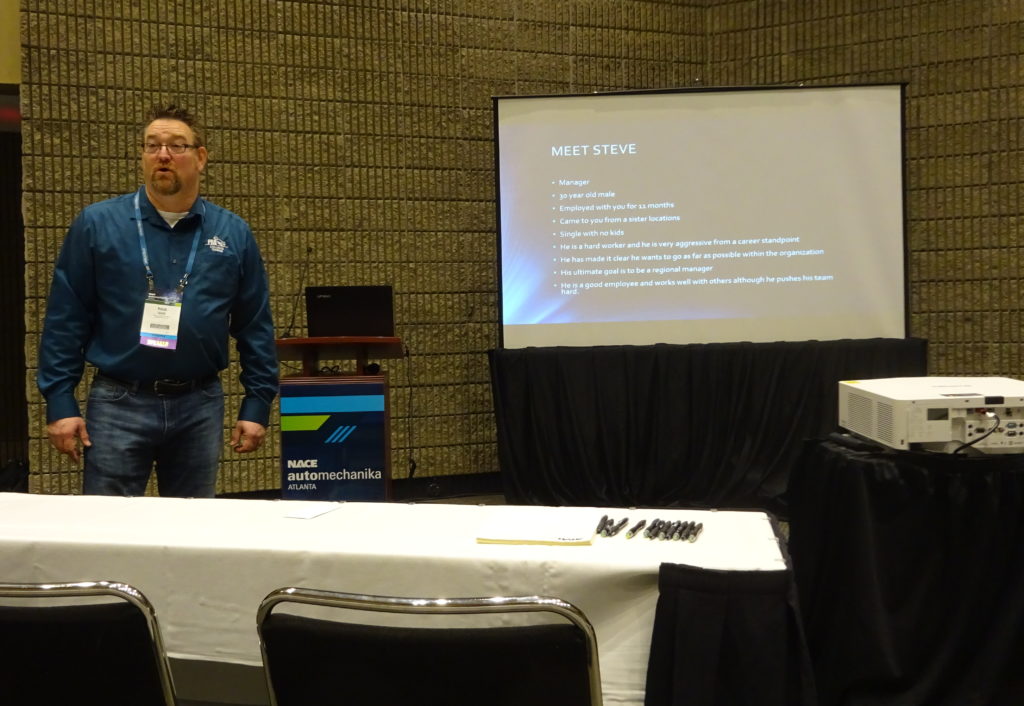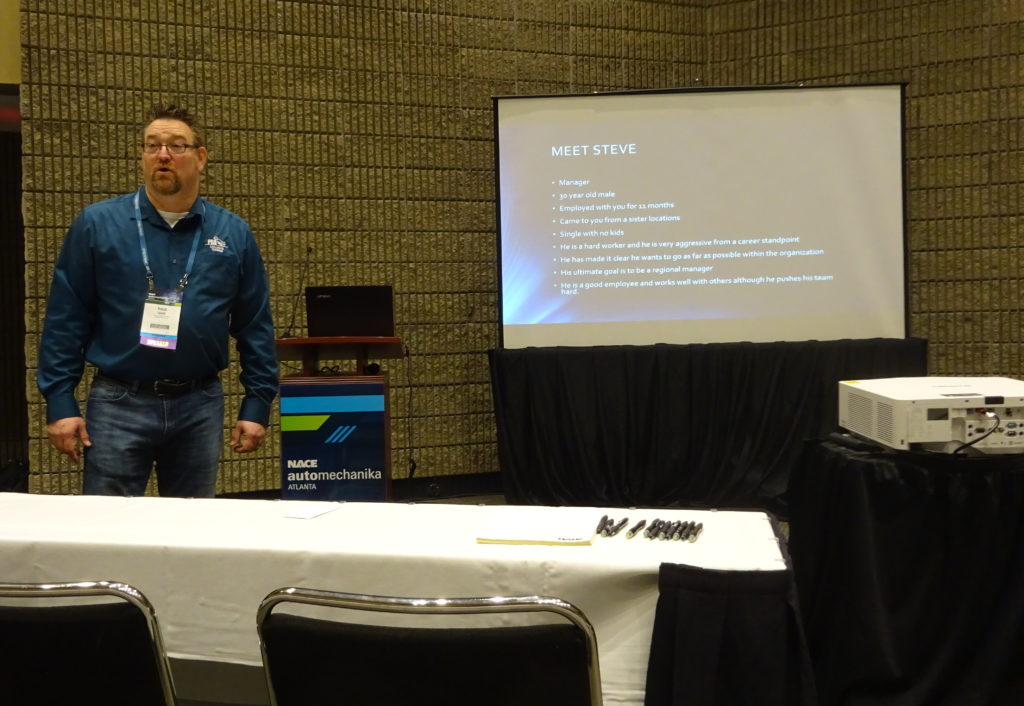 Steve has told the employer from the start what his career goals were, and "'you should have been looking for my replacement when you gave me this job,'" Gage said.
Asked about having Steve teach his managerial replacement, Gage said a plan was still necessary. You might give the replacement "Sally" time to train and mentor under Steve — but you also give Steve a curriculum, for you don't want him teaching Sally his own bad habits, Gage said. (You also want to make sure mentors are willing to teach under the organization's terms, and you don't want to make, say, your best technician a mentor if he "hates people," Gage said.)
Knowing where your employees want to go with their careers and figuring out this succession in advance avoids situations like Steve leaving for a different company so he can be a regional manager.
The boss then panics and calls their local NAPA or paint supplier, asking if they know anybody who could be the manager, Gage said. ("Tell me I'm wrong," he asked the audience.)
The employer gripes that Steve screwed them. but "you screwed yourselves," Gage said. The boss knew what Steve wanted in his career and did nothing about it.
Or the boss suddenly promotes some poor employee like the assistant manager, who hasn't been prepared at all and is under pressure to keep the business running at the same level, Gage said. It's a third-string quarterback in the Super Bowl, he said.
The boss has lost control over the direction of their business and is now in a "warmest body" scenario where they seek out "the best nonqualified person" available to the job, he said.
He said his company will survey their client's employees and ask where they want to be in three years, five years, and at retirement. He'll also ask if they're willing to be a mentor.
Asked about a situation where one employee is experienced in the role but lacks the skills while another has the skills but is inexperienced at the job, Gage said you need to have "hard, honest" discussions.
Gage also said a shop has to "get creative." He recalled a situation where English as a second language trainers were brought in to teach Spanish speakers how to read repair procedures. An older technician who wants to be an estimator might be sent to a community college to learn computer skills, he said.
There's a price tag to the shop for this, but "it's an investment in your staff," Gage said.
More information:
"There Are Significant Business Costs to Replacing Employees"
Center for American Progress, Nov. 16, 2012
Images:
Developing employees with an interest in a particular collision repair role might be an easier solution than attempting to fill that position externally, a recruiting consultant said earlier this month. Otherwise, that staffer will pursue that job anyway — at someone else's shop, Pro Collision Training President Paul Gage (not pictured) told a NACE educational session Aug. 10, 2018. (kali9/iStock)
The Center for American Progress in 2012 analyzed 30 case studies in 11 research papers and concluded the median cost of turnover was 21 percent of an annual salary. That amount encompasses productivity lost while the job is vacant, the cost to train the new hire, and the productivity lost while the new hire gets up to speed. "Jobs that are very complex and that require higher levels of education and specialized training tend to have even higher turnover costs," CAP wrote. "… Very highly paid jobs and those at the senior or executive levels tend to have disproportionately high turnover costs as a percentage of salary (up to 213 percent), which skews the data upwards." Pro Collision Training President Paul Gage, pictured, on Aug. 10, 2018, cited that 213 percent statistic in discussing the need to develop staff from within. (John Huetter/Repairer Driven News)
Failing to help develop a hypothetical manager "Steve" achieve his goal of becoming a regional manager could leave him to depart your company for one that will give him a shot at that job, Pro Collision Training President Paul Gage told a NACE educational session Aug. 10, 2018. (John Huetter/Repairer Driven News)
Share This: