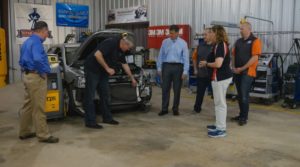 Stressing that they weren't calling all aftermarket parts bad, two collision repair expert have warned shops considering imitation cooling components to verify the design matched the OEM version.
Otherwise, your customer might lose performance — or worse, see other parts in that system fail.
The May "Repair University Live" reported engine- and passenger-cooling system parts were likely to take damage during a front-end collision. Collision Hub CEO Kristen said condensers were some of the "most commonly aftermarket" items found on estimates, and aftermarket radiators were common too, for customers were used to buying them at retail chain auto parts stores.
Vehicle Collision Experts CEO Mark Olson said that OEM condensers have a certain amount of fin rows, spacing and material. Repairers needed to check to ensure the aftermarket version matched this configuration, he said.
He also described a situation where radiators bolt in fine but "the OE's got three rows, and this one's got two." Clearly, there wouldn't be the same efficiency, Olson said.
A 2004 Collision Industry Conference presentation describes two aftermarket radiators which, among other differences, had fewer fins per inch than the 23-per-inch found on an OEM Honda CR-V radiator. One aftermarket radiator had just 13 fins per inch, while another had 22 fins per inch.
The aftermarket parts industry has raised similar concerns.
The Certified Automotive Parts Association wrote in a 2015 Automotive Body Parts Association Body Language guest column that it tested nine "popular" aftermarket radiators and found at least seven lacking — despite "'looking'" like the originals.
"Of the 9 AM radiators tested, 1 was comparable to the car company brand, 1 was potentially comparable, (based on obtaining industry feedback on whether an AM radiator should include a temperature sensor fitting and cap if they are included with the car company radiator) and 7 significantly underperformed compared to their car company brand counterpart," then-Executive Director Jack Gillis wrote in Body Language. "Observations included corrosion, leaking, missing fittings/caps, heat transfer and pressure cycling performance issues."
An LKQ promotional flyer describes a Keystone radiator with 52 tubes, 19 fins per inch and six internal transmission fluid cooling plates compared to "THEIR RADIATOR" with 42 tubes, 17 fins per inch, and only four transmission cooling plates.
Both Olson and Felder agreed on the show that an aftermarket part might be fine. The shop just needed to confirm it matched the original.
"You have to inspect it and look at it," Olson said. Later, he suggested comparing an OEM and aftermarket candidate side by side.
Some aftermarket condensers might also be painted, but the factory version isn't, Olson said. Earlier on the show, he had warned body shops against painting their combed condensers for more appealing aesthetics, and he suggested later the same held true for radiators. He said adding such a coating to a condenser or radiator which was unpainted at the factory can interfere with its heat management capability. (Which is sort of the point of the parts, after all.)
In the case of a painted imitation condenser or radiator, it would seem as thought the repairer, insurer or customer selecting the aftermarket part would have to research if the unexpected paint played some sort of functional role in achieving OEM levels of efficiency that couldn't be met with the imitation physical design alone. If the coating was merely an arbitrary or aesthetic decision by the aftermarket manufacturer, then it seems as though the shop, insurer and customer would indeed be risking the part's performance. This research would be time on the clock for a shop or adjuster, potentially cutting into the savings from going aftermarket instead of OEM.
"Look it over and be careful," Olson said.
The federal Magnusson-Moss Warranty Act prevents an automaker from automatically voiding a vehicle warranty because an owner installed an aftermarket part. However, it will allow an OEM to void a warranty if the aftermarket part (or a shop's botched installation of it) is the reason for a warrantied part's failure, Felder said.
Olson said an aftermarket condenser might not exchange heat the way an OEM version would, which could lead to wear and tear on the compressor and a reduction in gas mileage. Felder said they'd over the years encountered many shops writing in to report instances in which they installed an aftermarket component, and six months later, the customer returned, and "'the engine was blown, and the radiator didn't work.'"
Olson said that as technology advances, "it makes a difference" which parts you're using in a way it wouldn't have with something like a 1976 Chevrolet Suburban. More parts were being cooled by the radiator, he said.
More information:
Collision Hub, May 22, 2018
Featured image: Vehicle Collision Experts CEO Mark Olson describes possible differences an aftermarket cooling part could have on a May 2018 "Repair University Live." (Screenshot from Collision Hub video)
Share This: