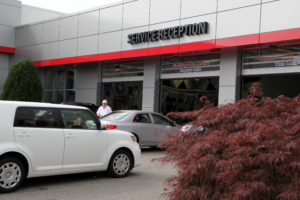 Hot off the heels of a special collision repair-focused issue, Automotive News' sister publication Fixed Ops Journal has produced another issue dedicated to a topic near and dear to the auto body industry.
The August edition of the magazine devotes more than a dozen pages to the tech shortage, which also is affecting the publication's service center readership. Dealership and independent shops should take advantage of the coverage in the free quarterly magazine, which might offer suggestions for easing one's own shortage — or at least provide the "misery loves company" comfort that you're not the only one impacted by the issue.
Here's some of our picks from the special report.
Statistics: An article looking at the problem and offering some possible solutions gives shops a number of useful statistics on what the typical technician looks like at a dealership. They're an interesting benchmark with which to measure your own staff and bottom line — as well as a sense of what it might take to snap up a technician from a dealership.
Among them: The typical dealership tech made $55,000 in 2016 and has spent $5,000-$50,000 on their tools, and they typically generate $1,000 in gross revenue a work day. The National Automotive Dealers Association found the 2017 turnover rate to be 27.2 percent in 2016, Fixed Ops Journal reported.
Flat-rate: A survey of 4,700 repairers, mostly service techs, by ASE concluded 73 percent of dealerships are flat-rate — but only 17 percent of aftermarket repairers do, Fixed Ops Journal reported in an article citing criticism that flat-rate disadvantaged newer technicians.
About 48 percent of respondents to a 2016 Collision Repair Education Foundation-I-CAR survey paid techs flat-rate.
Collision industry: One article specifically looks at the tech shortage in the collision repair industry. Its content might not be too much of a surprise to our readers, but we did find interesting a detail that some collision shops are offering up to $5,000 signing bonuses compared to the $2,500 bonuses mentioned in a different article about dealership incentives.
---
Learn more about filling your tech shortage during Repairer Driven Education
Seeking insight on personnel? Learn more during the SEMA Show in Las Vegas at "2025 The Millennial Takeover – How to find, train & pay qualified people"with Mike Lanza of Sherwin-Williams. The session is part of the Society of Collision Repair Specialists Repairer Driven Education Series Oct. 29-Nov. 2. Register here for individual RDE classes or the series pass package deal.


---
Solutions: Fixed Ops Journal reports what dealerships are doing or can do to obtain or develop techs as well as OEM efforts to help turn out techs for their affiliated dealerships.
Bonus articles: The issue takes an interesting look at certifying the techs a dealership has managed to find and employ, and that coverage also examines individual staff certification in the collision repair industry.
The magazine provided the results of a poll of 17,221 DealerRater comment-writing customers. The study found that 47 percent knew or were told of a technician's certification, and that designated mattered to them. Only 11 percent said certification "doesn't particularly matter to me," and 42 percent said they didn't know the tech's status.
Of the brands with at least 125 comments, Ram truck owners cared the most about tech certification, with 53 percent who were both served by a certified tech and called certification "important to me."
It'd be interesting to see if these consumer sentiments would apply to the technicians taking vehicle-specific I-CAR or actual OEM training or other industry credentials such as ASE or I-CAR Platinum certification.
Even if customers didn't care, techs certainly did. Another article quoted Carlisle & Co. senior associate Mattia Janigro as stating, "We hear time and time again how important it is for technicians to see that the shop is invested in them."
More information:
Fixed Ops Journal August 2018 issue
Fixed Ops Journal, August 2018
Fixed Ops Journal, August 2018
"Flat-rate pay: The villain that may never go away"
Fixed Ops Journal, August 2018
"Battling the tech challenge, again and again and again …"
Fixed Ops Journal, August 2018
Fixed Ops Journal, August 2018
Fixed Ops Journal, August 2018
Fixed Ops Journal, August 2018
Fixed Ops Journal, August 2018
"Consumers value certification, but many don't know if tech has it"
Fixed Ops Journal, August 2018
Featured image: The service intake area of a Virginia Beach, Va., Toyota dealership is shown June 9, 2013. (Imagesbybarbara/iStock)
Share This: