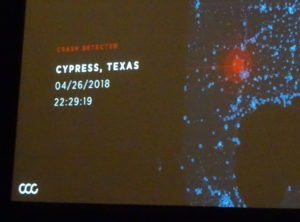 CCC on Thursday described its first instance of automatic crash detection leading to immediate insurer contact with the customer, one of a few live examples of such services discussed at the 2018 Connected Car Insurance USA conference.
And the day before, Uber CEO Dara Khosrowshahi announced the company would use sensors within its drivers' smartphones to detect crashes under a new feature known as Ride Check.
"Enter Ride Check: a new feature to help make sure you are OK in the event of a possible crash, and give you tools to get help quickly," Khosrowshahi wrote. "When a Ride Check is initiated, riders and drivers will be prompted to use our Safety Toolkit, which includes the option for 911 assistance. Our safety team can also followup by phone to make sure everyone is safe.
"This technology can also flag trip irregularities beyond crashes that might, in some rare cases, indicate an increased safety risk. For example, if there is a long, unexpected stop during a trip, both the rider and the driver will receive a Ride Check notification to ask if everything is OK. They can let us know through the app that all is well, or take other actions like using the emergency button or reporting the issue to Uber's critical safety line. We expect to expand this technology to additional scenarios in the future."
Electronic first notice of loss offered by such technology has the potential to make a large impact on the collision repair industry. Crash emergency detection can easily be followed by a list of suggested repair shops on a smartphone — an option discussed at the event as well.
This development would seem to increase the value of a partnership with an OEM or insurer, for both would be able to start pitching their networks immediately following a collision. For shops who don't want to affiliate with one or either of these interests, it might be more critical than ever to ensure your reputation and marketing is enough that a customer picks your shop over the suggestions offered at the crash scene.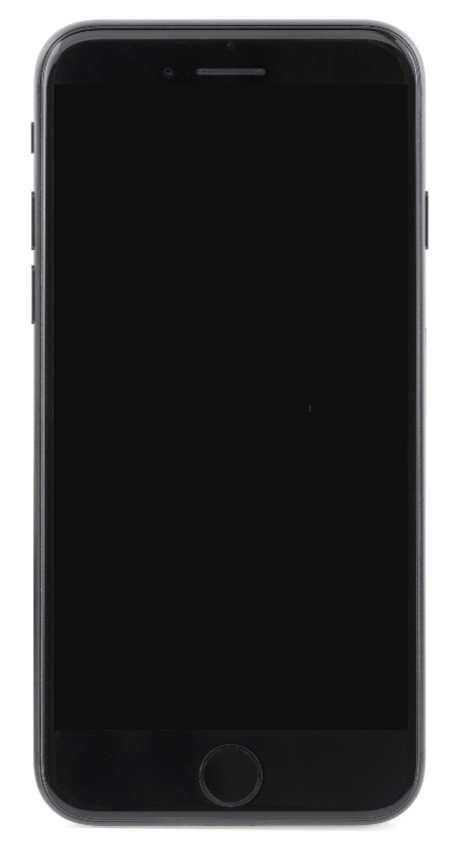 The technology doesn't necessarily require an OBD-II port "dongle" or the insurer to partner with a connected car OEM to work, either. As Uber's announcement demonstrates, the customer's own sensor-packed smartphone might be sufficient to offer such a service today.
CCC product manager Senior Vice President Jason Verlen said that on April 26, 2018, State Auto used the IP's technology to detect its first crash. Rather than waiting for the customer, the insurer called the policyholder — who was "simply amazed," Verlen said.
One hundred years of insurance procedure (the customer reports the loss) were overturned, Verlen said.
Verisk Assistant Vice President of Internet of things/telematics, claims Dawn Mortimer said Wednesday her company is working on a program with some key OEMs to connect the customer with insurers at the scene of the crash and send the vehicle to an OEM-certified or direct repair program shop.
Asked if there was any data to support the notion that the customer wants an insurer to reach out at the time of crash, Allstate claims director Clint Marlow called that "a learning in flight." It was a "hypothesis" that needed to be proven, he said.
CCC product management Vice President David Bliss said that "anecdotally," CCC hears that State Auto's customers "really appreciate this."
This assessment was supported by information from Agero, a major roadside assistance player which partners with multiple major insurers.  Product strategy and marketing Vice President Luis Quiroga said his company asked non-senior consumers what they would pay for an OnStar-type service which would automatically contact emergency services.
The respondents — 9 percent of which had been in a crash in the past four months and 4 percent in a serious one — said they'd pay $2.99-$4.99 a month for it.
As people sometimes are more eager to buy theoretical stuff in a survey than they are in real life, Agero gave 5,000 people a beta version of its MileUp app about a year ago to study the demand for accident detection further.
"The lady in front of me slammed on her brakes to avoid a deer," one of these users, Rob Clark, said in a testimonial shared by Quiroga. "When I rear-ended her vehicle, my airbag deployed and my phone went flying, landing on the floor of the front passenger seat. I was OK but pretty shaken up. Amazingly, the phone rang almost immediately. When I was finally able to pick it up, the person calmly asked if I was OK and if I needed a 911 response. Words can't describe how much it means to hear a real human voice offering help. I had my parents install MileUp the next day." (Emphasis removed.)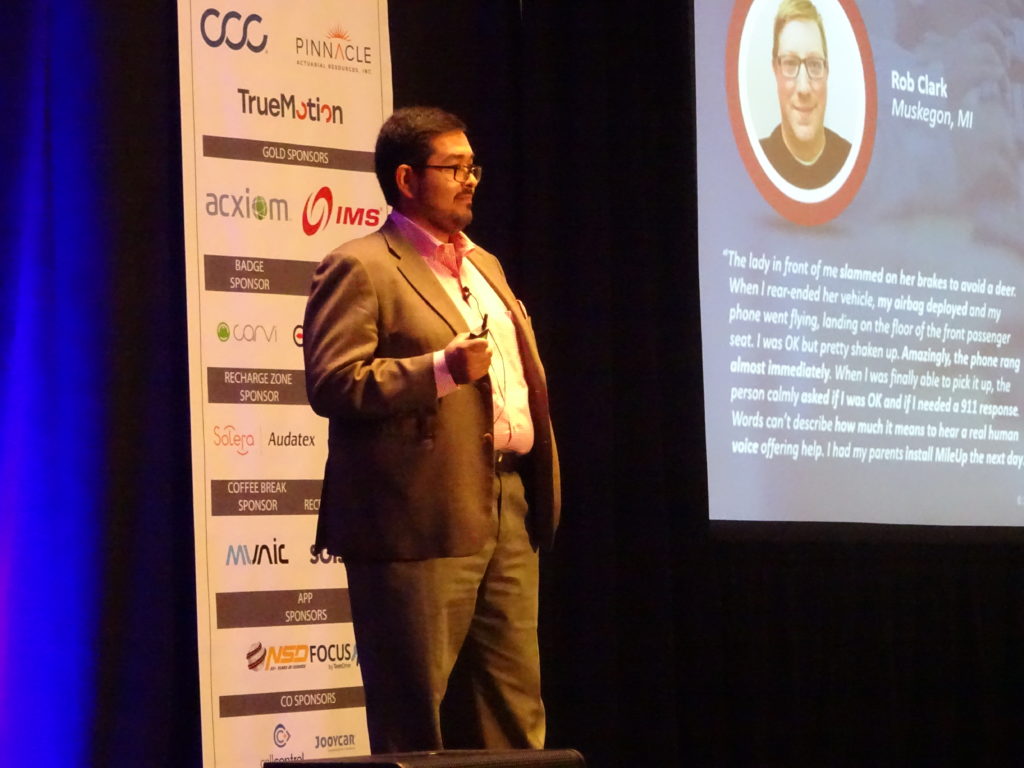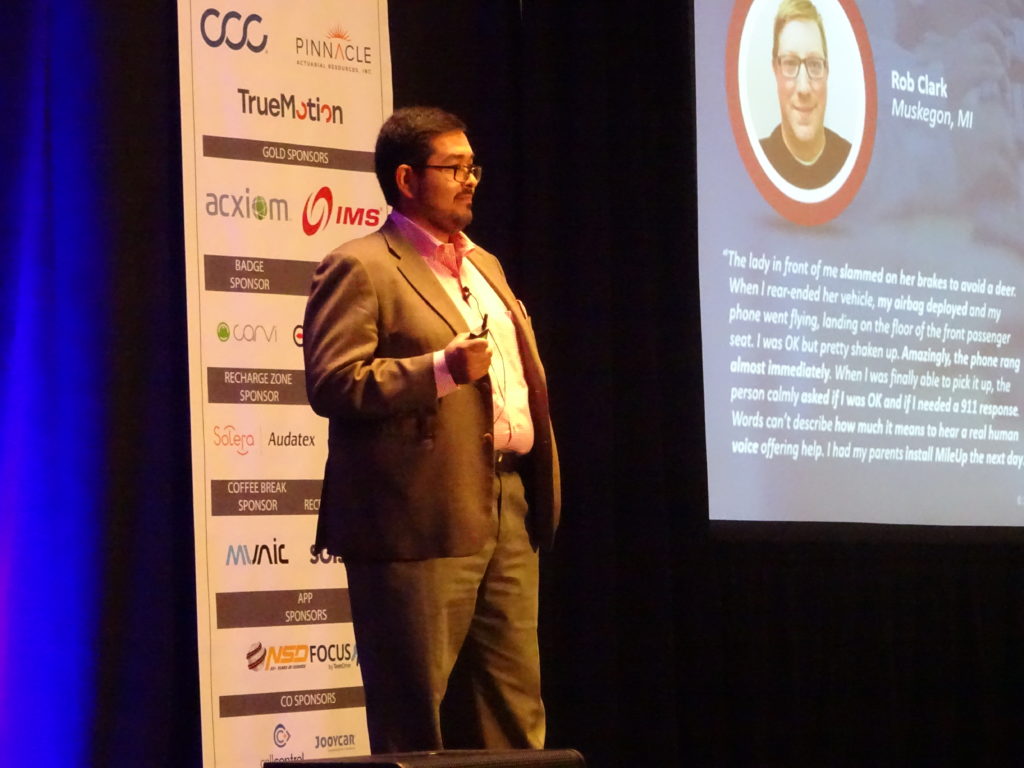 Customers who got in crashes reported being "Very satisfied" by both the crash detection and the agent who spoke to them, and said they'd be willing to pay $10-$20 a month for the service, according to the Agero presentation.
About 36 percent of those said they were very likely to buy a product like that from an insurer — several percentage points higher than some of the other options like OEMs, roadside assistance firms or wireless carrier.
Asked about the best reason for the insurer to offer the technology, 40 percent said it demonstrated "the insurance company cares about me," while 30 percent felt it offered "more value to me," according to Agero.
Agero Chief Strategy Officer Jeff Blecher said customers also felt they had a great experience when Agero called them over a false positive — something that to the A.I. looked like a crash but wasn't. It showed customers someone was watching out for them, he said.
Agero's false positive rate was 1 per every 12,000 miles or "one per year," Blecher said. Typically, it's a situation in which the phone goes flying during hard braking, he said.
Audatex collision repair services Vice President Don Mikrut wondered if a customer with a $1,000 deductible really would want their insurer notified of a crash.
Bliss suggested a carrier should make it merely an option to file a claim, and SmartWitness sales director Aaron Kim threw out the idea of an insurer only reaching out at a certain threshold of crash severity.
Mortimer suggested having accident forgiveness be part of an insurance policy, and then customers won't be afraid to give consent for the carrier to be notified at the time of a crash.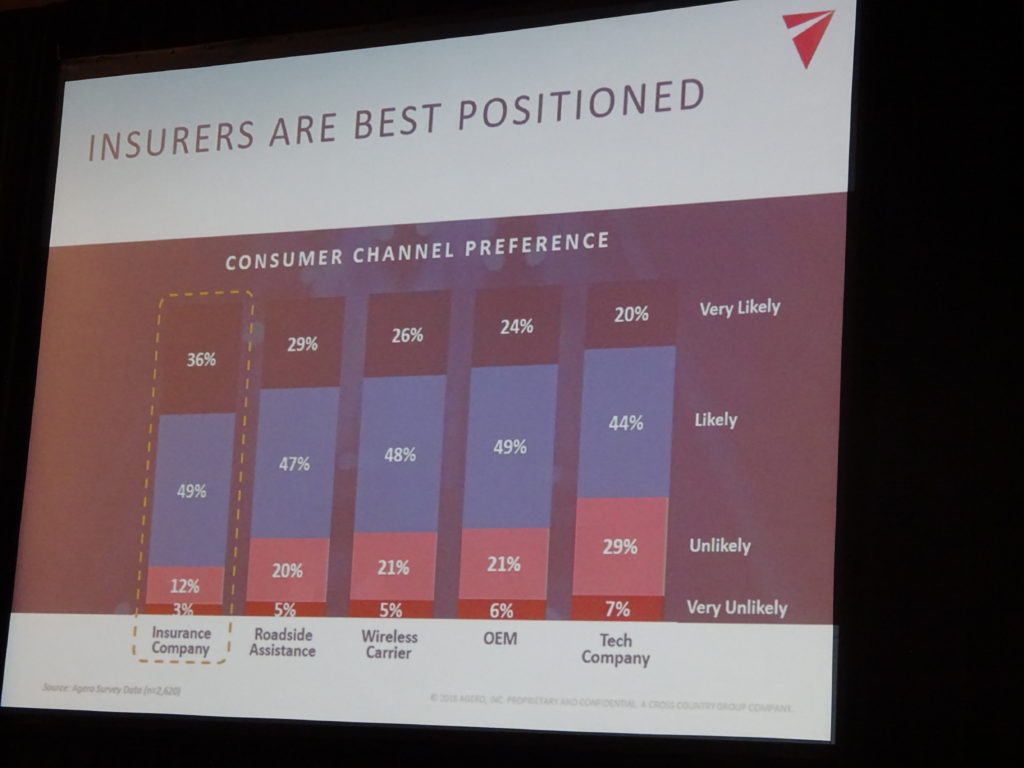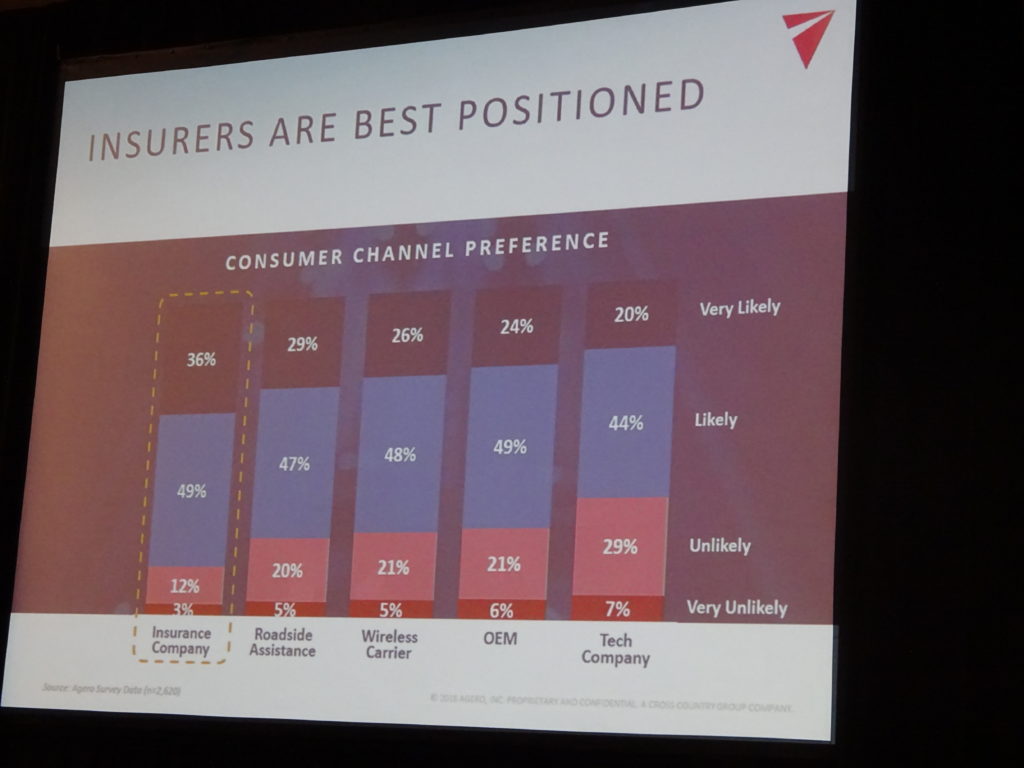 Cut out the work
Marlow also pointed out that the first thing a carrier does during a claim today is "put the customer to work." It's a 10- to 20-minute process, and "you feel like you're being interrogated." An alternative would be to simply confirm the customer wants to make a claim, he said; the insurer already knows everything they need via telematics.
Octo Telematics Americas country manager Geoff Werner recalled what a "dreadful experience" a recent claim regarding a minor door impact had been. He had to talk to a carrier on the phone about the incident, and then go through the process again two days later when another insurance representative called him back. He took the car to a body shop for an estimate, had to return with it a week later for the actual repair.
"Simple claim," he said. "Dreadful experience."
But in Italy, Octo's telematics technology is common. There, carriers can detect a crash "not perfectly," but often "very, very well," Werner said. It's possible to detect if a vehicle is driveable or if a tow truck is needed in a process augmented with some photos by the customer, he said. This removes the process of "me talking to three people" and can funnel the shop to a body shop, he said.
In Italy, the length of time before the claim has been settled has been cut by more than 50 percent.
"This is real," Werner said. In a separate interview, he said vehicles detected by Octo tend to get referred to insurer direct repair program shops, as OEM certification isn't really a factor in Italy.
Discovery Insurance in South Africa also has a crash detection program which can work on either a smartphone by itself or as part of a separate device. The tech has been in place for a while there, based on this 2016 video of 2015 Miss South Africa Liesl Laurel, Cambridge Mobile Telematics Chief Technology Officer Hari Balakrishnan showed at the conference. In the Laurel, she recounted how the carrier noticed her crash into a bus and sent emergency services.
Werner also proposed a future where a rental car appears at the crash scene while a tow truck appears to remove the damaged car — without the customer having to set up either. Perhaps a telematics determination that a vehicle was likely a total loss could be followed by replacement options offered by the OEM, he said.
Carvi Chief Creative Officer Dinesh C, whose company sells a video-and-telematics crash detection device, also told the conference about a pilot program from his company to deliver coffee to London customers from the accident scene while they wait for their rental cars.
Images:
CCC product manager Senior Vice President Jason Verlen said Sept. 6, 2018, that on April 26, 2018, State Auto used the IP's technology to detect its first crash. Rather than waiting for the customer, the insurer called the policyholder — who was "simply amazed," Verlen said.(CCC slide; photograph by John Huetter/Repairer Driven News)
Uber CEO Dara Khosrowshahi announced Sept. 5, 2018, the company would use sensors within its drivers' smartphones to detect crashes under a new feature known as Ride Check. (Provided by Uber)
Agero strategy and marketing Vice President Luis Quiroga, left, is seen next to a testimonial related to the company's crash detection capability. (John Huetter/Repairer Driven News)
About 36 percent of non-senior customers who told Agero they had experienced a crash in the past four months said they were very likely to buy a product like that from an insurer — several percentage points higher than some of the other options like OEMs, roadside assistance firms or wireless carrier. (Agero slide; photograph by John Huetter/Repairer Driven News)
Share This: