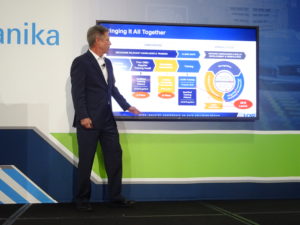 It's been a month since I-CAR announced its years-in-the-making overhaul of its curriculum, Gold Class and Platinum programs.
We thought shops who missed or skimmed the news in August might appreciate a refresher so they might prepare for the switch ahead of a critical Dec. 31 deadline.
I-CAR sales and marketing Senior Vice President Nick Notte said in August many shops are Road to Gold and "very close," and his counsel to them was, "'Do what you can.'" It would be much simpler in 2019 for a shop made Gold Class under the old rules to meet the new Gold Class criteria than it would be for a shop which failed to achieve Gold Class by the end of 2018, he said.
Technicians who aren't yet Platinum will also face a higher bar starting next year.
As of Jan. 1, 2019, shops seeking to become Gold Class must have a larger percentage of role representatives — 100 percent of structural techs and half of all estimators, nonstructural technicians and refinishers — meeting a minimum of ProLevel 2. I-CAR CEO John Van Alstyne has called ProLevel 2 the "minimally required skills" necessary to fix a car.
Historically and through Dec. 31, a shop could achieve Gold Class status with merely a single person reaching ProLevel 1 in all four roles.
A technician or estimator who hadn't reached Platinum status by the end of the day Dec. 31 won't be able to receive that credential until they reach the pinnacle ProLevel 3. Historically and through the end of the year, an employee becomes Platinum once they complete ProLevel 1.
Continuing education on new vehicles and more frequent welding recertification will also be required after the first of the year.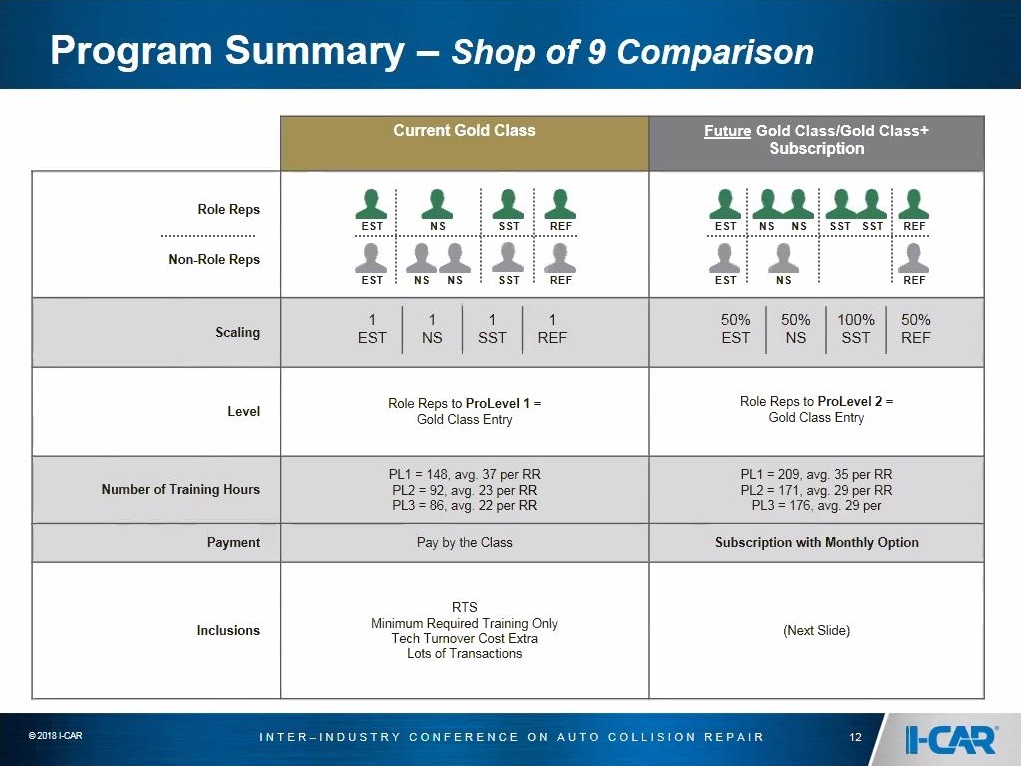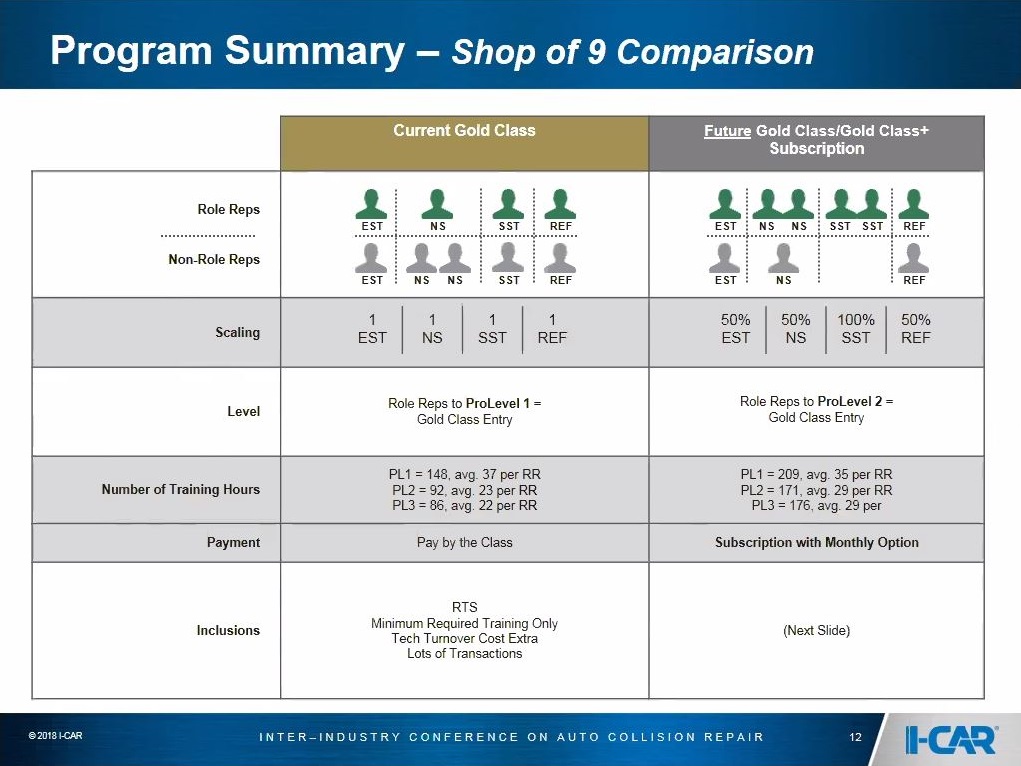 Here's our coverage of these and other changes and a link to a Society of Collision Repair Specialists webinar which should answer even more of your questions.
I-CAR on Wednesday announced a sweeping change to its curriculum next year that will include more frequent welding recertification and tougher Platinum and Gold Class requirements.
The initiative years in the making was meant to "advance I-CAR's vision that every person in the collision repair industry has the information, knowledge and skills required to perform complete, safe and quality repairs for the ultimate benefit of the consumer," the educational organization wrote in a news release. Read more.
Shops who had sat idly on the "on-ramp" of "Road to Gold" can no longer claim that status starting Jan. 1, 2019, I-CAR announced Wednesday.
And shops which had accomplished Gold Class under the looser criteria of ProLevel 1 techs and a single employee satisfying all four major shop roles will receive a year to meet the tougher Gold Class rules announced Wednesday, the educational organization said. Read more.
Any shop not Gold Class by Jan. 1, 2019, will now have to qualify as Gold Class under I-CAR's new, stricter requirements, but the organization is willing to grant extensions if the holdup is on I-CAR's end, an executive said Wednesday.
Notte said it would be "a lot easier" for a shop if they were Gold Class before the deadline and said he couldn't stress enough that a shop should do so. Existing Gold Class shops will be grandfathered in and have a year after their first annual assessment by I-CAR (another new initiative) to achieve the new requirements.
Notte acknowledged that accomplishing I-CAR's benchmarks had been a challenge given the "huge demand" for training. If a shop had done everything it could but couldn't complete the required training because of I-CAR's backlog, "we may make an exception," he told a Society of Collision Repair Specialists webinar. Read more.
I-CAR has developed a subscription pricing option for Gold Class shops which treats the largest MSO and tiniest single-shop location equally, sales and marketing Senior Vice President Nick Notte said Wednesday.
Notte told a Society of Collision Repair Specialists webinar that Gold Class shops can pay a monthly charge of $229 per location (a five-shop MSO would owe $1,145, for example) and $35 per relevant staffer (estimators, structural, nonstructural techs and painters) for unlimited training.
He said this addressed feedback that shops had difficulty budgeting under the old per-class system, as they didn't know what they'd be spending. Read more.
A Society of Collision Repair Specialists Aug. 22 webinar featuring Nick Notte, I-CAR's senior vice president of sales and marketing, discusses the upcoming program changes.
"The I-CAR leadership team expressed the importance of communicating directly with collision repairers associated with SCRS to help inform those in the association's circle of influence about the changes which will shape the future of collision repair industry training and to address questions from the industry," SCRS wrote in a news release promoting the webinar. Read more.
More information:
Society of Collision Repair Specialists-I-CAR webinar on I-CAR Gold Class changes
SCRS-I-CAR, Aug. 23, 2018
I-CAR "Train to Gain" training overhaul website
I-CAR "Industry Training Relative to I-CAR Knowledge and Skill Areas" guide
I-CAR, Aug. 6, 2018
I-CAR "Automotive Collision Repair Industry Knowledge and Skills Protocol" guide
I-CAR, July 10, 2018
Images:
I-CAR CEO John Van Alstyne announced a sweeping change to I-CAR's credentials next year that will include more frequent welding recertification and tougher Platinum and Gold Class requirements. Ongoing requirements after 2019 are shown at the right of the chart. (John Huetter/Repairer Driven News)
After Dec. 31, 2018, a non-Gold Class shop seeking that credential must have at least 100 percent of structural technicians reaching ProLevel 2, instead of the ProLevel 1 permitted under the old criteria. Half of the employees within each of the three other key role categories (Estimator, Non-Structural Technician, Steel Structural Technician, Refinish Technician) at the shop must also reach ProLevel 2. (Provided by I-CAR)
Share This: