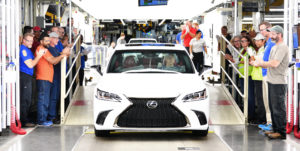 The new issue of Toyota's Collision Pros magazine contains an important reminder of how often millimeter-wave radar calibration might be necessary — including every time a shop removes a bumper cover or grille on a Toyota or Lexus with the tech.
That vehicle population might soon include many of the Toyotas and Lexus you encounter.
Toyota in November 2017 vowed, "By the end of 2017, (Toyota Safety Sense) and (Lexus Safety System+) will be standard on almost every model in the Toyota and Lexus lineups."
Individual advanced driver assistance systems within the overall suites can and do rely on the radar to improve occupant safety and convenience — and potentially protect others on the road besides your customer.
For example, Lexus in July said the next-generation 2019 Lexus ES has the "2.0" version of Lexus Safety System+, which can now autobrake for bicyclists as well as pedestrians and other cars. The 2018 ES carried the old version standard, and could autobrake for cars and pedestrians.
"An example of such a feature is daytime bicyclist detection which is part of an enhanced Pre-Collision System (PCS) that employs both a millimeter wave radar and a monocular camera sensor," Lexus wrote in a news release. "Previously designed to detect a preceding vehicle or pedestrian, the Pre-Collision System now has the potential to detect a preceding bicyclist as well. PCS has also been enhanced to help detect a preceding pedestrian in certain low-light situations by increasing the camera's sensitivity and dynamic range."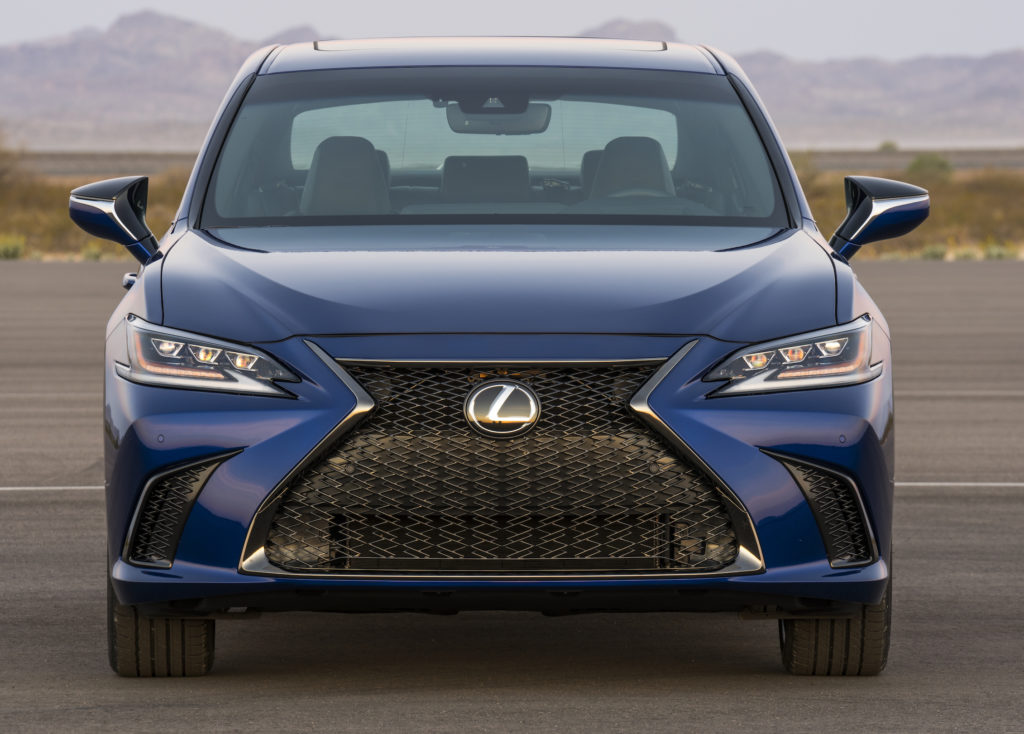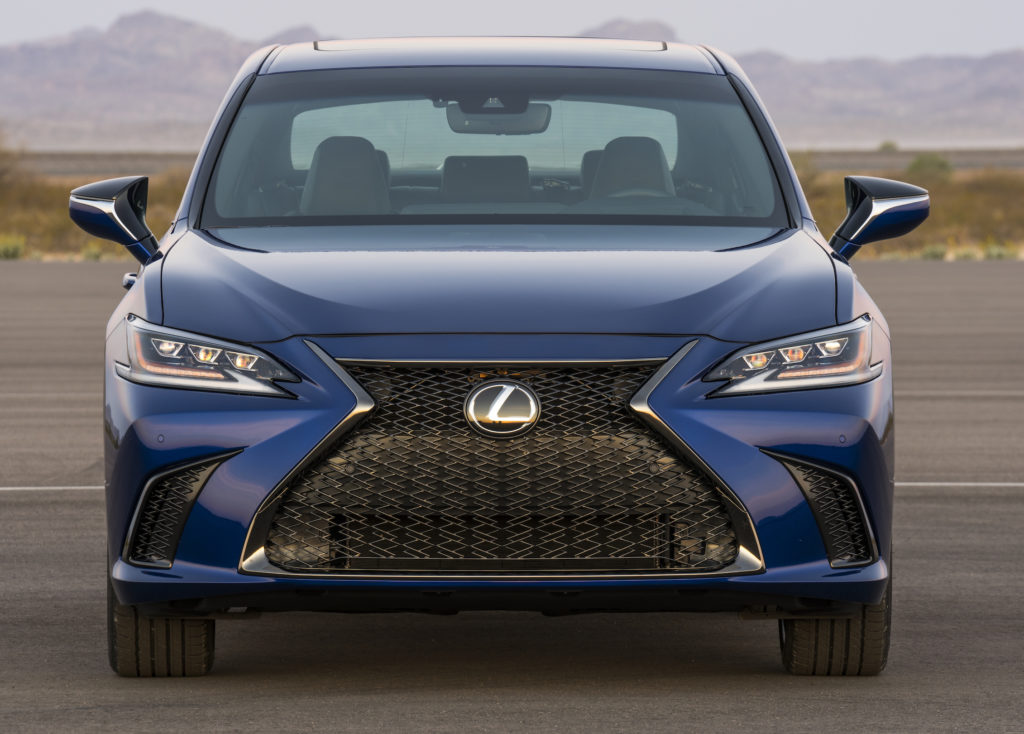 But more common Toyotas carry the tech as well. For example, Toyota in 2016 announced it would begin to make Toyota Safety Sense standard on the RAV4 starting with the 2017 model year. The compact SUV was the company's No. 1 selling model last year, at 407,594 units.
Prior to vehicles gaining the ADAS suites standard, Toyota offered them as an option. This further extends the population of Toyotas and Lexuses which might require calibration following typical repair procedures and makes it even more critical for shops to have the build data for any of those two makes they encounter.
"Some examples of when a Millimeter Wave Radar Sensor should be aligned and calibrated are: Whenever an equipped vehicle has a wheel alignment, has had a sensor removed and reinstalled or replaced, and, when any part that the sensor is attached to has been removed and reinstalled or replaced," Toyota wrote in Collision Pros. (Emphasis added.) "From a collision repair point of view, that means any time a vehicle has had a bumper cover or grille removed and reinstalled or replaced, or needs a wheel alignment. Whether it's part of a collision repair or for normal maintenance, the repair manual should be reviewed to confirm if a related system needs adjustment or calibration."
This calibration is necessary to protect your customers and those sharing the road with them — not to mention limit your shop's liability.
---
Learn more about calibration during Repairer Driven Education
Seeking more insight on calibration? Learn more during the SEMA Show in Las Vegas with "Understanding Shop Liability in this new Era of Diagnostics, Calibrations and Programming" featuring Michael Quinn and Chuck Olsen of AirPro and "The importance of ADAS system resets when performing wheel alignments during the collision repair process" with John Shewbridge of Hunter. The sessions are part of the Society of Collision Repair Specialists Repairer Driven Education Series Oct. 29-Nov. 2. Register here for individual RDE classes or the series pass package deal.


---
"Early on, vehicle safety technology may have required some simple steering angle sensor calibrations, but with the evolution of modern safety systems, more involved calibrations have become necessary to be sure all of the safety systems are working properly and as designed," Toyota wrote. "The days of 'set the toe and let it go' are long gone, and ignoring details like required calibrations after wheel alignment have the potential for causing safety system malfunctions because of out-of-spec parameters."
Instructions on when you need to calibrate and how to do it can be found within Toyota and Lexus OEM repair procedures, something Toyota illustrates in the magazine with an excerpt from the next-generation 2019 Avalon's manual. The magazine also offers a kid-looking-through-a-knothole analogy for calibration you could probably use to educate a vehicle owner wondering why that simple bumper cover job isn't as simple as it used to be.
Scanning also makes an appearance in the article. Toyota already has told everyone to scan everything, but it reminds shops that they'll have to do so after the recalibration.
"Once a Millimeter Wave Radar Sensor is properly aligned and calibrated, a health check scan should be performed to make sure all electronic systems are diagnosed as operationally correct and no Diagnostic Trouble Codes (DTCs) are present," Toyota wrote.
More information:
"Zero Point Calibration: Why and When It Needs to Be Performed"
Toyota Collision Pros, Summer 2018
Toyota Technical Information System OEM repair procedures website
"Toyota Expanding its Industry-Leading Safety Technology Package with Second Generation Toyota Safety Sense™"
Toyota, Nov. 17, 2018
Images:
Assembly line employees celebrate production of the first 2019 Lexus ES. (Joseph Rey Au/Toyota)
Lexus in July 2018 said the next-generation 2019 Lexus ES has the "2.0" version of Lexus Safety System+, which can now autobrake for bicyclists as well as pedestrians and other cars. The 2018 ES carried the old version standard, and could autobrake for cars and pedestrians. "An example of such a feature is daytime bicyclist detection which is part of an enhanced Pre-Collision System (PCS) that employs both a millimeter wave radar and a monocular camera sensor," Lexus wrote in a news release. (Provided by Lexus)
Share This: