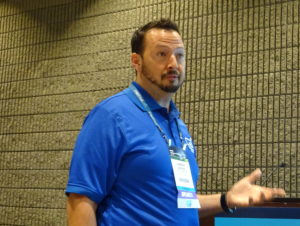 Guiding the conversation but knowing when to shut up are among the techniques that can help capture keys, the owner of a non-DRP shop advised last month at NACE.
Kareem Abouzeid, a Management Success! Top 20 Group member and trainer, offered the Aug. 10 audience examples from the playbook he said works at his non-direct repair program Chico, Calif., shop Knockout Collision. The shop "now does well over $1 million a year," according to Management Success!
"It's not just theory," Abouzeid said.
The trick to selling involves getting the customer to "want your services," whether it's an insurer-pay or customer-pay job, according to Abouzeid.
This involves developing trust, Abouzeid said. This is done by asking questions of the customer and listening to what they have to say, he said.
When a customer calls with an inquiry like a shop's hours, you want to not simply answer it but ask a question as well, such as asking what happened or if everyone's OK in the crash, according to Abouzeid. This also builds communication with the customer.
Another good way of building this communication is the Q&A process of filling out a form with the information the shop needs. Abouzeid suggested the shop fill out the document for the customer to foster that conversation and to elicit information that the customer might not have provided were they to fill it out — such as email address.
However, never appear as though you're grilling the customer, and don't ask questions that suggest you doubt them or they're wrong, according to Abouzeid. If the customer says something incorrect, like that the vehicle needs a particular repair procedure, just remark that you'll make a note of that and your shop will check out everything on the vehicle, he said.
Avoid questions that let the customer answer no. Instead of asking if they can bring the vehicle in today, for example, offer them options like the morning or after lunch, he said.
"You're guiding the conversation," he said.
At the same time, never leave it open-ended when the customer will come in. Many shops feel like they're being accommodating by offering this option, but "it's really not professional," Abouzeid said. It also might prevent the shop from helping the customer properly if the customer picks a time that ends up not being convenient for the shop. Appearing rushed or frustrated isn't a good thing from a customer relations perspective, he said.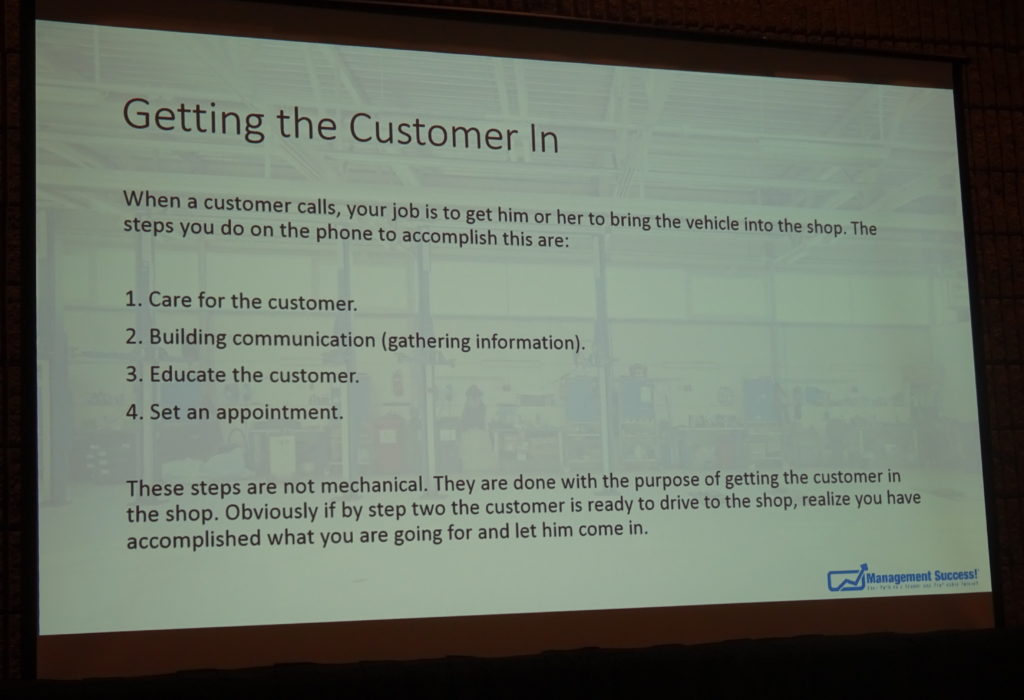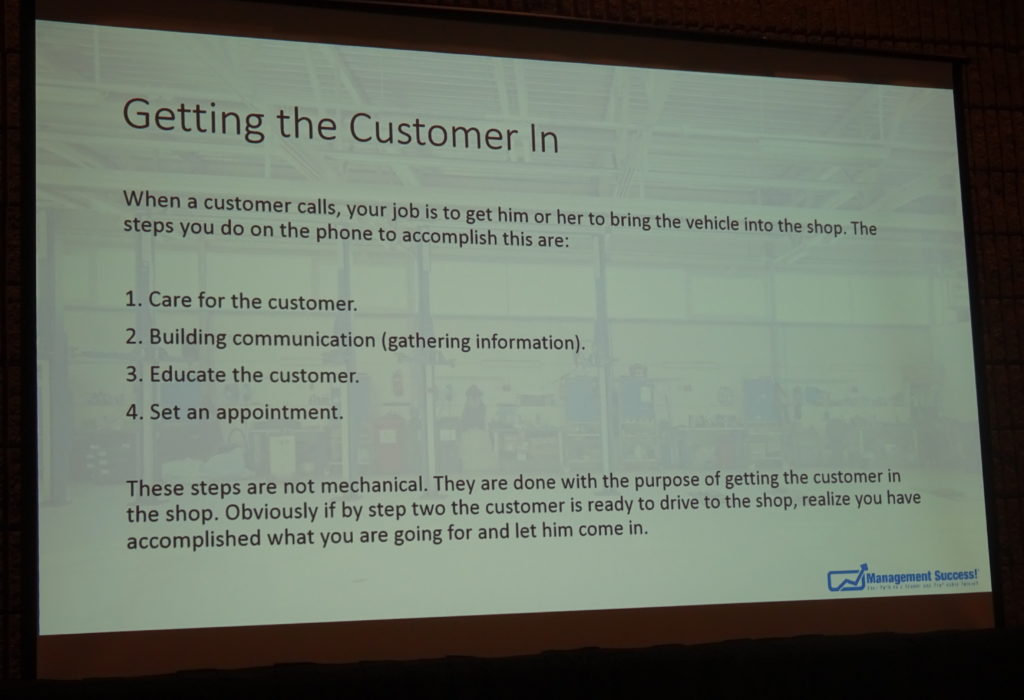 Abouzeid said most good customers feel obligated to honor their commitments, and so getting them to agree to an appointment helps drive business to your shop and prevent a customer — who's clearly interested in your shop, after all — from calling competitors.
Abouzeid said his shop also schedules everything to avoid hassles like everyone invariably showing up at the end of the day Friday to pick up their cars.
You're not just making a sale, Abouzeid said. Consider that you're also helping the customer, he said.
"It's a strange situation for most clients," he said. They're not familiar with the claims or collision process, and you're doing them a service by helping them through it easily, according to Abouzeid.
Listening to the customer involves knowing when to shut up, according to Abouzeid. He said the customer must have had some feeling yours would be a good shop and might have already researched your facility online. They're poised to use you, and the worst thing is to "keep selling," he said.
He likened this to a customer in the market for a new TV who does significant research and is fairly certain which one they want. Yet when they go into the store to see it, an overly chatty salesman "can talk you out of it."
Approaching the conversation as an "assumed close" — that they are going to use your shop — can help close the deal and validates the customer's sense that your shop might be a good one to pick, according to Abouzeid. Often, using that tactic will lead to the customer going along with it, he said.
---
Get more communication tips at Repairer Driven Education
Want more advice for managing your shop's interactions? Learn more during the SEMA show in Las Vegas with "Preparing for Negotiations" with Eric Newell of asTech. The sessions are part of the Society of Collision Repair Specialists Repairer Driven Education Series Oct. 29-Nov. 2. Register here for individual RDE classes or the series pass package deal.


---
Shutting up is also valuable after you ask a "closing question," according to Abouzeid, whose presentation defined these queries to include asking the customer to set an appointment, asked for the work or offered a price.
In negotiations, the adage goes, the person who speaks first loses, he said. But it's not really about winning or losing, he said: It's more about getting an answer.
Continuously talking might interrupt the customer's train of thought and blow the sale.
For example, offering openings at 11 a.m. or noon. The customer might pause to think about their own schedule. Shut up and let them figure out which one they want.
"They're buying one of your options," he said. Pressure them, and they'll get frustrated. If you wait, "they can usually work it out."'
When you ask them to sign the repair authorization and truly close the sale — a question you need to ask, rather than passively wait for them to request it — the customer might think for a while. Keep your cool and stay relaxed, Abouzeid said.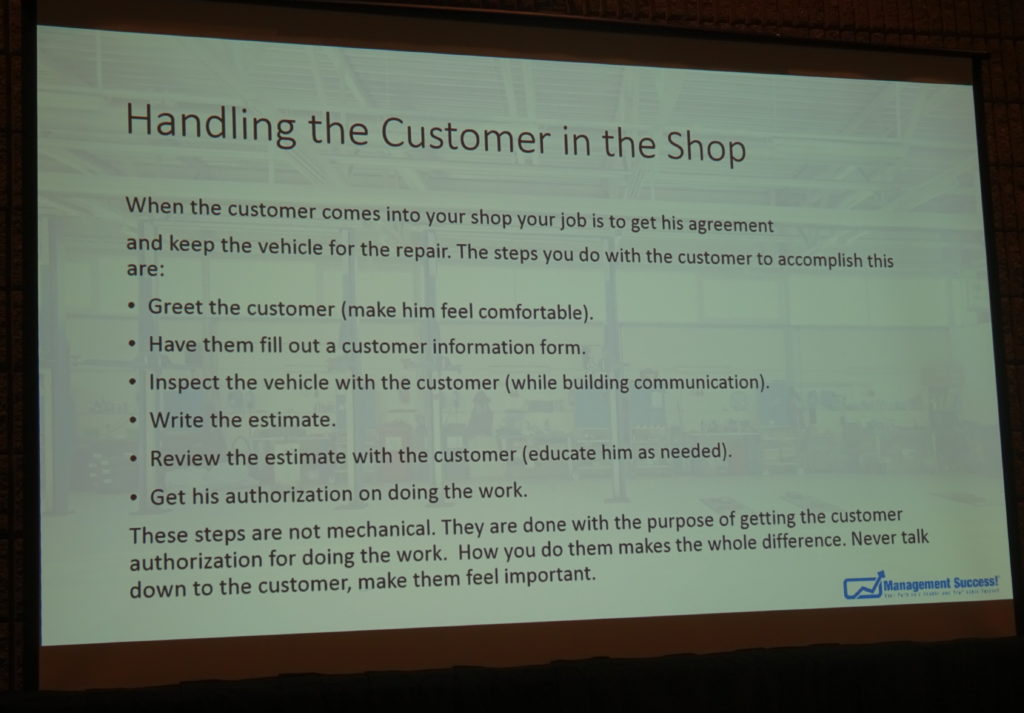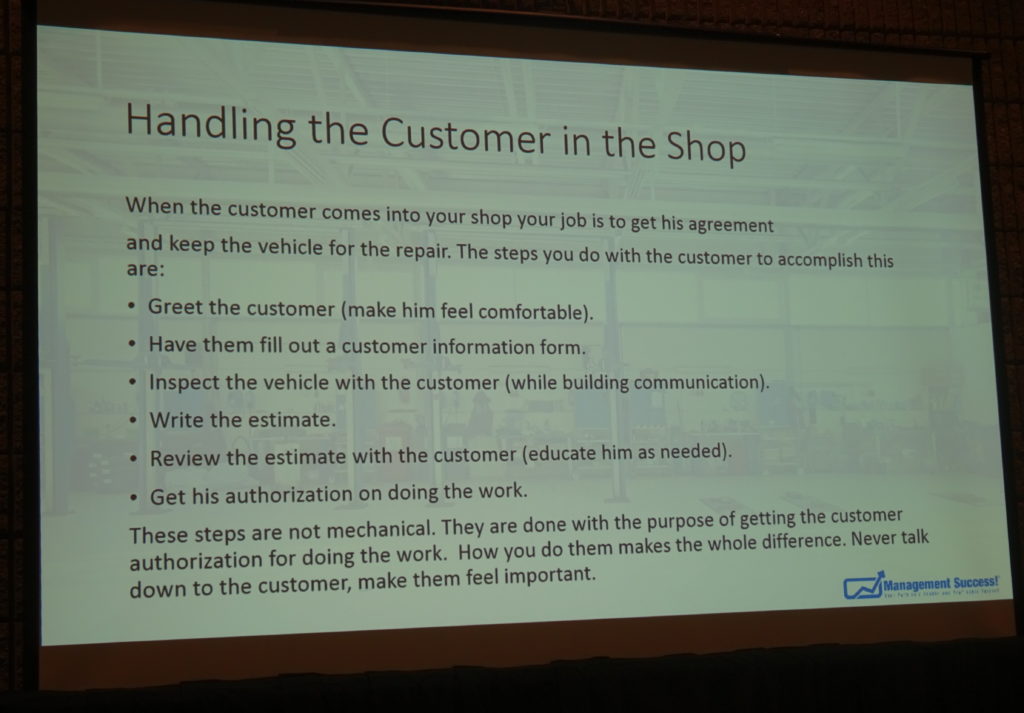 The customer is just deciding if what you've told them makes sense, if they can trust you, and pausing naturally before making this big decision.
"You're signing something. There's fine print," he said.
The shop knows it will do good work, and by closing the deal it's performing the additional service of getting a customer to pull the trigger and finally get to stop the process of chewing over the decision, according to Abouzeid.
"Usually, they're relieved," he said.
Finally, when you speak to customers, do so in their language, Abouzeid said.
Speaking too technically might lead a customer to unconsciously dislike you, and when a shop gets too slangy with industry terms, customers "do tend to get confused" and lose interest, he said. Don't talk down to them, but educate them and describe things in a way the customer would understand, he said.
Featured images: Kareem Abouzeid, a Management Success! Top 20 Group member and trainer, offered an Aug. 10 NACE audience examples from the playbook he said works at his non-direct repair program Chico, Calif., shop Knockout Collision. The shop "now does well over $1 million a year," according to Management Success! (Slides by Abouzeid; photos by John Huetter/Repairer Driven News)
Share This: