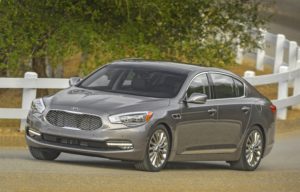 One of the nation's major daily newspapers on Wednesday alerted readers to the reality of modern collision repair bills.
The coverage in the Detroit Free Press — picked up shortly after by its national sister publication USA Today — ought to help educate customers and insurers that the industry is well past the "I can just buff that out" stage.
The Free Press article and headline key off of a comment made earlier this month by I-CAR CEO John Van Alstyne during an appearance on the show "Autoline This Week."
Van Alstyne had mentioned that I-CAR, like fellow guest Ford, advocated the idea of "design for repair" to automakers. He told Autoline host John McElroy that OEMs have different strategies for where to locate various technology.
"Getting it off the bumper is probably a good idea," Van Alstyne said on Autoline.
He cited the example of a Kia K900, Kia's flagship luxury vehicle. Van Alstyne said the car has a "ton of technology."
A left front corner hit on the vehicle is "circa $34,000" to repair, "compared to an average" of around $8,000, Van Alstyne told Autoline.
"$34,000?" McElroy said … "What a hefty repair bill that is."
It appears Van Alstyne meant the outgoing 2017 K900 design generation, which starts at $49,500. The next-generation 2019 Kia K900 isn't due to hit dealerships until next quarter.
If the comment was indeed about the 2017 K900, the bill could be even higher when the 2019 K900s start getting into crashes. The vehicle has the most hot-stamped steel of any Kia ever, as well as 676 feet of structural adhesive. Other high-tech features in the line of fire for collisions include an "over-engineered" cooling system with a wider radiator and a 600-watt motor and an "active air flap" for aerodynamics. Find out more tech with our March coverage.
Kia did not respond to our request for comment on the estimate, nor did it reply to the Free Press'. But the OEM shouldn't feel singled out; it appeared Van Alstyne meant it as an example of a industrywide trend.
CARSTAR Chief Operating Officer Dean Fisher told the Free Press about how a simple action — removing a mirror — can lead you down a rabbit hole of recalibrations. According to the Free Press:
"When you remove the mirror from the door to paint the door handles and everything, you may have to recalibrate the security system, the interlocking system in the vehicle and the blind-spot monitoring," Fisher said. Simple repairs, such as painting a bumper, might need additional work to ensure safety systems are functioning properly before the vehicle is released.
"If you paint over the sensors, you have just changed the trajectory of that sensor," Fisher said.
Repairs that might have cost a couple of hundred dollars in years past can now cost substantially more. Fisher referenced the once relatively modest cost of replacing a headlight. 
"With LED and xenon and then adaptive headlights, where it actually turns a corner with you as you're turning … those headlights can move in the range of $800 to frankly $2,000," Fisher said.
We'd like to point out to our adjuster and consumer readers that this is CARSTAR, a leading national brand on good terms with multiple insurance companies. So when an independent, non-DRP shop's estimator somewhere lists similar operations on a repair bill, you can feel confident they're not being unreasonable.
The Free Press article also conveys the notion of following OEM repair procedures, which is a wonderful thing to educate the Free Press and USA Today readers. Fisher gave the newspaper a great example of the kind of mistaken thinking which can lead to rejection of those procedures — at the customer's peril:
Fisher offered the example of a well-meaning but ultimately misguided mechanic deciding to space vehicle welds closer together during a collision repair in an effort to strengthen the vehicle.
"What you may have done is disrupt the ability for the car to crash in the way that it was designed to … crumple. In other words, you've made the car stronger than the manufacturer wants it to be," Fisher said.
---
Get advice on repair procedures, tech at Repairer Driven Education
Learn more about OEM procedures and tech during the SEMA show in Las Vegas at "Understanding Shop Liability in this new Era of Diagnostics, Calibrations and Programming" with Michael Quinn and Chuck Olsen of AirPro; "The Imperative of Accessing and Retaining OEM Repair Information on every Structurally Repaired Vehicle" with Pete Tagliapietra and Wil Peck of NuGen IT; "The importance of ADAS system resets when performing wheel alignments during the collision repair process" with John Shewbridge of Hunter; and "Leading the OEM Transition" with Jeff Wildman of BASF and Steve Feltovich of SJF Business Consulting; and "OEM Repair Procedure Best Practices" with Mike Anderson of Collision Advice. The sessions are part of the Society of Collision Repair Specialists' Repairer Driven Education Series Oct. 29-Nov. 2. Register here for individual RDE classes or the series pass package deal.


---
Other tech
One important point lost in the Autoline discussion and much of the Free Press article — and we fear, the collision and insurance industries — is that once-sexy, now-mundane technology might require additional steps as well. It's not like the car was a Model T from an electronics perspective until the cameras and radar started to appear.
Hunter Engineering, for example, has pointed out that seven of the top 10 vehicles on U.S. roads in 2015 needed a standard or optional electronic stability control system — a lifesaving technology required on every model since the 2012 model year — reset following a wheel alignment. In three cases — the No. 3 Toyota Camry, No. 6 Toyota Corolla, and No. 7 Nissan Altima — the requirement dated back more at least a decade, according to Hunter, which derived the rankings from IHS Automotive data.
Advanced airbags — the ones which are "smart" enough to avoid deploying when a kid is in the front seat and can require post-crash calibration — first appeared in the 2004 model year and were phased in between calendar years 2003-06.
Doing the job right might have entailed more procedures — and accompanying costs — than you'd realized.
'OMG Camry'
Even more commonplace repairs might be pricier than consumers, insurers or even shops expect if the shop actually does the work properly, following OEM repair procedures and industry best practices and billing all of it.
Vehicle Collision Experts CEO Mark Olson likes to cite Gerber operations Vice President Rex Dunn, who called the only difference between two body shops what they charge. The point is that both facilities shops should be following OEM, equipment and paint/materials manufacturer steps to a T. One might choose to charge $0 for certain line items but it doesn't change the fact that the work needs to be done to do the job right for a customer.
To this end, Larry Montanez (P&L Consultants) has allowed us to present the famous "OMG Camry," a hypothetical 2010 Toyota Camry quarter panel replacement estimate prepared in 2015 by Montanez and his late colleague James Moy.
Montanez and Moy used the below-average rates of $44 an hour for all labor and a $45 paint materials rate (CCC's labor category averages in 2015 range from $47.23 to $80.55, while paint materials were $28.32 that year). The cost to perform the common procedure on the 2010 Camry comes in at more than $12,400.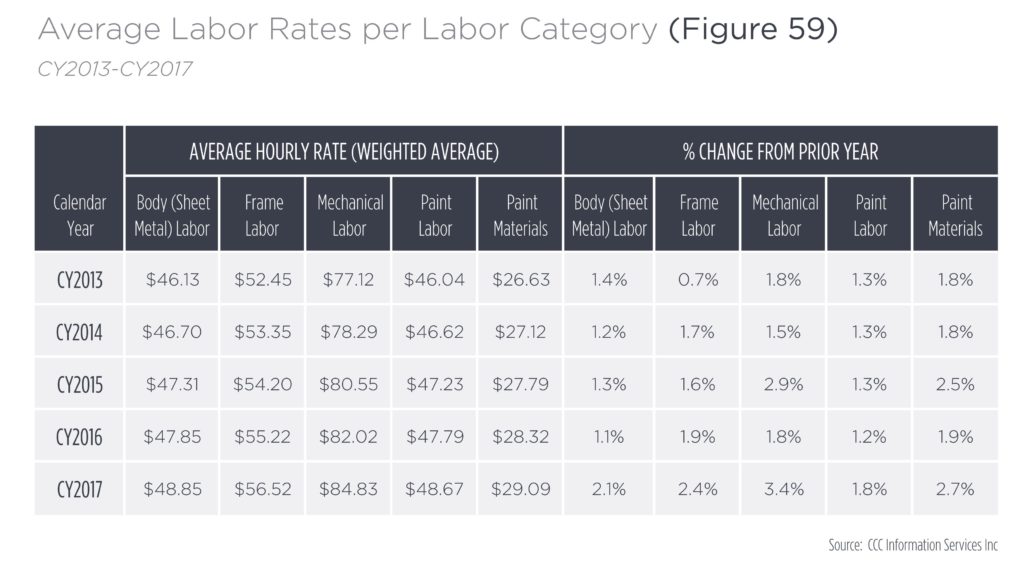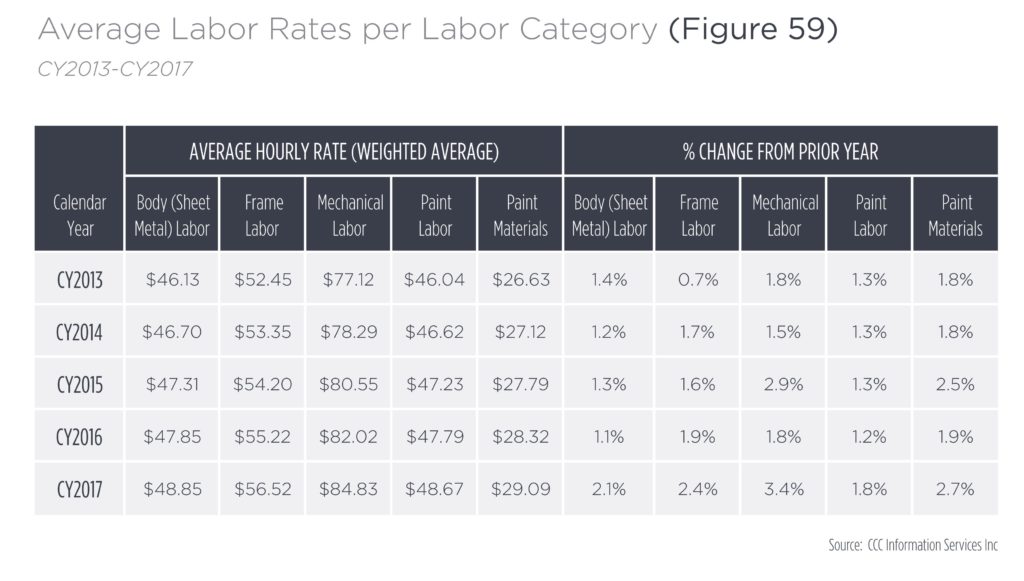 It's a matter of following OEM procedures and manually entering whichever of those and related operations are classified as not-included by the P-Pages. You're paying someone and the shop overhead to perform that work on the car, after all.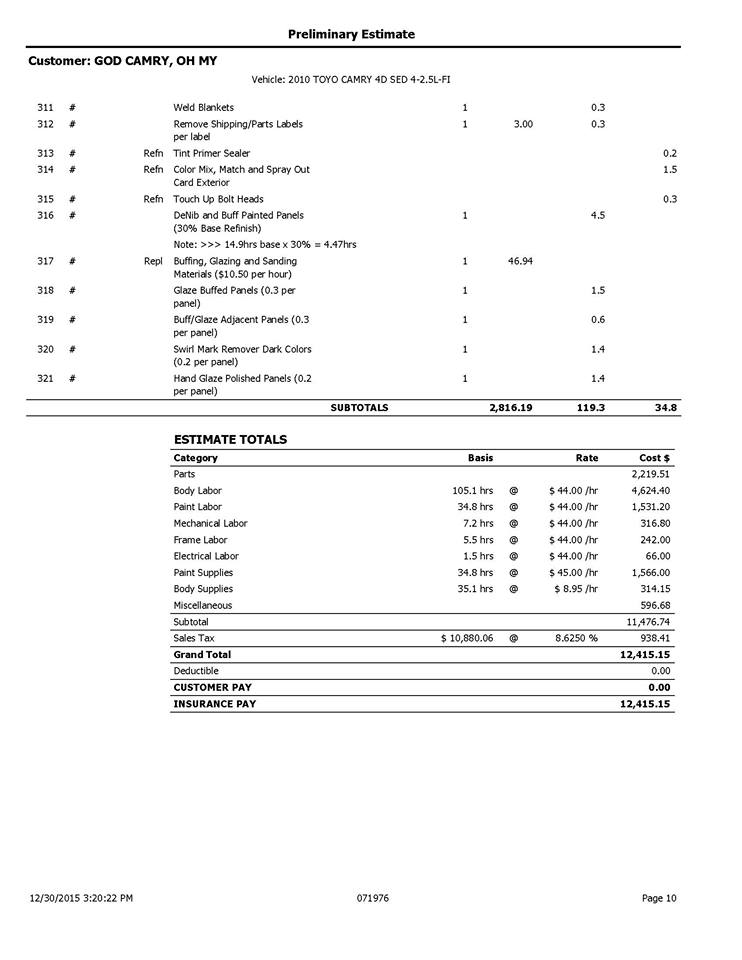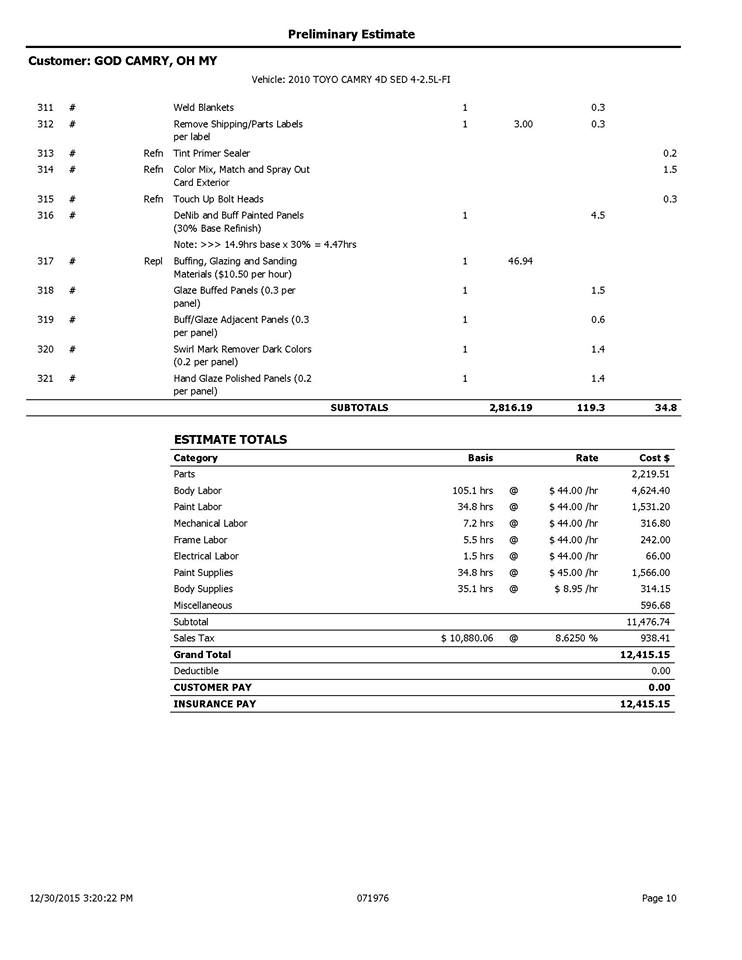 More information:
"$34K to repair a car? High-tech features mean higher repair bills"
Detroit Free Press, Sept. 18, 2018
"ATW #2229 – How Do We Repair These High Tech Cars?"
Autoline, Sept. 6, 2018
James Moy and Larry Montanez, 2015
Images:
A left front corner hit on a Kia K900 is "circa $34,000" to repair, "compared to an average" of around $8,000, I-CAR CEO John Van Alstyne told Autoline. He appeared to be referring to the 2017 K900, pictured, not the next-generation 2019 Kia K900 slated for the fourth quarter. (Provided by Kia)
CCC data indicated these labor rates over the past few years. (Provided by CCC)
Larry Montanez (P&L Consultants) has allowed us to present the infamous "OMG Camry," a hypothetical simple quarter panel replacement estimate prepared in 2015 by Montanez and his late colleague James Moy. Using the unexciting labor rate of $44 an hour (CCC's average in 2015 was $47.31), the common procedure on a 2010 Toyota Camry comes in at more than $12,500. (Provided by Larry Montanez via Facebook)
Share This: