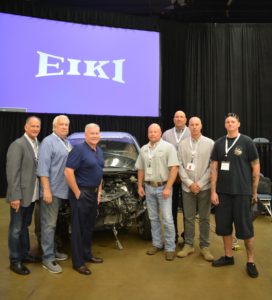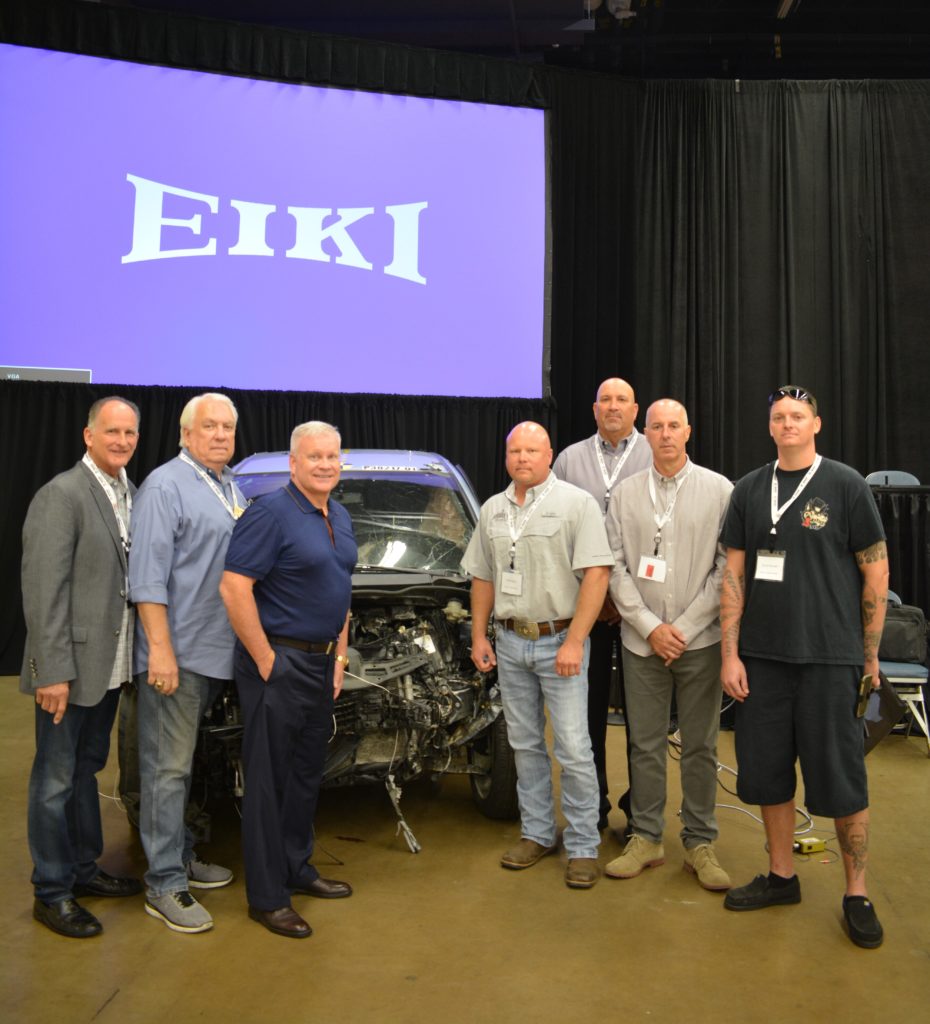 Attorney Todd Tracy and collision repairers have partnered to conduct a new crash test supporting his criticism of aftermarket parts.
Results were released Tuesday evening and presented Friday by Tracy to the Auto Body Association of Texas trade show.
"The biggest takeaway of this presentation is that we're beginning to define what 'like kind and quality' means," ABAT President Burl Richards (Burl's Collision Center) said in a statement. "We now have scientific proof that shows vehicles are safer when they're repaired using OEM parts and OEM procedures. We made major frontal repairs to this vehicle, and its crashworthiness held up and was exactly the same as a new OEM car."
Prior crash tests
Tracy in December 2017 had crash-tested three versions of the Honda Fit at the heart of his $31.5 million (later settled for an undisclosed amount) victory against John Eagle Collision Center. John Eagle Collision had donated the three cars.
Those 2009, 2010 and 2013 Fits were subjected to an IIHS 40 mph moderate-overlap crash test by NHTSA-approved California crash testing firm Karco Engineering. The 2009-13 Fit design generation is effectively identical from a crash-testing standpoint, according to Tracy and the Insurance Institute for Highway Safety.
The red 2009 Honda Fit received Honda-unapproved repairs like those done on a 2010 Honda Fit owned by Tracy's clients Matthew and Marcia Seebachan. John Eagle Collision had adhesive-bonded a roof on the couple's Fit (instead of welding it as Honda demands) and installed an aftermarket windshield in 2012 during a hail repair for the car's prior owner.
The Seebachans bought the car unaware of the work done on it. After suffering horrific injuries in a collision, they sued John Eagle Collision for negligence, with Tracy successfully arguing that the shop's failure to follow  Honda OEM procedures led to the severity of the crash.
The blue 2013 Fit received a variety of aftermarket parts, some certified, some not. They included Certified Automotive Parts Association-approved fenders and a CAPA-certified hood, a non-CAPA aftermarket radiator support, an NSF-certified bumper reinforcement bar, left and right hood hinges, wheel and windshield. All were installed using OEM repair procedures.
Finally, an unaltered black 2010 Honda Fit was crashed as a control vehicle. Tracy in January declared victory, describing the differences between the two experimental Fits and the control Fit to have proved his points.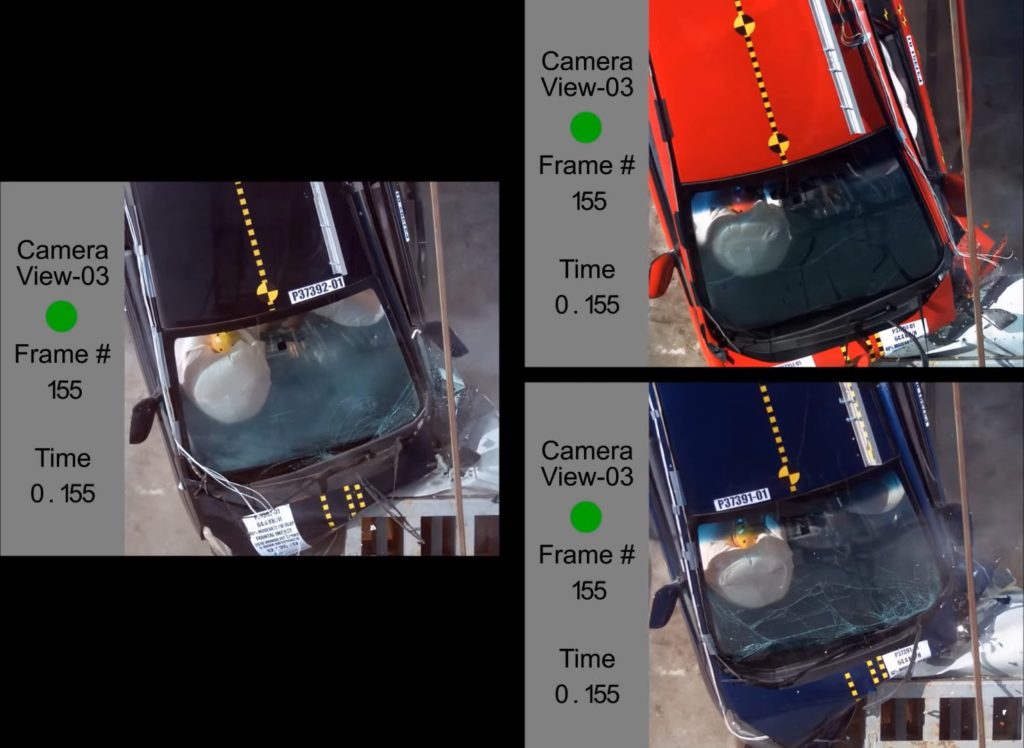 New crash test
However, the aftermarket test results cried out for a fourth test: a crash test of a 2009-13 Honda Fit, repaired with OEM parts using repair procedures. (A fifth test replacing the same parts as John Eagle did in the roof repair but following OEM procedures and using OEM parts would also have been awesome to see and completely close the loop on the experiment.)
Richards, whose shop had prepared the two experimental Fits for the 2017 crash tests, got the ball rolling on the new experiment. He asked Tracy if the attorney would pay for the expensive crash test of a Honda Fit repaired properly with OEM parts if Richards covered the costs of the vehicle, parts, repair and shipping to test facility Karco.
"He did not hesitate and said YES," Richards wrote in an email Tuesday.
Jerry McNee at New Jersey-based Ultimate Collision and Dominic and Mario Martino of Illinois-based Gold Coast Auto Body "without hesitation agreed" to help cover the vehicle bills, Richards wrote.
"Same as before, we pre-measured, and pre-scanned the vehicle to confirm there were no issues with the structural integrity or safety systems on it before we began repairs (including a car fax just to check again to make sure no previous accidents)," Richards wrote in an email.
The light blue experimental 2010 Honda Fit "had never been in an an accident" but was "repaired" by Burl's Collision technician Donald "Trip" Springer as though it had been — "according to OEM procedures using OEM parts," according to a news release.
Burl's Collision replaced similar parts as those swapped out with aftermarket editions before: The bumper cover, the bumper beam, both bumper braces, the radiator support, the hood, hood hinges, the windshield, and the left front wheel. (The original bumper cover and wheel were just removed and reinstalled.) The two fenders also appear to have been replaced with OEM versions, based on an image of the vehicle.
Results
"The crash test results revealed that the genuine parts performed exactly as intended to ensure passenger safety, while the previously crashed aftermarket parts-installed vehicle produced results that Tracy called 'total and massive destruction' in critical areas," the news release stated.
Far less deformation occurred underneath the OEM-parts Fit — similar to the crash of the "mint" OEM Fit back in 2017. Only 8 inches of passenger-side seatbelt load limiter payout was observed on the OEM parts Fit, compared to the aftermarket Fit's 13 inches — again, mimicking the results found on the black Fit crash last year. 2017 and 2018 photos of brake pedal displacement intrusion also "Demonstrate Major Floor Pan Intrusion in the Aftermarket Part Vehicle"; the OEM-parts car's floorpan also appears similar in the image to one taken of the unaltered Fit's floor.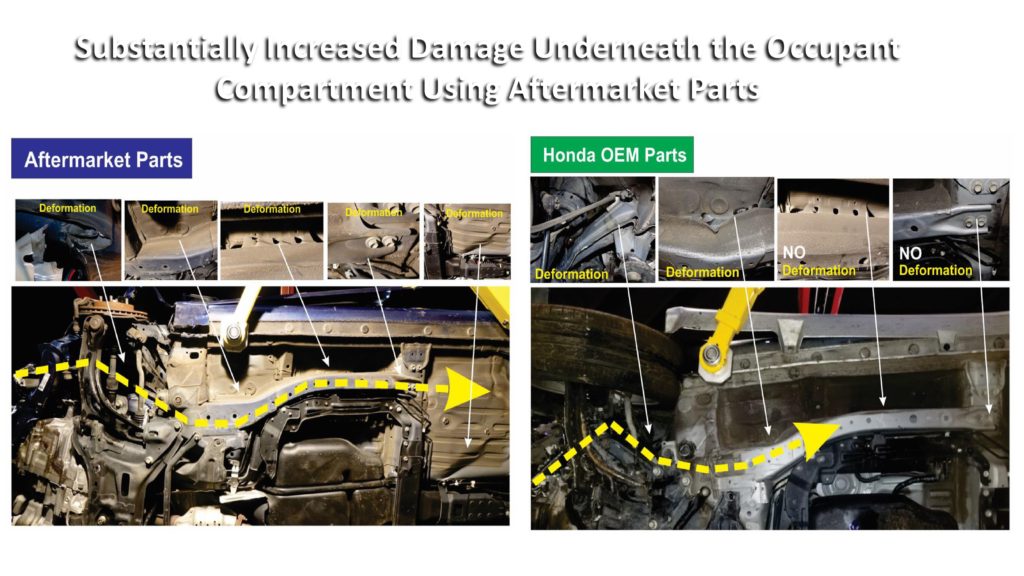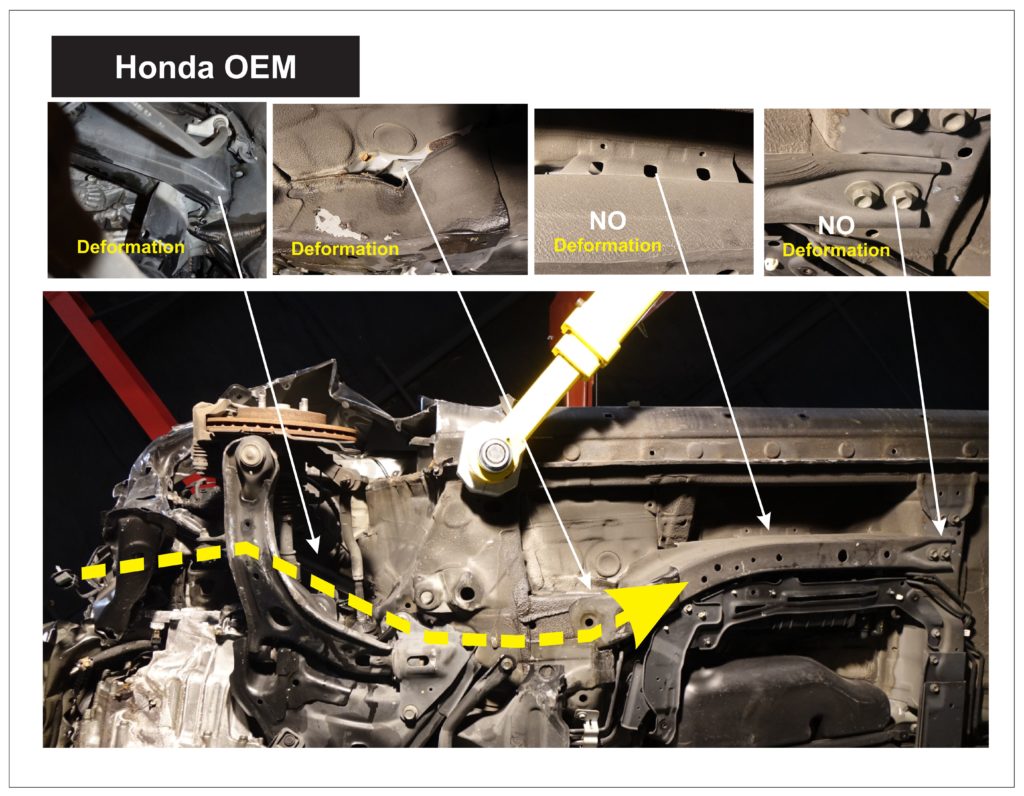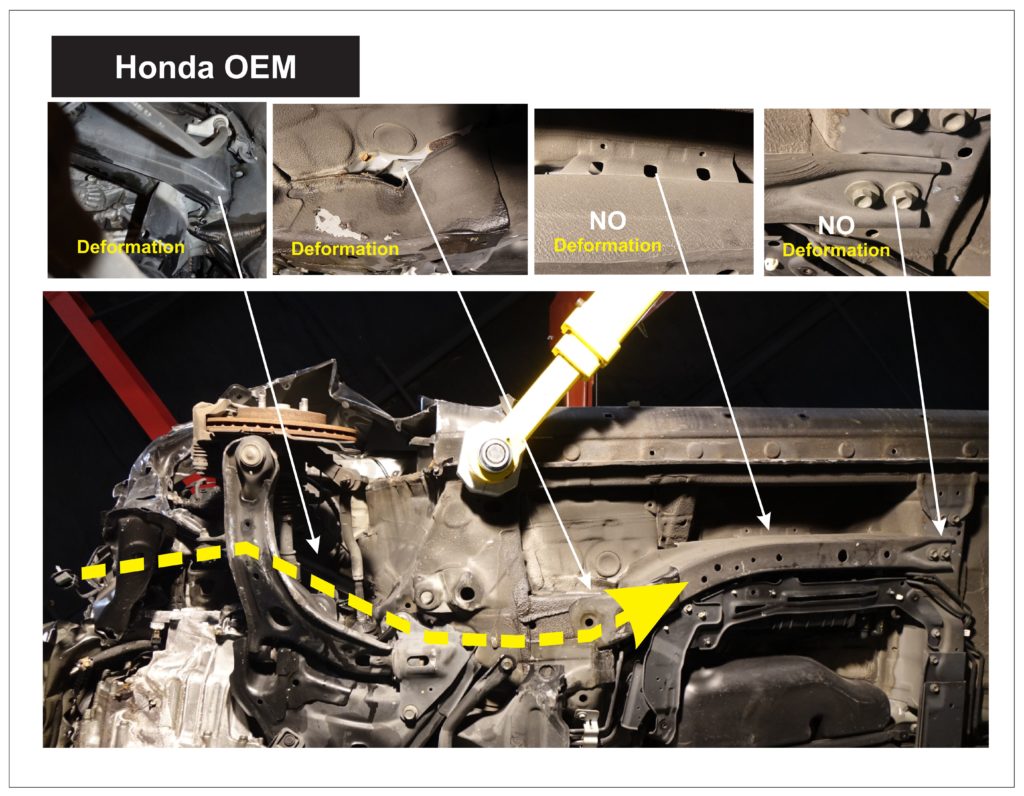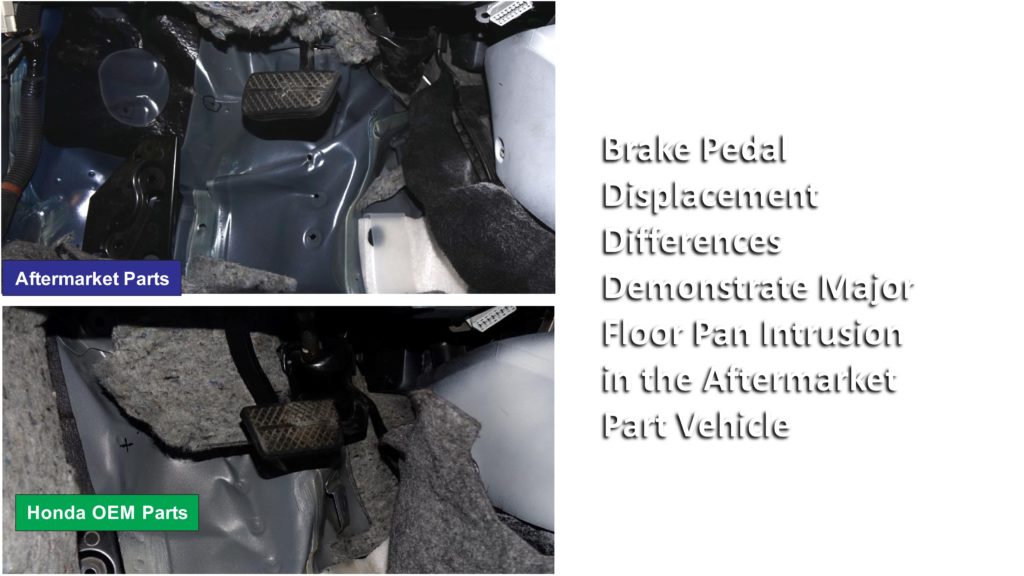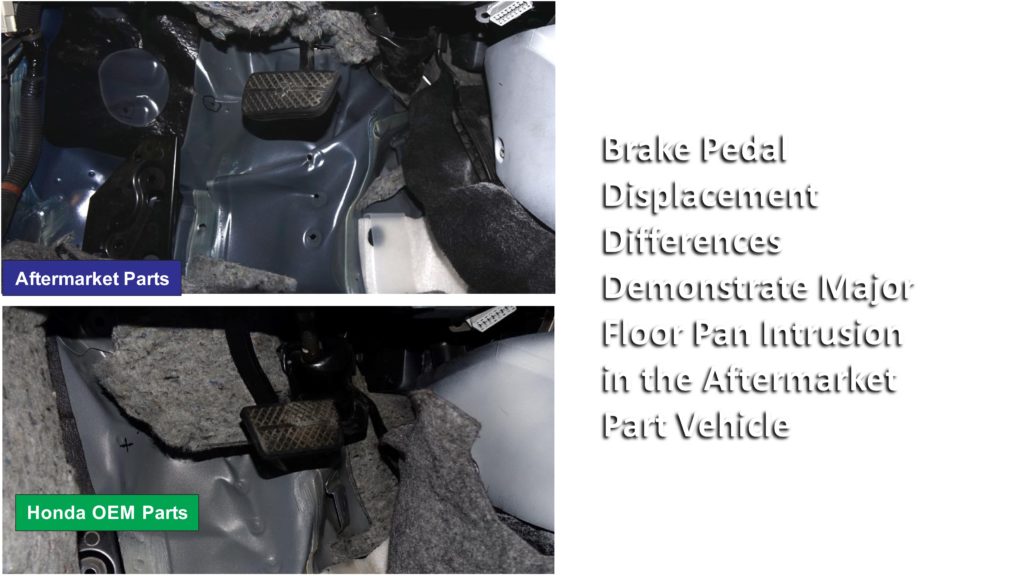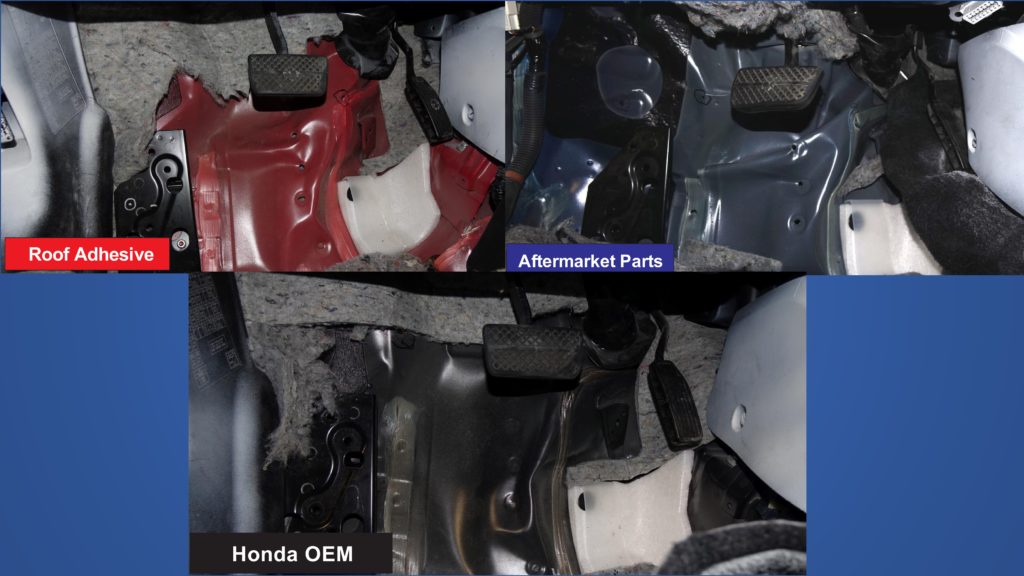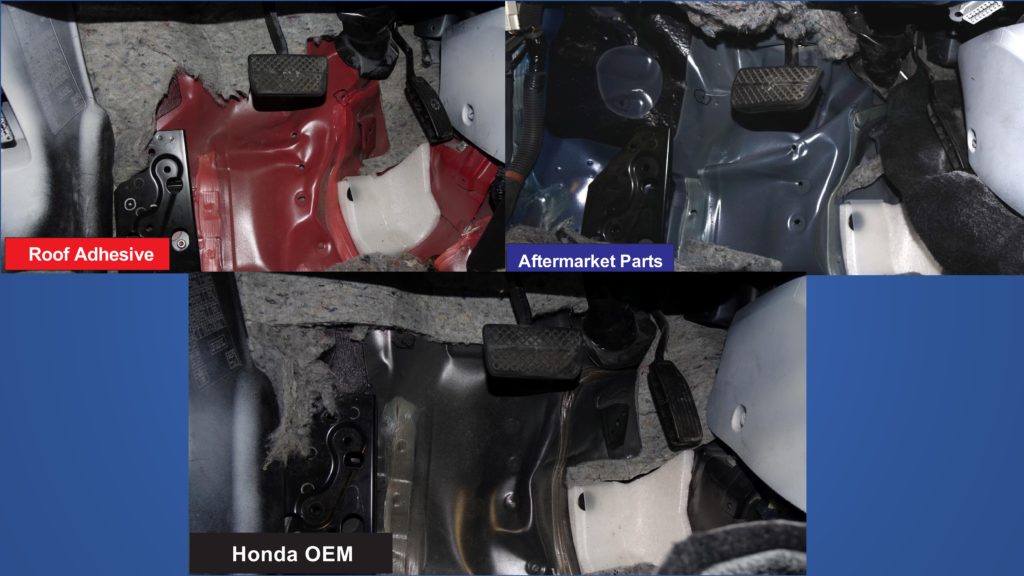 One measurement saw the driver's left femur receive nearly 1,700 Newtons of force on the aftermarket-parts Fit, but only 397 N on the OEM-parts Fit, according to the news release. A slide in Tracy's presentation repeats these values but also appears to put the metrics at slightly different values: 1,685.4 N and 407.7 N, respectively. Either way, it's what Tracy called a "400 percent difference," according to the news release.
The OEM-parts values are "Slightly Higher But Not Out Of Expectation," according to Tracy's slide. The unaltered Fit in 2017 was measured to have subjected the dummy driver's left femur to 180 Newtons, according to a graph in another Tracy presentation, while the accompanying chart appeared to put that number at 179.7 Newtons.
The OEM-parts fit posted results of either 96 or 98.2 gs upon the driver's right toe, compared to 180 gs or 173.6 gs indicated for the aftermarket-parts Fit, according to another Tracy slide. The unaltered Fit posted values of either 65 g or 102.1 gs.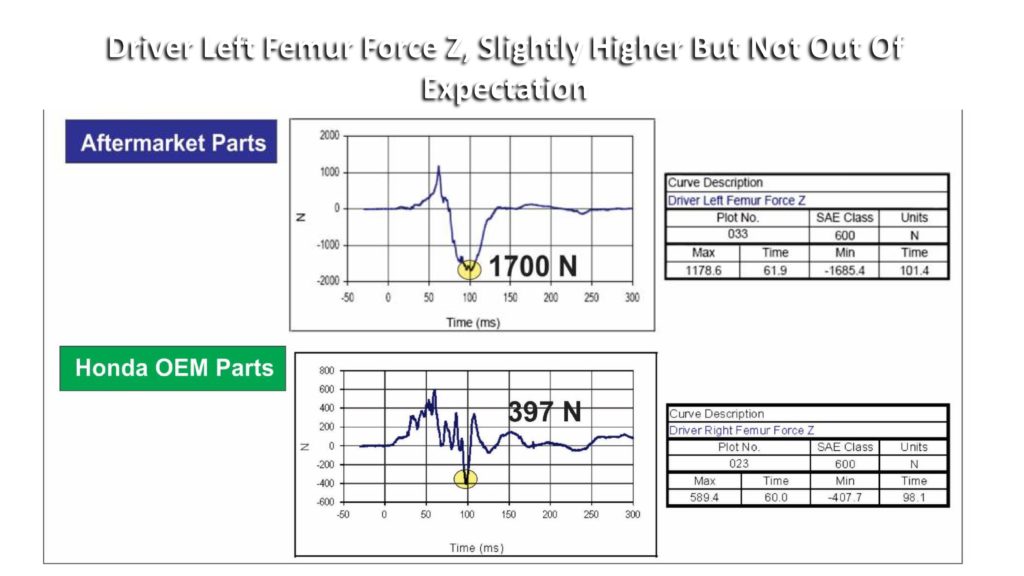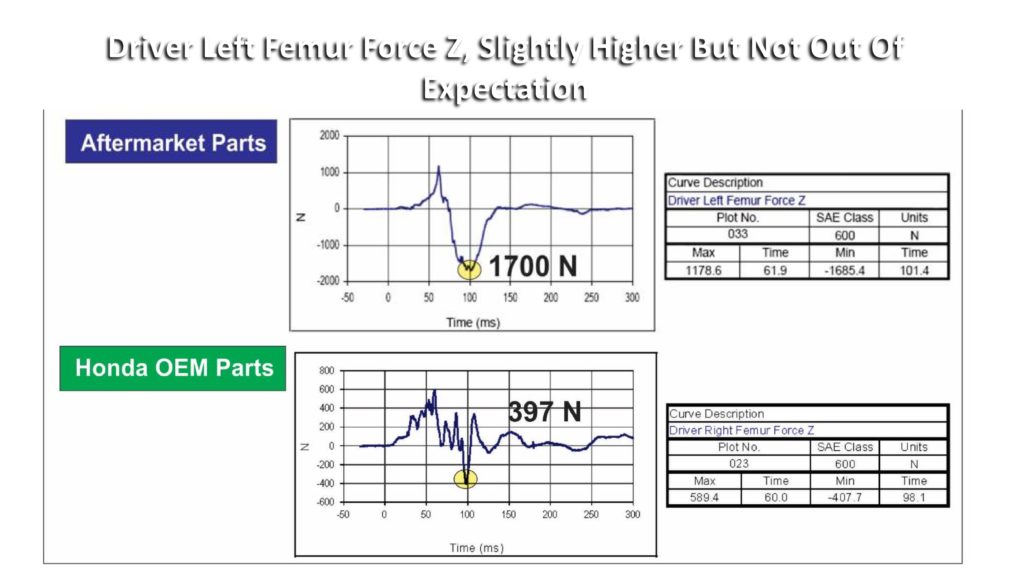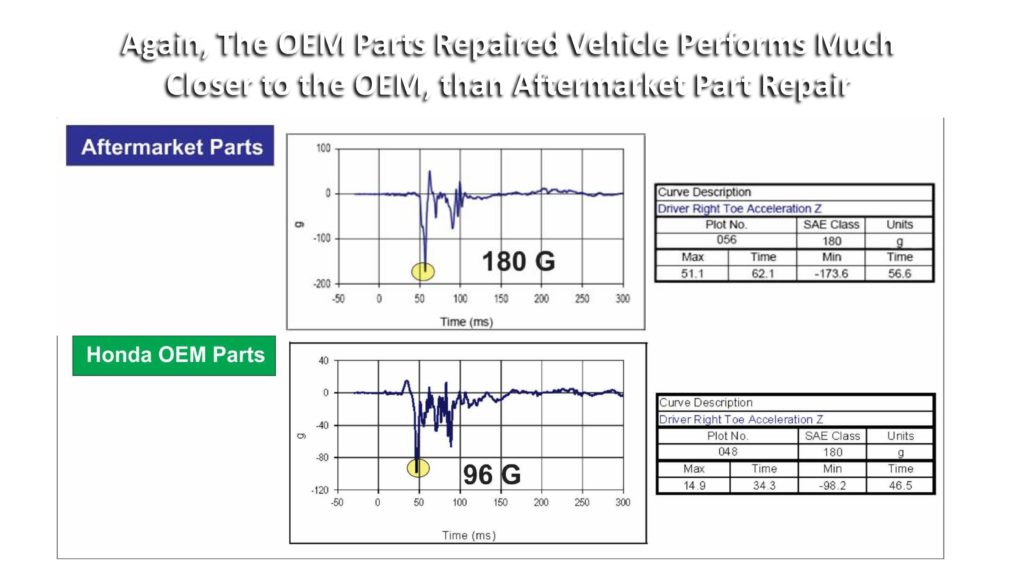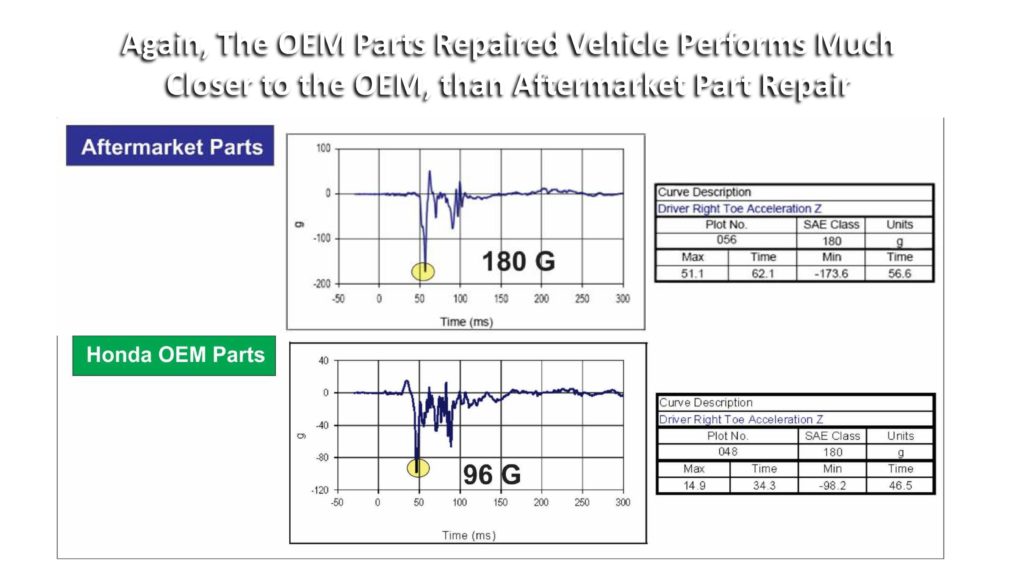 "The results of the crash test were telling and I believe this proves that these imitation parts do not provide the crash worthiness as the OEM but even as important, it proves that a proper repair (following all OEM recommended processes and procedures with the proper equipment) can provide the exact same crash worthiness as the never wrecked OEM vehicle," Richards wrote in an email.
"Most professional repairers know that aftermarket parts are not the same as OEM parts," McNee said in a statement. "However, insurers are willing to twist, turn and use the position statements incorrectly. They make comments like, 'It's just a fender,' 'It's in their policy' and 'LKQ parts are the same.' They're dictating what they're paying for to unjustly enrich themselves, but numbers and test results don't lie. This OEM-repaired car fared exactly like the undamaged Honda Fit. When there is a 400-800 percent difference in the results between the OEM-repaired car, the aftermarket-repaired car and the improperly repaired car, it's staggering. This could be the difference between broken bones, permanent injuries, life or death – or, in the Honda Fit case, people trapped helplessly while their vehicle is on fire. Mr. Insurance Company, please tell me how these parts are the same and 'like kind and quality.' Show me the proof! Would you put your kids in an improperly repaired car? Do you feel lucky? Your odds are 400-800 percent."
"By dictating improper vehicle repairs for decades, insurance companies have killed thousands of customers who were driving around in time bombs," Tracy told the ABAT trade show, according to the news release. "… Your industry has to work together with politicians and state agencies so that insurance companies stop jeopardizing family safety."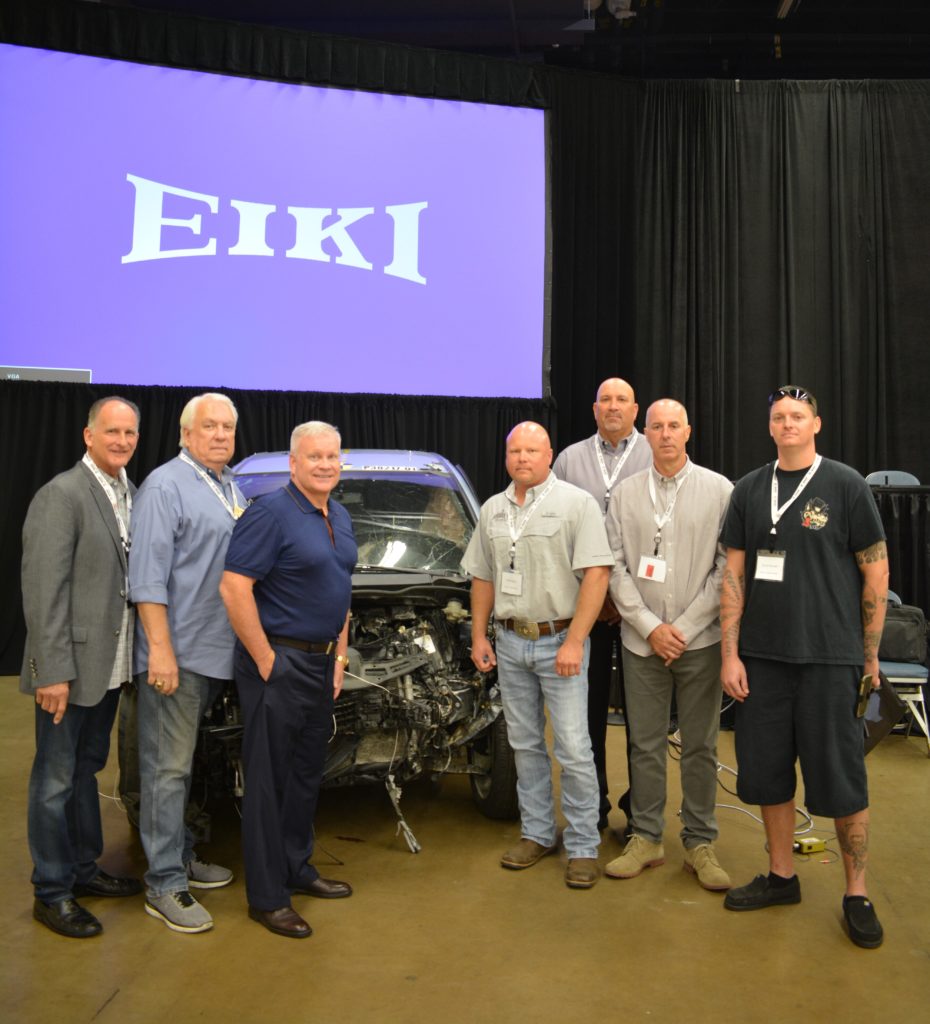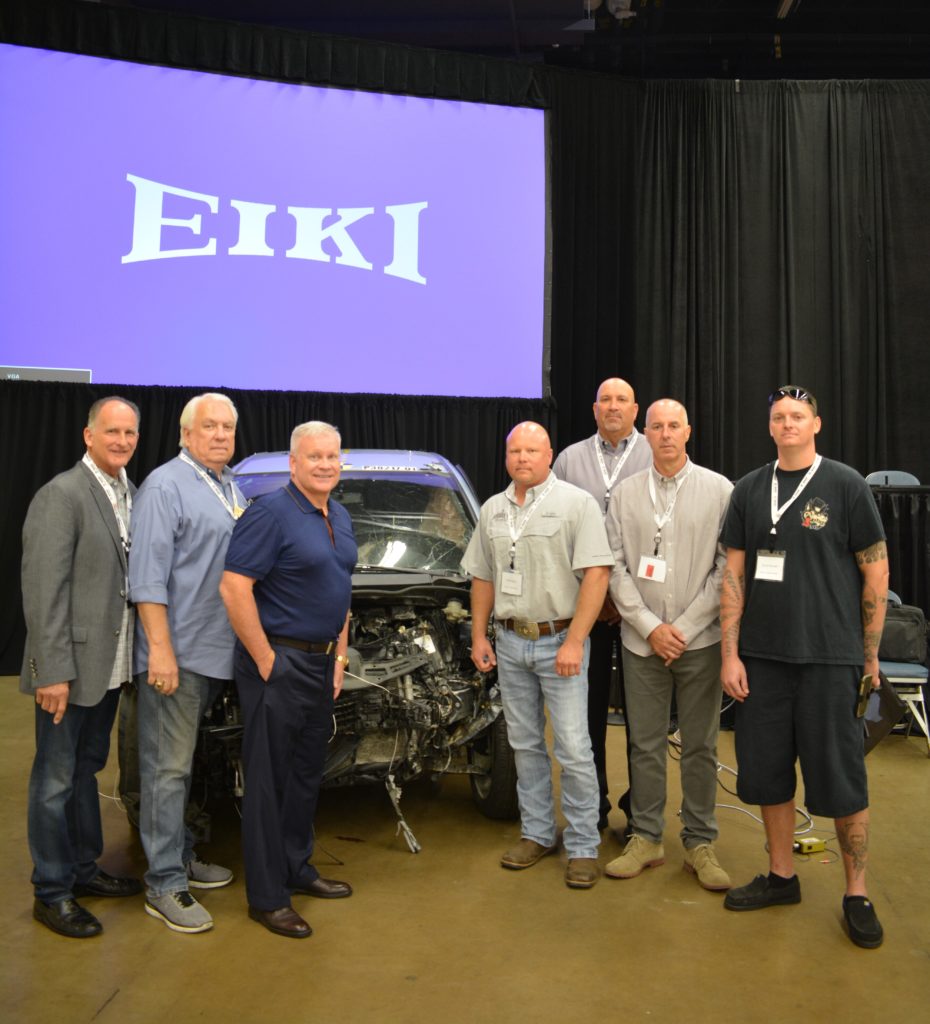 More information:
"OEM Parts Obliterate Aftermarket in Latest Todd Tracy Crash Test"
Thomas Greco Publishing, Sept. 19, 2018
Slides from new round of Honda Fit crash testing
Tracy Law Firm, released via Thomas Greco Publishing, 2018
Images:
From left, Larry Cernosek (Deer Park Auto Body) and John Kopriva (Kopriva Body Works) of the Houston Auto Body Association; Todd Tracy of the Tracy Law Firm; Kevin Jordon and Auto Body Association of Texas President Burl Richards, both of Burl's Collision Center; Jerry McNee of Ultimate Collision Repair; and Donald "Trip" Springer of Burl's Collision Center. In the background can be seen a 2010 Honda Fit "repaired" with OEM parts and OEM procedures before undergoing a 40 mph IIHS moderate-offset crash test. (Provided by Thomas Greco Publishing)
A presentation from Tracy Law Firm automotive safety attorney Todd Tracy indicates that "driver" heads, necks, femurs and toes were subjected to greater stress during the crash of two Honda Fits bearing aftermarket parts and repairs not approved by the OEM. (Provided by Tracy Law Firm)
Far less passenger-side seatbelt load limiter payout occurred underneath a 2010 Honda Fit crash-tested after being repaired with OEM parts and procedures, compared to a 2013 Honda Fit repaired with OEM procedures but aftermarket parts. (Provided by Tracy Law Firm)
Far less deformation occurred underneath a 2010 Honda Fit crash-tested after being repaired with OEM parts and procedures, compared to a 2013 Honda Fit repaired with OEM procedures but aftermarket parts. (Provided by Tracy Law Firm)
Deformation underneath an unaltered 2013 Honda Fit crash-tested. (Provided by Tracy Law Firm)
Brake pedal displacement on three Honda Fits crash-tested in 2017. (Provided by Tracy Law Firm)
Far less brake pedal displacement occurred on a 2010 Honda Fit crash-tested after being repaired with OEM parts and procedures, compared to a 2013 Honda Fit repaired with OEM procedures but aftermarket parts. (Provided by Tracy Law Firm)
One measurement saw the driver's left femur receive nearly 1,700 Newtons of force on the aftermarket-parts 2013 Honda Fit, but only 397 N on the OEM-parts 2010 Honda Fit, according to a news release. A slide in attorney Todd Tracy's presentation repeats these values but also appears to put the metrics at slightly different values: 1,685.4 N and 407.7 N, respectively. Either way, it's what Tracy called a "400 percent difference," according to the news release. (Provided by Tracy Law Firm)
The OEM-parts 2010 Honda Fit posted results of either 96 or 98.2 gs upon the driver's right toe, compared to 180 gs or 173.6 gs indicated for the aftermarket-parts 2013 Honda Fit crash-tested, according to another Todd Tracy slide. The unaltered Fit posted values of either 65 g or 102.1 gs. (Provided by Tracy Law Firm)
Share This: