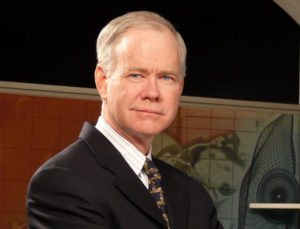 A Sept. 6 segment of the auto industry show "Autoline This Week" might help raise OEM and public awareness about aspects of the modern collision repair industry.
The YouTube version of the show alone had drawn more than 4,200 views as of Sept. 18. The program also airs on Detroit public television.
"Autoline is often the first stop for auto executives, industry insiders, and consumers looking for the latest news about cars and the industry," the show's parent company says of its website.
Highlights of the Sept. 6 show include a plug for the public to use Gold Class shops, delivered first by guest John Van Alstyne, I-CAR's CEO, and then repeated by host John McElroy.
"Good tip for everybody in the audience," McElroy said.
The show also highlighted the existence of OEM repair procedures, with both Van Alstyne and fellow guest Ford global collision business and strategy manager Jennifer Boyer stressing that shops should follow them. Van Alstyne cited Collision Advice and CRASH Network "Who Pays for What?" data that only 17.4 percent of respondents in 2017 reported checking the manufacturer instructions every time.
"Only 17 and whatever change," McElroy said.
Van Alstyne said that all of I-CAR's courses begin by telling shops, "Follow the OEM procedures."
Again, good information the public and collision repairers to hear, even if data about how few shops might be always referencing manufacturer instructions is an embarrassing thing to hear aired publicly.
Van Alstyne described the challenges a shop might face accomplishing these repair procedures, including what Hunter Engineering has estimated to be a $18,000 cost of VW Group recalibration equipment and the amount of space Van Alstyne said was required to recalibrate a Toyota Camry.
Van Alstyne also explained that correct work on advanced driver assistance systems could lead to an elevated repair bill, offering the example of a Kia K900 with a "ton of technology" that could cost $34,000 to fix a left front corner hit, as opposed to $8,000 on a vehicle without that tech.
More information:
"ATW #2229 – How Do We Repair These High Tech Cars?"
Autoline, Sept. 6, 2018
Featured image: "Autoline This Week" host John McElroy. (Provided by Autoline)
Share This: