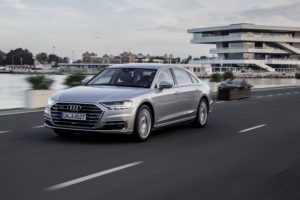 An interesting article in Automotive World's fourth-quarter Mobility Magazine focuses on steel producer SSAB's take on why the steel industry will keep or improve its share of the body-in-white business.
The piece, posted separately Wednesday, also explores what might happen to bodies as vehicles grow more electric.
Body shops will find some tidbits in the article's coverage of the views of SSAB global automotive director Arnaud Guerendel.
Some of the stats involved might refer to international production tallies, but as OEMs have an incentive to use global platforms for economies of scale, the impact should still be visible on the U.S. fleet.
One highlight was Guerendel's take on why a successful aluminum OEM might switch to steel:
As an example, SSAB has been approached by one EV brand, with annual volumes of around 500,000 units per year, to benchmark the price differential between switching from an aluminium body to advanced high-strength steel. Guerendel suggests that if this automaker began producing more than one million units annually, and the price of an aluminium body over steel reaches between US$1,000 and US$1,500, "the decision will be made to convert from aluminium to steel in the economic interests of the company." He adds that: "This phenomenon is also present with other more traditional brands that have been successful with aluminium-based models. If you look a little deeper into what they are doing today, many are transferring to steel."
The article mentioned the Audi A8, which Automotive World reported shifted from 92 percent aluminum in the 2009 model year to 58 percent for the 2019 A8.
"Based on the ASF® multi-material frame technology, the body of the 2019 A8 consists of 58 percent aluminum parts paired with hot form-steel and ultra-high strength carbon fiber reinforced polymer components, creating a dramatically stronger body in white over the outgoing model," Audi wrote in late 2017. "The resulting superior rigidity of the body provides the basis for the precise handling, excellent ride comfort and a tranquil, quiet cabin despite varying road conditions."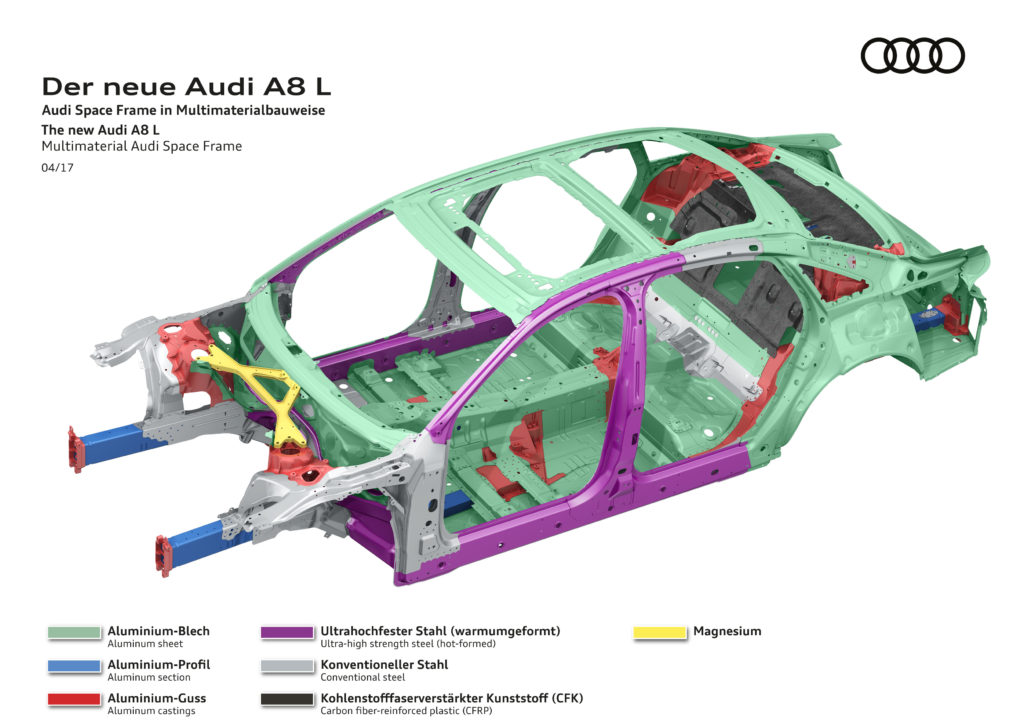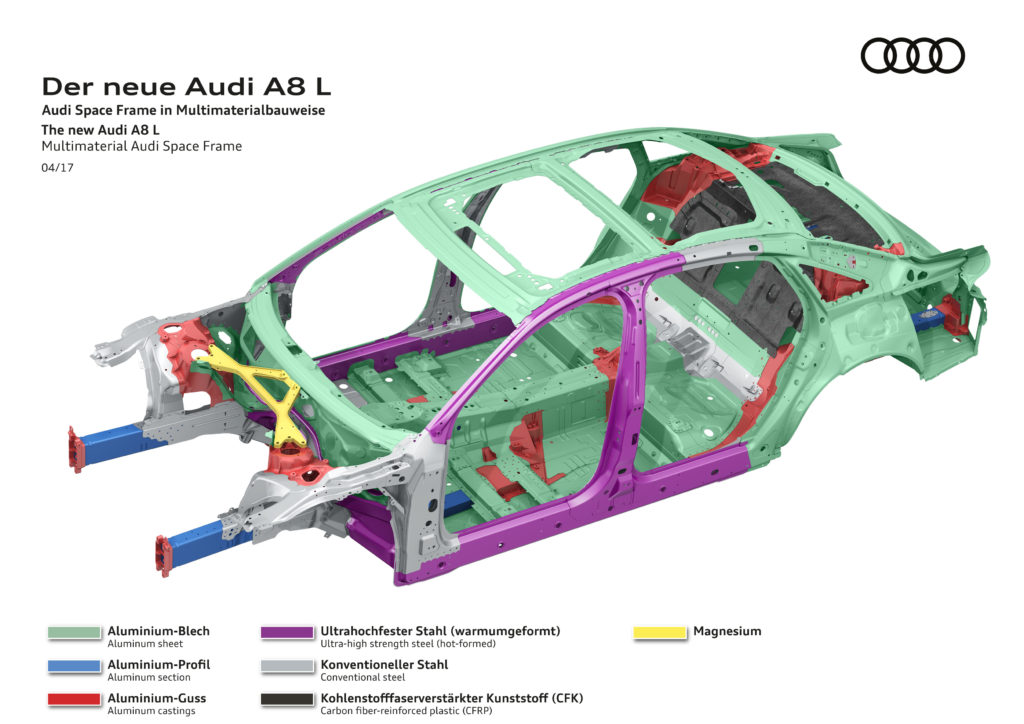 A Jaguar executive also offered Automotive World this perspective on designing with aluminum:
"Aluminium tears more easily than steel, so the sorts of sharp edges, creases and very tight radii that we love to craft in the design studio can sometimes be difficult for the engineering team to create in reality," notes Wayne Burgess, Production Studio Director at Jaguar.
However, Automotive World stressed that you're probably not going to see completely steel vehicles again, giving the example of a body-in-white being advanced high-strength steel (at least), but aluminum or polymer panels and mixed-material powertrain. From a shop perspective, this would mean you'll still need dedicated aluminum tools and facilities, as well as the expertise to handle the metal.
A good example might be the next-generation 2019 Chevrolet Silverado. General Motors loves to make fun of the Ford F-150's aluminum, and much of the 2019 truck is indeed steel. However, the hood, doors and tailgate on the popular truck will all be aluminum.
Not surprisingly, General Motors will require that its certified shops be equipped to handle aluminum.
This mix of materials suggested by the Automotive World article and found on the Silverado matches other predictions we've heard regarding lightweighting:
More information:
"Brace for a 'massive transition' from aluminium to steel bodies"
Automotive World, Sept. 19, 2018
Images:
The 2019 next-generation Audi A8. (Provided by Audi)
Audi on April 5, 2017, showed off the "Space Frame" for its upcoming next-generation A8, announcing a body-in-white that used more unique classes of materials than any other A8. (Provided by Audi)
Share This: