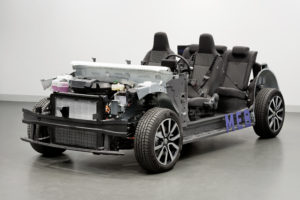 Volkswagen on Thursday announced an upcoming fleet of fully electric vehicles that would start at 150,000 units in 2020 and grow to 1 million by 2025.
The tallies are global figures, and Europe and China have been quicker to adopt electric vehicles than America, according to the Guardian.
However, American demand could change rapidly. Volkswagen noted that electric vehicle sales rose by 60 percent worldwide in the past year and could reach 1 million units by this year.
Tesla announced Tuesday that it had delivered 55,840 Model 3s in the third quarter — "limited to higher-priced variants, cash/loan transactions, and North American customers only."
Bloomberg on Wednesday pointed out that had all of those deliveries been in the U.S. — Canadians received some of them — Tesla would have outsold every sedan but Honda's Civic and Accord and Toyota's Camry and Corolla in the third quarter.
"It's safe to say that the US will receive a fair share of the planned global volume," Volkswagen spokeswoman Jessica Anderson wrote in an email Thursday.
One million electric vehicles globally from Volkswagen would represent a sixth of the OEM's global volume today.
In contrast to its sister brand Audi, which unveiled a $74,800-and-up electric SUV known as the 2019 e-tron, Volkswagen said its new "I.D." family of electric vehicles would "make e-cars affordable for millions of people."
"The ID. will prove to be a milestone in terms of technological development," Volkswagen E-Mobility head Christian Senger said in a statement. "It will be the first fully interconnected electric vehicle that is 100 percent suitable for day-to-day use, and millions of people will be able to afford it."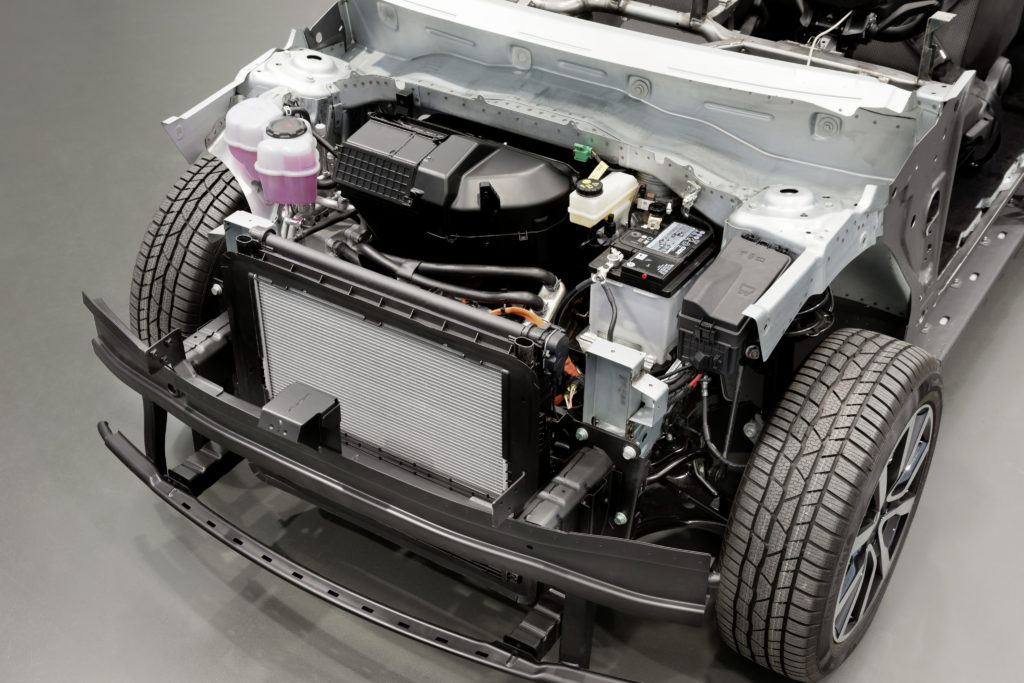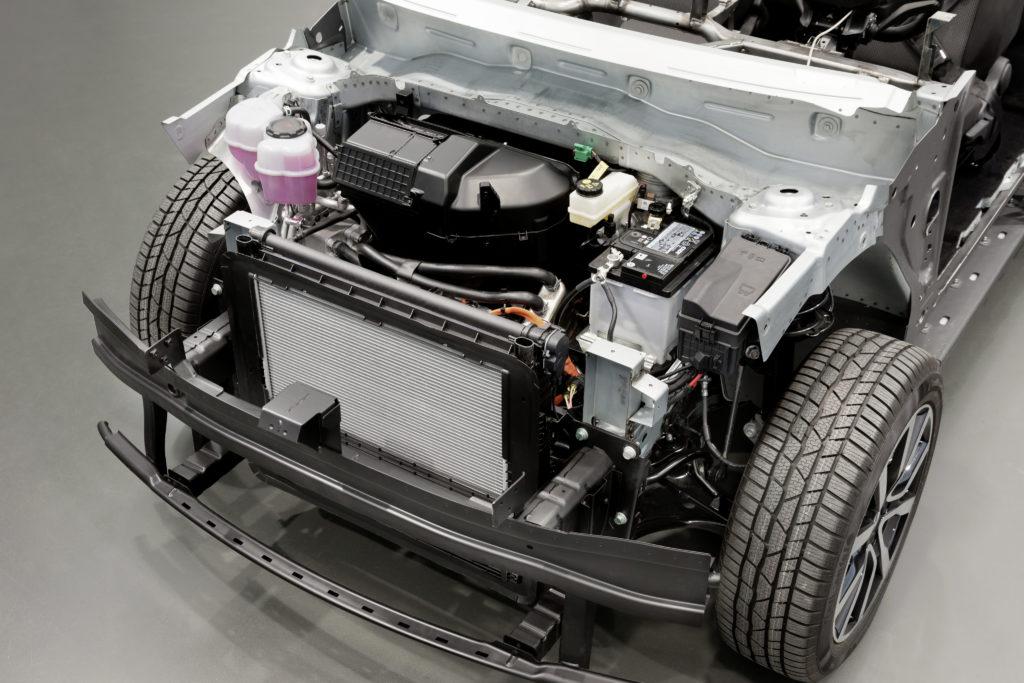 The Tesla Model 3 is slated to be sold in a $35,000 version. The Chevrolet Bolt, which sold 3,949 last quarter, starts at $36,620.
Anderson said it was too early to talk about what Volkswagen meant by "affordable." She said it also was too soon to discuss the the I.D. line's lightweighting, the "modular electric drive matrix" (MEB) platform supporting the "e-cars," or if Volkswagen would have a subset of electric-certified shops or require all VW repairers to have electric equipment and training.
"Unfortunately, all the MEB stuff is so forward looking that we don't have the level of detail that you're looking for," she wrote. "It's too early to talk about specific construction, repairing guides, US sales volumes or pricing."
Electric powertrains can carry special repair considerations — including steps to keep one's own staff safe — and they can be surrounded by lightweighted, aerodynamically optimized bodies. So the Volkswagen fleet and the electrification trend will bear watching by collision repairers.
VW has in news releases provided a few details about the MEB platform in general, which might offer shops a little insight into what to expect from the structure of the electric Volkswagens.
"In addition to scalability, there are other advantages to the new battery system, including weight optimization (thanks to an aluminum housing), the adaptability of various cell types, and integrated cooling," the automaker wrote Thursday.
Audi's electric midsize SUV e-tron used an aluminum housing for its battery, but the passenger cage itself "features components made from heat-formed ultra-high-strength steel," according to Audi. The doors, hood and tailgate were also aluminum.
Like the modular transverse matrix ("MQB"), which Volkswagen says is used for 55 million of the units produced by the 12 brands in the Volkswagen Group, VW said it can make the MEB platform work on a variety of vehicle sizes.
"The MEB has two major unique selling propositions," VW wrote Thursday. "First, it is not a platform for vehicles with combustion engines that has been retroactively modified. Instead it is a modular assembly matrix designed specifically for pure electric cars, which enables Volkswagen to utilize this technology to maximum effect. Second, the vehicle concept and design can be structured in a more flexible way than ever before—the spectrum ranges from compact cars to SUVs and MPVs. This will enable the Group to achieve economies of scale, thereby making electric cars cheaper and more affordable for many people.
"The MEB—designed with purely electric drive systems in mind—enables the size of a vehicle's wheelbase to be increased while reducing the body overhangs, resulting in more dynamic proportions. In addition to allowing the designers to create a standalone design DNA for the new zero-emissions vehicles, the chassis design leads to much larger and more versatile vehicle interiors."
Volkswagen said it would use the MEB for other Volkswagen Group brands, including Audi, Volkswagen Commercial Vehicles, SEAT and Škoda.
'E-car' lineup
VW directed the media to four concept cars, the I.D., I.D. CROZZ, I.D. BUZZ and I.D. VIZZION, which are among the portfolio its parent company plans to release soon.
"The top-of-the-range vehicles based on the globally deployed modular electric drive matrix (MEB) will be large B-segment models with up to seven seats," Volkswagen's global news site wrote in a news release. "A zero-emission sport utility vehicle in the style of the ID. CROZZ concept car will be launched in 2020, i.e. the same year as the compact ID. The ID. BUZZ concept car, meanwhile, is paving the way for a zero-emission van from Volkswagen, the design of which is firmly based on the legendary "Bulli" and for which a series production version will be launched in 2022. The avant-garde ID. VIZZION provides a glimpse into the future of sedans. A series production version of the sedan is expected to be available in 2022."
"The development of the vehicle technology is virtually complete, as are the designs of the various models," the OEM wrote in the U.S. news release. "Contracts with the battery suppliers have been signed. Volkswagen is investing more than one billion euros to prepare its plant in Zwickau for the production of MEB vehicles."
Volkswagen said the I.D. and an "ID. SUV" are expected to be a huge part of Volkswagen's 2020 electronic portfolio.
"As early as 2020 we intend to sell 150,000 e-cars, of which 100,000 will be the ID. and ID. SUV," E-Mobility division Volkswagen board member Thomas Ulbrich said in a statement. "Speeding up the shift to e-mobility will help us to meet the extremely ambitious CO2 targets that have been set in Europe, China and the USA."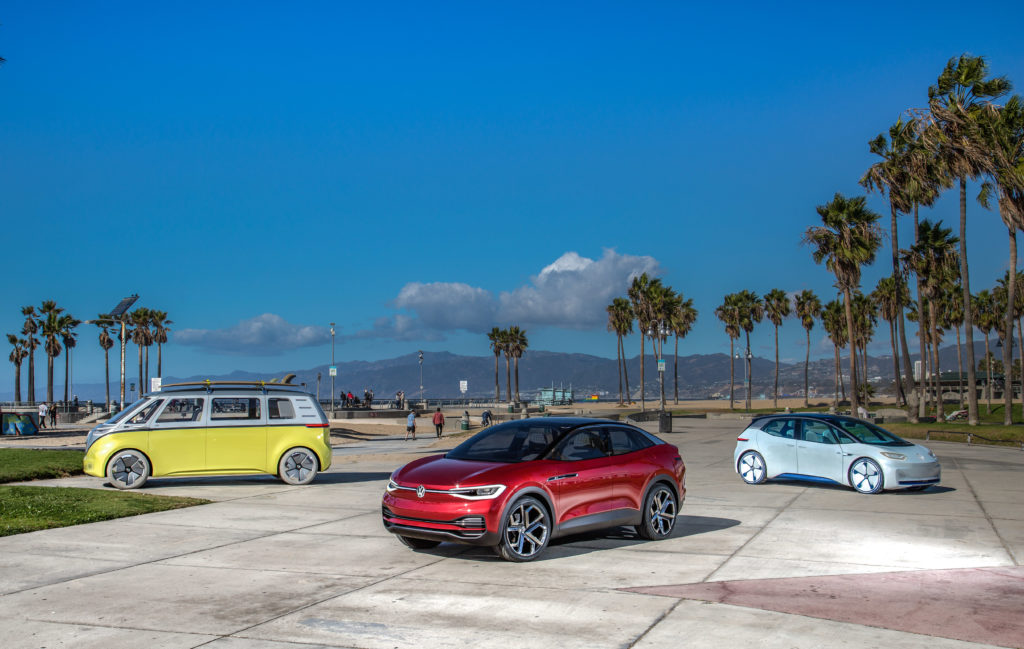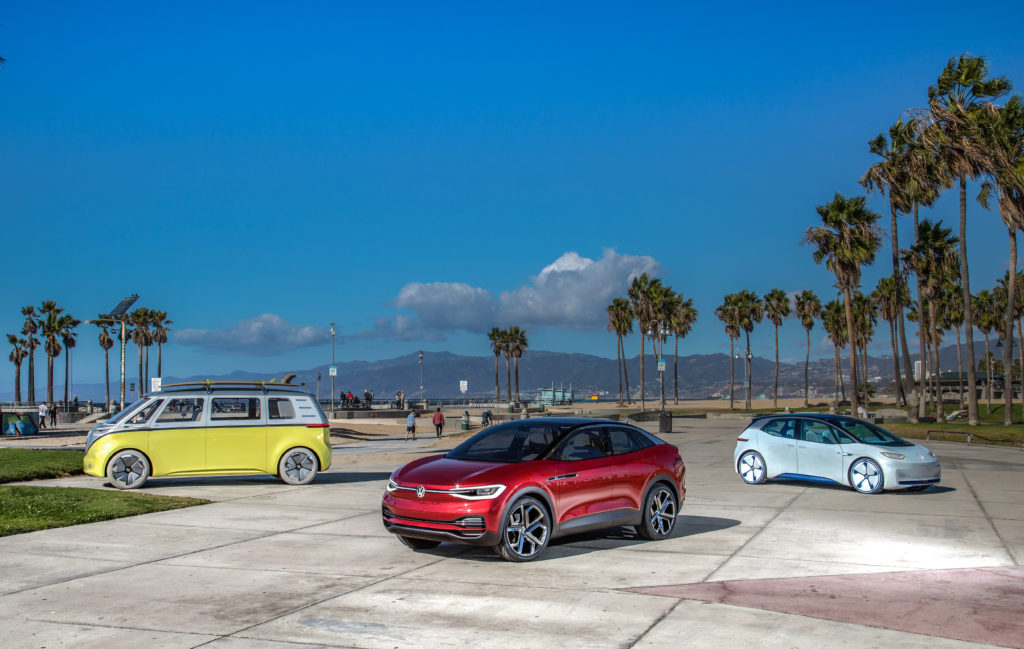 Its global site said the I.D. would be the first e-car offered to the market in 2020. In August, it described the car as "a fully connected four-door compact car that will cost about the same as a Golf diesel."
Volkswagen's 2016 U.S. announcement of the I.D. said it would be sold "on a par with comparably powerful and well-equipped Golf models."
A Golf GTD in the U.K. costs about $35,690. The automatic 2019 Golf starts at $22,945, while the Golf GTI is $28,695. (The Golf R automatic starts at $41,495.)
The I.D. BUZZ is the VW Microbus for the modern world, and Volkswagen described it as targeted for going on sale in 2022. It will also have a cargo-hauling van variant.
"Along with a minibus version, we'll also be offering an I.D. BUZZ CARGO variant for zero-emissions delivery of goods," Volkswagen Commercial Vehicles CEO Eckhard Scholz said in a 2017 statement. "With Level 3 autonomous capability, this is an ideal concept for an electric van, particularly for delivering packages and goods to the inner cities."
The I.D. CROZZ is a crossover VW plans to start building in 2020. "The I.D. CROZZ is more compact and has a lower roofline than the all-new 2018 Tiguan, yet the CUV provides just as much space," Volkswagen wrote in 2017.
Production on the the I.D. VIZZION premium sedan will begin in 2022, and "will first be available with conventional controls." Volkswagen views this vehicle as "designed for Level 5" autonomy.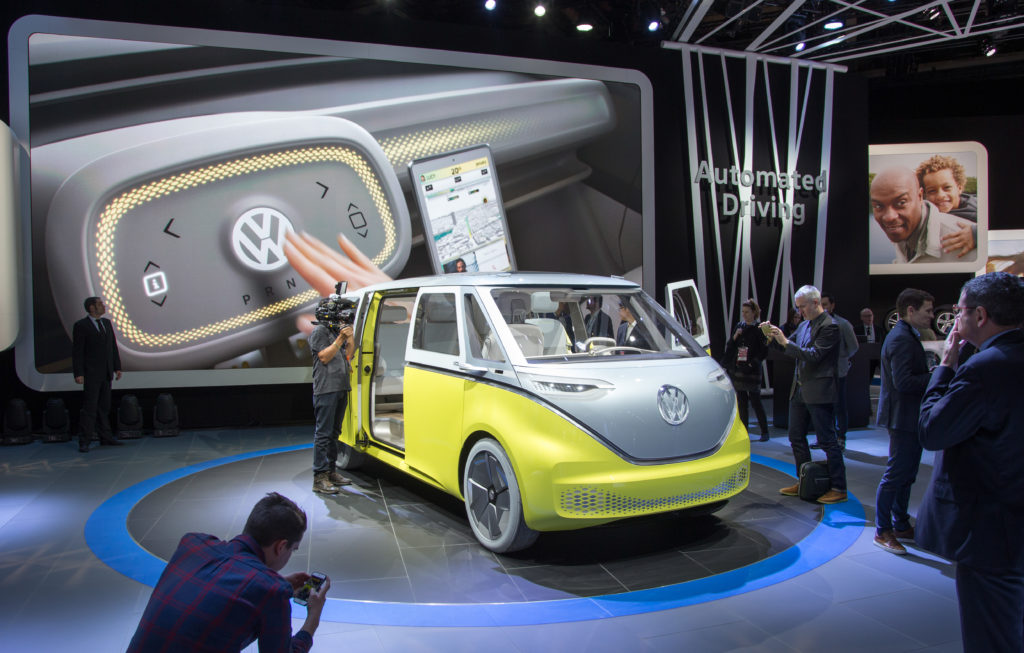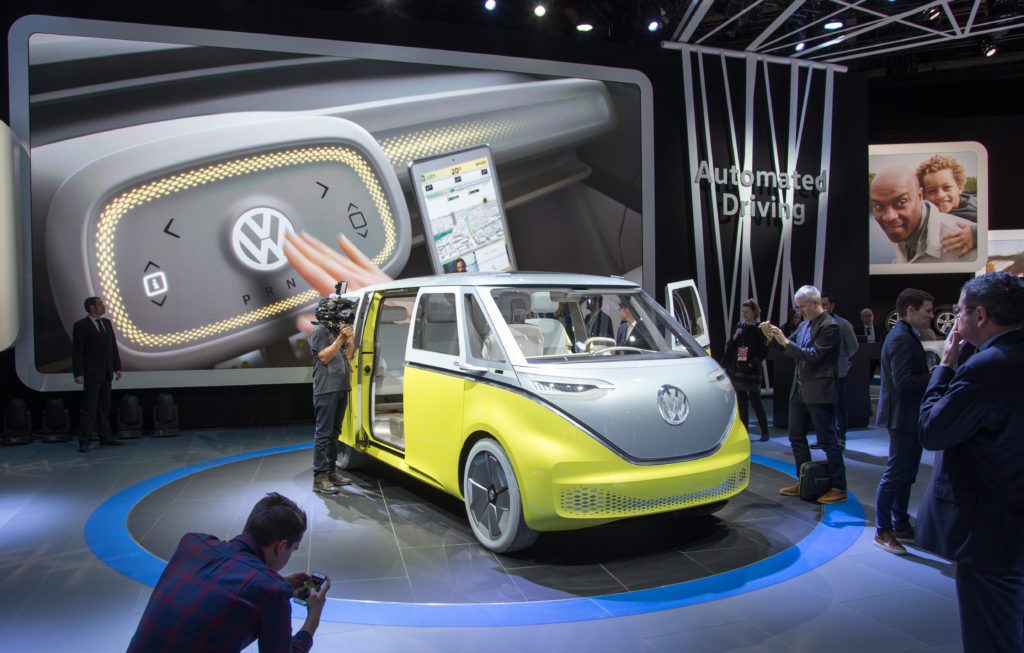 MQB
Volkswagen said the MEB model range "will therefore be similar in size to that of current vehicles based on the modular transverse matrix." It's unclear if the OEM means volume or physical size.
The MQB platform can be found on the 2019 Jetta, the 2018 Tiguan and Atlas SUVs and 2019 Arteon sedan in the U.S.
While the aluminum battery case — which itself can be scaled for ranges of between 200 miles to more than 340 miles — obviously will be an important structural difference, other elements from these MQB designs might find a home on the MEB format.
A VW diagram for the European Tiguan (the American one is longer, however) indicates that areas including the A- and B-pillars, transmission center tunnel, front floorwell (kickout panel), roof rails, inner frame rails, and rear floor crossmember are all "ultra-high-strength hot formed steel" with more than a gigapascal of tensile strength.
Regions including the shotguns, another floor crossmember and roof crossmembers and other roof supports connected to the roof rails are also ultra-high-strength steel but below 1,000 megapascals. Ultra-high-strength steel typically starts around 780 MPa. The rest of the body-in-white appears to be less than 420 MPa in tensile strength.
"Essentially, we make them out of steel, high-strength steel, and ultra-high strength steel," Volkswagen senior product and technology communications manager Mark Gillies wrote of the 2018 Atlas, which uses the same Modular Transverse Matrix ("MQB") platform but was larger than the Tiguan.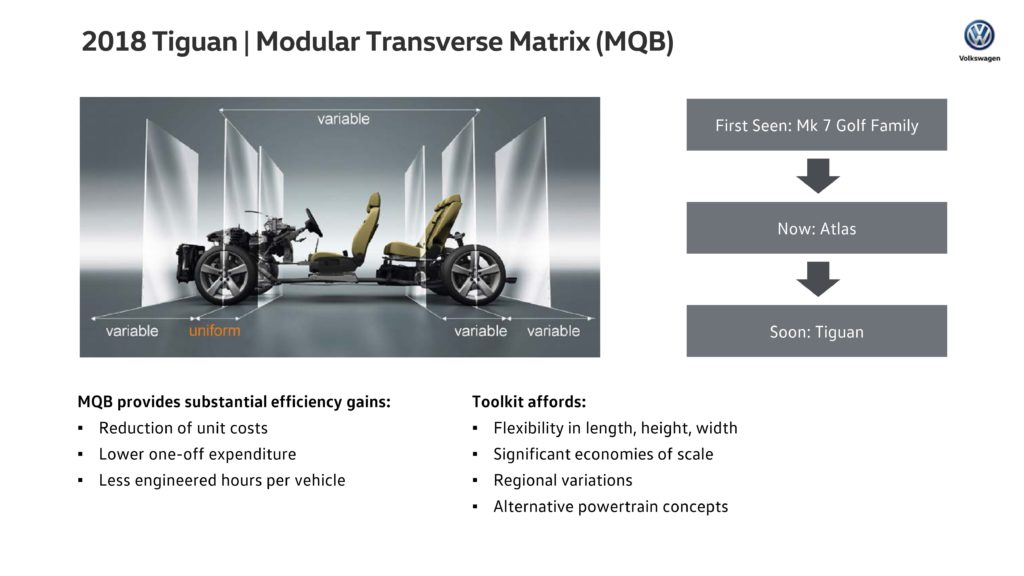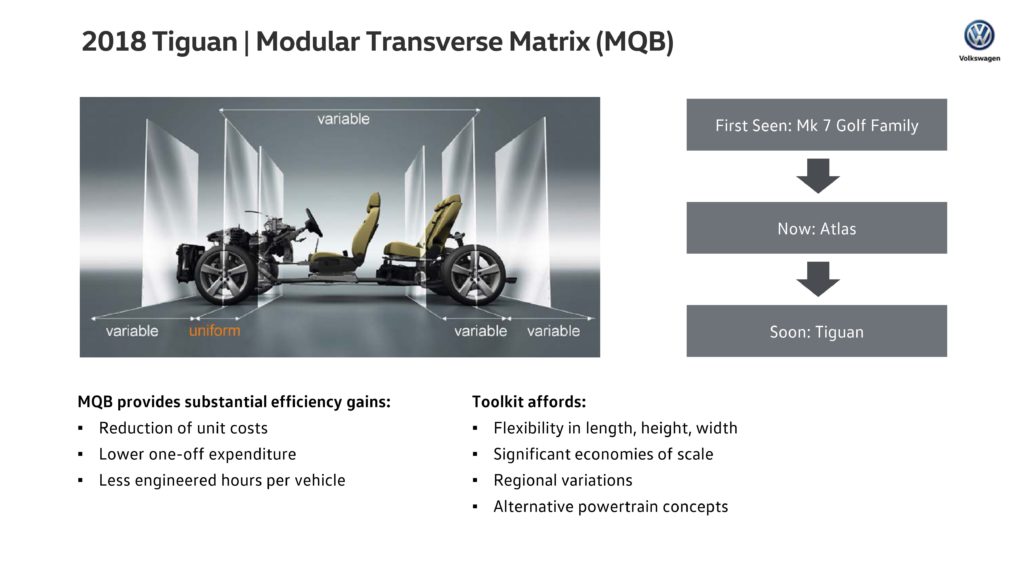 Based on the MQB platform and VW's need to offset both battery and regular vehicle weight, repairers could encounter much ultra-high-strength steel on the MEB e-cars.
Nearly half of the MQB 2019 Volkswagen Jetta was ultra-high-strength steel, with the majority of that a stronger hot-formed variant. A spokesman wrote in February that the 2019 Jetta is 35 percent ultra-high-strength hot-formed steel, 12 percent ultra-high-strength steel, and "39 percent extra high strength steel."
More information:
"VOLKSWAGEN ACCELERATES E-MOBILITY FOR THE MASSES"
Volkswagen, Oct. 4, 2018
Volkswagen, Sept. 18, 2018
Images:
Volkswagen's modular electric drive platform encases the battery in aluminum. (Provided by Volkswagen)
The electrical powertrain and other components of the Volkswagen modular electric drive platform are shown. (Provided by Volkswagen)
An example of the Volkswagen modular electric drive platform for an I.D. BUZZ van. (Provided by Volkswagen)
The Volkswagen modular electric drive battery is shown. (Provided by Volkswagen)
The Volkswagen modular electric drive platform is shown. (Provided by Volkswagen)
Volkswagen describes charging scenarios for an electric vehicle. (Provided by Volkswagen)
The Volkswagen modular electric drive powertrain is shown in this representation. (Provided by Volkswagen)
From left, the Volkswagen I.D. BUZZ, CROZZ and I.D. compact car concepts are shown. Volkswagen plans to produce real versions between 2020 and 2022. (Provided by Volkswagen)
Volkswagen's I.D. BUZZ concept is shown at the 2017 North American International Auto Show. Volkswagen plans to produce a real version in 2022. (Friso Gentsch/Volkswagen)
The 2018 Volkswagen Tiguan is an example of a vehicle using the company's Modular Transverse Matrix (MQB) architecture. (Provided by Volkswagen)
Share This: