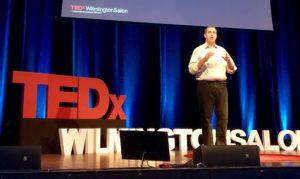 The Society of Collision Repair Specialists on Wednesday announced the 10 speakers who will confront the auto body repair industry with "brash, outspoken and thought-provoking concepts" during the inaugural IDEAS Collide Showcase next month.
The 10 a.m. to noon event Friday, Nov. 2, in Las Vegas follows three days of Repairer Driven Education courses and the OEM Collision Repair Technology Summit during SEMA. Using a format similar to the popular TED Talks, the 10 speakers will deliver "fast-paced presentations designed to stimulate thought, innovation and resolution of business challenges with brash, outspoken and thought-provoking concepts," SCRS wrote in a news release Wednesday.
"So much of the Repairer Driven Education program was built with a preference for concepts that gave collision repair facilities tangible solutions, with practical applications in their business," SCRS Chairman Kye Yeung (European Motor Car Works) said in a statement. "The IDEAS Collide Showcase was really seen as a way to break away from what is, and explore what might be. We challenged out speakers to come with innovative ideas, business models and concepts that have the potential to revolutionize the future of the collision repair industry. I know we are all really excited to see how a session like this will develop."
The lineup includes Matthew Doude, Mississippi State University Center for Advanced Vehicular Systems associate director; Decisely CEO Kevin Dunn; John Ellis, author of "The Zero Dollar Car" and Ellis & Associates principal; JD Hendler and Associates owner Jeff Hendler; UVeye CEO Amir Hever; Dan Langford, innovation director of the Nevada Center for Advanced Mobility of the Governor's Office of Economic Development; BASF North America business development manager John Shoemaker; NuGEN IT President Pete Tagliapietra; Ducker Worldwide managing principal M. Scott Ulnick; and Jason Verlen, CCC senior vice president of product management, strategy and marketing.


"The IDEAS Collide Showcase was really to take an approach similar to TED Talks, but with the SCRS twist of being specific to the collision repair industry," SCRS Vice Chairman Brett Bailey (A&B CARSTAR) said in a statement. "We introduced it by calling for speakers that were willing to explore big ideas worthy of consideration, but capable of delivering those ideas in a condensed timeframe."
Attend IDEAS Collide and other speakers' sessions by taking advantage of early registration for the Repairer Driven Education series and OEM Collision Repair Technology Summit at SEMA.
The IDEAS Collide Showcase, Repairer Driven Education classes and individual OEM Collision Repair Summit sessions are generally $75 now, $85 after the Friday, Oct. 12 early bird deadline. The best deal is the full-series pass for $375, $400 after the deadline. It grants the repairer access to every RDE class, all three sessions of the Thursday, Nov. 1, OEM Collision Repair Technology Summit, the Sky Villa afterparty in Elvis' old Westgate penthouse that night, and IDEAS Collide.
Details and registration: www.scrs.com/rde. Other information about SCRS: 1-877-841-0660, info@scrs.com or www.scrs.com.
More information:
"Register for IDEAS Collide Showcase on Friday at SEMA Show"
Society of Collision Repair Specialists, Oct. 9, 2018
SCRS Repairer Driven Education lineup
IDEAS Collide Showcase event description
Featured image: Ellis & Associates President John Ellis speaks Oct. 17, 2017, at a TEDx Wilmington Salon about the "zero dollar car." (Aaron Schulenburg/Society of Collision Repair Specialists)
Share This: