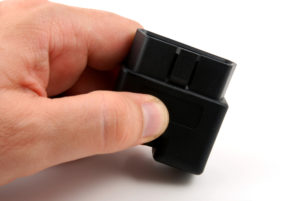 The National Automotive Service Task Force and Kia has warned auto technicians that customers' third-party OBD-II plug-ins might create issues during the diagnostic process and even affect the transmission on a Kia.
NASTF Executive Director Donny Seyfer in an interview last week said the same Tier 1 supplier that built the Kia powertrain control module supplies other OEMs, so the issue might not be limited to a single make of vehicles.
"Since 2011 KIA has been producing documents outlining issues that can occur with their CAN equipped vehicles when certain devices are introduced to the vehicle electrical system," a NASTF email citing Kia information stated in September. "KIA is not unique in this problem however there are some drivability problems that can be very frustrating for techs to diagnose. These can be remedied by identifying and removing these devices. …
"For those of you who want the bottom line DLC Dongles are particularly troublesome and can cause diagnostic failures and drivability problems."
Both insurers and other third parties have marketed such devices to customers in recent years. A 2015 Kia technical service bulletin mentions multiple companies with OBD-II dongles by name, but Kia confirmed it was using them illustratively. It referenced them simply to help shops visualize what third-party DLC dongles look like rather than pointing to specific brands that caused problems.
Kia warned shops of issues related to items plugged into the CAN network in a September 2015 bulletin shared by NASTF:
On some vehicles, customers or dealers may choose to install non-Kia aftermarket accessories which, under certain circumstances, may cause improper operation or even damage to components. When diagnosing improper and unusual operation or CAN codes, especially in ABS/ESC, TPMS, NAV head units, ECM, TCM, HVAC, BSD and other systems on the CAN bus, technicians should inspect under the dash, and in engine compartment areas, for any aftermarket equipment that may have been added to the vehicle. Where wires have been spliced, identify the circuit and system before making recommendations for replacement of components/parts and, temporarily, disconnect the accessory from the vehicle's electrical system to test and verify it is not the root cause. If confirmed, advise owner of the incompatibility and recommend removal of the aftermarket equipment. Removal costs are considered the responsibility of the owner and should be communicated to the customer BEFORE attempting any repairs. If equipment was dealer installed, the selling dealer may be held accountable for the cost of repairs and any associated warranty claims may be subject to chargeback.
The OEM also warned in a July 2015 bulletin that the existence of such a device could produce customer-facing messages.
When addressing customer concerns regarding a "Vehicle Diagnostics Failed" message displayed on the head unit screen (A), check for the presence of an external device (B) plugged into the vehicle's DLC port. If an external device is present, remove the external device from the port to prevent it from interrupting the UVO eServices vehicle diagnostics. After removing the external device, cycle the ignition multiple times, if needed, and run the vehicle diagnostics again.
Seyfer said once such an OBD-II plugin is removed, the CAN will return to normal operations.
"There's a lot of reasons why we have issues with these," he said.
---
Learn more about scanning during Repairer Driven Education
Seeking more insight on scanning? Learn more during the SEMA Show in Las Vegas with "Understanding Shop Liability in this new Era of Diagnostics, Calibrations and Programming"  featuring Michael Quinn and Chuck Olsen of AirPro, Aaron Clark of Assured Performance, Scott Kaboos of Honda, Nick Notte of I-CAR, Jack Rozint of Mitchell and Todd Tracy of the Tracy Law Firm. The session is part of the Society of Collision Repair Specialists' Repairer Driven Education Series Oct. 29-Nov. 2. Register here for individual RDE classes or the series pass package deal.


---
Such plug-ins can even cause a transmission to drop to first gear and potentially break the powertrain, Seyfer said. They also can create bizarre shifting responses, he said.
He gave the example of a repairer putting a new transmission on the vehicle, only to have the customer complain that the issue isn't fixed. Removing the dongle solves the problem. A shop just needs to look for the technology.
This is good information for a collision repairer to know and heed to avoid mysterious comebacks on Kias and other vehicles.
Think about it: Let's say you removed the device so you could access the OBD/DLC port and pre- or post-scan the car with an OEM scan tool. No codes are detected.
But then you then plug the customer's third-party dongle back in because shops have "'pre-accident condition' blazed across their brain," as Seyfer put it. Unfortunately, now the car starts showing issues, and the customer's annoyed. If you don't remember Kia and NASTF's warnings, this cycle of unplug-scan-"all clear"-replug could continue indefinitely until the owner vows never to use your shop or buy from that OEM again.
The better course of action might be to advise the customer of the potential issue with the device and recommend against using it, as the first Kia bulletin suggests.
He advised having the device off the vehicle the entire time the car's in your shop. A plug-in offering wireless connectivity also creates security issues as well.
Seyfer said aftermarket scan tools didn't seem to be causing such complications, even though they plug into the OBD-II port as well. "Not this," he said.
Scan tools are typically nodes on the vehicle network and engage in "handshake efforts" with the vehicle systems, according to Seyfer. They declare "'I"m a scan tool, and I'm authorized,'" and the car gives them the greenlight, he said.
NASTF and Kia also warned repairers that some non-factory devices might generate a troublesome tire-pressure monitoring system light.
"Some non-OEM electrical products, including but not limited to some aftermarket in-dash navigation systems originally intended for non-US markets, may emit electrical noise in the 315MHz frequency band and may cause the TPMS low pressure/malfunction indicator light to illuminate," Kia wrote in a 2011 bulletin emphasized by the NASTF in September.
The idea of someone intentionally or inadvertently sticking a component not even intended for an American vehicle into their car isn't so farfetched in an era of global trade on platforms like Amazon. According to Kia, the issue here is that a device meant for an vehicle fleet on another continent might lack shielding for the frequency used in the U.S. It's confusing your car by "talking" on the line the TMPS uses.
"Example: The US market TPMS transmits data on 315MHz while the European TPMS transmit data on 434MHz," Kia wrote. "Electronic devices not intended for US markets may not be shielded properly for different frequencies thus interfering with US market devices."
More information:
"KIA CAN and TPMS interference TSBs – Save diagnostic time."
National Automotive Service Task Force, 2018
"AFTERMARKET EQUIPMENT CAUSING CAN CODES AND/OR IMPROPER OPERATION"
Kia, September 2015
"EXTERNAL DEVICE ON DLC PORT CAUSING CONCERNS"
Kia, July 2015
"NON-OEM ELECTRICAL ACCESSORIES; ELECTRICAL INTERFERENCE WITH TPMS"
Kia, August 2011
Featured image: Some OBD-II plug-ins can affect a vehicle, according to Kia and the National Automotive Service Task Force. (albln/iStock)
Share This: