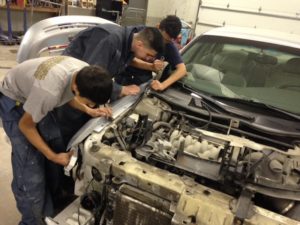 The Collision Repair Education Foundation on Friday announced it, insurers, I-CAR, MSOs, OEMs and others bestowed more than $500,000 in Ultimate Collision Education Makeover grants this year.
The money will support the next generation of repairers at 173 schools in 37 states, who together count more than 6,700 students in their collision programs, according to CREF. The organization classifies schools into three tiers of student industry readiness, and the Makeover grants are intended to help the lower two tiers advance and the top tier "to further expand their program's capabilities," CREF wrote in a news release.
"Collision repair training programs are facing tremendous budgetary pressure. It is difficult for many to maintain their program at current capabilities, no less invest in increasing their abilities to satisfy the industry's current and future workforce needs," CREF operations/administration director Melissa Marscin said in a statement. "The Makeover grant program is designed to help collision schools get the much needed tools, equipment and supplies they couldn't get otherwise and increase their capabilities. For the third year in a row, every school that applied received some level of support through both grants and in-kind donations."
The largest single amounts awarded to a single school came in at $25,000. CREF gave $25,000 each to Texas Southmost College in Brownsville, Texas, and the Thornton Fractional School District Center for Academics and Technology in Calumet City, Ill.; and Chicago-based Kennedy King College won the $25,000 Insurance Auto Auction Award. See the full list of winners below.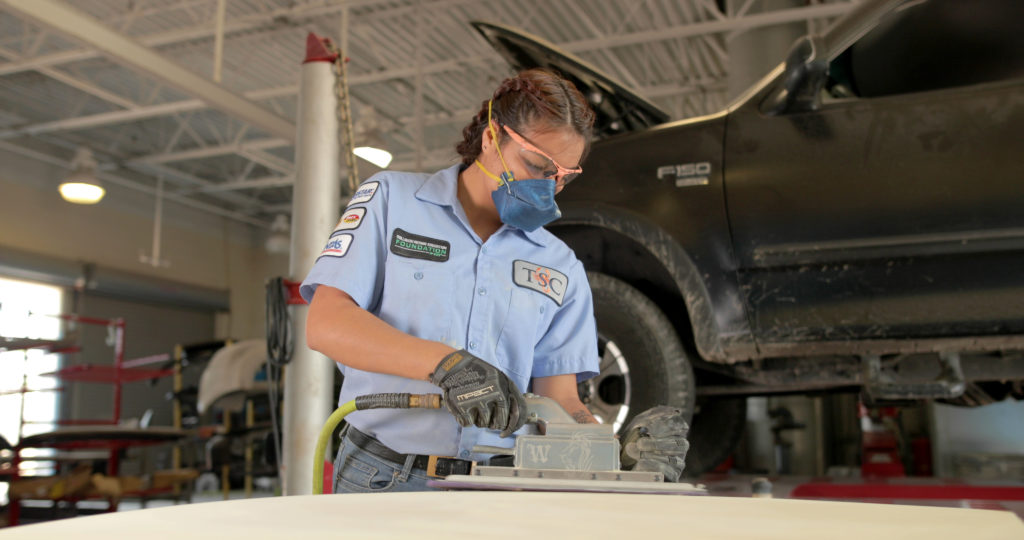 Thornton Fractional
Thornton Fractional Center for Academics and Technology collision repair instructor and career and technical education division leader Jorge Navarrete said Tuesday the school would use the money for a new downdraft paint booth.
He said the program had been awarded things like materials in the past, but not an actual grant.
The school's old booth had been an early 1990s Spraybake, a brand no longer manufactured, and it's time to "put it to rest," according to Navarrete.
"It's hard to find parts," Navarrete said, and the program finds itself constantly pouring money into the aging equipment. When the weather gets too cold, the heat exchange won't heat up, putting the booth out of commission until the temperature rises, he said. (And don't forget, the school is based in Illinois.)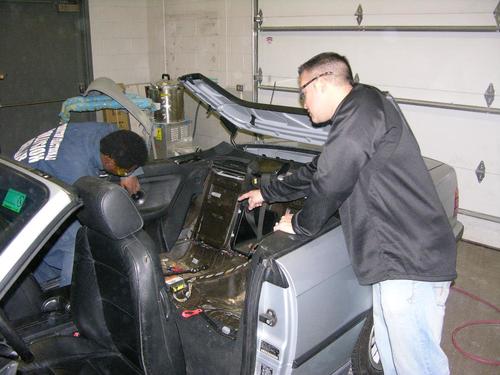 Navarrete said the grant allowed him to persuade school officials to put up the remainder of the cost for a new booth rather than just buy a new exchanger. The new booth also would expose students to current shop technology, he said.
The program is taking bids for the new booth now and hopes to have it installed during Christmas break given the lengthy installation time. At worst, it would have the booth this summer, Navarrete said.
The college's two-year, two-hour program teaches students a range of skills, including estimating, basic welding and body work, according to Navarrete. It has won the state level SkillsUSA in refinishing and produces a "World of Wheels" car annually. It also performs repairs for actual customers.
Other lessons
Our interview with Navarrete also offered perspective into one trade school and its students, information which might be of interest to the industry — particularly shops looking to hire.
Future plans: Navarrete said he has had many students go on to two-year technical schools and some going right into the collision industry after graduating Thornton Fractional's high school-level program. Others will work in collision repair for a few years to pay for a four-year college — but then "kind of move out," Navarrete said. He said he had many students move up to roles like head painter, estimator and manager, but few making a career out of the shop floor.
Navarrete said he even warns students that while they might make more money at first than with a bachelor's degree, the industry might cast them aside in favor of someone younger. They should still pursue a bachelor's degree as a backup plan, he advises.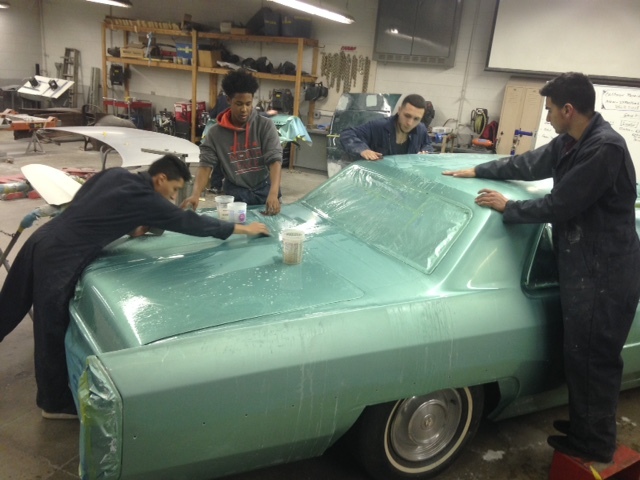 A story from Navarrete's own career reinforced that sentiment. He once served under a head painter who couldn't paint the vehicles the boss brought over at 5 p.m. because of issues like family commitments. The young Navarrete would stay behind to do the work, and ultimately the boss dropped the head painter of 26 years in favor of Navarrete — which Navarrete called a "pretty crappy thing to do." Navarrete resolved to get a backup degree after witnessing this.
Disconnects: One issue for students has been a shift from commission-based paychecks to hourly rates at many regional shops; his students prefer commission plans, Navarrete said. A $14/hour head painter job was not attractive, and he said he tried to get his students work at larger shops able to offer benefits.
Navarrete said he tries to place students at smaller shops to begin their careers so they can afford tools, but eventually have them move up to larger shops. He said there appeared to be a "disconnect" between the equipment present at the two tiers, which can discourage students at the smaller facilities.
Work ethics: Navarrete said he is having an issue with students desiring instant gratification. Everyone wants to to paint the school's annual "World of Wheels" restoration vehicle, but no one wishes to put in the hours on less glamorous work like its rust repair or bodywork, he said.
Students might weld a part on the show car with insufficient precision, and Navarrete will demand they cut it off and do it again, which he called "part of learning." He said he tries to instill that an employer wouldn't pay for a redo if a tech did it wrong on a customer vehicle, and he attributed the program's SkillsUSA success to demanding this elevated standard.
Real-world skills: As noted above, Thornton Fraction works on actual customer vehicles, and "I try to run it like a real shop," Navarrete said.
Cars have a delivery date, and students might have to stay after school to get it done, he said. Though Navarrete approves their work, his classes estimate the vehicles in CCC One, and "they're kind of in charge of the job." The students are also responsible for communicating any additional damage to the customer (Navarrete is CC'd on communications, however) to teach professionalism.
He said students are often shy and "they want me to talk for them." (He noted they're more used to text messaging than talking.) However, he insists they communicate with the customer to teach the people skills needed in the workforce, regardless of whether the students stick with collision repair.
Full list of CREF winners
Here is CREF's list of the $500,000 in awards, with some edits and reshuffling by Repairer Driven News. See if your alma mater or local school made the cut:
I-CAR Committee Awards
Atlanta I-CAR Committee
Athens Tech College: $5,000 (Athens, GA)
Chattahoochee Technical College: $15,000 (Jasper, GA)
Maxwell High School of Technology: $10,000 (Lawrenceville, GA)
North Georgia Technical College: $7,500 (Clarkesville, GA)
Broward I-CAR Committee
Sheridan Technical College: $5,000 (Hollywood, FL)
Charlotte I-CAR Committee
Central Piedmont Community College: $12,000 (Charlotte, NC)
Greater Philadelphia I-CAR Committee
Eastern Center for Arts and Technology: $2,500 (Willow Grove, PA)
Northern Virginia I-CAR Committee
Chantilly HS STEM Academy: $5,000 (Chantilly, VA)
C.S. Monroe Technology Center: $5,000 (Leesburg, VA)
Dowell J Howard Center: $5,000 (Winchester, VA)
Fauquier High School: $5,000 (Warrenton, VA)
Phoenix I-CAR Committee
East Valley Institute of Technology: $5,000 (Mesa, AZ)
Gateway Community College: $5,000 (Phoenix, AZ)
West-MEC: $5,000 (Phoenix, AZ)
Raleigh I-CAR Committee
Westover High School: $12,000 (Fayetteville, NC)
St. Louis I-CAR Committee
Lake Career & Technical Center: $4,500 (Camdenton, MO)
Lewis and Clark Career Center: $4,500 (Saint Charles, MO)
Nichols Career Center: $4,500 (Jefferson City, MO)
North Technical High School: $4,500 (Florissant, MO)
Ranken Technical College: $4,500 (St. Louis, MO)
Rolla Technical Institute: $4,500 (Rolla, MO)
South Technical High School: $4,500 (Sunset Hills, MO)
Knoxville, Tenn., I-CAR Committee
Greene Technology Center: $5,000 (Greenville, TN)
Tennessee College of Applied Technology: $5,000 (Morristown, TN)
Nashville, Tenn., I-CAR Committee
Northwest High School: $7,500 (Clarksville, TN)
Franklin County High School: $2,000 (Winchester, TN)
Tennessee College of Applied Technology: $2,000 (Livingston, TN)
Collision repairer grants
Caliber Collision School Grants
Hudson Valley Community College: $3,000 (Troy, NY)
Laramie County Community College: $3,000 (Cheyenne, WY)
Lorenzo Walker Technical College: $3,000 (Naples, FL)
Morgan Community College: $3,000 (Ft. Morgan, CO)
Tidewater Community College: $3,000 (Chesapeake, VA)
Service King Grants
Eden Area ROP: $3,000 (Hayward, CA)
Prosser Career Education Center: $3,000 (New Albany, IN)
Rosedale Technical College: $3,000 (Pittsburgh, PA)
Stanly Community College: $3,000 (Albemarle, NC)
Trumbull Career and Technical Center: $3,000 (Warren, OH)
Thomas Coleman Memorial Grant
El Camino College; $10,000 (Torrance, CA)
Western Michigan Bodyshop Association Grant
Kent Career Technical Center: $2,000 (Grant Rapids, MI)
Other company awards
AkzoNobel Matching Grant
Ivy Tech Community College: $5,200 (Fort Wayne, IN)
CCC Classroom Enhancement Grant
Judson High School: $11,000 (Converse, TX)
Chrysler School Grant
Regional Career Technical Center: $5,000 (Saline, MI)
Hertz Grants
Eastside Technical Center: $3,000  (Lexington, KY)
GST BOCES Coopers Education Center: $3,000  (Painted Post, NY)
Mid-Coast School of Technology: $3,000  (Rockland, ME)
Randolph Technical Center: $3,000  (Elkins, WV)
Tazewell County Career and Technical Center: $3,000  (Tazewell, VA)
GEICO Grants
Cuesta College: $5,000 (San Luis Obispo, CA)
Gaithersburg High School: $5,000 (Gaithersburg, MD)
Miami Northwestern Sr High: $5,000 (Miami, FL)
Miami Lakes Educational Center and Technical College: $5,000 (Miami Lakes, FL)
Morrisville State College: $5,000 (Morrisville, NY)
St. Philip's College: $5,000 (San Antonio, TX)
Honda Grants
Fayetteville Technical Community College: $4,000 (Fayetteville, NC)
Greenville Technical College: $4,000 (Greenville, SC)
Ranken Technical College: $4,000 (St. Louis, MO)
Insurance Auto Auction Award
Kennedy King College: $25,000 (Chicago, IL )
Liberty Mutual Insurance Grants
Assabet Valley Regional Technical H.S.: $5,000 (Marlboro, MA)
Bay Path: $5,000 (Charlton, MA)
Montachusett Regional Vocational Technical High School: $5,000 (Littleton, MA)
Southeastern Regional Vocational Technical High School: $5,000  (South Easton, MA)
Nationwide Insurance Grants
Ft. Hayes Career Center: $5,000 (Columbus, OH)
Thaddeus Stevens College of Technology: $5,000 (Lancaster, PA)
Progressive Laptop Grants
Ivy Tech Community College (Fort Wayne, IN): 15 laptops
Texas State Technical College (Harlingen, TX): 10 laptops
Collision Repair Education Foundation
$25,000 Collision Repair Education Foundation Awards
Center for Academics & Technology (Calumet City, IL)
Texas Southmost College (Brownsville, TX)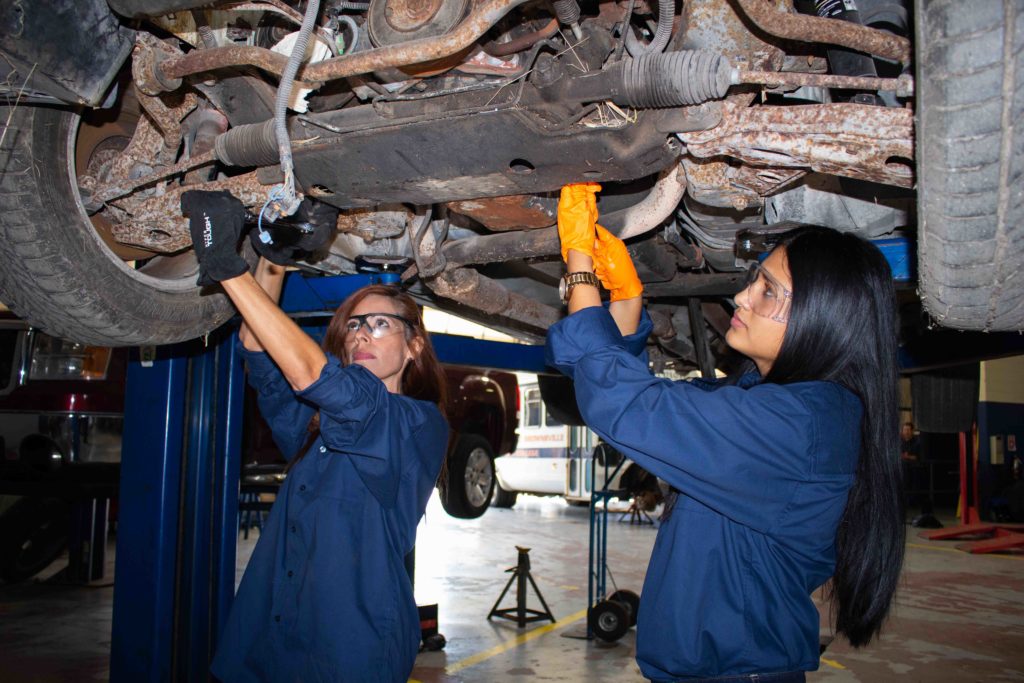 $10,000 Collision Repair Education Foundation Award
Warren Tech (Lakewood, CO)
$1,000 Ultimate Collision Education Makeover Grants
Alabama
Earnest Pruett Center of Technology (Hollywood, AL)
Etowah County Career Technical Center (Atalla, AL)
Arkansas
University of Arkansas – Pulaski Technical College (North Little Rock, AR)
California
Collision Career Institute (Yorba Linda, CA)
Dos Palos High School (Dos Palo, CA)
Colorado
Aims Community College (Windsor, CO)
Delaware
Hodgson Vo-Tech (Newark, DE)
Florida
Hillsborough Community College (Tampa, FL)
Lake Technical College (Eustis, FL)
Manatee Technical College (Bradenton, FL)
Seminole High School (Sanford, FL)
SouthTech Academy (Boynton Beach, FL)
Idaho
College of Southern Idaho (Twin Falls, ID)
Dennis Technical Education Center (Boise, ID)
Kootenai Technical Education Campus (Rathdrum, ID)
Lewis-Clark State College (Lewiston, ID)
North Idaho College (Coeur d'Alene, ID)
Illinois
Highland Community College (Freeport, IL
Marengo Comm HS Dist 1554 (Marengo, IL)
Indiana
Area30 Career Center (Greencastle, IN)
Hinds Career Center (Elwood, IN)
Iowa
Des Community College (Ankeny, IA) Moines Area
Hawkeye Community College (Waterloo, IA)
Kansas
Butler Community College (El Dorado, KS)
Kansas City Kansas Community College (Kansas City, KS)
Washburn University Institute of Technology (Topeka, KS)
Kentucky
Big Sandy Community and Technical College (Prestonsburg, KY)
Maine
Oxford Hills Technical School (Norway, ME)
Maryland
North Point High School for Science Technology and Industry (Waldorf, MD)
Massachusetts
Essex Technical High School (Hathorne, MA)
Greater Lawrence Technical High School (Andover, MA)
Pathfinder Regional Vocational Technical High School (Palmer, MA)
Minnesota
Hennepin Technical College    (Brooklyn Park, MN)
Minnesota State College Southeast (Winona, MN)
Ridgewater College (Willmar, MN)
South Central College (North Mankato, MN)
Missouri
Cape Girardeau Career and Technology Center (Cape Girardeau, MO)
Franklin Technology Center (Joplin, MO)
Lex La-Ray Technical Center (Lexington, MO)
Perryville Area Career & Technology Center (Perryville, MO)
Montana
Montana State University Billings City College (Billings, MT)
Nebraska
Metropolitan Community College (Omaha, NE)
Southeast Community College (Milford, NE)
New Jersey
Thomas A. Edison Career & Technical Academy (Elizabeth, NJ)
New York
CA BOCES-CTE Center (Olean, NY)
Cattaraugus Allegany Boces Center (Ellicottville, NY)
Erie 1 BOCES Kenton Career & Technical Center (Tonawanda, NY)
Erie Community College South (Orchard Park, NY)
GST Boces Bush Campus (Elmira, NY)
HFM Career and Technical Center (Johnstown, NY)
LoGuidice Center- Erie 2 BOCES (Fredonia, NY)
W.D. Ormsby Educational Center (East Aurora, NY)
North Carolina
Cleveland Community College (Shelby, NC)
Forsyth Tech Community College (Winston Salem, NC)
Iredell-Statesville Career Academy & Technical School (Troutman, NC)
Randolph Community College (Asheboro, NC)
Sandhills Community College (Pinehurst, NC)
Southwest High School (Jacksonville, NC)
Weaver Academy (Greensboro, NC)
North Dakota
North Dakota State College of Science (Wahpeton, ND)
Ohio
EHOVE Career Center (Milan, OH)
Grant Career Center (Bethel, OH)
Knox County Career Center (Mount Vernon,   OH)
Live Oaks Career Campus (Milford, OH)
Miami Valley Career Center (Englewood, OH)
Waite High School (Toledo, Ohio)
Oklahoma
Indian Capital Technology Center (Tahlequah, OK)
Oregon
Clackamas Community College (Oregon City, OR)
Pennsylvania
Berks Career and Technology Center (Oley, PA)
Central Montco Technical High School (Plymouth Meeting, PA)
Chester County Technical College High School Pennick's Bridge campus (West Grove, PA)
Cumberland Perry Area Vocational Technical School (Mechanicsburg, PA)
Dauphin County Technical School (Harrisburg, PA)
Forbes Road CTC (Monroeville, PA)
Lebanon County Career and Technology Center (Lebanon, PA)
Northern Westmoreland Career & Technical Center (New Kensington, PA)
Reading-Muhlenburg Career and Technology Center (Reading, PA)
Steel Center (Clairton, PA)
TCHS Pickering (Phoenixville, PA)
West Side Career and Technology Center (Kingston, PA)
South Carolina
Beaufort Jasper Academy for Career Excellence (Ridgeland, SC)
Tennessee
Tennessee College of Applied Technology (Athens, TN)
Tennessee College of Applied Technology (Chattanooga, TN)
Tennessee College of Applied Technology (Knoxville, TN)
Tennessee College of Applied Technology (Paris, TN)
Tennessee College of Applied Technology (Shelbyville, TN)
Texas
Alvin ISD, Hensler CTE Campus (Manvel, TX)
Duncanville High School (Duncanville, TX)
Eastfield College (Mesquite, TX)
Kingwood Park High School (Kingwood, TX)
R L Turner High School (Carrollton, TX)
Texarkana College (Texarkana, TX)
Texas State Technical College (Waco, TX)
Virginia
CATEC (Charlottesville, VA)
New Horizons  (Hampton, VA)
Rockbridge County High School (Lexington, VA)
Triplett Tech (Mount Jackson, VA)
Northern Neck Technical Center (Warsaw, VA)
Washington State
Bellingham Technical College (Bellingham, WA)
Renton Tech College (Renton, WA)
Walla Walla Community College (Walla Walla, WA)
Wenatchee Valley Tech (Wenatchee, WA)
West Virginia
Mercer County Technical Education Center (Princeton, WV)
United Technical Center (Clarksburg, WV)
Wisconsin
Chippewa Valley Technical College (Eau Claire, WI)
Fox Valley Technical College (Appleton, WI)
Freedom High School (Freedom, WI)
Southwest Tech (Fennimore, WI)
More information:
"COLLISION REPAIR EDUCATION FOUNDATION AWARDS MORE THAN $500,000 IN SCHOOL GRANTS THROUGH INDUSTRY SUPPORT"
Collision Repair Education Foundation, Nov. 9, 2018
Images:
Photos 1, 3-4: The Thornton Fractional School District Center for Academics and Technology in Calumet City, Ill., received one of the Collision Repair Education Foundation's $25,000 grants for 2018. (Provided by Thornton Fractional)
Photos 2, 5: The Collision Repair Education Foundation gave a $25,000 grant to Texas Southmost College in Brownsville, Texas. (Provided by Texas Southmost College)
Share This: