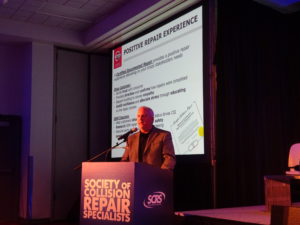 Nissan is detecting crashes and recommending certified auto body shops for owners of connected cars, and the OEM plans to refine these referrals to account for shop performance on Nissan metrics, collision parts manager Mark Zoba said at SEMA earlier this month.
The same considerations will apply to referrals made via a call center Nissan provides for the owners of unconnected vehicles after a crash. Nissan provides free towing of up to 50 miles — even if the vehicle is out of warranty, Zoba said — a big plus for the Nissan owner and the network of collision repairers.
Regardless of age, "we'll tow it to a certified shop," he said.
As connected cars and capabilities improve, it's possible the recommendations could even be tailored to that particular vehicle's damage, Zoba said after participating in a SCRS OEM Collision Repair Technology Summit panel on automaker collision certification Nov. 1. (Comments here are both from the certification forum and our interview following the event.)
Zoba told the presentation he asked network shops what they needed from Nissan, and their response included wondering what Nissan was doing to drive volume to their facilities.
For 2019, the OEM will develop a "smart shop locator" which would prioritize facilities delivering repairs the way Nissan wanted, according to Zoba's presentation. Certified shops failing to meet Nissan's terms would be asked to step aside, he said.
Zoba also said that as Nissan connects more and more vehicles, it would direct customers to certified shops right from the moment of a collision.
"We see that happening very quickly," Zoba said, calling it the next thing for the pipeline. He said he anticipated that as the connected car percentage grew, referrals at the crash would become a "bigger and bigger factor."
The OEM on Oct. 5 promised the "wide adoption" of NissanConnect in its fleet for the 2019 model year. The collision assistance feature is free for six months and rises to $8 a month for the first three years and $19.99 after that.
The OEM already is recommending certified shops for connected cars reporting a crash and when customers in non-connected vehicles call Nissan for assistance after a collision (1-800-NISSAN-1), according to Zoba.
"It happens now," Zoba said of connected car referrals. Nissan is alerted if an airbag has deployed.
He said the call center today will typically explain what the certified shops are and which three are closest to the connected car. Nissan won't say, "'You must go here.'" he said. It's merely a recommendation, and saying "'If you want to use those, we'll pay for the tow.'"
If not connected, the owner can still call the 1-800-NISSAN-1 number, which will connect them to Nissan's towing supplier and provide a list of shops.
The next step would be factoring in shops' KPI-based rank, not just location, when making connected and unconnected car recommendations, Zoba said. He said he anticipated the company would "move to a smarter locator."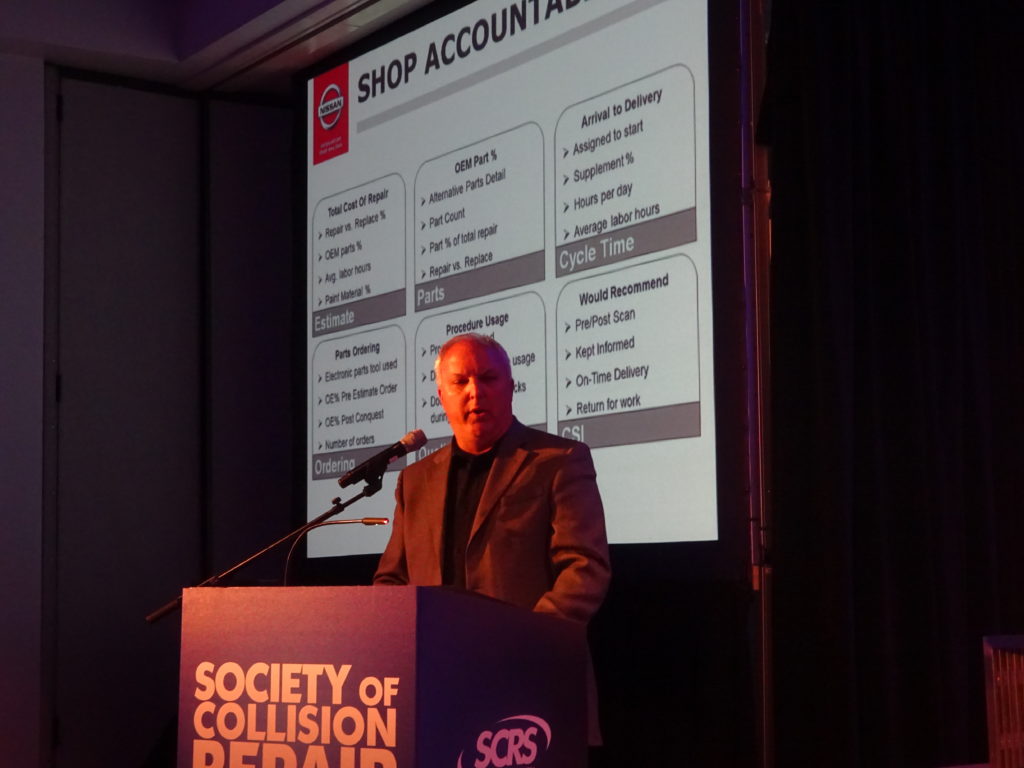 Zoba said Nissan will evaluate shops on six key performance indicators similar to an insurer's but with different weightings. One emphasizes repair quality, including checking the existence of printed procedures, documentation they were used and proof of quality control during a repair, according to Zoba's presentation.
Cycle time, CSI, cost, parts (Zoba said OEM parts cut cycle time and improve accuracy) and parts ordering will also matter, according to a slide from his presentation.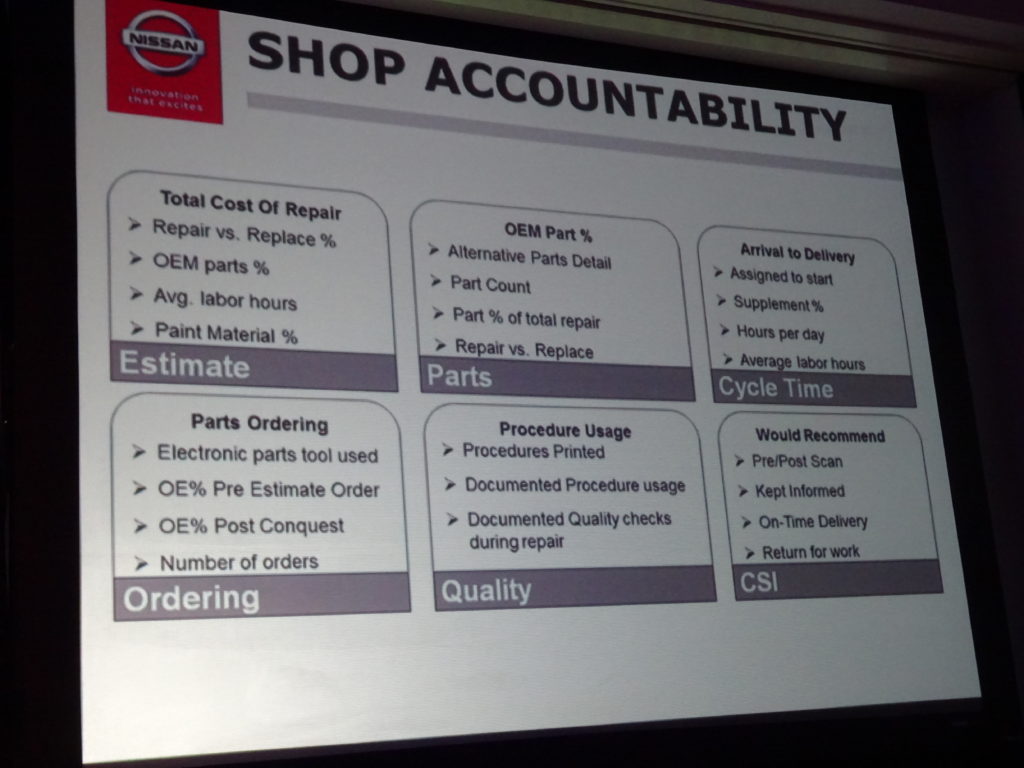 Eventually, the vehicle itself could be another factor in making recommendations to customers, according to Zoba.
"I think down the road, as it gets even more and more vehicle-specific, and with a connected vehicle, we'd be able to say, 'OK, based on this vehicle that we know, it really should go to one of these shops,'" Zoba said.
He said Nissan wanted the customer to have the "best experience," which could involve suggesting particular shops "'based on your vehicle.'" Another Nissan make might prompt different shops to be recommended, he said.
"It's a function of knowing what features are on that vehicle," Zoba said.
Ultimately, a connected car would send Nissan back elements of the crash itself to further refine the recommendation. He said Nissan could know the amount of force, speed and points of impact and it could start to build a "good understanding" of the vehicle's status. "Through there, you can make recommendations," he said.
In terms of lower-tech perks for Nissan owners and shops, Zoba said the company had a marketing strategy to promote the shops "right from the start." It has generated 60 million impressions to Nissan owners and consumers about the benefit of certified shops and OEM parts, he said.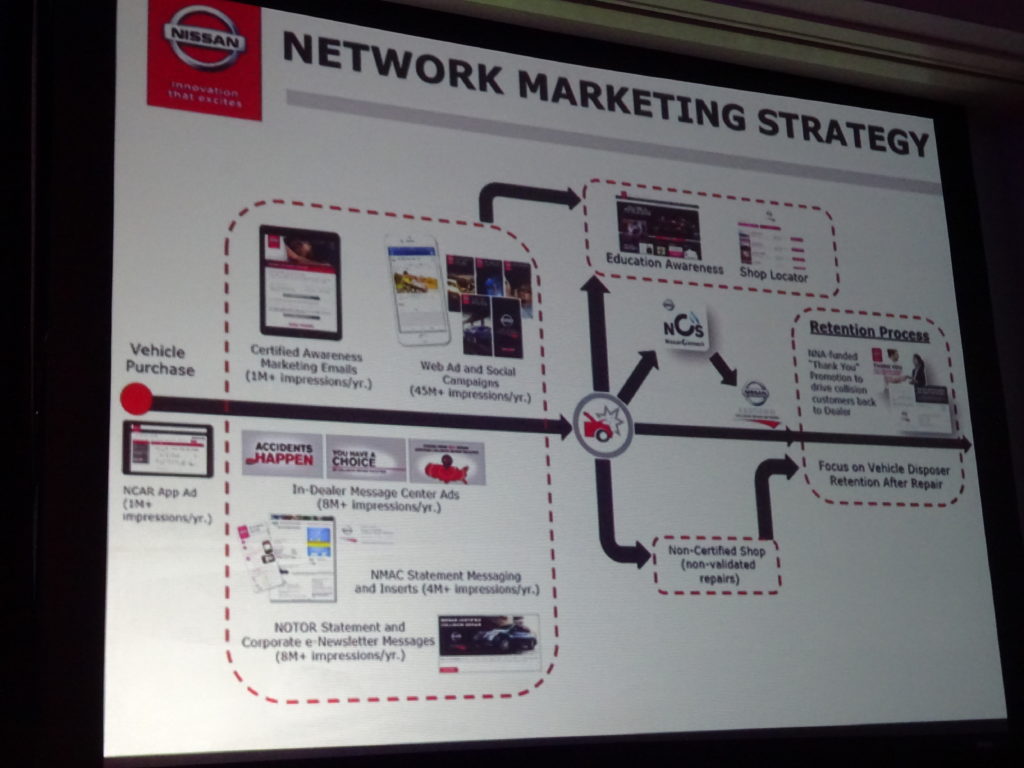 It also gives customers a $25 gift certificate for Nissan dealership service centers after they patronize a certified collision repairer, according to Zoba, and certified shop customers whose Nissans are totaled can get a special discount on a new car.
Learn more about Nissan's certified shop promotion at the end of this May Collision Advice-Nissan webinar:
More information:
Nissan collision repair procedures website (use Internet Explorer)
Nissan certified collision network webpage
Collision Advice YouTube channel, April 24, 2018
"Nissan INFINITI Tech Info Part 2 Webinar"
Collision Advice YouTube channel, May 28, 2018
Images:
Nissan collision parts manager Mark Zoba discusses Nissan's certified collision repair program on Nov. 1, 2018, during the SCRS OEM Collision Repair Technology Summit. (John Huetter/Repairer Driven News)
Nissan collision parts manager Mark Zoba's presentation on Nov. 1, 2018, during the SCRS OEM Collision Repair Technology Summit described how Nissan would be judging its certified shops. (John Huetter/Repairer Driven News)
Nissan collision parts manager Mark Zoba's presentation on Nov. 1, 2018, during the SCRS OEM Collision Repair Technology Summit described actions Nissan has taken to promote its certified shops. (John Huetter/Repairer Driven News)
Share This: