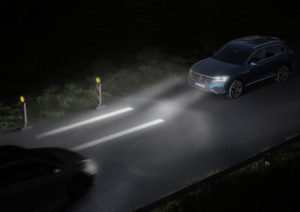 Volkswagen last month announced it was researching headlights which could communicate information to others sharing the road and help the driver navigate lanes.
The OEM's global media site wrote Oct. 17 that the company was in "predevelopment" of micropixel LED headlights that could allow "light control that is individually adapted to the respective driving situation, interactive light projections onto the road and a high degree of individualisation." Volkswagen wrote that the lights could receive new features over-the-air with an app.
The micropixel headlights use three LED chips, each containing 1,024 individually controllable pixels on a 4-by-4 mm square space, according to Volkswagen. Since a vehicle usually projects light in a rectangular shape, the system is set up to change the aspect ratio to 3:1. (Though Volkswagen noted it'd be nice to use rectangular LEDs in the future.)
"This means that the entire basic light can be covered with a matrix and is available for the application of intelligent lighting functions," Volkswagen wrote.
Volkswagen wrote that the headlight had a large LED module for static lighting and three outer lenses which can project the micropixel designs.
"The 3,072 pixels realised now are a start – micro-pixel LED headlights have the technical potential to include and project up to 30,000 pixels per chip," Volkswagen wrote. "The economical micro-pixel LED headlights would thus achieve the same resolution as the less energy-efficient HD-LCD headlights."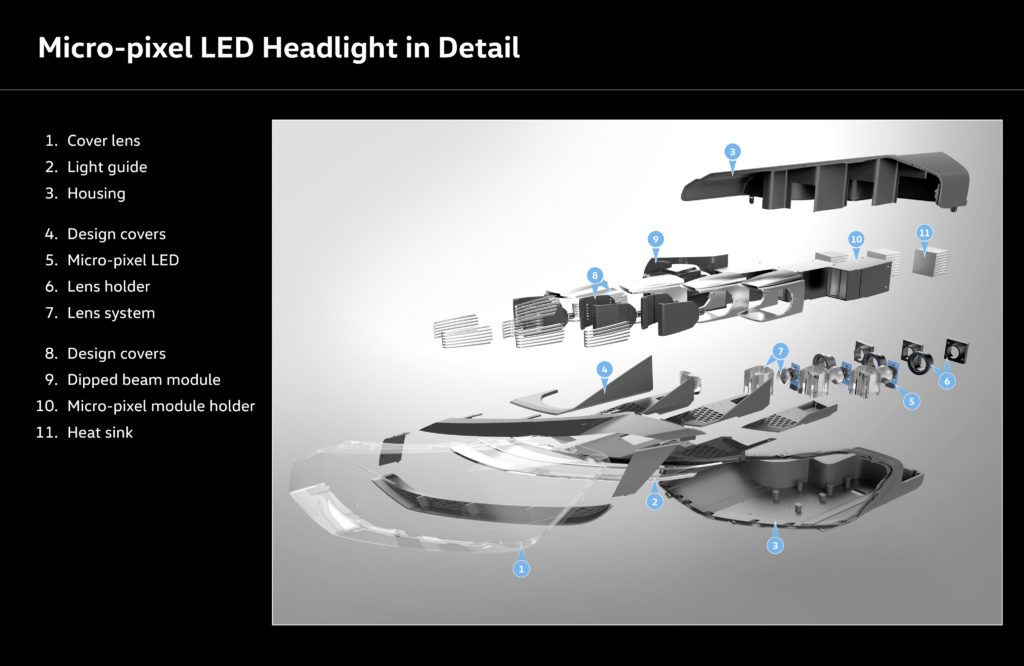 Volkswagen discussed a system known as "Optical Lane Assist," which it said was an example of the "useful and safety-enhancing lighting functions" it was already testing with HD-LCD headlights. The technology would project lanes in front of a vehicle; Volkswagen specifically associated it with the Touareg, which has light matrix LED headlights though not the micropixel tech. (The SUV isn't sold in the U.S., though.)
"In this system, the headlights project lanes in front of the Touareg, giving the driver precise information about the width of the SUV (including trailer) and the distance to the road lane markings, for example at road work," Volkswagen wrote. "The lanes also follow the radii of curves."
Volkswagen also said a "Optical Park Assist" feature built into a taillight with microlenses could potentially display a parking vehicle's path for others nearby, and warnings could be built into taillights with "(m)atrix tail light clusters" to signal other drivers in situations like the back of a traffic jam.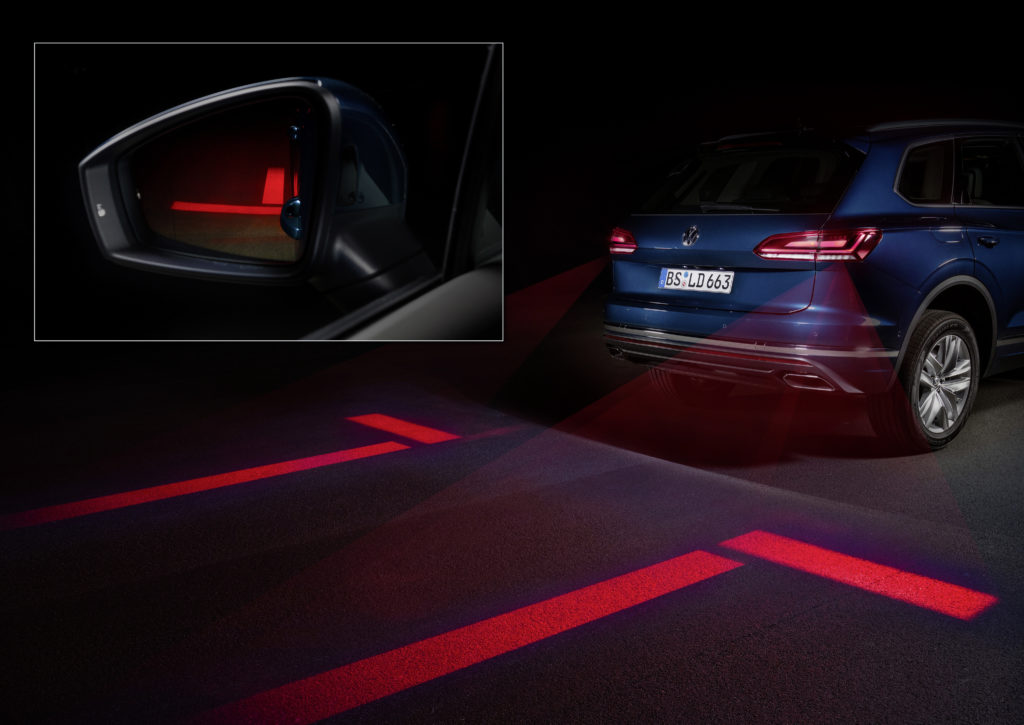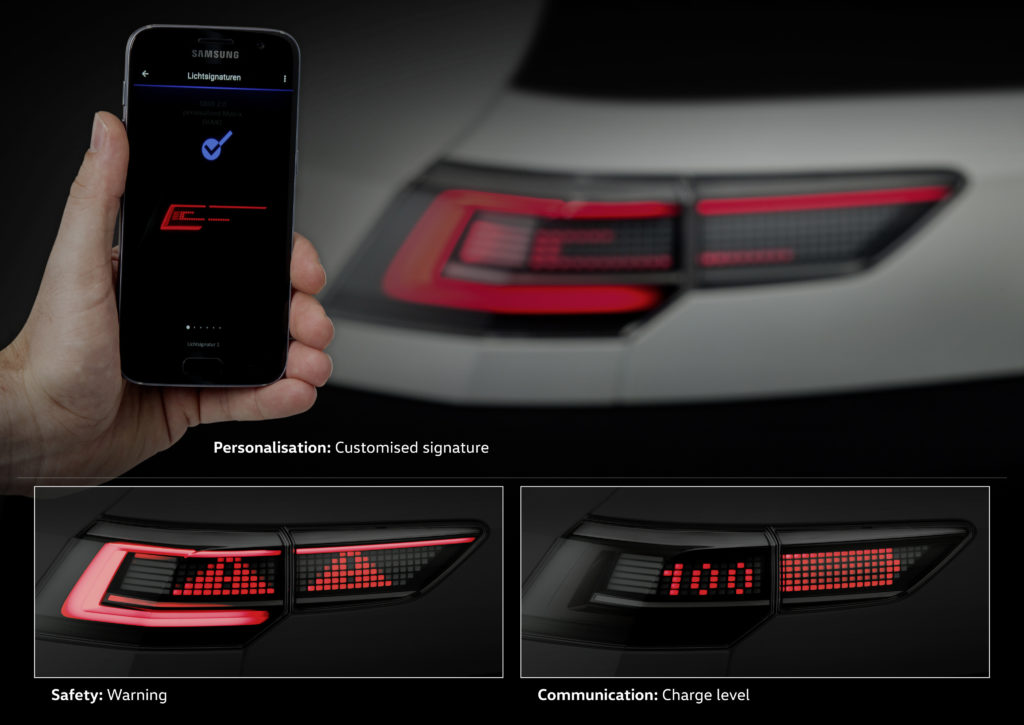 "The assisted driving cars of tomorrow will confront road users with new everyday situations – such as a lack of eye contact with drivers," Volkswagen wrote.
The automaker said it can develop lighting technology and get it to market more quickly with its 328-foot-long, 49-foot-wide light tunnel at its Wolfsburg, Germany factory.
"Volkswagen is using road simulations to test its lighting systems for today, tomorrow and beyond using road simulations," Volkswagen wrote. "The tests can be reproduced and repeated. As a result, systems can be compared and evaluated in a light tunnel better than ever before. The centre of lighting excellence is also an ideal place to investigate how drivers and pedestrians perceive light. The light tunnel has also reduced the development time for new headlight, tail light and interior lighting systems, as the number of time-consuming night drives can now be reduced."
If these headlights do come to market, they're likely to be pricier for a shop to replace than the boring old bulb-based lamps of the past, at least at first. They also might create new calibration demands. However, it seems like they might also cut crash frequency. This certainly seems like a piece of tech to watch for body shops given the overall auto industry trend towards LED lighting.
More information:
"Headlight technologies – Micro-pixel LED headlight"
Volkswagen, Oct. 17, 2018
"Interactive headlights and tail light clusters help to raise the bar for safety in future"
Volkswagen, Oct. 17, 2018
Featured images: Volkswagen's global media site wrote Oct. 17, 2018, that the company was in "predevelopment" of micropixel LED headlights that could allow "light control that is individually adapted to the respective driving situation, interactive light projections onto the road and a high degree of individualisation." (Provided by Volkswagen)
Share This: