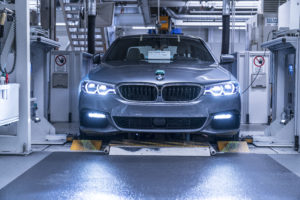 Insurance Institute for Highway Safety research released Thursday found a single replacement headlight on vehicles with a "good" lighting rating can often be above $1,000.
The IIHS found prices for a new OEM headlight on 33 "good"-rated vehicles ranging for $526 for a Subaru Legacy lamp to $3,242 for a BMW 5 Series, with an average of about $1,400. All the good-rated headlights included more expensive LEDs or high-intensity discharge (HID) lamps, though IIHS senior test coordinator Sean O'Malley said some "good" HID systems still had the more traditional halogen low beams.
"There's a lot of combinations in here," he said. In the parts book, such a combination light would still be listed as HID or LED.
"Repair costs for a minor crash could easily double if a headlight is damaged," O'Malley said in a statement. "Not to mention the extra time your car will spend in the shop getting fixed."
This is a potential severity factor for customers, insurers, repairers and OEMs to consider.
O'Malley said there didn't seem to be difference in pricing between LEDs and HIDs. "Not really," he said, mentioning $2,100 LEDs and $1,400 HIDs and "vice versa."
He said there was no "rhyme or reason for it, honestly."
The IIHS also noted that poor-rated headlights also can have high prices, citing the examples of a halogen headlight on a Mercedes GLE-Class ($615), a Chevrolet Silverado HID lamp ($1,295) and a LED light on a Honda Civic ($826). ("Most of the poor ones, as well" were also HID or LED, O'Malley also noted.)
Asked if the HID/LED lighting systems were one of the technologies likely to drop in price over time (for example, the reduction in prices seen in technology like a thumb drive), O'Malley said he expected more of the advanced lamps on the market would cause the price to flatten or drop. However, each manufacturer would still determine its own prices based on its own conditions, he said.
We asked if additional technologies besides the LED/HID/halogen issue could be in play on the higher-priced headlights. For example, some headlights can "steer" themselves for a turn, and others can be adjusted between high and low beams automatically by the vehicle based upon nearby traffic. O'Malley said not that he could tell.
Vehicle cost itself wasn't necessarily a factor either, for the Kia Forte and Toyota Camry's headlights were among the higher-priced "good" lamps, sandwiched between $1,667 Lincoln Continental and $2,580 Mercedes E-Class' lights on the IIHS' rankings.
The IIHS proposed that OEMs strengthen and widen bumpers to better protect headlights. O'Malley acknowledged that a stronger reinforcement beam (and in fact, some OEMs are using gigapascal-level steels now) would be kind of moot given the need for crush zones to do their job and crush. However, he did point out that a wider bumper beam was possible without sacrificing aerodynamics, noting that the space behind a bumper fascia and below the headlights was largely empty right now.
"Reinforcement bars that extend far enough outward beyond the frame rails to protect the front corners of vehicles would help to limit damage to headlights in low-speed crashes," the IIHS wrote. "Bumpers that are taller and higher off the ground also would help."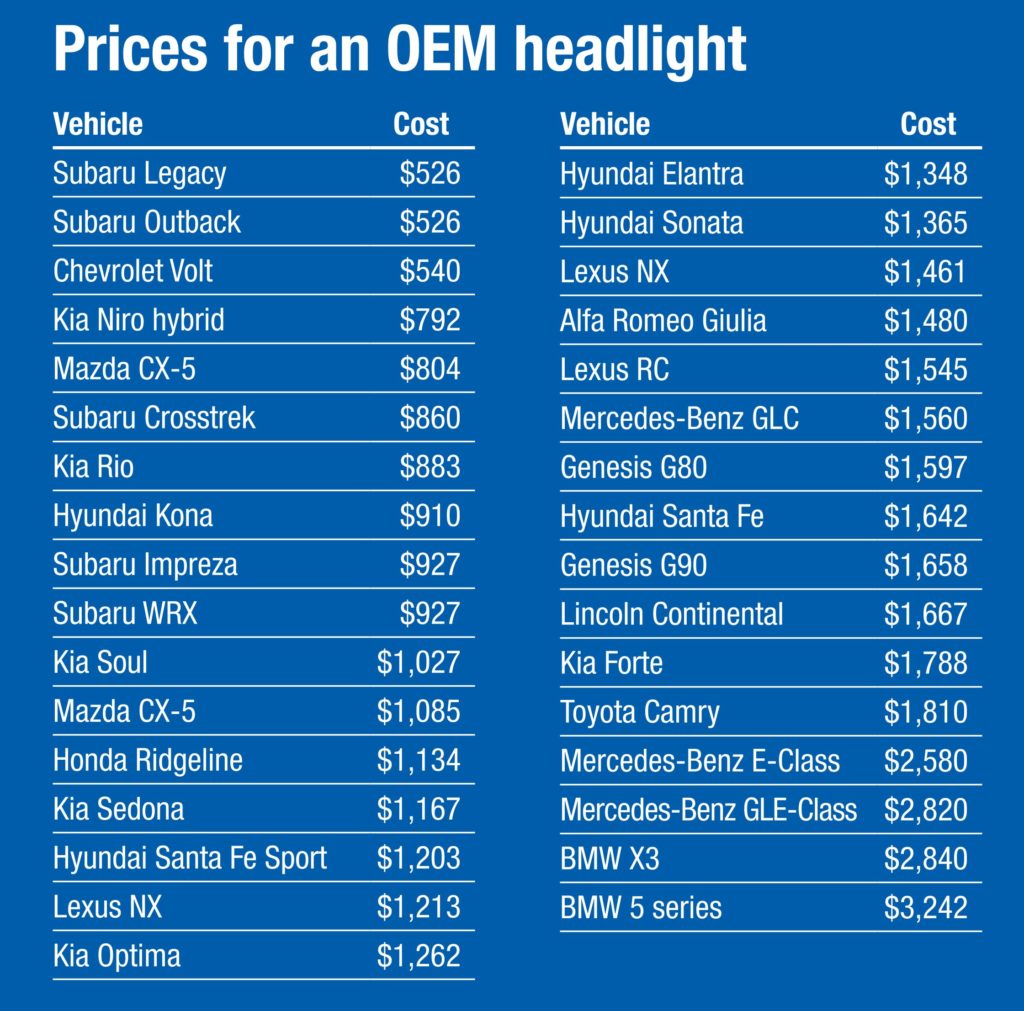 The IIHS has discussed part prices with OEMs in the past, with O'Malley recounting in the latest IIHS Status Report how Ford dropped a $4,555 Lincoln Continental headlight down to $1,667 after the two entities talked.
O'Malley explained in an interview Wednesday that the higher price was actually an error on Ford's part. The OEM prices more commonly damaged parts less than lower-selling components and had accidentally classified the headlight in the latter category, according to O'Malley.
"It went into the wrong parts bin," O'Malley said. Once the IIHS pointed out the lamp was an outlier, Ford realized its mistake, he said.
O'Malley also remembered an IIHS discussion with another OEM about how the automaker charged more for a headlight housing alone than it did to buy an entire headlight. The automaker had tasked a different division with disassembling headlights so repairers could buy individual parts, not realizing that team had been outpricing their own colleagues selling complete lamps, he said.
"Expensive headlights aren't a new issue," the IIHS wrote, noting that it had discussed the topic since the 1990s. In a 2007 Status Report, the IIHS described a $847 HID headlight on a 2007 Infiniti G35 and a $1,046 HID light on a Lexus ES.
O'Malley said a current G35 HID light now sells for $1,536, while the ES lamp now costs $1,174.
More information:
"Consumers may be surprised at repair bills if headlights are damaged in a minor crash"
Insurance Institute for Highway Safety, Nov. 29, 2018
Images:
A 2017 BMW 5 Series is shown in the BMW plant in Dingolfing, Germany. Insurance Institute for Highway Safety research released Nov. 29, 2018, found the 5 Series to have the highest-priced replacement headlights of those ranked "good" by the organization. (Provided by BMW)
Insurance Institute for Highway Safety research released Nov. 29, 2018, found a single replacement headlight on vehicles with a "good" lighting rating can often be above $1,000. (Provided by Insurance Institute for Highway Safety)
Share This: