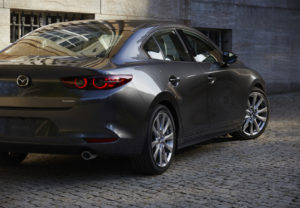 The next-generation 2019 Mazda3 revealed this week boosts the amount of ultra-high-strength steel 980 megapascals or higher to 30 percent of the vehicle body, a dramatic increase over the 3 percent in the prior generation.
"This combines with the addition of a new perimeter beam and rear side frames that deform in an accordion-style pattern to create a solid body that can stand up to impact force and a frame structure that effectively absorbs energy," Mazda wrote in a news release Tuesday.
Collision repairers will need to study repair procedures to ensure they're restoring the crashworthiness of this new structure, which is the first example of Mazda's Skyactiv-Vehicle Architecture platform to reach the market. Higher-strength steels can carry more repair restrictions.
Mazda said the body uses "straight framework" and a "continuous ring structure."
"New front-to-back connections complement the existing vertical and lateral connections of the previous body to form multi-directional ring structures," Mazda wrote. "This increases rigidity while reducing lag in the transmission of energy, which helps maximize the function of the dampers and tires. By concentrating energy input from the road surface in specifically chosen locations and adopting a newly developed damping structure that helps absorb it, vibration that causes noise is reduced without increasing vehicle weight."
Mazda sold 75,018 Mazda3s in 2017, so you're very likely to see one in your shop.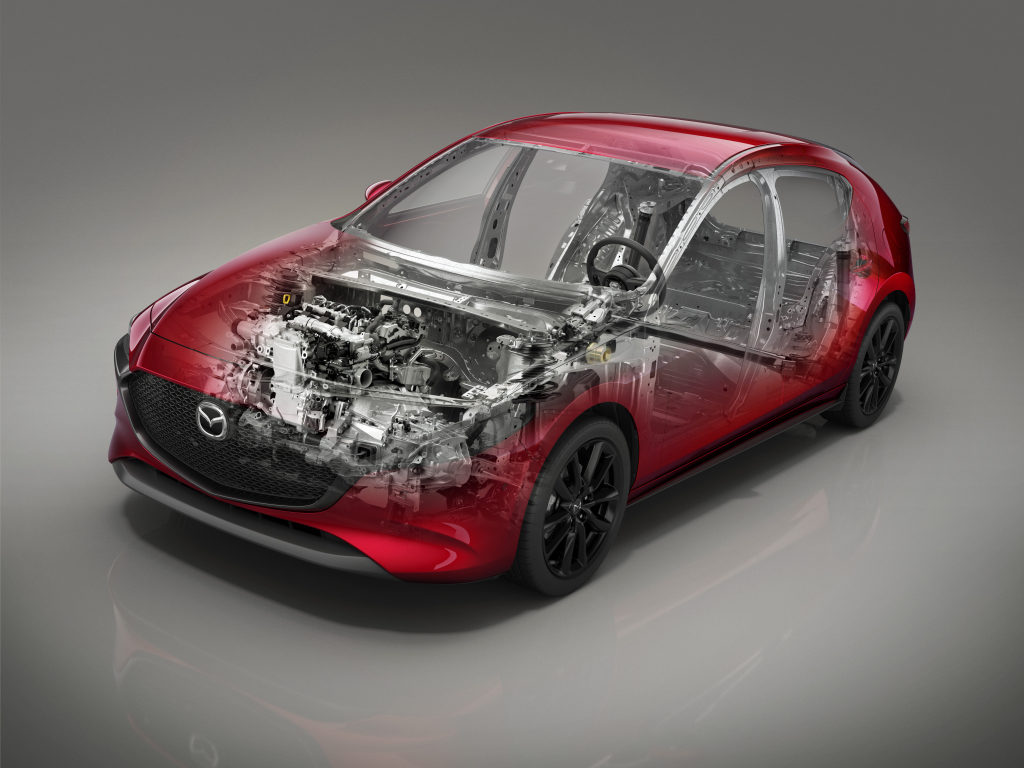 Mazda also described changes to the Mazda3's hood and front bumper which could demand a repairer only replace them with OEM parts to preserve safety — not for your customer, but any poor pedestrians they happen to strike.
"The hood adopts a new energy-absorbing inner structure designed to receive the impact of a pedestrian's head in the initial moment of contact and then gradually dampen the force to more quickly absorb the impact energy," Mazda wrote in a news release. "The front bumper is designed to support the thigh and shins if contact is made with a pedestrian's (legs while) softening the blow to the knee area. This reduces the degree of injury to the knees and ligaments due to bending and twisting."
The Mazda3 also is the first example of a driver's knee airbag on a Mazda car — a piece of technology Mazda says will come standard worldwide. The addition means body shops will face higher severity and repair complexity.
According to Mazda, this protects the driver's chest as well as their legs.
The OEM also said the side airbags have two chambers with different levels of air pressure, though it's unclear if this is a new feature. (The different pressures hold the occupants in place while keeping rib cages from getting hit too hard.)
Other body features
Other body and chassis features possibly of interest to repairers include:
Suspension: The Mazda3 has front MacPherson struts "and a newly developed torsion beam setup in the rear." The OEM also changed the suspension geometry and used a "new spherical shape" for the bushings' interior structure.
Exterior lines: Metal work could be slightly more difficult. Mazda wrote that it built the car with "lustrous and beautifully curved body panels."
It also boasted that the sedan and hatchback body designs had "personalities so distinct one might even think they were completely different models."
Noise, vibration and harshness: The Mazda3 is the first Mazda to have what the OEM called a "'two-wall' structure that leaves space between the body and carpeting on the floor."
"By considering the carpet and the body panel as two walls, and then designing them to match the characteristics of the fiber material attached to the carpet increases efficiency without increasing weight," Mazda continued.
The car's floor mats and headliner have also been upgraded to reduce high-frequency noise, and Mazda said the tires' "optimized vertical spring action and increased rigidity at possible entry points" cut vibration. This raises an interesting question about whether customers would notice a difference if they — or the shop — substituted aftermarket floor mats or tires.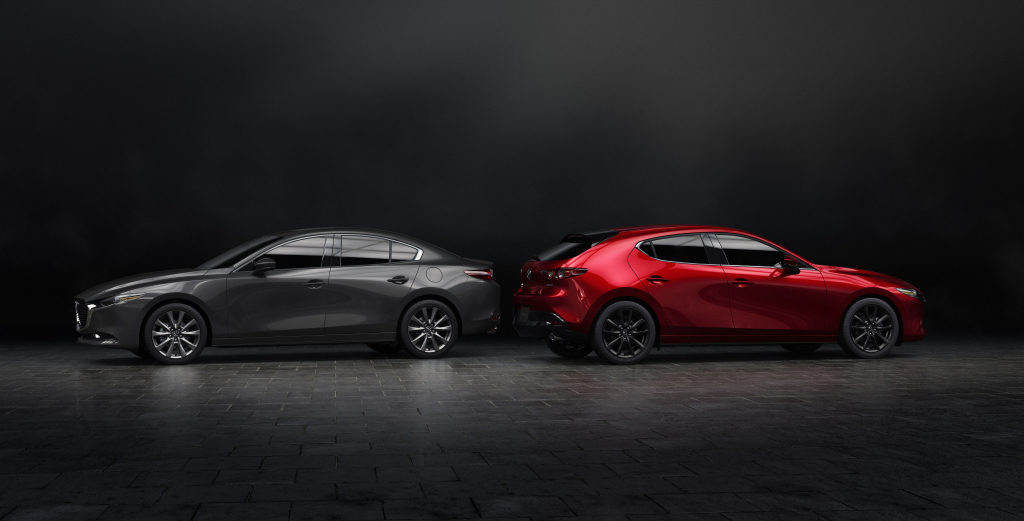 Painting: Mazda said it developed a new color, "Polymetal Gray" exclusively for the Mazda3 hatchback, though Mazda press photos appear to show it on the sedan.
"Fusing the hard appearance of metal with plastic's characteristic glossy smoothness creates an entirely new expression of quality," Mazda wrote. "The color changes its expression depending on the light, accentuating the beautiful form of the hatchback's body."
Mazda hasn't yet replied to an inquiry if the color will be more complex to refinish, a la its Machine Gray and Soul Red Crystal.
Other technology
Other technology to watch includes:
Owner's manual: Mazda Connect has a digital owner's manual that brings up additional information about whatever alerts appear on the dash. It would be interesting to see if this concept is applied by Mazda or other OEMs to diagnostic trouble codes which don't illuminate MIL lights.
Fancy wipers: Mazda's windshield washer nozzles are attached to its wipers, and the wipers themselves are "designed to constantly adjust the operating angle of the wipers in fine increments."
In addition to increasing wiper performance — which could conceivably cut a few crashes — this seems likely to increase severity in instances where the wipers need to be replaced.
ADAS: Mazda didn't specify much about common advanced driver assistance systems, probably because they've been standard for a model year and will remain so. The OEM in 2017 announced the 2018 Mazda3 would carry multiple i-ACTIVSENSE advanced driver assistance features standard. These include autobraking, advanced blind spot monitoring and rear-cross-traffic alerts (but not rear autobraking).
Mazda did on Tuesday flag three driver assistance features it'll offer as an option on the Mazda3.
A new driver monitoring system is available as an option for drivers who don't mind being scrutinized by their vehicle's artificial intelligence. The technology will watch you with an infrared camera and LED to see if you're being inattentive or falling asleep, and sound an alarm to snap you out of it. Mazda said that the technology will work with the Smart Brake Support autobraking technology, but it's unclear from the news release if the car will stop itself or just alert distracted drivers sooner than the autobrake alarm would under normal conditions.
Front cross-traffic alert uses new "front side radars" to look for perpendicular traffic in obscured intersections  and avoid unwanted T-boning. It's unclear if it stops the car or just sounds an alarm.
Finally, a "Cruising and Traffic Support (CTS) system" will handle the accelerator, brake and steering "when stuck in traffic jams on the highway." This sounds like basically another example of partial autonomy under constant driver supervision, which makes it all the more crucial for shops to restore correctly.
More information:
"ALL-NEW MAZDA3: 2018 LOS ANGELES AUTO SHOW PRESS INFORMATION"
Mazda, Nov. 27, 2018
Images:
The 2019 Mazda3 sedan is shown. (Provided by Mazda)
A cutaway of the 2019 Mazda3 hatchback is shown. (Provided by Mazda)
The 2019 Mazda3 sedan and hatchback are shown. (Provided by Mazda)
Share This: