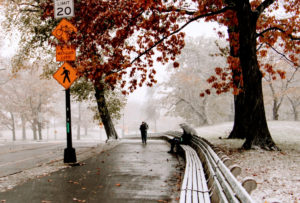 This month saw wide variance in forecasts released for December-February 2018-19, which seems to complicate things for repairers and insurers seeking to predict their demand during auto body prime time.
Here's three winter forecasts from leading sources:
AER
Verisk subsidiary Atmospheric and Environmental Research had in October predicted a warmer than usual December, January and February, except for the Southwest, Northern California and southern Oregon and the central Rocky Mountains.
But AER researcher Judah Cohen had to throw all of that out the window based on his interpretation of new data and modeling.
Cohen now predicts a slightly warmer than usual West Coast but colder temperatures for much of the Midwest and Southeast. The coldest temperatures from the norm are expected in Nebraska, Kansas, South Carolina, Kentucky and, Tennessee.
The full prediction was posted on an rolling AER blog this week, but it's incredibly dense. Fortunately, AER was nice enough to give us this little graphic: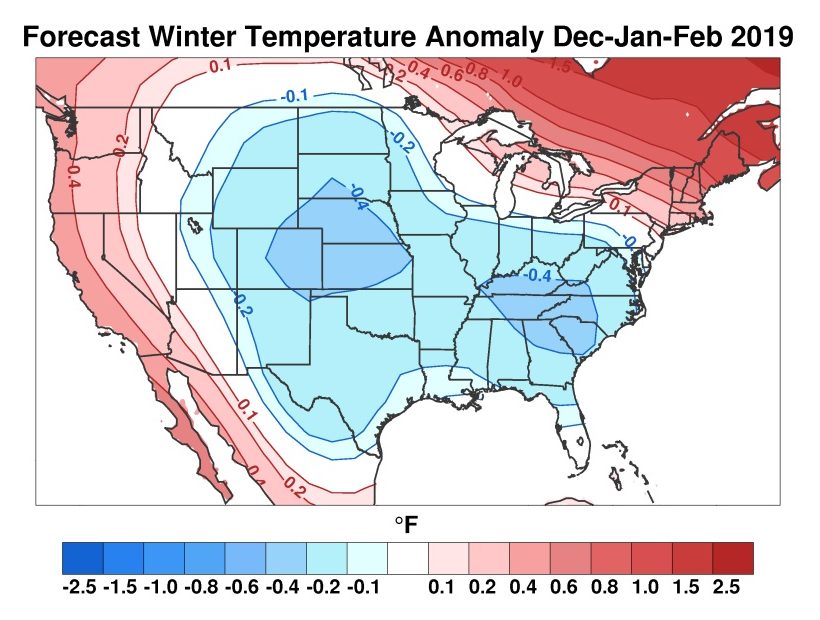 National Weather Service
The National Weather Service, however, predicted Nov. 15 that December through March will be above-average.
"THE DJF 2018-2019 TEMPERATURE OUTLOOK CONTINUES TO FAVOR ABOVE-NORMAL SEASONAL MEAN TEMPERATURES FOR A GOOD PORTION OF THE FORECAST DOMAIN TO INCLUDE ALL OF ALASKA AND MUCH OF THE WESTERN AND NORTHERN CONTIGUOUS U.S.," the agency wrote. "THE GREATEST PROBABILITIES FOR ABOVE-NORMAL TEMPERATURES ARE INDICATED FOR THE PACIFIC  NORTHWEST AND THE ALASKA PANHANDLE. FOR SEASONAL TOTAL PRECIPITATION AMOUNTS DURING DJF 2018-2019, THERE ARE MODESTLY ELEVATED CHANCES OF ABOVE-NORMAL PRECIPITATION FOR MOST OF THE SOUTHERN TIER OF THE CONTIGUOUS U.S., THE CENTRAL EASTERN SEABOARD, AND SOUTHERN ALASKA. BELOW-NORMAL PRECIPITATION IS MODESTLY  FAVORED OVER THE GREAT LAKES AND PARTS OF THE MIDWEST."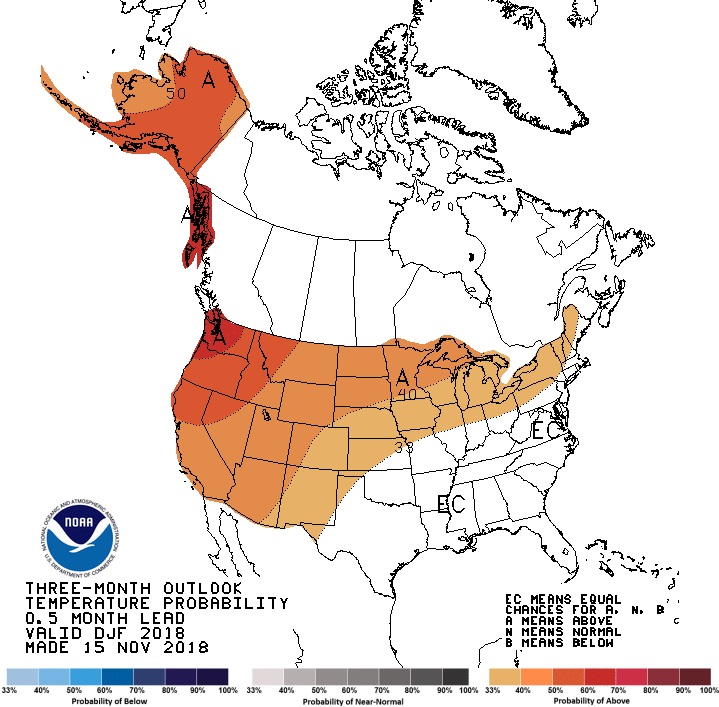 Weather Channel
The Weather Channel/Weather Company kind of splits the difference in its Nov. 16, 2018, December-February forecast.
"The overall trend calls for a colder-than-average winter in the eastern half of the country while the West remains warm, according to The Weather Company's latest winter outlook," the company wrote.
It thought the "harsher half" of winter would be in February.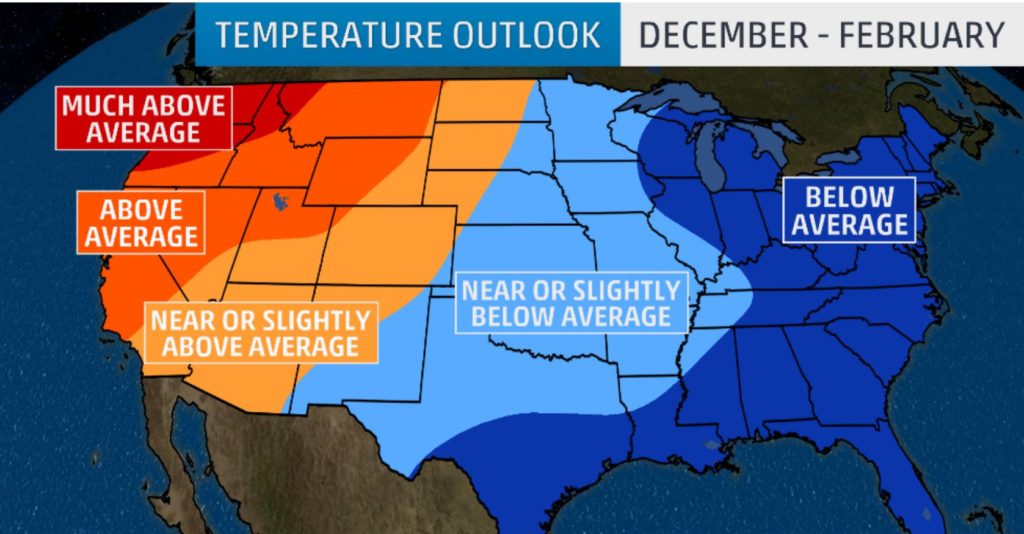 So the weather's up in the air, no pun intended. But take a look at the three graphics see if the predictions are perhaps in sync for your area.
More information:
"Arctic Oscillation and Polar Vortex Analysis and Forecasts"
Atmospheric and Environmental Research, Nov. 26, 2018
National Weather Service seasonal forecasts
National Weather Service, Nov. 15, 2018
National Weather Service December-February forecast
National Weather Service, Nov. 15, 2018
"Winter Temperature Outlook: Why This November Cold Snap Increases Odds of a Cold Winter in the East"
Weather Channel, Nov. 16, 2018
Images:
Snow is seen in Central Park in New York City on Nov. 15, 2018. (SCOOTERCASTER/iStock)
Atmospheric and Environmental Research scientist Judah Cohen now predicts a colder than usual winter 2018-19 for much of the Midwest and Southeast. (Provided by AER)
The National Weather Service wrote Nov. 15, 2018, that it thinks December through March will be warmer than average for a lot of the U.S. (Provided by National Weather Service)
The Weather Channel's November 2018 December-February 2018-19 forecast predicts a colder East but a warmer West than average. (Provided by the Weather Channel)
Share This: