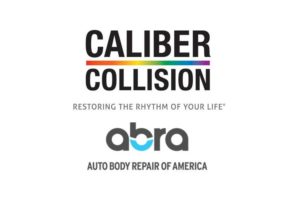 What appears to be an internal memo leaked Tuesday reports Caliber Collision and ABRA will combine to create what would be a more than 1,000-location collision chain.
Neither Caliber nor ABRA responded to inquiries about the rumored merger early Tuesday evening.
The memo comes from a source at another prominent entity in the collision repair ecosystem and is technically unconfirmed by ABRA and Caliber. However, employees from ABRA on Tuesday have posted on social media that they've been informed of the deal. Official word is likely to come Wednesday morning.
The memo states that "both companies will continue on their growth trajectories," though it also states the final product will be branded as Caliber and led by current Caliber CEO Steve Grimshaw. (Emphasis memo's.)
It also states that "all Caliber and Abra collision centers will remain open." (Emphasis memo's.) This is interesting in light of the ABRA and Caliber overlap in some markets.
"After the deal closes, pay and benefits will remain the same than those Caliber and Abra currently offer, and your tenure will be preserved. In fact, this combination will create new career growth opportunities as the combined organization will have more resources to enhance training and teammate development efforts. The combined company will be THE employer of choice, provided expanded opportunities for teammates of both organizations."
A 1,000-shop MSO — more than double the size of what appears to be the nearest competitor, Gerber — would be a fierce competitor for the entire industry. It could leverage its size to secure even better discounts from vendors, capitalize on economies of scale — and even command more favorable direct repair program terms from insurers. At the same time, the vast majority of the industry's revenue still is housed in the thousands of other MSO and single-shop locations.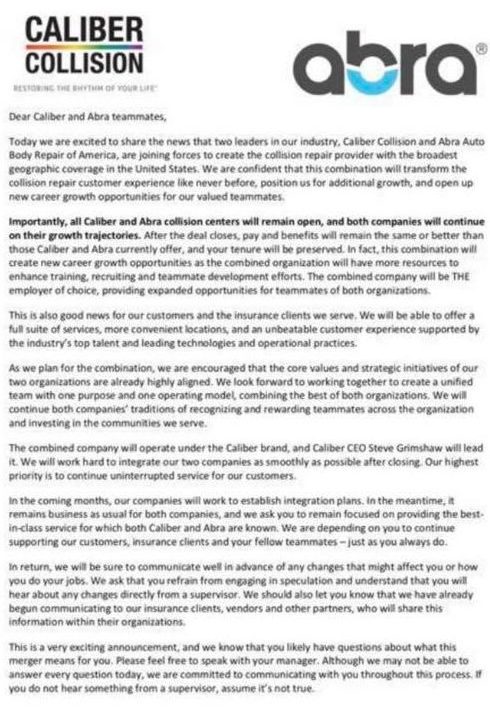 The memo called the combination "good news for our customers and the insurance clients we serve. We will be able to offer a full suite of services, more convenient locations, and an unbeatable customer experience supported by the industry's top talent and leading technologies and operational practices."
The deal comes after a busy year for both companies. Both have added dozens of locations, with the bulk of ABRA's new 2018 shops coming from the recent closing on the acquisition of 39-shop Cooks Collision in California. That acquisition would have been the deal of the year, had it not been dwarfed by this week's news.
ABRA reported it reached the 400-shop mark on Monday, with operations spanning 28 states. Caliber hit the 600-shop mark in August and has since exceeded that, with operations in at least 19 states.
Caliber is owned by OMERS Private Equity and Leonard Green Partners, while ABRA is part of Hellman & Friedman's portfolio. Its ownership following the merger is unknown.
Combining ABRA and Caliber would be subject to federal regulatory approval. Despite the market still including plenty of large national competitors and thousands of smaller collision businesses, the Federal Trade Commission might frown on the merger if it gives the combined company too large a market share in certain areas.
"A geographic market in an antitrust investigation is that area where customers would likely turn to buy the goods or services in the product market," the FTC's website states. "Competition may be limited to a small area because of the time or expense involved in buying a lower-cost product elsewhere. For instance, in a merger between two companies providing outpatient dialysis services, the FTC found that most patients were willing to travel no more than 30 miles or 30 minutes to receive kidney dialysis treatment. The FTC identified 35 local geographic markets in which to examine the effects of that merger. The FTC often examines local geographic markets when reviewing mergers in retail markets, such as supermarkets, pharmacies, or funeral homes, or in service markets, such as health care."
Images:
Caliber Collision and ABRA appear to be combining to create what would be the nation's largest national collision repair chain by far, with more than 1,000 locations across the country. (Provided by Caliber, ABRA)
What appears to be an internal memo leaked Tuesday reports Caliber Collision and ABRA will combine to create what would be a more than 1,000-location collision chain. (Provided to Repairer Driven News)
Share This: