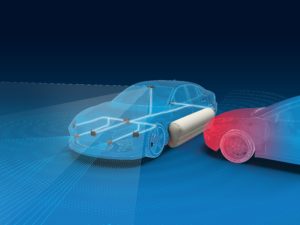 ZF late last month reported it was "well advanced" on the path of creating a "far-side" airbag able to protect occupants sitting on the opposite side of the crash impact.
"The new test requirements of Euro NCAP, scheduled to be introduced by 2020, extend occupant safety requirements for the side facing away from the occupants in case of a side impact," ZF Passive Safety Systems Division head of development Norbert Kagerer said in a statement Nov. 26. "In the future, the far-side airbag may be necessary in order to receive a 5-star crash safety rating."
ZF said the airbag "unfolds in the vehicle's center" between the driver and passenger. In a 2015 news release, ZF described a version "integrated into the inner side of the seat back." In 2017, the manufacturer said it had developed a concept version that would work without a center console to keep people in position.
This would be an interesting new item if either NHTSA or the IIHS tried to adopt a similar requirement in the U.S. ZF said in 2015 that nearly 30 percent of U.S. side-impact deaths are tied to something striking the vehicle on the far side.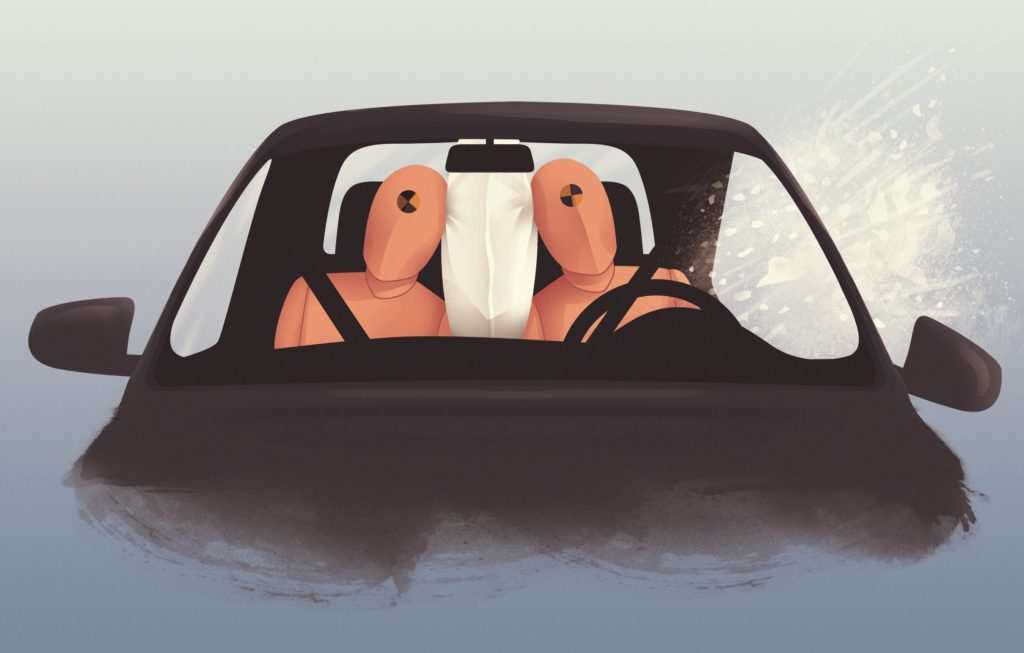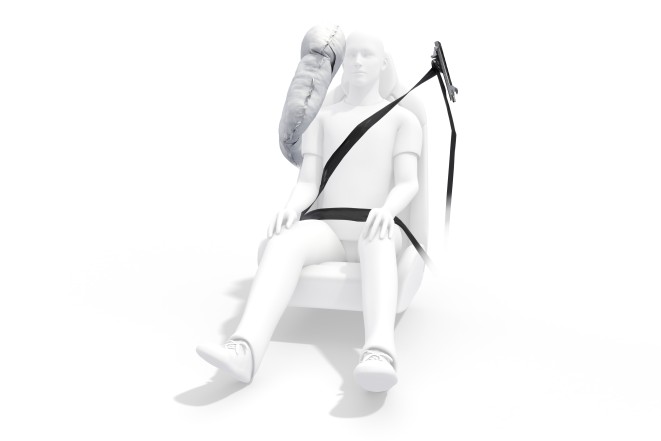 An even more dramatic new airbag for shops to encounter would be the "external pre-crash system" ZF planned to discuss at the "Airbag 2018" symposium late last month.
The airbag blows out from the side of the vehicle to "serve as an additional crumple zone," ZF wrote in a news release. According to the manufacturer, it might be able to cut injury severity "up to 40 percent."
An Insurance Information Institute table citing Department of Transportation and National Highway Traffic Safety Administration data reports 20.8 percent of all 2015 crashes were at an angle, and 12.3 percent were sideswipes. (The only other categories were head-on, rear-ending or "other/unknown," which means this 33.1 percent ought to cover basically any side impact that might matter to the airbag.)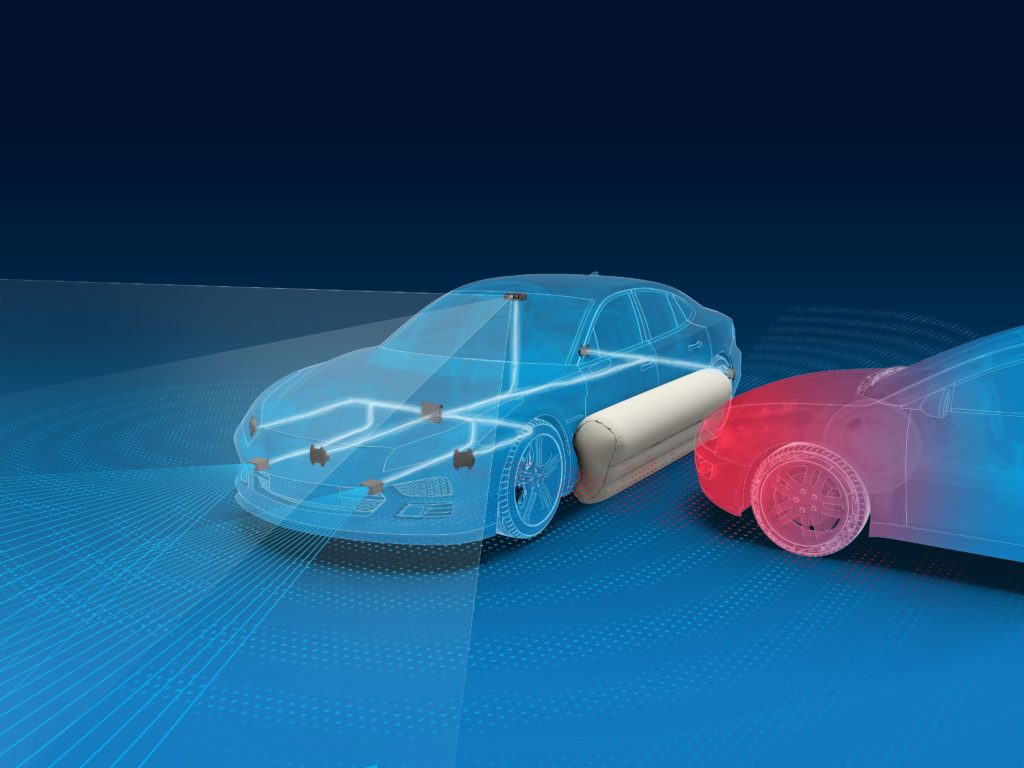 ZF also raised an interesting question Nov. 26 about how to handle airbags in situations where an autonomous vehicle lets the driver or occupants take new seating positions — such as a driver laying down and sleeping or occupants able to swivel seats around.
"In addition to the ever-stronger connection of active and passive safety technologies, occupant safety must also be adapted to new seating positions," ZF wrote. "A vehicle travelling in highly automated mode would ideally allow the driver to relax or work. In the future, it will be possible to recline the seat or turn it to face other directions. Restraint systems like seatbelts and airbags must be designed to help protect the occupants in these flexible seating positions and will increasingly be integrated into the seat itself. Adaptive 'dual contour' airbags have been developed for this purpose. These airbags are designed to adapt to the occupant position and the new degree of freedom in the passenger compartment that automated driving has created."
This is probably a longer-term variable for collision repairers, but it's a good point that potentially carries ramifications for body design. OEMs design the structures repairers work on about to pass crash tests involving one or two dummies sitting upright and looking straight ahead. If that's not how people are required to sit in autonomous vehicles, then bodies-in-white-could change. (In a similar vein, Mississippi State University Center for Advanced Vehicular Systems associate director Matthew Doude has pointed out that autonomous vehicles' nature could shift the broader mix of vehicle crashes.)
"Occupant safety is paramount when developing new vehicles for automated and autonomous driving," passive safety division head Michael Büchsner said in a statement. "Our concept of the pre-crash external side airbag is a great example of how ZF wants to achieve its Vision Zero, a world without accidents and emissions."
The news release did touch on one trend which might affect collision repairers now. ZF will start volume production in 2019 of what it boasted was "the lightest knee airbag" on the market — one housed in fabric instead of metal and weighing 30 percent less. In March, it noted that the new airbag could let OEMs optimize parts like the instrument panel.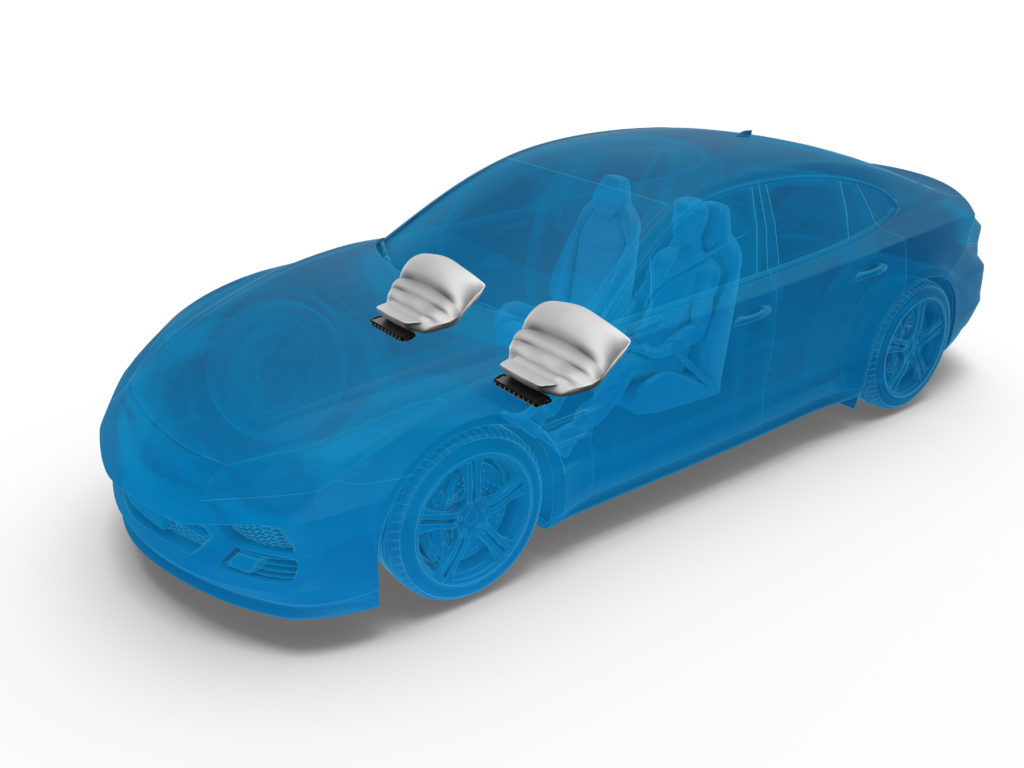 "Due to its lower weight, the vehicle consumes less fuel and gives off fewer emissions," Kagerer said in a statement. "In addition, the smaller and more flexible size helps meet new interior requirements of future electric and autonomous vehicles."
ZF didn't discuss the price of the knee airbag in relation to the more traditional design.
More information:
"Integrated Safety: ZF Presents Strategies for Pre-Crash Airbag Activation"
ZF, Nov. 26, 2018
Insurance Information Institute collection of crash data
"ZF TRW's New Center Airbag Targets Future Side Impact Requirements"
ZF via PR Newswire, Nov. 19, 2015
"ZF Develops Seat-Integrated Advanced Center Airbag Concept"
ZF, June 6, 2017
"ZF Develops Auto Industry's Lightest Knee Airbag Module"
ZF, March 15, 2018
Images:
A ZF concept involves an airbag blowing out from the side of a vehicle to "serve as an additional crumple zone." According to the manufacturer, it might be able to cut injury severity "up to 40 percent." (Provided by ZF)
A ZF far-side airbag design is shown in 2015. (ZF via PRNewsFoto)
A ZF far-side airbag concept described in 2017 doesn't need a center console to keep occupants in position. (Provided by ZF)
ZF will start volume production in 2019 of what it boasted was "the lightest knee airbag" on the market. It's encased in fabric, not metal. (Provided by ZF)
Share This: