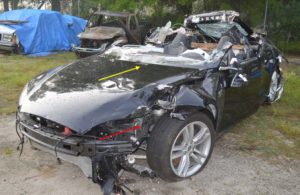 Autonomous vehicles might largely eliminate low-speed crashes but produce more severe high-speed crashes, a tradeoff that could lead to dramatic changes in vehicle design — and therefore collision repair — an Mississippi State University expert proposed Thursday.
MSU Center for Advanced Vehicular Systems associate director Matthew Doude said that autonomous vehicles "do, and will still crash," even though they'll eliminate some accidents.
Doude suggested that autonomous vehicles would eventually eliminate lower-speed crashes, which means a vehicle could receive greater lightweighting. For example, there might be less need for airbags and crumple zones, he proposed.
Doude will discuss this concept on Friday, Nov. 2, during SCRS' inaugural SEMA IDEAS Collide showcase, a collection of 10-minute, make-you-think presentations similar to TED Talks.
"As automated and driver assist technologies have permeated the global automotive fleet, a variety of technologies have been introduced to consumers," a description of his 10-minute talk states. "These vary from passive (lane departure warning, forward collision alert) to active (lane keep assist, automated emergency braking).  Based on statistical models of automotive collisions, some studies have suggested that driver assist technologies are more effective at preventing low-speed collisions.  By inference, as driver assist-equipped vehicles gain greater market share, high-speed collisions are likely to account for a greater portion of automotive collisions.  This can also be seen anecdotally through an empirical investigation of accidents to date involving semi-autonomous vehicles.  This talk presents a look at how the types of car crashes may evolve due to driver-assist and autonomous technology, and the types of materials and design strategies that may be developed in response."
CCC's 2018 "Crash Course" reported that vehicles armed with autonomy's ancestor — advanced driver assistance systems like autobraking — found them to reduce not only frequency but also severity when a vehicle suffers a front-end collision. In 2017, Honda also reported that a study of Allstate customers found owners of 2016 Honda Civics with the Honda Sensing ADAS suite were in fewer collisions and had cheaper repair bills than Civics without the technology.
The thinking goes that the technology is able to stop the car or significantly slow it before it can run into somebody else. Insurance Institute for Highway Safety 2018 data also estimates decreases in a variety of crashes because of ADAS.
CCC still found repair bills for ADAS-equipped cars involved in a rear impact — such as getting rear-ended or just backing into something — to be higher than their counterparts without ADAS, and the frequency of rear-end collisions to those vehicles didn't fall. A vehicle's autobraking, after all, is no hedge against a less advanced vehicle rear-ending it.
In 2022, virtually all new vehicles will be sold with autobraking. Further out in the future, these and truly self-driving cars will replace more of the fleet, and you'll theoretically see lower-speed crashes plummet even further — there's fewer bad drivers in clueless cars getting into wrecks.
But while many crashes could be prevented by fully autonomous vehicles, the impacts which do occur are more likely to be severe.
Doude pointed to the 2016 Tesla Autopilot fatality in Florida, the first known death caused while a vehicle was controlling itself. The vehicle failed to perceive the threat and continued to drive at 74 mph ("through the collision, Doude said) until it crashed into a truck making a left-hand turn, according to the National Transportation Safety Board. The autobraking and collision warning didn't activate, the car didn't brake during the crash, and the driver didn't pay enough attention to take action in time, according to the NTSB.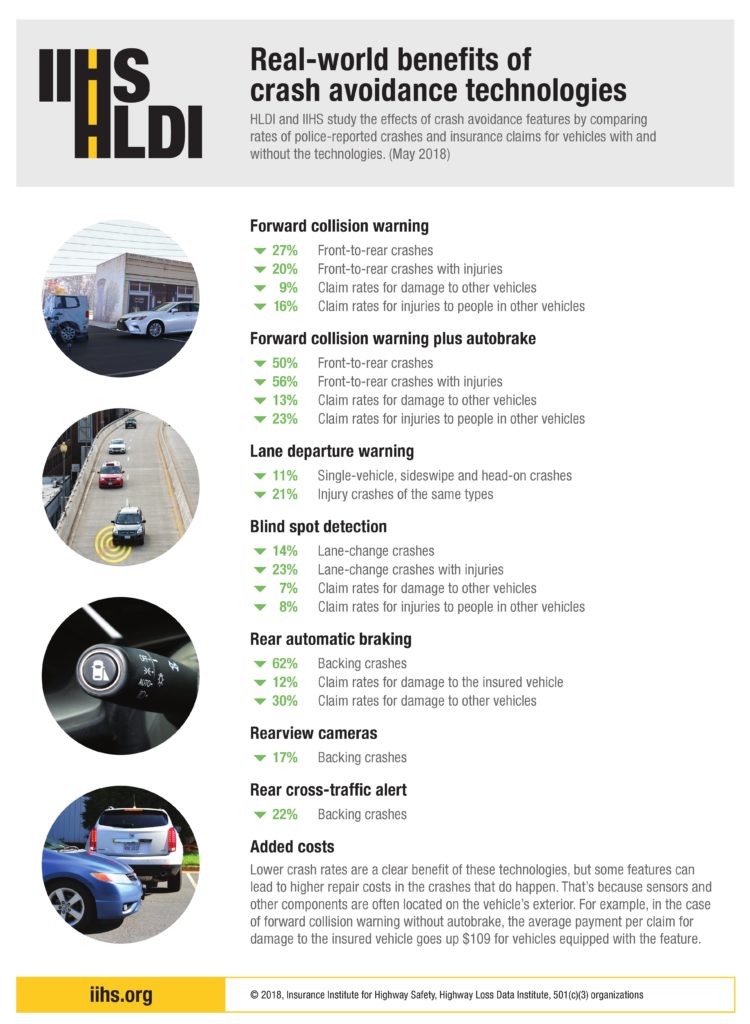 According to Doude, this incident is a likely scenario under a vehicle where humans aren't required to monitor the road at all (Tesla's Level 2 Autopilot still demands they do), which is the goal of self-driving cars and is possible some or all of the time at SAE autonomy Levels 3-5.
The autonomous cars will misread the road as all-clear and fail to reduce velocity at all for an obstacle, leading to "catastrophic, high-speed impacts" when autonomous cars do crash, Doude said.
Those vehicles could be redesigned to ignore protection for low-speed crashes in favor of higher-speed impact safety. You take a note from racecars and design the vehicle with something like carbon fiber, which is unrepairable, "completely done" following a crash, but can absorb a ton of energy, according to Doude.
At the same time, you might not need some of the airbags, according to Doude. Sounds absurd? If the driver doesn't need to monitor the road or require a steering wheel, the front seats can face backward, and there's there's no threat of hitting the dash, according to Doude. After all, look at infant child seats — "they're always rear-facing," Doude said.
This sort of thing is "way, way out in the future," Doude said. The near-term will see a mix of vehicles with ADAS, vehicles without any ADAS, and outright autonomous vehicles sharing the road, which means OEMs would still need to design vehicles for both low- and high-speed crash protection, he said.
Doude's intriguing idea makes one wonder if nearer-term design changes related to ADAS could be possible as well, kind of like the push to for the feds to let automakers replace side-view mirrors entirely with cameras. For example, 99 percent of OEMs have committed to standard autobraking in 2022, which means new cars after a certain point will quit rear-ending each other at low speed — but still be rear-ended by older vehicles. Could the U.S. revamp or drop the 2.5 mph FMVSS front bumper standard and beef up the rear bumper requirements, for example?
Nobody actually has an autonomous vehicle on the road that's moved beyond the testing phase, so the data supporting this hypothesis is by necessity derived from crashes involving vehicles with ADAS. "That's the only data" available, Doude said.
But OEMs are looking at the future of crashes, according to Doude.
IDEAS Collide
IDEAS Collide is scheduled for 10 a.m. Friday, Nov. 2, in Las Vegas during SEMA. Attend it and other SEMA educational sessions by registering for courses within the Repairer Driven Education series and OEM Collision Repair Technology Summit.
The IDEAS Collide Showcase, Repairer Driven Education classes and individual OEM Collision Repair Summit sessions are $85. The best deal is the full-series pass for $400. It grants the repairer access to every RDE class, all three sessions of the Thursday, Nov. 1, OEM Collision Repair Technology Summit, the Sky Villa afterparty in Elvis' old Westgate penthouse that night, and IDEAS Collide.
Doude's is just one of many tech-focused speakers appearing during IDEAS Collide. Here's SCRS' descriptions of a couple of the other cutting-edge concepts being described just to get your juices flowing (minor formatting edits):
10:14-10:24 a.m.: "Strategic Implications to Lightweighting and Electrification"
Speaker: M. Scott Ulnick, managing principal, Ducker Worldwide
Description: Scott Ulnick, Managing Principal from Ducker Worldwide, will present strategic insights and implications to the collision repair industry from the dynamic and rapid shift of materials type and content in North American automobiles. Aluminum, advanced grades of steel, magnesium and composites all show tremendous growth as well as safety technology content including ADAS and autonomous driving. Uncertainty in government regulations have not hindered the efforts of the OEMs and their parts suppliers to bring forth higher strength, highly formable and lighter weight materials and technology. The recent push for electrification requires context and its own set of material complexity to balance weight, range and cost. Join Scott as he shares where the industry is today, its evolution and what this means to you.
10:38-10:48 a.m.: "Imagine, a 'Big Data' Information Database for the Collision Repair Ecosystem"
Speaker: Pete Tagliapietra, president, NuGen IT
Description: If collision repair data is the new-found gold in our industry, why are collision repairers giving it away to for profit companies that monetize it for substantive financial gain?  Furthermore, shouldn't collision repairers receive at least some benefit back to them for the data they generate? Is the idea of a global, not for profit, collision repair information system to all industry stakeholders, who participate, so farfetched that it is beyond the realm of possibility?
The debate about the value of the data is over. All collision repair industry stakeholders need to realize "It's All About the Data". We cannot successfully operate our businesses now and even more so in the future without it. The Collision Repair Ecosystem should have taken control of its data more than a decade ago and should not wait longer to begin the process of doing so.
The writer says yes to the possibility of creating a not for profit entity that becomes a global collision repair information source to the industry. Thousands of collision repairers and their trading partners would submit repair information to a secure North American database. The capacity would exist to aggregate millions of records annually. Participants will be able to query the data as users and the possibilities to access and fund the idea is very apparent through the value of the data to legitimate for profit entities is obvious. (Vehicle manufactures, alternative parts manufacturers and suppliers, government agencies, etc.)
Examples of information access would include but not limited to:
Local and regional repair costs, part type utilization, labor cost variations, business placement, specialized service offerings, etc. for collision repairers;
Superior underwriting information, previous claims history access, global reparability data in  than ever before.
Manufactures would a new gold mine of data on individual model reparability, severity, recall access, etc.
The value of the data to all industry stakeholders almost becomes limitless.
11:02-11:12 a.m.: "The Future of Vehicle Inspection Using Deep Learning"
Speaker: Amir Hever, CEO, UVeye
Description: In this presentation, we will describe how advances made in anomaly detection is changing the way people can approach vehicle inspection. Explore deep learning models for representations of vehicles, similarity metrics, segmentation, anomaly detection, and how all these models are combined into a singular system that analyzes a vehicle in just a few seconds. The end result is technology that allows for automatic detection of a wide variety of mechanical and structural issues including the outer frame of any vehicle, and a demonstration of how models trained for security purpose have great value in the automotive industry.
Correction: An earlier version of this report incorrectly described the federal bumper standard. Bumpers must withstand a 2.5 mph impact on longitudinal front and rear crashes. The article has since been corrected to reflect this.
More information:
National Transportation Safety Board report on May 2016 Florida Tesla Autopilot crash
NTSB, Nov. 6, 2017
Share This: