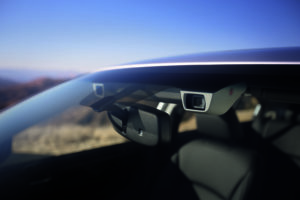 Subaru on Tuesday announced it had sold 1 million vehicles with some form of its advanced driver assistance system suite EyeSight over the past six years.
The technology debuted in 2012 as an option on the 2013 Subaru Legacy and Outback.
"Subaru has achieved 10 consecutive years of sales growth in the United States with safety as a key driver of that success," Subaru of America CEO Thomas Doll said in a statement. "Accomplishing this milestone in only six years reflects our commitment to improving and innovating the safety features and technology in our vehicles for our customers."
According to CCC, the average repairable vehicle in 2017 was 5.9 years old. This would seem to indicate shops will be noticing EyeSight more frequently in the coming years.
EyeSight was available on all 2018 Subarus except for the BRZ. In the 2019 model year, it comes standard on the Forester, Legacy, Outback and the brand new vehicle Ascent. Using 2017 sales figures, standard EyeSight on the Forester, Legacy and Outback alone means that at least 64 percent of all the new Subarus would come standard with the tech.
The first-generation EyeSight had autobraking, which included the ability to reach a complete stop at up to 19 mph and at least slow the car to mitigate damage avoe that. It also had adaptive cruise control from 1-87 mph, pedestrian detection up to 19 mph, and lane departure warnings.
"On sale for almost two years in the U.S. the system has been widely praised by safety experts and customers," Subaru wrote in 2014. "Research shows that nine out of ten Subaru customers who purchased the EyeSight system would recommend it and more than half say that the system has helped avoid an accident."
The current-generation EyeSight has two color cameras looking out the windshield. It includes adaptive cruise control up to 90 mph, autobraking (with full stops up to 30 mph; it's not clear if the pedestrian range increased or not) and lane keeping.
The spread of EyeSight matters to collision repairers for two reasons.
First, more Subarus with EyeSight probably means fewer crashes in your shop, as the Subaru quote above suggests. As National AutoBody Research President Sam Valenzuela has pointed out, if you're hoping for volume to offset a low labor rate (or low average RO, for that matter), you might be out of luck as ADAS becomes more prevalent on vehicles. If you're in a Subaru-heavy area, the decline might already be taking place.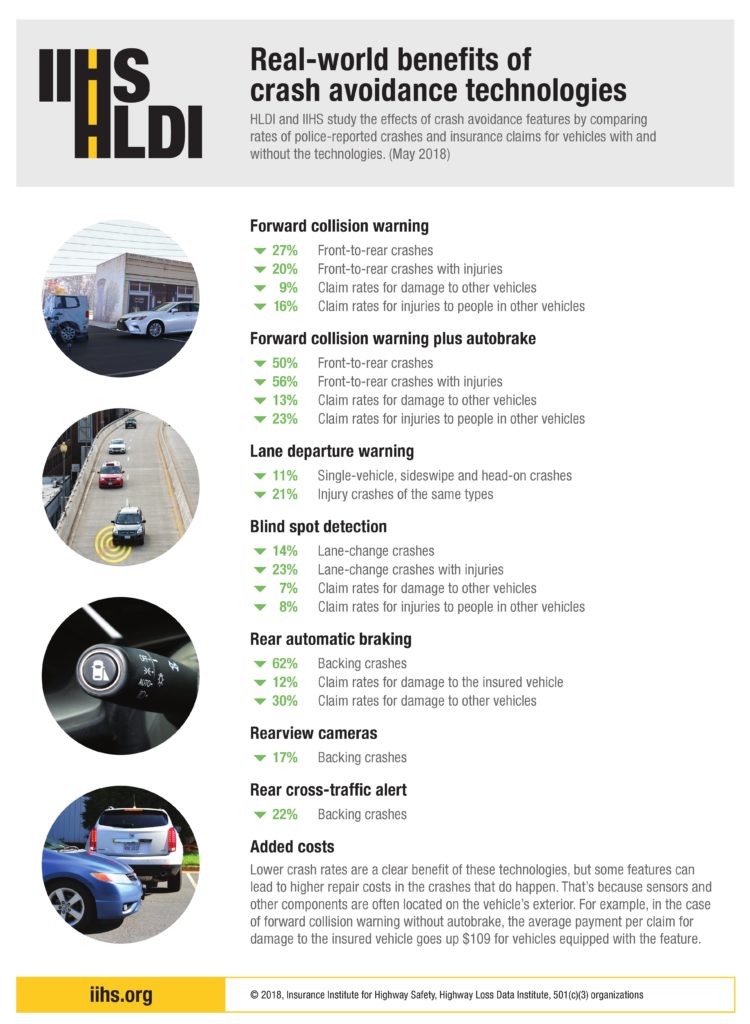 The IIHS' Highway Loss Data Institute in April 2015 also reported the first-generation EyeSight system on 2013 and 2014 Subaru Foresters, Legacies and Outbacks cut property damage liability frequency by 15.1 percent and bodily injury liability crashes by 34.7 percent. Property damage liability severity did rise by a statistically insignificant amount — but the net result to insurers was a significant $10 decrease in property damage liability losses. Essentially, the decrease in crash volume was enough to offset any increased severity on the crashes that did happen.

Insurance Institute for Highway Safety data cited by Subaru on Tuesday indicates that the ADAS suite available on the 2013-15 model years cut rear-ending with injuries by as much as 85 percent through November 2016. We couldn't find the data online, but the statistic could suggest that not only were collision frequencies declining, but severities might have been as well — after all, fewer people got hurt.
For example, Honda research using Allstate claims has found that Honda Sensing might have lowered severity by keeping the crash from being more intense.
EyeSight also cut Subaru-versus-pedestrian claims by 35 percent (33 percent on the first-generation system, 41 percent with the second-gen system debuting as early as the 2015 model year) the IIHS' Highway Loss Data Institute reported in May. 
Liberty Mutual also seems to think the technology will cut claims; the insurer might offer up to $200 off of premiums if a policyholder's Subaru has EyeSight, according to Subaru.
EyeSight also matters because it could introduce new repair considerations. For example, both I-CAR and glassBYTES reported in 2016 that Subaru doesn't want aftermarket windshields on all its vehicles with EyeSight. I-CAR also quoted a Subaru reference to a need for EyeSight calibration under certain conditions.
"As a special caution, vehicles equipped with EyeSight that have had the windshield removed and installed will need to have the 'Inspection' and 'Adjustment and Check' of the stereo camera," I-CAR wrote. "If the glass is damaged in the EyeSight area, glass repair is prohibited. According to Subaru, a new Subaru genuine windshield must be installed because installing an aftermarket windshield may prevent the EyeSight from working properly. Additional cautions are located in the Windshield Glass procedure."
Subaru discussed its view in a May 2017 position statement:
If windshield replacement is necessary for a Subaru vehicle equipped with EyeSight, we strongly recommend that Subaru genuine windshield glass specially designed for EyeSight always be used. Only Subaru genuine windshield glass has been tested and certified by Subaru to effectively work with the EyeSight system. If windshield glass other than the glass specially designed for EyeSight is used, visibility of the camera may be compromised or any distortion in the glass may prevent the correct measurement of an object, either of which would result in improper or incorrect EyeSight operation.
Additionally, if windshield glass replacement is performed on a Subaru vehicle equipped with EyeSight, calibration is required after the windshield is replaced. Always perform the "Inspection" and "Adjustment and check" of the stereo camera after windshield glass replacement. Refer to the applicable Service Manual for this procedure. If Subaru genuine windshield glass is not used, it may affect the ability of the EyeSight system to be properly calibrated.
It's likely more scenarios requiring calibration exist as well; check the Subaru repair procedures.
The OEM also stresses EyeSight calibrating in its customer-facing Subaru certified collision center webpage.
"Subaru Certified Collision Centers provide the proper training and equipment necessary to restore your vehicle to its original factory specifications, and this includes the ability to accurately recalibrate the components of Subaru EyeSight® Driver Assist Technology," Subaru wrote. "They also use the proven fit and quality of Genuine Subaru Collision Parts for replacement to help ensure that your Subaru is returned in like-new condition along with the protective capabilities that kept you safe in the first place."
More information:
"SUBARU SELLS ONE-MILLIONTH VEHICLE WITH EYESIGHT® DRIVER ASSIST TECHNOLOGY"
Subaru, Oct. 16, 2018
"USE OF AFTERMARKET WINDSHIELD GLASS FOR SUBARU VEHICLES EQUIPPED WITH EYESIGHT"
Subaru, May 23, 2017
Images:
Subaru's second-generation EyeSight is shown in this picture provided in 2014. (Provided by Subaru)
The IIHS' Highway Loss Data Institute in April 2015 reported the first-generation EyeSight system on 2013 and 2014 Subaru Foresters, Legacies and Outbacks cut property damage liability frequency by 15.1 percent and bodily injury liability crashes by 34.7 percent. (Provided by IIHS Highway Loss Data Institute)
May 2018 Insurance Institute for Highway Safety data shows potential reductions in crash frequency from advanced driver assistance systems. (Provided by IIHS Highway Loss Data Institute)
Share This: