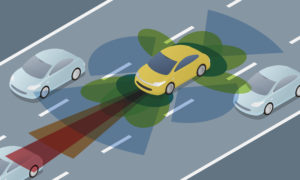 AAA on Thursday drew consumer attention to the "costs over and above the normal bodywork required following a collision" which can arise when a vehicle with advanced driver assistance systems needs work.
It's a good reminder to the organization's fellow insurers and to vehicle owners that certain repair costs might be out of a shop's hands.
Something that "doesn't look that bad" to a customer might cost $1,000 more because of new integrated safety technology. Meanwhile, an insurer must recognize that its direct repair program shop might find it impossible to keep severity down. Even if the shop sells it at cost, a part that now comes standard with a camera inside is by definition going to cost more than the previous year's component lacking that tech.
AAA examined "three top-selling models": a small SUV, a full-size pickup and a medium sedan. It didn't identify the vehicles but it did reference pulling repair time information from sources including Toyota, Ford and Nissan dealerships — make of that what you will.
It calculated ADAS mechanical labor costs — another vote from an insurer that such work belongs in that category — using both National AutoBody Research and AAA Approved Auto Repair facilities. All relevant parts were OEM and sold at list price. More labor time data was taken from Mitchell1, Safelite and CCC.
AAA didn't suggest that such technology was a bad thing, noting that other research found "ADAS offers many safety benefits." It instead warned Americans that the cost to repair the equipment might be higher than they'd think.
"For the vehicles in AAA's study, the repair bill for a minor front or rear collision on a car with ADAS can run as high as $5,300, almost two and half times the repair cost for a vehicle without these systems," AAA wrote. (This would put the price of fixing a minor front or rear collision at less than $2,120, an estimate some shops might see as low.)
AAA warned that "minor incidents" could produce up to $3,000 in extra repair costs. It described additional costs associated with a variety of technology, and a graphic suggested that the prices included the "required wheel alignment and/or calibration when needed" as well as parts. It wrote:
• Front radar sensors used with automatic emergency braking and adaptive cruise control systems: $900 to $1,300
• Rear radar sensors used with blind spot monitoring and rear cross traffic alert systems: $850 to $2,050
• Front camera sensors used with automatic emergency braking, adaptive cruise control, lane departure warning and lane keeping systems (does not include the cost of a replacement windshield): $850 to $1,900
• Front, side mirror or rear camera sensors used with around-view systems: $500 to $1,100
• Front or rear ultrasonic sensors used with parking assist systems: $500 to $1,300. (Minor formatting edits.)
AAA also wrote that replacing a windshield could cost about $1,500, "as much as three times the amount to replace the windshield on a car without the technology" when an automaker requires an OEM windshield "that meets strict standards for optical clarity." (Another nice nod towards following OEM repair procedures and using OEM parts.)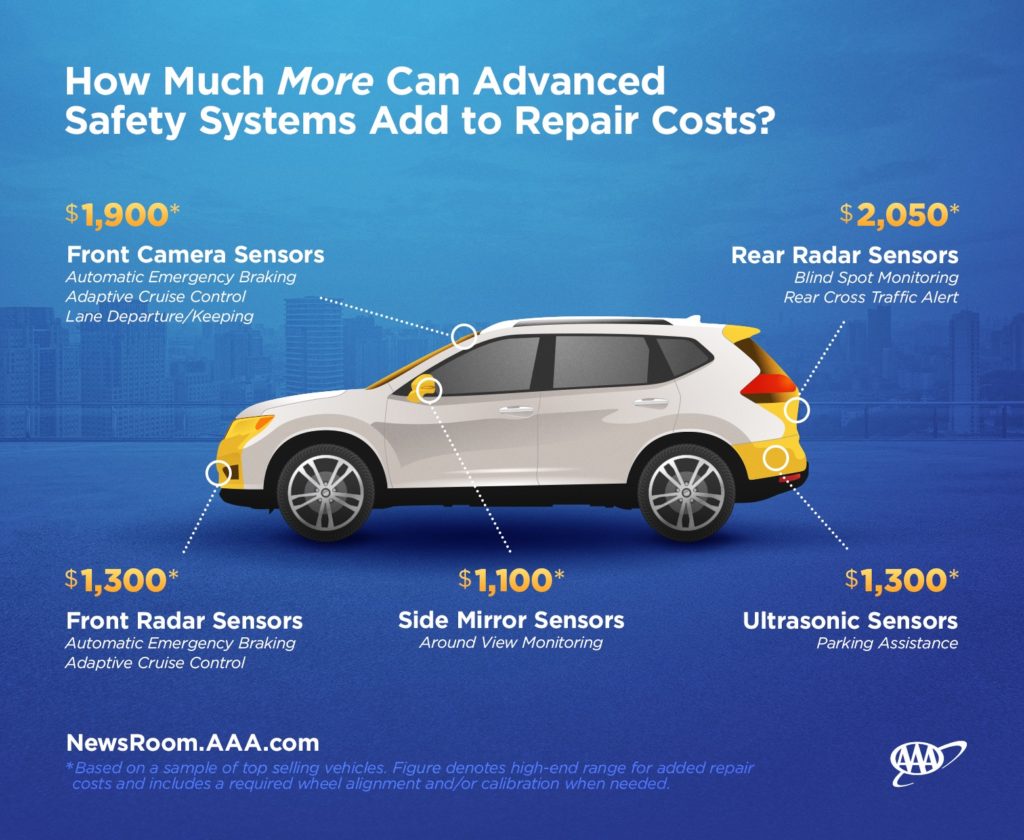 "With one-in-three Americans unable to afford an unexpected repair bill of just $500, AAA strongly urges consumers to perform an insurance policy review and consider the potential repair costs of these advanced systems," AAA wrote.
"Advanced safety systems are much more common today, with many coming as standard equipment, even on base models," AAA automotive engineering and repair managing director John Nielsen said in a statement. "It's critical that drivers understand what technology their vehicle has, how it performs and how much it could cost to repair should something happen."
The message is a little confusing, since 73 percent of Americans had collision coverage and 78 percent have comprehensive coverage as well as liability, according to an Insurance Information Institute report relying on NAIC data. It's kind of irrelevant to such a consumer how much additional costs are added to a repair in these situations (unless the insurer refuses to pay), for their bill would be limited to the same deductible as always.
If anything, the financial hit to the consumer would logically be from elevated premiums to compensate for these potential increased repair costs. However, data and insurer behavior suggests that carriers actually might want to incentivize the installation of such safety tech — the net cost to a carrier might be lower.
---
Learn more about ADAS calibration during Repairer Driven Education
Seeking more insight on scanning and calibration? Learn more during the SEMA Show in Las Vegas with "Understanding Shop Liability in this new Era of Diagnostics, Calibrations and Programming" with Michael Quinn and Chuck Olsen of AirPro, Aaron Clark of Assured Performance, Scott Kaboos of Honda, Nick Notte of I-CAR, Jack Rozint of Mitchell and Todd Tracy of the Tracy Law Firm, and "The importance of ADAS system resets when performing wheel alignments during the collision repair process" with John Shewbridge of Hunter. The sessions are part of the Society of Collision Repair Specialists Repairer Driven Education Series Oct. 29-Nov. 2. Register here for individual RDE classes or the series pass package deal.


---
On the other hand, there is the risk that the customer buys too low a policy limit, anticipating that repair costs are the same as they always have been.
This could be a particular risk for consumers buying the state minimum for property damage liability.
For example, let's say you hit a non-ADAS car and produce $9,999 in damage while carrying the state minimum of $10,000. (Consider the Montanez-Moy "OMG Camry" estimate and the average vehicle loan of $20,000-$31,000 — this repair bill on a non-ADAS vehicle might not be that farfetched.) You'd squeak under the limit.
But now cars are coming standard with ADAS, and what would have been a $9,999 repair bill is suddenly $12,999, to use AAA's number. You're now out-of-pocket $2,998. Do you have it?
The same sticker shock also could occur for consumers who purchased a plan with a deductible over the amount they can cover out-of-pocket.
"Windshields are not the only area vulnerable to damage that could result in a costly repair or replacement," AAA wrote. "Vehicles with ADAS may also have radar, camera and ultrasonic sensors located in or behind the front and rear bumpers or bodywork, as well as built into the side mirrors. While most drivers may never find themselves in a collision, these parts can easily be damaged when pulling out of a garage, hitting a mailbox or bumping into other objects."
In the past, a consumer might have been able to just ignore the damage to avoid filing a claim and tripping a deductible they couldn't afford. But now, there's a safety system offline or thrown off-kilter because of the impact, and it costs $3,000 to fix — plus the repair the consumer could have foregone in a "dumber" car. Having a deductible low enough to afford to file the claim and restore that important system might be critical.
"As technology continues to evolve, drivers need to be better educated and more aware of their vehicle's capabilities," AAA wrote. "This includes understanding how the vehicle systems work as well as how much repairs may cost if damaged. AAA recommends drivers review their insurance policy regularly to ensure they have the appropriate coverage to cover the cost of repairs for any damage and that deductibles are manageable to minimize out-of-pocket expenses."
AAA also offered some good caution for consumers about who's qualified to fix vehicles with ADAS, though we question its optimism about the capabilities of "most mechanics" to replace a sensor given the lack of collision repairers accessing OEM repair procedures or even getting the basics right.
"Once a driver finds that an ADAS has been damaged and requires repair, there are key factors to consider when selecting a repair facility," AAA wrote. "Simply replacing the sensors of driver assistance systems is relatively straightforward and can be performed by most mechanics. However, to restore the system to proper operation it must be calibrated, which requires special training, tools and information. Before having a vehicle repaired, AAA recommends that drivers verify whether the facility is able to properly repair and calibrate the damaged system(s), and request proof of the work once complete."
More information:
AAA ADAS repair costs fact sheet
AAA, Oct. 25, 2017
Images:
A variety of cameras and sensors might be viewing the road on a modern vehicle. (metamorworks/iStock)
AAA on Oct. 25, 2018, drew consumer attention to the "costs over and above the normal bodywork required following a collision" which can arise when a vehicle with advanced driver assistance systems needs work. (Provided by AAA)
Share This: