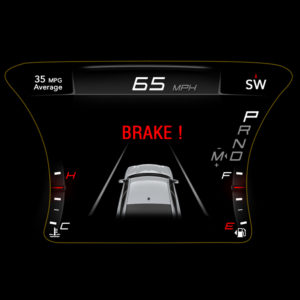 Insurers in the U.S. and abroad are planning up to double-digit percentage discounts tied to the existence of automatic braking on a vehicle, according to a news release and media reports.
Aviva Canada announced late last month it would cut premiums 15 percent for drivers with autobraking — the latest sign that the technology will indeed have a significant impact on collision frequency.
The insurer wrote Nov. 28 that it was Canada's first to offer such a discount for the advanced driver's assistance system, which will be standard for virtually all U.S. vehicles by the 2022 model year.
"Automatic emergency braking is quickly becoming a key feature in preventing collisions and reducing their severity. This means less repair costs and more importantly, fewer injuries," Aviva Canada broker distribution Executive Vice President Jason Storah said in a statement. "It's simple – our customers who choose vehicles with features that help prevent collisions, or reduce their impact, will pay less for their insurance coverage."
In the U.S., OEMs have told the NHTSA they'll make the technology standard on 99 percent of vehicles by 2022, though Toyota plans to offer the Safety Sense C package of autobraking, lane departure warning, and automatic high-beam headlights standard by the end of next year.
"We applaud Aviva Canada for being the first Canadian auto insurer to reward drivers for adopting advanced safety features like AEB," said Toyota Canada Vice President Stephen Beatty said in a statement. "We feel that everybody deserves to benefit from advanced safety technologies and have already started including them on most models."
Aviva clarified that it won't apply the discount on "the possibility of damages not reduced by an emergency braking system," describing scenarios like theft and vandalism.
Nikkei Asian Review reported last week that the General Insurance Rating Organization, which sets reference rates Japanese insurers use to derive individual premiums, planned to cut that rate in 2018 because safety technology had been reducing collisions.
The magazine reported that the rate for optional auto insurance — which includes collision policies — could fall "as much as 10% in 2018 — the first decline in 14 years — a drop that reflects the falling number of accidents amid improved vehicle safety."
After the insurers tweak that number to determine their own premiums, customers currently paying about $651 should see a decline of "slightly less than 10 percent," Nikkei Asian Review reported. Mandatory insurance is also expected to fall 6-7 percent in 2017, according to the magazine.
In the U.S., a couple of insurers are also bullish. As the Chicago Tribune reported in June:
Among big insurers, only Hartford Insurance Group and Liberty Mutual Insurance Cos. offer discounts for automatic braking, which uses cameras and radar to spot objects in the way and slow or stop vehicles if the driver doesn't react. Other companies say they're studying claims data before offering specific discounts. Many say the discounts are baked into overall rates on cars equipped with automatic braking that crash less often.
There's two lessons here for collision repairers:
1. Those dependent on volume will take a hit.
The Japanese example and the confidence shown by Aviva — an international insurance giant — demonstrates big "money-where-your-mouth-is" bets on the technology and suggest data to confirm what researchers have already found.
Overall, the IIHS estimates autobraking cuts about 39 percent of rear-ending crashes — and that's just with the tech we have today. That 39 percent works out to about 13 percent of all the crashes in America. In May 2015, the European and Australian versions of the NHTSA reported nearly identical results: Low-speed auto-braking cut rear-ending by 38 percent.
That's a big business change, and it's coming quick. Repairers and suppliers need to prepare accordingly, experts say. Here's KPMG's forecast for how advanced driver's assistance technology and the rise of self-driving cars decimate frequency by 2040.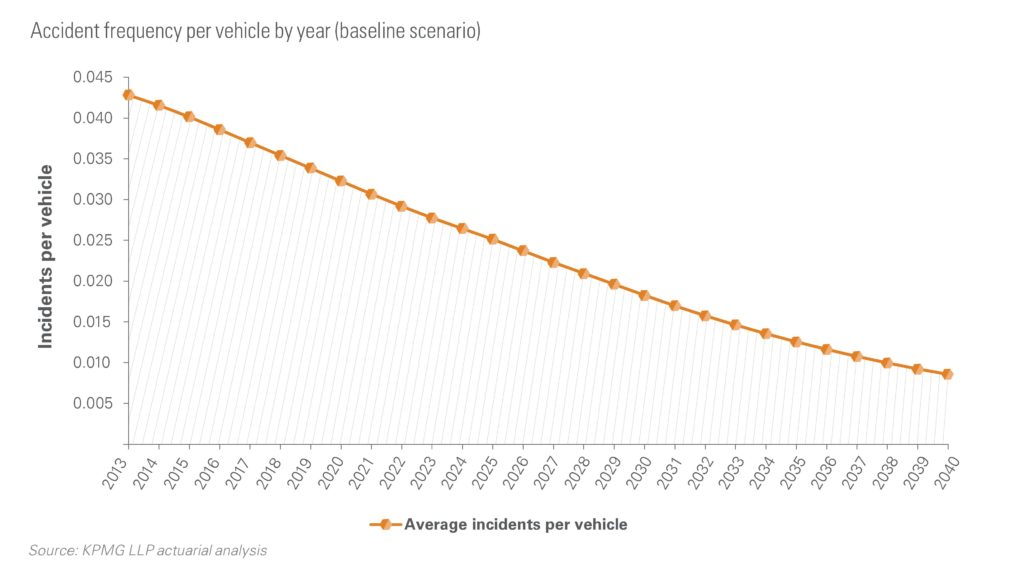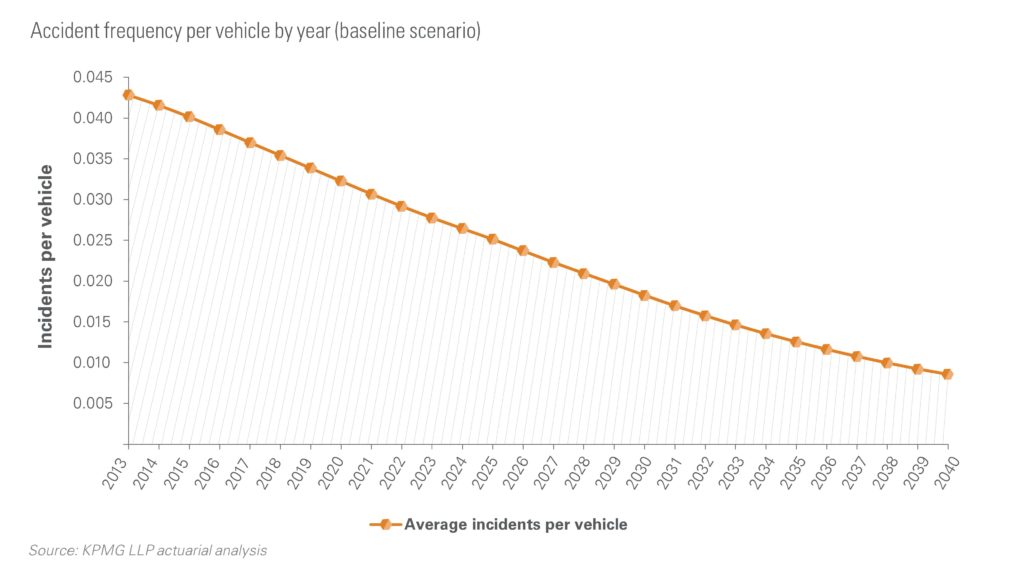 2. Insurers offering discounts had better pay collision repairers to restore this stuff properly.
If insurers give huge discounts for vehicles armed with such technology, that means they expect a reduction in their own risk of collision frequency and/or severity. Similar risk and safety considerations also follow the insurer-supported Insurance Institute for Highway Safety inclusion of certain technology and crashworthiness criteria to determine its Top Safety Pick and Top Safety Pick+ ratings.
For all the griping by the claims team how much scanning, calibration, and replace-not-repair parts cost on the collision end, the actuaries have concluded this stuff will save the carrier more money in the long run — so much so that it should be incentivized.
That means carriers have a financial interest, as well as a legal and moral one, in ensuring the technology works correctly. Otherwise, they're giving a customer a discount for a benefit neither the policyholder nor carrier receives — and risking even greater financial harm on the back end from another collision claim or what can be the real money-loser: medical bills.
The average collision claim in 2015 was $3,350 and the average property damage bill $3,493, the Insurance Information Institute reports. The average bodily injury claim was $17,024 — and unlike property damage which eventually hits a four- or five-figure "we'll-just-total-the-car" ceiling, bodily injury might not be capped until the insurer's paying six figures. Granted, the frequency is far lower — 0.91 bodily injury claims per 100 vehicle-years compared to 6.05 for collision and 3.73 for property damage — but the potential risk is far higher.
An insurer can tell from repair procedures whether a certain included or non-included estimate line item is necessary or literally just call the OEM (not some dealership; that's like asking a priest for a conclusive religious interpretation when you have a phone number for God). But they can't easily tell if a customer and a lawyer are describing legitimate ailments and "pain and suffering" or just faking it for a payout.
So adjusters and appraisers shouldn't undercut the work the actuaries and company-sponsored organizations like the IIHS have done. Incentivizing a repairer to ignore repair procedures might save a little money that day, but it means the insurer will receive less in premiums potentially for years by discounting for technology that no longer works. And should the vehicle get into a collision that the inoperable technology could have prevented or mitigated, there's the potential for thousands dollars more being spent by the company that signs your check.
Honda collision instructional designer Chris Tobie made a similar point on a recent Guild21 call (See slides.) in discussing insurance resistance to necessary scanning.
The Honda Accord sedan hasn't had any structural changes since 2013.  "It is the same car," Tobie said.
In 2014, the vehicle was an IIHS Top Safety Pick+, the highest rating. In 2015, the IIHS changed its criteria to reflect the value of automatic braking in preventing crashes.
Because the latest Accord didn't offer advanced or superior autobraking system as an option, it fell in the ratings — despite being structurally identical.
Honda added autobraking as a 2016 Accord option, and "we went right back up to Top Safety Pick+," Tobie said.
"The moral of this is if you require the technology for an IIHS safety rating, you have to support the service requirements," Tobie said.
More information:
"Prevention pays off: automatic emergency braking = 15% auto insurance discount"
Aviva via CNW, Nov. 28, 2016
"Car buyers paying extra for safety devices are unlikely to get insurance discounts. Yet."
Chicago Tribune, June 8, 2016
"Japan's car insurance premiums headed for drop in 2018"
Nikkei Asian Review, Dec. 13, 2016
"Marketplace of change: Automobile insurance in the era of autonomous vehicles"
KPMG, October 2015
Images:
A warning to brake is part of FCA's Forward Collision Warning-Plus system; the technology can ultimately automatically brake the car itself. (Provided by FCA)
This KPMG prediction indicates collision frequency will fall dramatically by 2040. (Provided by KPMG)
Share This: