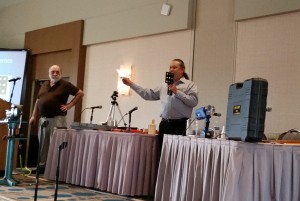 If you're planning on being in the Palm Springs, Calif., area for the January Collision Industry Conference or simply because of snowbirding, don't miss the Jan. 11 SCRS open board meeting.
Society of Collision Repair Specialists Education Committee members Toby Chess and Kye Yeung will offer their usual "Kool Tools" presentation, a talk chock-full of suggestions for repairers and shop owners who love the latest high-end technology or just want a couple of more affordable gadgets to make work easier.
And just in time for Southern California's Awards Season, the 8:30-10 a.m. Wednesday open meeting will also feature the premiere of SCRS' new Education Committee video series. The film to be screened next month is the first of several shot this year at the SEMA Garage.
"The video series will be released throughout the year at open meetings highlighting dialog on topics such as corrosion protection, adhesives, welding, scanning and more," SCRS wrote in a news release Monday.
Such videos might be useful not only to help explain technical topics to insurers and customers, but also might help serve as a refresher to body shop staff.
Besides these two events, attendees can hear more about the trade group's activities and the issues registering on its radar for the coming year.
SCRS membership is not required to attend, and the meeting is free, as are the other 2017 open board meetings.
The event will be held the day before the Collision Industry Conference, 8 a.m. to 5 p.m., Thursday, Jan. 12, and the morning of the CIC reception 6:30 p.m. Jan. 11. Details can be found on the CIC website or on a Bizzabo page.
Details: www.scrs.com, 1-877-841-0660 or info@scrs.com.
More information:
"Upcoming SCRS January Meeting"
Society of Collision Repair Specialists, Dec. 19, 2016
Featured image: Kye Yeung of the Society of Collision Repair Specialists Education Committee, right, demonstrates a GL Enterprises Shiner at the January 2016 Collision Industry Conference while Toby Chess of the committee looks on. (John Huetter/Repairer Driven News)
Share This: