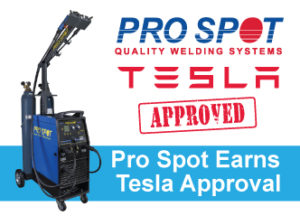 Pro Spot announced Friday that Tesla had cleared two SP-series Smart MIG welders for structural aluminum repairs on the Models S and X.
Pro Spot's SP-5 Smart MIG and SP-5.3 Double Pulse 3-Phase Smart MIG both received nods from the electric car manufacturer. The welders are recognizable for their separate dedicated steel, silicon bronze and aluminum torches — which help prevent corrosion from mixing steel and aluminum or costly mistakes related to confusing silicon bronze and other welding wire.
Pro Spot's SP MIG welders also were approved for the Ford F-150, Cadillac CT6, and other models from Honda/Acura, Corvette, Jaguar, Land Rover, and last month, Mercedes.
"Congratulations to the entire Pro Spot team, Pro Spot President Ron Olsson said in a statement. "Our commitment to a total aluminum repair solution is paying off. To be recognized by a high technology company, like Tesla, is a great confirmation that our product development is on point."
Pro Spot posted a copy of a Tesla Body Repair Tech Note announcing the change. Besides the two Pro Spot MIG welders, Tesla has approved the Fronius TransPuls Synergic 2700 and Synergic 2700 CMT and TPS 270i C Pulse and 320i.
It's important to remember that owning an approved Pro Spot or Fronius welder doesn't give you a license to perform structural repairs on Teslas (or other vehicles) without the rest of the training and equipment the OEM's repair procedures require. On top of this, Tesla also demands that it certify collision repairers before it will sell them structural repair parts anyway.
Besides opening up another OEM's fleet as an indirect source of Pro Spot sales to repairers, Pro Spot's addition on Tesla's list might help make Tesla certification a more cost-effective proposition for some shops. If a collision repairer already has a Pro Spot welder for a more mainstream vehicle like a Ford or a Honda, that's one less box to check and one less tool to buy before Tesla certification can be won.
This could be particularly useful if Tesla enacts similar certification and equipment requirements for its upcoming mass-market Model 3 — a potentially gigantic fleet of business for some markets based on pre-orders. Tesla hasn't said whether the Model 3's reported steel and aluminum construction and common-man target audience will lead the OEM to open up repairs to the industry at large, but it seems unlikely given the potential for a bad repair to tarnish its devotion-inspiring brand or attract bad press from an Autopilot crash.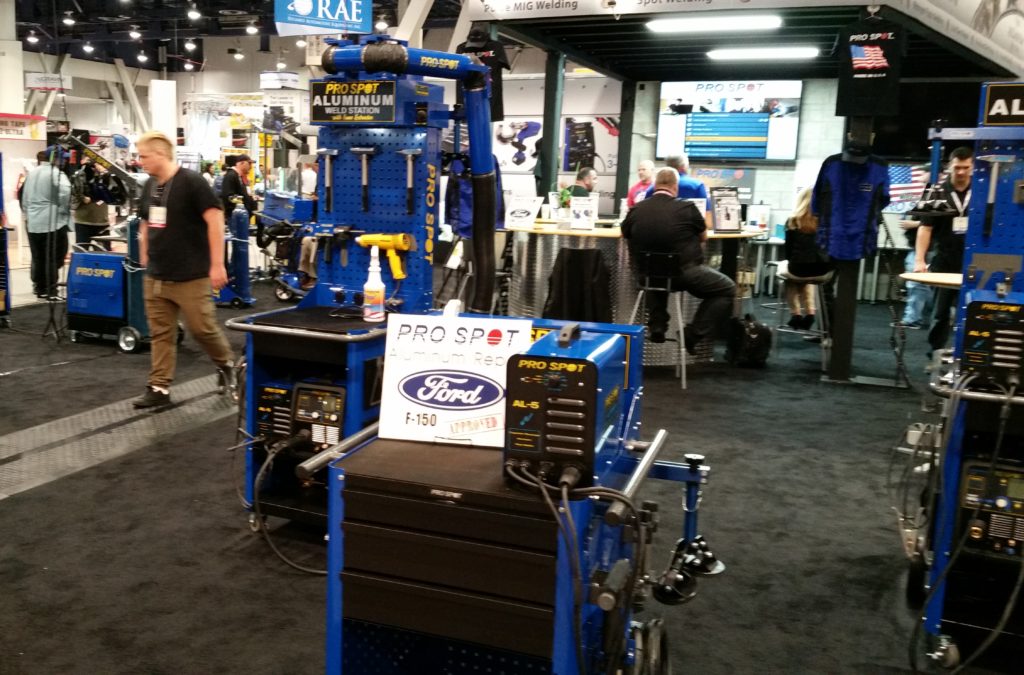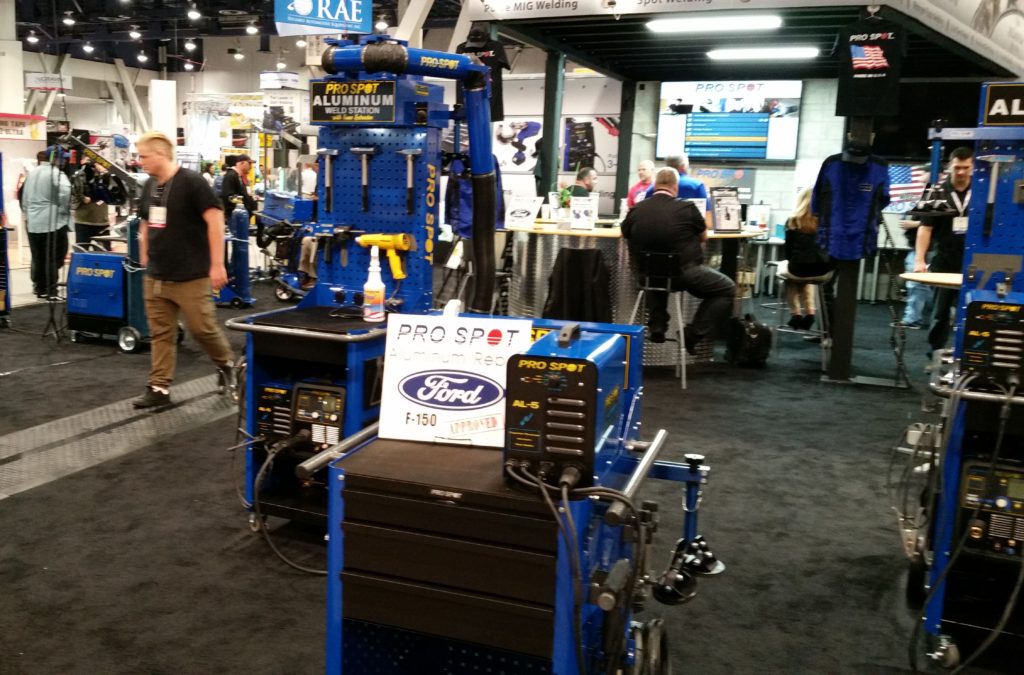 Why OEMs enact restrictions
OEM restrictions on what brands can be used on repairs, as opposed to more general rules allowing any brand meeting certain specifications, can be frustrating to repairers who have to buy multiple versions of the same product. (Rivet guns are particularly notorious for this.)
However, OEMs and Tier 1 suppliers have explained that automakers are on the hook to deliver a repair option that'll deliver the same crashworthiness as before. Once they've hit upon a solution, they don't want to spend time and money looking for a Plan B. On the plus side, the existence of a verified solution delivers peace of mind for the repairer and his or her customers — it's not just a guesstimate that it'll work.
"Using non-approved MIG welders might compromise the integrity of the repair and vehicle safety," Tesla writes in the document posted by Pro Spot.
Equipment manufacturers are welcome to submit tools for testing, but it can be a lengthy process — OEMs don't want to risk customer safety. In 2015, Advanced Collision Repair Solutions President Oliver Woelfel, whose subsidiary GYS USA provides welding equipment, recalled one OEM which required a 62-panel welding test using a variety of substrates.
"It was really, really a long process," Woelfel said at SEMA 2015. Approval took about two years and required the knowledge of an international team.
Even something as seemingly basic as the wire used in a collision repairer's welder can face strict restrictions — backed up by testing — by an OEM to ensure occupant safety. Honda recently explained why certain 980-megapascal Bosch and Bohler welding wire coils are the only thing Honda vouches for to join certain ultra-high-strength steels.
Tesla also only approves ER 4145 welding wire to MIG-weld its Models S and X, according to the Body Repair Tech Note posted by Pro Spot. The OEM warns that "other types of welding wire might compromise the integrity of the repair and vehicle safety."
More information:
"Mercedes Benz Global Approval on SP-5.3 Double Pulse MIG"
Pro Spot, Nov. 7, 2016
"Tesla Approves of  Pro Spot SP MIG Welders"
Pro Spot, Dec. 16, 2016
"Pro Spot Earns Tesla Approval"/Tesla Body Repair Tech Note: Approved MIG Welders"
Pro Spot/Tesla via Pro Spot, Dec. 15, 2016
Images:
Pro Spot released this image to promote the approval of two SP- Smart MIG welding machines by Tesla. (Provided by Pro Spot)
The Pro Spot booth is shown at SEMA 2015. (John Huetter/Repairer Driven News)
Share This: