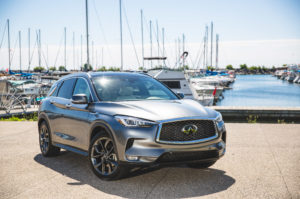 Nissan updated its 2016 scanning position statement Jan. 7 to stress "ALL Nissan vehicles from 2008 forward MUST" have a diagnostic scan following a collision repair. (Emphasis Nissan's.)
The OEM also released a handy video Jan. 11 explaining how to use the CONSULT scan tool.
Despite the specific mention of the year 2008 near the document's end, the first half of the Jan. 7, 2019, position statement (and a virtually identical one for Infiniti) suggested shops would need to post-repair scan at least some older Nissans as well. A Nissan collision program representative later confirmed Nissan still recommended post-repair scanning pre-2008 models too.
"Nissan North America continues to add greater technology and electrical systems promoting driver assist features and overall vehicle safety," Nissan wrote. "The presence of increasingly sophisticated and inter-connected technology supports and necessitates the requirement of all Nissan vehicles, having a diagnostic system scan to identify any diagnostic Trouble Codes (DTCs) present, even in cases where there is no identifiable Malfunction Indicator Light (MIL) illuminated on the vehicle's dashboard. Forces encountered in a loss or simply disconnecting vehicle systems during the repair process for paint or other access can trigger a DTC in the vehicle's systems. A pre-repair system scan is recommended to identify items in advance that are malfunctioning on a vehicle. This helps the repair facility fully understand the scope of the repair before starting as well as documenting elements related to the overall loss. The post-repair diagnostic system scan is required to confirm DTCs are properly resolved and assist in system calibrations, helping to ensure our owners' safety and satisfaction."
Nissan also explained that cars prior to 2008 had the capacity for diagnostics. (For example, Big Sky Collision owner Matthew McDonnell's scanning research has recorded a 2007 Nissan Xterra with fault codes pre- and post-repair.)
"Introduced in 1996, Nissan vehicles systems have the ability to capture and record DTCs of vehicle systems within the vehicle Electronic Control Units (ECU). All 1996 to current vehicles that contain a 16-pin OBD2 port have the potential to have a diagnostic system scan. In vehicles without an OBD2 port it may be necessary to locate other vehicle data link connectors to perform this task. Nissan recommends the use of the CONSULT diagnostic scan tool with the most up-to-date software installed. Nissan North America does not test or validate other diagnostic scan tools in the market and cannot comment on their capabilities or accuracy. Using the CONSULT diagnostic scan tool, stored DTCs are identified, validated, and then addressed within the repair process."
Nissan certified collision growth program administrator Chad Gough on Wednesday wrote that Nissan did suggest scanning pre-2008 cars too.
"While 1996 was the first use of the OBDII systems and the ability to detect DTC's was started, the year 2008 was selected as being required due to additional system enhancements such as occupant detection, dual stage SRS systems, and other smart technologies," Gough wrote in an email. "Thus, while it is recommended that all 1996 vehicles and newer have a post scan conducted, it is required all 2008 and newer vehicles are scanned to confirm that all systems are connected, calibrated, and functioning as designed. This should be done using the CONSULT diagnostic scan tool, installed with the most updated software, as it is the only verified scan tool that can identify and communicate with all systems specific to each Nissan vehicle." (Emphasis Gough's.)
Nissan also continued its 2016 policy of advising — but not mandating — a pre-repair scan in the document.
The position statement stressed again that dash lights don't reflect all possible diagnostic trouble codes.
"The proliferation of vehicle control systems has increased the potential number of DTCs beyond the point where dashboard indicators can illuminate for every DTC," the OEM wrote. "The dashboard indicators are intended for driver notifications, NOT vehicle diagnostics.
"… The presence or absence of dashboard indicators/warning lights is NOT an acceptable method to determine if a post-repair diagnostic scan is necessary. ALL Nissan vehicles from 2008 forward MUST have a post-repair diagnostic scan for this reason." (Emphasis Nissan's.)
The repair as well as the crash can trigger codes, Nissan also noted.
2016 position: 'All'
The new Nissan document — one of nine new or updated statements released recently — replaced a statement from June 2016 which simply declared "all" Nissans needed a scan. (Emphasis Nissan's.) The Jan. 7, 2019, Infiniti position statement replaced a more detailed September 2016 statement regarding scanning "ALL" CONSULT-capable vehicles for the luxury brand. (Emphasis Infiniti's.)
Then-Nissan certified collision planner Justin Miller (now senior planner for Nissan wholesale marketing) had said at SEMA 2016 that "some of the insurance partners had mentioned … By saying 'all,' we weren't kind of being clear enough."
"I thought it was pretty clear," he continued then, drawing laughter. He said he clarified it further in the Sept. 15, 2016, Infiniti position statement to explain that "anything that can be plugged in with the console and read" — essentially, everything with the OBD-II port —  should be scanned.
"INFINITI model years 1996 and newer are able to be scanned by our CONSULT tool, and are subject to the requirements given within this statement," Infiniti wrote in its Sept. 15, 2016, statement. "… It is the stance of INFINITI, that ALL of our CONSULT compatible vehicles be scanned following a collision repair to help ensure the vehicles' systems are communicating properly with no trouble codes outstanding." (Emphasis Infiniti's.)
"That would apply to Nissan as well," Miller said in November 2016 of the Infiniti statement. He also said then that Nissan had two 1995 models requiring scans.
For all intents and purposes, even if Nissan had actually said that no scans were required for cars older than 2008, it might as well still be saying "all," since many older Nissan and Infinitis are likely to be automatic totals anyway.
The average total loss vehicle in 2017 was only 9.64 years old, 9.73 years if you throw out Hurricane Harvey, according to CCC. The valuation average if you don't count Harvey was $9,125, $8,943 for Asian vehicles.
For context, a base 2008 Infiniti G35 Journey sedan in Infiniti's Tennessee P.O. Box ZIP Code was only worth around $8,052, according to Kelley Blue Book. A QX56 was worth around $12,167.
More information:
"POSITION STATEMENT: Revised Pre- and Post-Repair Scanning, Calibrations"
Nissan, Jan. 7, 2019
"How to Perform a Diagnostic Scan on Nissan Vehicles"
Nissan, Jan. 11, 2019
Nissan collision repair procedures website (use Internet Explorer)
"POSITION STATEMENT: Revised Pre- and Post-Repair Scanning, Calibration"
Infiniti, Jan. 7, 2019
Infiniti collision repair procedures website (use Internet Explorer)
Featured image: The next-generation 2019 Infiniti QX50 is shown. (Provided by Infiniti)
Share This: