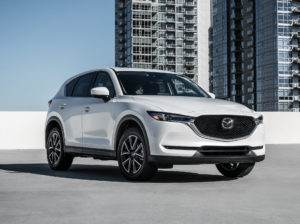 Mazda last fall updated a service bulletin to warn collision repairers that more vehicles could be affected with more malfunctions if painters refinish a front fender stay ground point.
The September 2018 service bulletin posted on OEM1Stop (and no doubt on Mazda's official OEM procedure site) replaces a technical service bulletin from November 2016. The updated Mazda document now warns that "one or more electrical malfunctions" could arise if painters coat part of a fender stay on the 2013-18 CX-5, 2014-18 Mazda3 and Mazda6, 2016-18 Mazda2 or 2016-19 CX-3.
"The newly painted fender stay may be causing a poor front harness ground connection," Mazda wrote.
2013-18 CX-5 owners with a painted stay ground point might complain of a stalled engine, a check engine light, a dead heater blower and flashing headlights, according to a list Mazda provided in the bulletin.
"During the dealer visit, the engine had a slow crank and no start. After charging the battery, the engine starts and the symptoms related to headlight and heater blower operation are duplicated," Mazda wrote.
The customer could also report that their CX-5 stalled while driving (!) and won't restart, according to Mazda.
Mazda said a dealer would find a Mazda scan tool can't identify the CX-5 at all but a bunch of dash lights were on, as were the cooling fan and the ignition — the latter can't be shut off, actually, according to the OEM.
According to Mazda, the 2014-18 Mazda3 and Mazda6 have it a little easier. The Mazda3 could activate multiple warning lights if the area was painted, while the Mazda6 would display multiple lights while driving and dump a series of diagnostic trouble codes into more than one module.
Mazda's updated bulletin reported it has identified a new symptom for the Mazda6: "Gear shift indicator is not activated if vehicle is started by push button start."
A 2016-18 Mazda2 or 2016-19 CX-3 with a painted ground point will see windshield wipers inexplicably turning on whenever front lights, including the turn signals, are on and a situation where "No DTCs are stored in memory." (It's unclear if the latter means no DTCs related to those systems or the memory won't record any codes for any systems.)
The solution is fairly easy, according to Mazda: Either don't paint that part of the fender stay, or sand off the paint in that spot if it's already been applied.
"Customers concern can be resolved by sanding off paint at ground point (3) where attachment bolt (4) is seated," Mazda wrote, providing a diagram of a CX-5 fender stay. "After installing the bolt (4), apply touch-up paint to the exposed base material area of the front fender stay. …
"Before painting a newly replaced part, protect the bolt (4) contact area (3) with masking tape (5) as shown in the figure."
It's a simple enough issue and fix, but it'd be an awkward and potentially dangerous comeback issue if your shop missed this one. It just goes to demonstrate that the paint department needs to use OEM repair procedures too.
For another interesting piece of collision repair trivia regarding ground wires connected to fenders, check out our coverage here.
More information:
Mazda technical service bulletin "MULTIPLE ELECTRICAL MALFUNCTIONS AFTER BODY REPAIR"
Mazda via OEM1Stop, Sept. 14, 2018
More information:
A 2017 Mazda CX-5 is shown. Mazda in September 2018 warned against painting a ground point on a fender stay on the 2013-18 CX-5. (Provided by Mazda)
A diagram identifies a ground point (3) to avoid painting on an unspecified Mazda CX-5 fender stay. (Provided by Mazda)
Share This: