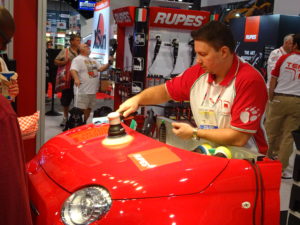 The Database Enhancement Gateway, which allows repairers and insurers to make inquiries and suggestions of the Big 3 estimating providers at no cost, offers weekly tips for repairers on the Audatex, Mitchell and CCC programs online and through the Society of Collision Repair Specialists' email list.
If you haven't used the free service before to submit questions about estimating collision repair work or just browse responses to other carrier and shop questions, check it out. It's a good way to find IP best practices and help write the most accurate estimates or appraisals possible.
Here's some areas spotlighted as tip-worthy by the DEG. To receive the tips as soon as DEG releases them, like/follow the DEG's Facebook and Twitter feeds. (It also posts videos to a YouTube channel once in a while.) Or just browse the more than 10,000 inquiries and responses in the database and see what else you learn.
Tire replacement: Check the owner's manual
The DEG in December 2018 split from its usual focus on the three estimating services with a tip about OEM requirements regarding tire replacement.
"Repairers may find it challenging to find information regarding tire replacement documentation and when to replace all four(4) or two(2) tire's to match the opposite side on the same axle," the DEG wrote.
"Some OEM Repair websites may not have this information listed. DEG Suggests locating this information in the vehicle owners manual which would typically be found in the glove box of the vehicle or found online using the digital copy. Using the index of the manual, look up 'tires' or 'tyres' for quick search of the manual."
The DEG has made life easy on shops and insurers looking for these manuals by assembling this spreadsheet of major brands' websites in the U.S. and Canada.
Preserving battery voltage
The DEG in December 2018 reminded users that maintaining a particular level of voltage on a battery isn't an included operation.
"Example of this situation is during the scanning process," the DEG wrote. "The OEM may state the vehicle must maintain a certain voltage to ensure all modules, computers, and electrical consumer equipment are being scanned at the proper voltage level. Battery charging/ Battery maintenance is NOT INCLUDED in developed labor times and would be an on the spot evaluation." (For that matter, scanning isn't an included operation on any of the three main estimating services, as the DEG pointed out with a cheat sheet it released in 2018.)
A recent Society of Collision Repair Specialists video also listed battery hookups as one of the potential additional operations which might be required during a scan.
Scanning is a mechanical operation
Though the estimating services have determined scanning times and operations to be on-the-ground judgement calls and therefore manual-entry items, they have all agreed that it's a mechanical procedure, according to the DEG.
"All three Information providers, C​CC, Mitchell and Audatex, acknowledge that scanning operations required during the repair process is a (M)/ Mechanical process," the DEG wrote in a December tip.
"CCC has confirmed that it plans to add the (M) feature to the database shortly.
"Both Mitchell and Audatex already designate the operation to Mechanical when selected from the database."
However, the DEG observed that sometimes the "M" code would still have to be entered manually anyway.
Audatex FAQ
The DEG quoted one of Audatex's Frequently Asked Questions in a January tip which ought to both help shops needing to suspend an engine and draw attention to the gold mine of information within the P-pages.
Question: Why does the labor report only show minimal labor related to the engine and mounts (Combination Engine) when the engine must be suspended using a special tool?
Answer: There are a number of different tools and methods that could be used to support a drivetrain. Each may require different levels of preparation. The Audatex labor allowances do not take into account any special equipment or procedures necessary to prepare the drivetrain to support and only allows the labor to raise and support (Combination Engine) after the engine is prepared for the support tool and any  special tools are mounted. (Minor formatting edits.)
Audatex was nice enough to provide five pages of FAQs (Section 5-2) in its Database Reference Manual, so take advantage of it. Odds are there's at least one thing in there you were wondering or were arguing about with an insurer/shop.
Detailing mostly not included
The DEG gave some love to detailers in a January tip by posting a new cheat sheet related to polishing and detail operations.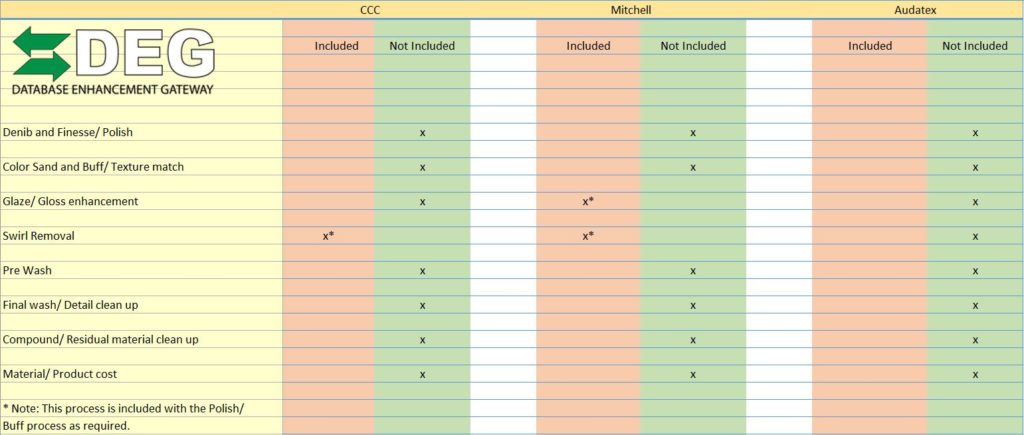 "Users can quickly compare included and not included operations for detail and polishing operations across all three estimating system IP's," the DEG wrote.
Audatex treated all eight of the procedures the DEG highlighted as not-included, while CCC and Mitchell included swirl removal within polish/buff, according to the DEG. The DEG reported that Mitchell also considers glaze/gloss enhancement as part of that process.
Have a question?
Have a question about AudaExplore, Mitchell or CCC? Submit inquiries to the DEG here. Inquiries, like answers, are free.
More information:
Database Enhancement Gateway homepage
Images:
The Rupes booth at SEMA 2017 is shown. (John Huetter/Repairer Driven News)
The Database Enhancement Gateway in January 2019 posted a new cheat sheet explaining which polishing and detail operations were included in the main estimating systems. (Provided by the DEG)
Share This: