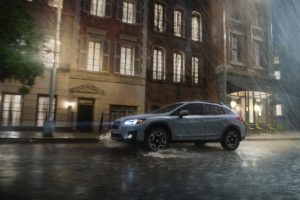 The second part of Collision Advice's two-part webinar series on Subaru procedures was full of pieces of repair trivia and advice, including the revelation that Subaru EyeSight can require shops to use OEM windshield wipers.
The webinar hosted by Collision Advice CEO Mike Anderson gave repairers a look at the various elements on the service manual shared by what appeared to be both the 2018 Subaru Impreza and Crosstrek. It also examined aspects of Legacy and BRZ procedures. (You'll want to verify this and any other information on Subaru's actual repair procedure site, ideally by a VIN lookup, before starting work on any of these vehicles for real.)
Wipers
"Use Subaru genuine part only for wiper blade body and blade rubber," Subaru directs in a section related to the EyeSight advanced driver assistance system on the Impreza/Crosstrek.
The ADAS suite relies in part on two cameras mounted behind the windshield, which gives the artificial intelligence a stereo view of the road.
"Using the part other than genuine part will affect the recognition of the stereo camera, which may cause the function not to operate correctly," Subaru wrote of the windshield wipers.
"Ladies and gentlemen, it's important that we use OEM parts even on something as simple as a wiper blade," Anderson said.
Subaru also told shops not to use "damaged blade rubber" on a vehicle.
"The windshield glass may be damaged," Subaru wrote. "If the wiping performance decreases or any distinct streak is found, replace it as soon as possible."
The windshield itself should be OEM, Subaru wrote in a 2017 position statement. Anderson also demonstrated earlier in the broadcast how Subaru requires specific urethanes for the window glass on an Impreza/Crosstrek.
The instructions related to EyeSight might be more common than the two models represented here. The ADAS suite was available on all 2018 Subarus except for the BRZ. In the 2019 model year, it even comes standard on the Forester, Legacy, Outback and Ascent.
Specs
The webinar also demonstrated a couple of Subaru specs that collision repairers and mechanics might have overlooked.
In a section related to diagnostics on the Impreza/Crosstrek transmission, Subaru's preparation for learning demands that the ATF temperature shown on the Subaru scan tool is between 104-149 Fahrenheit (40-65 Celsius).
"One of the things that we're really concerned about from Collision Advice is that when you go to do a diagnostic scan … are you allowing the vehicle to get to operating temperature before you perform a scan?" Anderson said.
The webinar also showed how Subaru forbid reusing the mounting bolts and nuts for two curtain airbag sensors you might be removing and installing for quarter panel work. If a shop didn't install new bolts and nuts, "you're not doing a safe and proper repair."
But the installation needed the proper torque, according to Subaru: 7.5 Newton-meters, 0.8 kilogram-force meters or 5.5 foot-pounds.
Anderson said "I don't believe a lot of people" were looking up the proper torque when they installed the parts.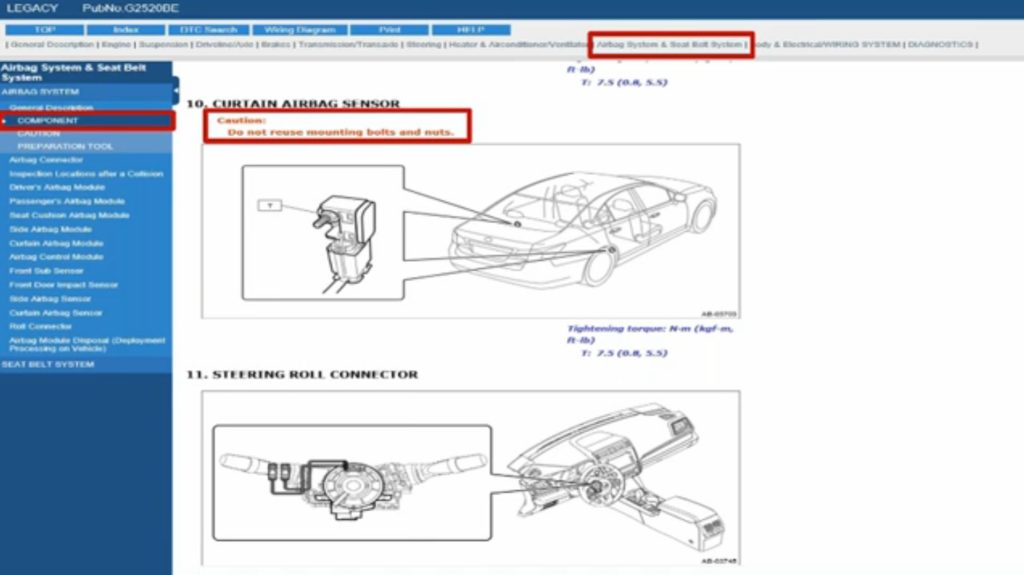 Checklist
Subaru's repair procedures for the Impreza/Crosstrek also contained pre-delivery inspection instructions, which Anderson said were intended for dealerships to perform before they sold a new car to someone.
However, he said he thought many of the items should be added to a collision repairer's quality control process.
"I really thought this made a lot of sense," he said. The Subaru delivery check included "a lot of things," that repairers needed to consider, he said: Was the vehicle dirty? Were the tires at the right pressure? Was the child safety lock on?
His presentation showed more than 50 checks Subaru suggested, some of which Anderson said required a scan tool. (In fact, dealers are instructed to scan the cars before they deliver them to customers.)
"I could spend all day just on this pre-delivery inspection," Anderson said.
More information:
"Subaru TechInfo Part 2 OEM Webinar Learn to Research; Research to Learn"
Collision Advice YouTube channel, Dec. 13, 2018
"Subaru TechInfo Part 1 OEM Webinar Learn to Research, Research to Learn"
Collision Advice YouTube channel, Nov. 27, 2018
Subaru OEM repair procedures website
Images:
The 2018 Subaru Crosstrek Limited is shown. (Provided by Subaru)
Subaru forbid reusing the mounting bolts and nuts for two Legacy curtain airbag sensors you might be removing and installing for quarter panel work, Collision Advice CEO Mike Anderson said on a December webinar. The year of the Legacy was not specified. (Subaru information on Collision Advice slide.)
Share This: