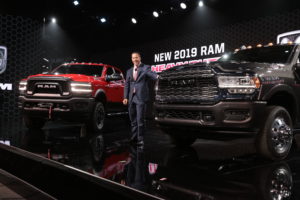 FCA kicked off the year with the launch of its 2019 Ram Heavy Duty and followed it up with a multifunction tailgate for the 2019 Ram 1500.
Collision repairers can expect to see more high-strength steels in the 2019 Heavy Duty compared to the outgoing 2018 model, possibly even more than on the Ram 1500 announced a year ago. They'll also see other lightweighting elements not found on the 2018 Heavy Duty, including an aluminum hood.
It'll be important to learn the nuances and repair procedures of new 2500 and 3500 if you're in a Ram-friendly market. Ram sales hit a record in 2018 of 597,368, and about a quarter of these are heavy-duty.
Some of the design and technology changes described in this article will be present on the Ram 1500s repairers are already seeing, while others might not only be an upgrade from the 2018 Heavy Duty but an upgrade from the 1500 as well.
The next-generation Heavy Duty came out up to 143 pounds lighter than its 2018 HD predecessor. (The 2019 Ram 1500 cut nearly 225 pounds from the 2018 Ram 1500.)
"Every pound you can reduce … that equates to payload," Ram Heavy Duty chief engineer Rod Romain said at the 2019 North American International Auto Show.
Romain said the frame is about 31 pounds lighter on average, the powertrain is 60 pounds lighter with a diesel configuration, and the body dropped 27 pounds — even with new features like an active grille shutter.
Increased use of high-strength steel let Ram downgauge, particularly on the front of the 2500, while preserving capability, strength and performance, he said.
"Several body elements are upgraded from mild steel to high-strength steel on the 2019 Heavy Duty pickups," FCA wrote in a news release.
"… The new Ram Heavy Duty uses a variety of high-strength steels in the frame, body panels and core structure to maximize impact performance and reduce overall weight, including the A-, B- and C-pillars, front structure and door beams. Increased resistance spot welds reduce the heat exposure to surrounding metal to maintain strength and long-term durability."

Romain said Ram also cut mass on the Heavy Duty by building the front bumper reinforcement out of thinner steel and offsetting it with plastic inside. Formerly cast-iron engine brackets are now aluminum, and the nonstructural crossmembers were changed for "three or four pounds there," he said. (It was unclear if this referred to lightweighting with steel or aluminum.)
The Ram Heavy Duty's front radius arms also saw steel removed where it wasn't necessary and added where it was, according to Romain. The result was a structure which was "more capable" but two pounds lighter, he said.
FCA said the Ram Heavy Duty frame was 98.5 percent high-strength steel and had "six separate crossmembers, hydroformed main rails and fully boxed rear rails for optimal strength and mass efficiency." (The Ram 1500 frame was 98 percent high-strength steel, FCA said last year.)
"Wide front frame rails enable front suspension springs to be positioned slightly outboard – an enabler for generating positive roll stiffness," FCA wrote of the Heavy Duty frame. "In the rear portion of the new frame, the structure includes fully boxed rear rails. The rear-axle structural crossmember with provisions for fifth-wheel and gooseneck hitches, has been upgraded for 2019 to accommodate the increased towing capacity. …
"In the front, a new, two-piece, front-suspension crossmember structure adds a longer welded interface and greater strength to the frame. The Ram Heavy Duty line features an advanced three-link front suspension to ensure roll stiffness."
Speaking of the frame, repairers should also keep an eye out for two "Active-Tuned Mass Modules" on the frame rails. FCA says the devices "search out unfavorable vibrations and apply countermeasures to eliminate them."
"Ram Heavy Duty owners constantly demand the highest levels of capability to tackle the biggest jobs and with 35,100 lbs. of towing capacity, pulled by 1,000 lb.-ft. of torque from our Cummins engine, we now hold the most important titles within the segment," Ram brand head Reid Bigland said in a statement. "We've also surrounded owners in luxury and technology that, until now, was unavailable in a heavy-duty pickup. The highest quality interiors, active safety systems and of course our award-winning Uconnect technology contribute to the best Ram 2500 and 3500 trucks we have ever built."
Other noise, vibration and harshness efforts included redesigned crossmembers, acoustic glass and active noise cancellation, according to Romain. Ram also redesigned exhaust hangers to produce less drone and noise, he said. FCA wrote that its active noise cancellation and acoustic glass knocked 10 decibels out of the ride.
"Upgrades to improve NVH include new C-pillar hydromounts, anti-vibration devices, new engine mounts, active noise cancelling and new exhaust-system attachments," Ram wrote in a news release.
Both the front and rear axles are new and were "engineered to improve durability, handle industry-leading payload and towing capabilities, and minimize Noise, Vibration and Harshness (NVH), as well as take advantage of opportunities to optimize weight."
Ram also will produce a 2019 Ram Power Wagon with "a unique suspension, factory suspension lift, locking front and rear differentials, disconnecting sway bar and a 12,000-lb. winch." The off-road truck will also have a 360-degree camera.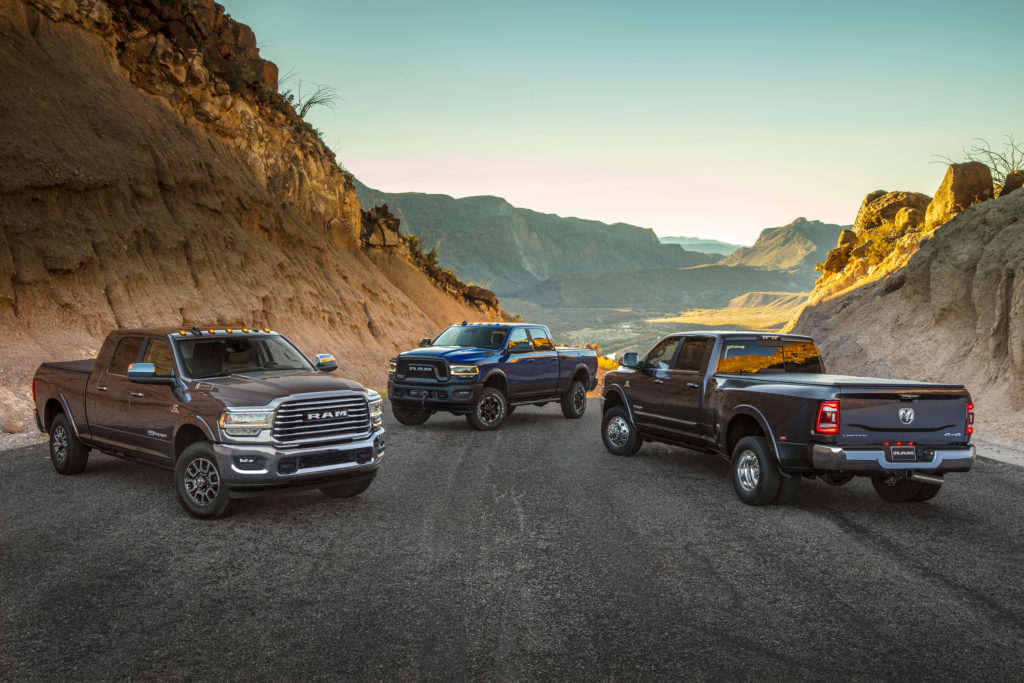 Other features
The 2019 Ram Heavy Duty could affect body repair with a variety of other new features described in the FCA news release. Among them:
• Make sure you order the right grille; there's six different possibilities.
• The front bumper's larger openings send more air to "the largest turbo intercooler Ram has ever adapted to its halo pickups." There's also a removable air dam.
• "More than 20 sensors surrounding the new Ram Heavy Duty are seamlessly integrated to make them less visible," FCA writes in something that absolutely applies to body repair. It's unclear if the OEM means 20 sensors total — or just in the front of the truck alone.
• An optional LED headlight format can turn itself "up to 15 degrees of movement in the expected direction of travel." Also, the headlights can say "Ram," which could make it difficult to substitute an aftermarket version.
• Be careful to consult repair procedures on the suspension. All the shocks are Frequency Response Damping variants which can "automatically adjust for the type of vertical wheel input. … Engineers added progressive springs and upgraded bushings to the suspension system, including the exclusive five-link coil design on Ram 2500, providing better load-carrying characteristics and improved articulation over obstacles when compared to a leaf-spring system."
Ram buyers can also instead get an optional, class-exclusive "Active-Level" rear suspension with "a new Bed-lowering Mode" for easy trailer hookups on the 2500 and 3500. "The 2019 Ram 2500 uses two air bags to replace the coil springs," Ram wrote. "Load capacity is not sacrificed and the Ram 2500's best-in-class ride and handling gets even better, crushing the competition with two doses of engineering innovation (five-link coil with an air suspension option). The Ram 3500 features a Hotchkiss rear leaf-spring system with optional air suspension. By adding supplemental air bags, Ram engineers were able to soften the heavy-load leaf springs, allowing for more unladed suspension movement."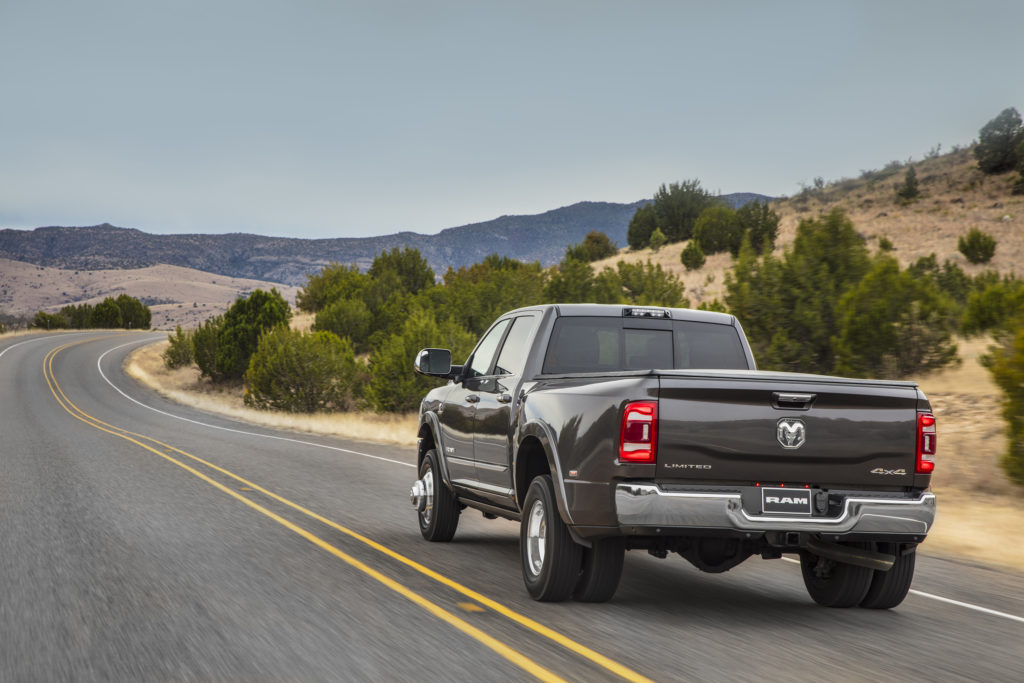 Electronics
Besides the tech described above, FCA describes some other electronics that repairers might find interesting:
• Autobraking and adaptive cruise control come standard in all 2019 Heavy Duty Rams, and the autobraking capability extends to trailer brakes, according to FCA. Romain said the trailer autobraking calibrates by sensing acceleration and trailer feedback when the trailer is plugged into the truck.
According to FCA, the capability is self-calibrating and can use the exhaust brake as well.
• Romain also said that a module in the rear of the truck can also pick up TPMS signals from the trailer wheels and convey them to the driver.
If you buy that option from FCA, it installs a module to detect those TPMS sensors within the back of the truck by the bumper, according to Romain. (The vehicle owner receives the sensors to install himself or herself in the tires.) He said Ram opted for this design so the pickup device didn't have to be mounted with the trailer. Of course, for shops, that's another item to watch out for a customer brings in a Heavy Duty that took damage to its rear.
Calibration involves lowering the air pressure of the trailer tires so the TPMS sensors start sounding the alarm and the Ram Heavy Duty module can register it, Romain said. (It's unclear if this would be done by the dealer or customer.)
• The backup sensors on the 3500 are "specifically designed" to handle the extra width of dual rear wheels.
Ram 1500: New tailgate option
But as noted above, FCA hasn't forgotten about the Heavy Duty's little brother this year.
FCA announced Wednesday the 2019 Ram 1500 would receive a new "multifunction tailgate" in the second quarter of the year. The optional feature would cost $995, with an additional option to get a retractable center step for another $295.
The tailgate of the average 2019 Ram 1500 was made from aluminum; it's not clear what substrate was used on the new tailgate.
FCA said the tailgate can be opened flat like a typical tailgate or have either one or both of its "60-40 split, swing-away" doors opened. Either door can be opened 88 degrees. However, the combined tailgate still can handle the 2,000-pound load of the regular tailgate, according to the OEM.
More information:
"New 2019 Ram Heavy Duty is the Benchmark for Performance, Capability, Technology and Luxury"
FCA, Jan. 14, 2019
"Ram Adds Multifunction Tailgate to 2019 Ram 1500"
FCA, Feb. 6, 2019
Images:
Ram brand head Reid Bigland stands between the 2019 Ram Power Wagon, left, and 2019 Ram 3500 at the North American International Auto Show. (Provided by FCA)
The frame of the 2019 Ram Heavy Duty is 98.5 percent high-strength steel. FCA didn't provide a key on this Ram 3500 display at the 2019 North American International Auto Show, but a similar frame for the 2019 Ram 1500 at the show last year used the colors black and green for advanced high-strength steels and blue for high-strength steel. (John Huetter/Repairer Driven News)
The frame of the 2019 Ram Heavy Duty is 98.5 percent high-strength steel. FCA didn't provide a key on this Ram 2500 graphic, but a similar frame for the 2019 Ram 1500 at the 2018 North American International Auto Show last year used the colors black and green for advanced high-strength steels and blue for high-strength steel. (Provided by FCA)
The frame of the 2019 Ram Heavy Duty is 98.5 percent high-strength steel. FCA didn't provide a key on this Ram 3500 graphic, but a similar frame for the 2019 Ram 1500 at the 2018 North American International Auto Show last year used the colors black and green for advanced high-strength steels and blue for high-strength steel. (Provided by FCA)
The 2019 Ram Heavy Duty's airbags are shown. (Provided by FCA)
The frame of the 2019 Ram Heavy Duty is 98.5 percent high-strength steel. FCA didn't provide a key on this Ram 3500, but a similar frame for the 2019 Ram 1500 at the 2018 North American International Auto Show last year used the colors black and green for advanced high-strength steels and blue for high-strength steel. (Provided by FCA)
The 2019 Ram 3500 Limited Crew Cab Dually is shown. (Provided by FCA)
The 2019 Ram 2500 Longhorn Mega Cab is shown. (Provided by FCA)
From left, the 2019 Ram 2500 Longhorn Mega Cab, Power Wagon, and 3500 Limited Crew Cab Dually. (Provided by FCA)
The 2019 Ram Heavy Duty has active grille shutters. (Provided by FCA)
The headlights on the 2019 Ram 2500 can say "Ram," which might make using aftermarket copies difficult. (John Huetter/Repairer Driven News)
Share This: