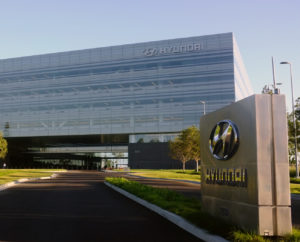 With both Hyundai and DTI's motions to dismiss each other's lawsuits having been denied, a North Carolina federal judge last fall set a timeline for trial in the OEM's complaint and the importer's subsequent countersuit.
The case is noteworthy as the collision industry and parties in California examine what to call purportedly OEM parts sold outside of the official OEM-dealer supply chain.
Western District of North Carolina Magistrate Judge David Cayer on Nov. 1, 2018, ordered both sides to be ready June 15, 2020, for a trial scheduled for two weeks.
Hyundai in 2017 sued Direct Technologies International, alleging trademark infringement and dilution, two counts of false designation of origin, unfair competition, interference with contractual relations, and violating the North Carolina Unfair and Deceptive Trade Practices Act.
It accused DTI of importing parts never intended for the U.S. market and representing them in a manner likely to create confusion and either steal or harm the reputation the OEM had created. It also accused the company of meddling in Hyundai dealer arrangements that bar the dealers from advertising alternative parts as "Hyundai Genuine Parts or Accessories" and from selling alternative parts which "will not adversely affect the mechanical operation of the Hyundai Motor Vehicle being serviced or repaired, or are equivalent in quality and design to 'Hyundai Genuine Parts or Accessories.'"
DTI denied Hyundai's allegations and countersued, alleging counts of illegal restraint of trade, illegal monopoly, exclusive dealing, false advertising and unfair competition at the federal level, and unfair competition under North Carolina statute and common law. Part of its case keyed off of a Hyundai warranty message referencing parts that drew a warning from the Federal Trade Commission.
Hyundai in turn denied those accusations.
Warranties
Hyundai also pointed out language from DTI's website that states the company's "strong warranty" guarantees defects for "120 days or 5,000" miles and "will not cover any consequential damage or repairs that may have been caused by the defective part."
"This 'limited warranty' that DTI offers is not the equivalent of the Hyundai warranty, and Hyundai is informed and believes and thereon alleges that DTI, through its actions, advertisements, and representations, creates an impression that the Hyundai parts it is offering for sale are Genuine Hyundai Parts, covered by Hyundai's warranties, which creates a likelihood of confusion among Hyundai's Dealers and others, including the general public, regarding the source of DTI's parts and the applicability of Hyundai's warranties to those parts," Hyundai wrote.
Hyundai said its own replacement parts warranty runs for 12 months or 12,000 miles but is potentially extended to the full 5 years or 60,000 miles of a new car's warranty.
Hyundai, which doesn't have an official Opt-OE program, said in the lawsuit won't warranty anything imported from outside the U.S. at all, even if it's a Hyundai part.
"Parts manufactured for sale and/or intended for use solely outside of the United States, on the other hand, carry no warranty whatsoever from HMA in the United States," Hyundai wrote in the lawsuit. "In addition, any damage to or failure of a Hyundai vehicle caused by the installation or failure of a Non-Genuine Hyundai Part is not and would not be covered by any Hyundai warranty.
"Neither HMC nor HMA has authorized the sale to or use by authorized Hyundai Dealers of Hyundai parts that are manufactured for sale and/or intended for use solely outside the United States and not imported by HMA and sold or distributed to authorized Hyundai Dealers through Hyundai's Authorized Chain of Distribution on vehicles in the United States. Any part that is sourced by anyone outside of Hyundai's Authorized Chain of Distribution is not a Genuine Hyundai Part and is not covered by any warranty offered by Hyundai."

This is an important point for collision repairers, insurers, consumers and regulators to understand. If what some would argue still would count as a new OEM part wasn't sourced through Hyundai's "Authorized Chain of Distribution," Hyundai says it won't warranty it the way it would for a true new OEM part intended for sale in the U.S. and sold through the official channel. Nor will it have to cover anything that the "Non-Genuine Hyundai Part" affects should that part fail.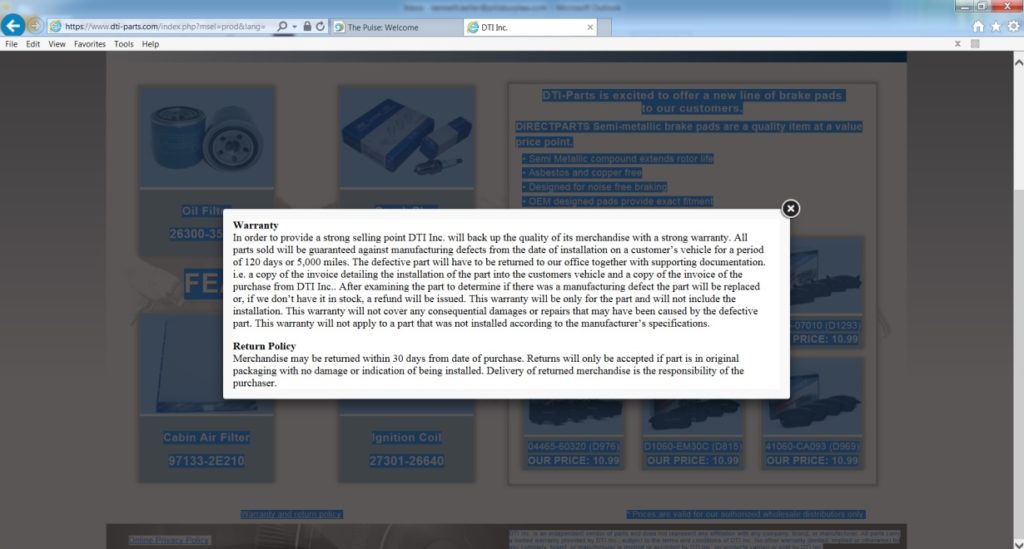 Under the Magnusson-Moss Warranty Act, an OEM can't void a vehicle warranty for the mere act of installing an alternative part, but it can void the warranty of another part damaged by the non-OEM component.
DTI pointed out that the Federal Trade Commission on April 9, 2018, called out Hyundai for allegedly stating "The use of Hyundai Genuine Parts is required to keep your Hyundai manufacturer's warranties and any extended warranties intact."
In addition to Magnusson-Moss prohibiting warranties requiring a specific brand be used, the government also prohibits "warranty language that implies to a consumer acting reasonably under the circumstances that warranty coverage requires the consumer to purchase an article or service identified by brand, trade or corporate name is similarly deceptive and prohibited," FTC Bureau of Consumer Protection Division of Marketing Practices Associate Director Lois Greisman wrote to the OEM. (Emphasis FTC's.)
"Staff similarly would be concerned about any additional representations made by Hyundai that state or imply that its warranty coverage requires a consumer to purchase an article or service identified by Hyundai or another brand," Greisman also wrote.."… Furthermore, staff would be concerned if Hyundai, in practice, denied warranty coverage based on the warranty provisions quoted above or any similar provision."
DTI said that because of Hyundai's dealer agreement "and/or because of Hyundai's warranty representations," Hyundai dealerships refused to buy from DTI.
"As a result, DTI has lost sales and suffered economic, reputational, and other injuries," the importer wrote.
Hyundai in its answer said the FTC letter "purports to reference a nonspecified or identified statement by Hyundai." However, the OEM earlier that year apologized for the statement and changed the language on the message in question, BodyShop Business reported.
Authorized chain
According to Hyundai:
Genuine Hyundai Parts are made to precise specifications and must meet certain quality standards to be sold in the United States. That is not true for Hyundai-branded parts meant for sale in areas of the world outside the United States. Hyundai-branded parts that are not sourced through Hyundai's authorized chain of distribution for the United States may contain numerous material differences – including, but not limited to, packaging, labels, production methods, weight, and performance characteristics – as a result of the difference in specifications to which such parts are manufactured or the actual manufacturing processes themselves, or because such parts are not "first run parts," are "seconds," or are defective or have been rejected during manufacturing quality control. Furthermore, Hyundai-branded parts that are sourced outside of Hyundai's authorized chain of distribution for the United States are materially different in warranty coverage and/or protection and dealer and customer support. As such, the sale of those unauthorized Hyundai-branded parts in the United States constitutes sales of illegal grey-market goods.
Hyundai accused DTI of "falsely representing that such parts are 'genuine' and/or covered by the Hyundai warranty to various Hyundai Authorized Dealers in the United States without notifying those Hyundai dealers that such parts are not Genuine Hyundai Parts, were not sourced through Hyundai's authorized chain of distribution, are not covered by Hyundai warranties, or that the warranty offered (if any) is materially different from the Hyundai warranties."
Hyundai alleged that around Sept. 28, 2017, a DTI sales rep pitched the importer's Hyundai parts to a Hyundai dealership. DTI called itself the "'premier importer of NEW OEM parts for the Korean manufacturers'" and said it knew about the dealership's "'franchise agreement,'" according to Hyundai.
It also alleged DTI had 8,000 parts, none of them authorized. It provided the example of "DTI Grey-Market Oil Filters" which allegedly had:
a. differences in color, material, printing, labeling, and strength of the shipping box;
b. the Hyundai Genuine Part's shipping box contains a PDC "yellow" picking label and the DTI Shipping Box does not;
c. differences with respect to the parts' labels, including differences in the "H" logo, the color of the ink, the shading, and the stripes on the boxes for the individual oil filters;
d. differences in filter material;
e. differences in the "glue pattern" and perforations on the boxes for the individual oil filters;
f. differences in the identifying wording and lettering on the individual oil filters, including the "H" logo, the font, spacing of the lettering, and the paint;
g. differences in the filter element of the individual oil filter, including color differences;
h. differences in the "stamping" on the individual oil filters;
i. differences in the date stamps on individual oil filters;
j. differences in the silicon seal on the individual oil filters;
k. differences in the "casting stamp" with the Hyundai Genuine Oil Filter having a casting stamp which the DTI oil filter does not; and
l. differences in the weight of the product. (Minor formatting edits.)
DTI alleged that Hyundai's agreement with dealers "on the condition that the distributors or dealers refrain from purchasing Hyundai branded replacement parts for Hyundai automobiles which were intended by Hyundai for markets other than the United States," and linking warranties to Hyundai parts was restraint of trade and an illegal monopoly.
"Hyundai's ability to coerce dealers into these exclusive-dealing arrangements or otherwise exclude competition for replacement parts for Hyundai automobiles is augmented by the fact that, if a third party service center cannot obtain access to parts identified by Hyundai as 'genuine', a third party parts installer cannot serve the needs of the purchasing public under Hyundai's anticompetitive and illegal warranty," DTI wrote.
Hyundai seeks damages and any profit DTI made from its alleged infringement. It also wants the court to "temporarily, preliminarily, and permanently enjoin and restrain" DTI from "making, manufacturing, importing, using, distributing, shipping, licensing, selling, developing, displaying, delivering, advertising and/or otherwise marketing, or disposing of DTI's Non-Genuine Hyundai Parts."
DTI also asked the court to award damages, including any profit Hyundai made from its behavior, and to block Hyundai from antitrust violations and otherwise "restore the status quo."
Images:
Hyundai Motor America's Fountain Valley, Calif., headquarters are shown. (Provided by Hyundai)
A screenshot provided by Hyundai shows what the OEM said was a warranty notice on the Direct Technologies International website. (Provided by Hyundai)
Hyundai appears at the 2018 Geneva Auto Show. (Provided by Hyundai)
Share This: